Major game update in 2021 introduces Champions and Level 14.
update
season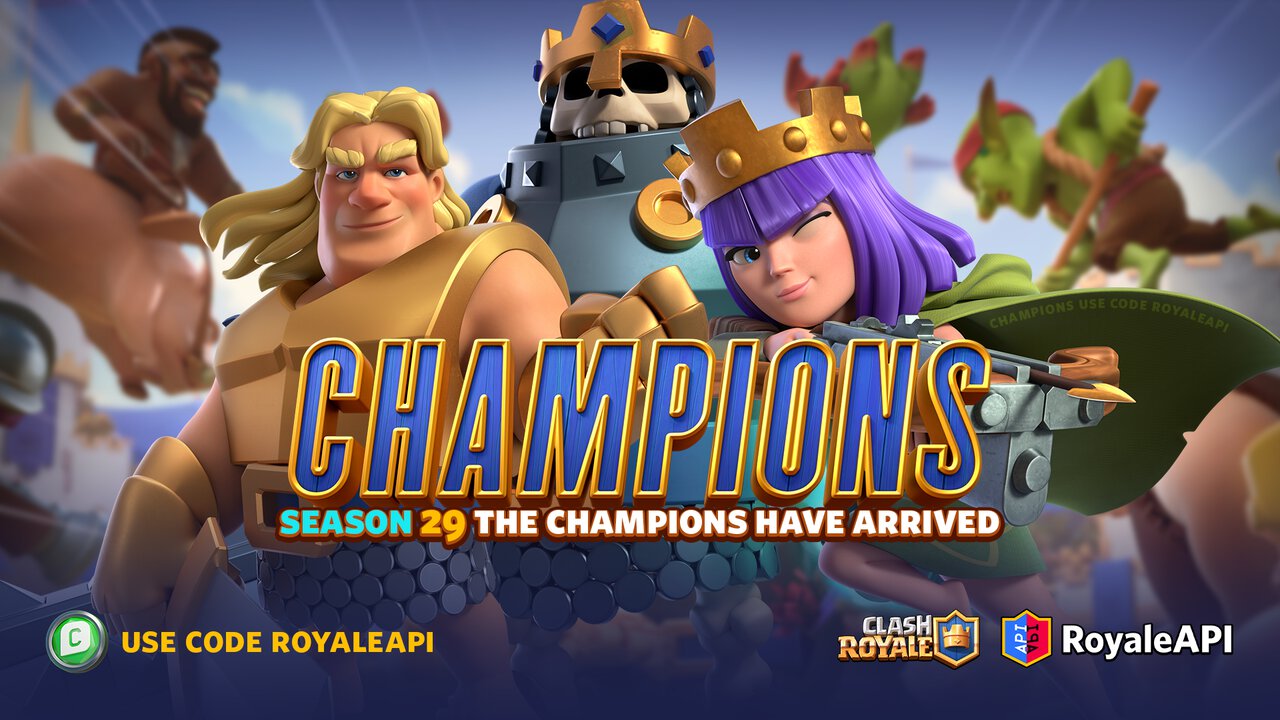 Champions are coming to Clash Royale!
You probably know by now that a major game update is happening very soon. The update cycle kicked off with Slash Royale, followed by an announcement about King Level 14. Just a couple of days ago, Supercell released an epic teaser animation. It's now time to let you know all about it!
Media Usage: If you wish to use images in this blog post, you must meet all the conditions in our Media Usage Guidelines.
Table of Contents
Video Preview
Our video serves as a great introduction to everything you'll see in the new update. It also showcases some things that are hard to describe in words, so check it out first before reading!
Star Points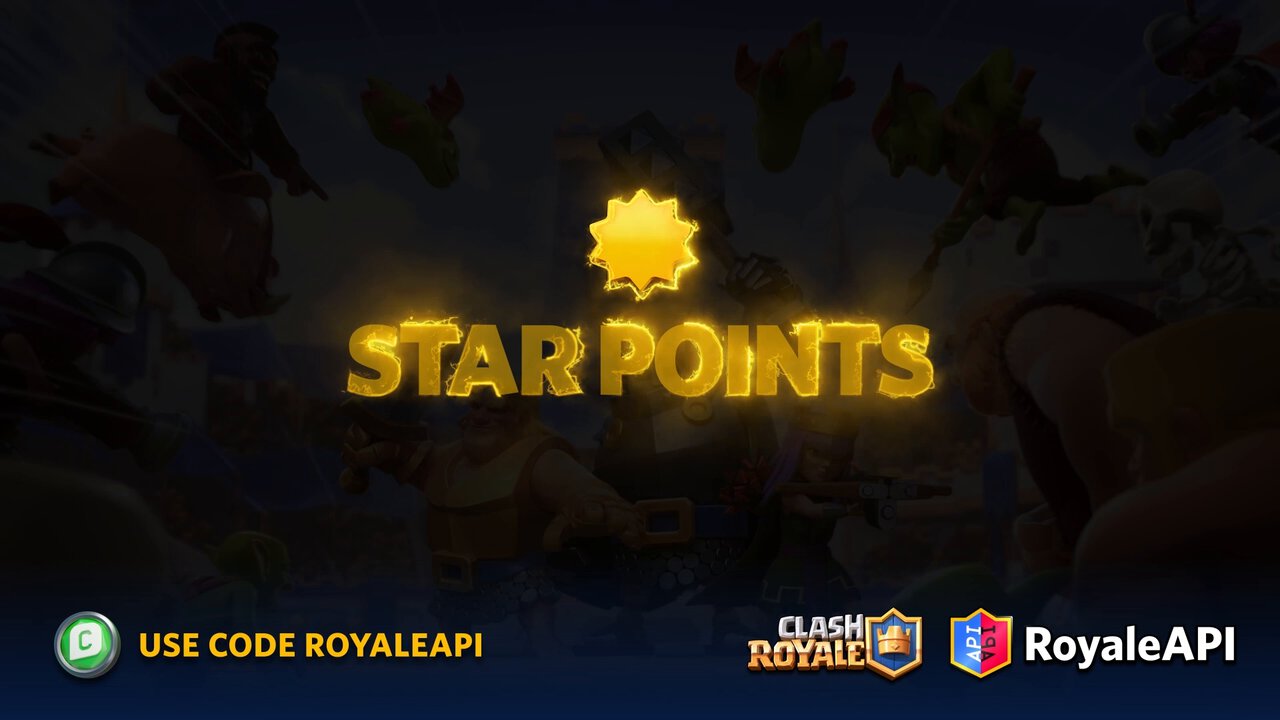 Right after King Level 14 was announced, many of you asked what would happen to your Star Points and Star Levels. Star Points have always been earned for players who are at least Level 13, so many fear that with the introduction of Level 14, they won't be able to get them anymore, or that their troops will lose the star levels.
We could only say that you will keep your star levels for your troops without giving additional details, but here's the real reason: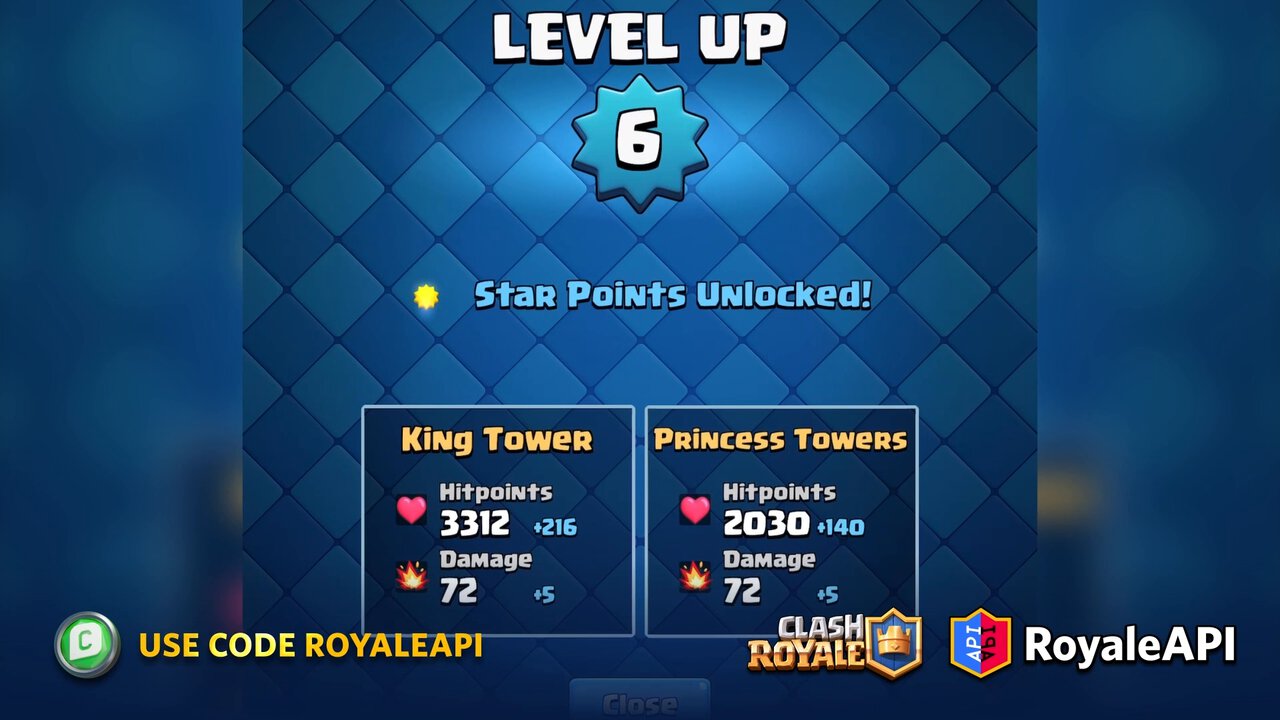 Beginning with the next update, you'll be able to earn star Points once you've reached King Level 6, with each Star Level unlockable by reaching higher king levels.
| | Before | After |
| --- | --- | --- |
| Unlock | Level 13 | Level 6 |
| Star Level 1 | Level 13 | Level 7 |
| Star Level 2 | Level 13 | Level 10 |
| Star Level 3 | Level 13 | Level 13 |
But that's not all — the star levels will take a bit less Star Points than they do right now.
| | Before | After |
| --- | --- | --- |
| Star Level 1 | 10,000 | 5,000 |
| Star Level 2 | 15,000 | 10,000 |
| Star Level 3 | 20,000 | 20,000 |
Notes:
The game will not refund the differences in Star Points level after the game update.
However, you will get Star Points for from all the card upgrades you had since Level 6. For some players, that's nearly 200k Star Points that you could have after update drops.
Star Level Troop Preview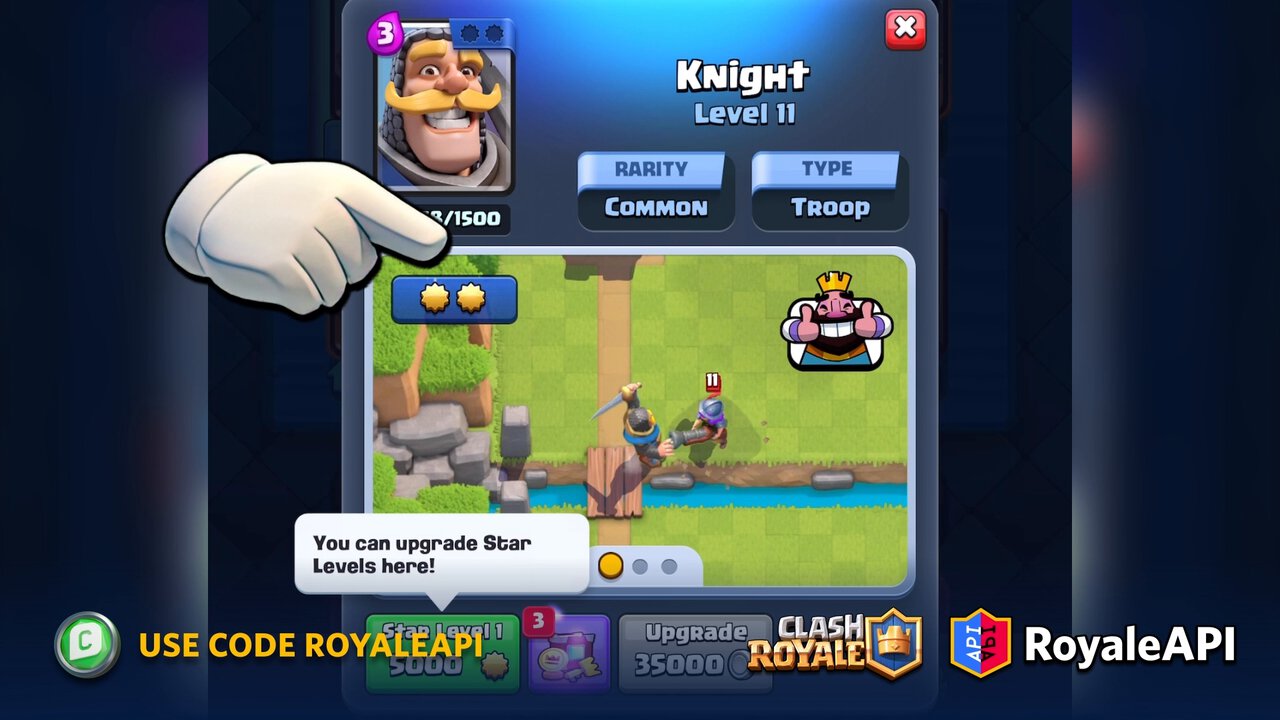 For quite a while now, players have been asking for a way to preview the star levels of the different troops. Supercell has honored your requests, and you'll be able to preview all the star levels directly in the new card info screen.
To cycle through all the star levels, just tap the Star Level button next to the troop preview. You'll see the same preview of troop performing a good and a bad attack, except now he/she will perform that action in shinier skins.
Some star levels are really special — one of my favorites has always been the 3-star Rocket. What's so special about it? Check it out yourself!
How to earn Star Points
So… how do you go about earning Star Points after the update?
Before the update
| | Below King Level 13 | Max King Level 13 |
| --- | --- | --- |
| Card Upgrades | XP | Star Points |
| Donating Cards | XP + Gold if the card is at max level | Star Points + Gold if the card is at max level |
| Collecting Max Level Cards | Gold | Gold + Star Points |
After the update
| | Below King Level 14 | Max King Level 14 |
| --- | --- | --- |
| Card Upgrades | XP + Star Points | XP + Star Points |
| Donating Cards | XP + Star Points + Gold if the card is at max level | XP + Star Points + Gold if the card is at max level |
| Collecting Max Level Cards | Gold | Gold + Star Points |
At the moment, Star Points are earned by players over Level 13 when
There are currently:
103 cards with maximum Star Level 1
74 cards with maximum Star Level 2
29 cards with maximum Star Level 3
At launch, champions won't have any star levels.
King Level 14
We have given quite a bit coverage about King Level 14 in our previous post. Check it out if you haven't read it yet.
When King Level 14 was first announced, many players are quite upset. Ladder is the main mode of the game, and to reach high trophies, you'll have to have adequate levels in order to compete. Playing with underleveled cards put players in a distinct disadvantage and many are not looking forward to the long grind ahead.
After the announcement, part of the community felt that KL14 is a forced progression that doesn't come with any real purpose, but that's because the real driving force for the level is not revealed until now.
Champions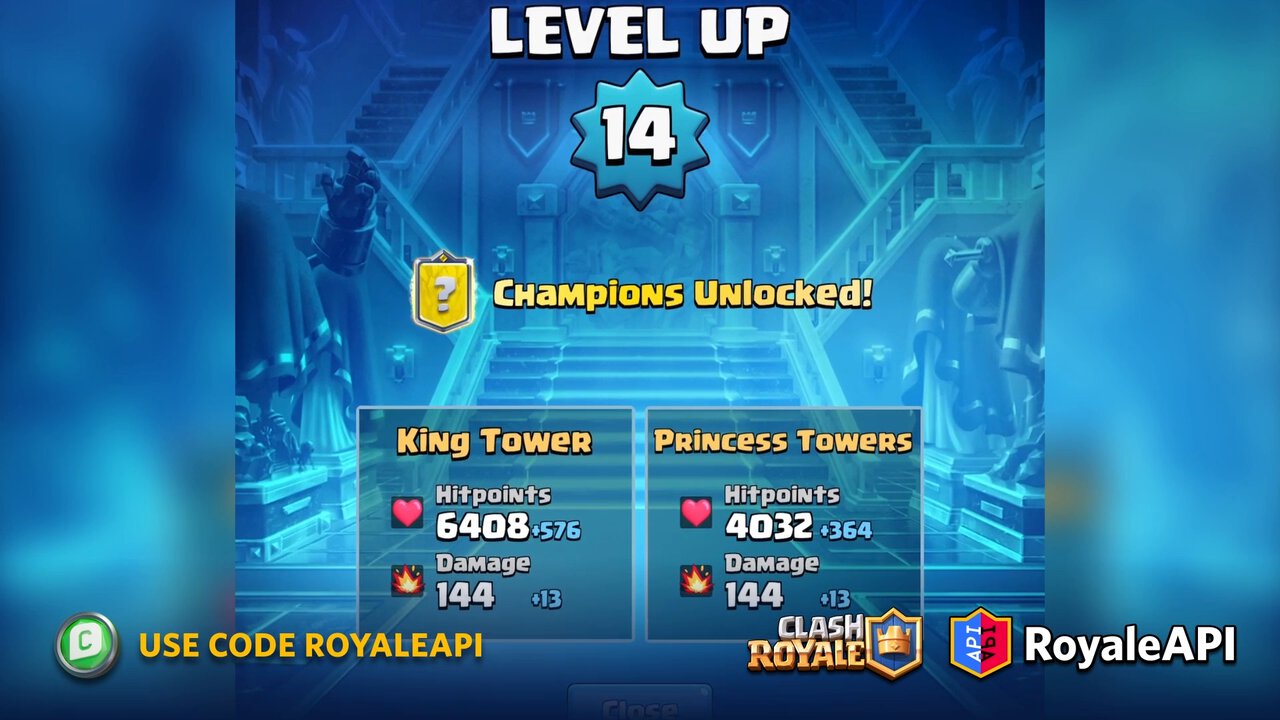 As promised earlier by Supercell, this update focuses on the long-time players looking for end-game content… Introducing Champions — a new Rarity unlockable only when you have reached Level 14!
So what's so special about these Champions? Quite a lot actually. For starters, these are the first types of troops that have special abilities. These abilities cost Elixir and have a cooldown. Instead of talking about it, why not check them out in action?
Champion: Skeleton King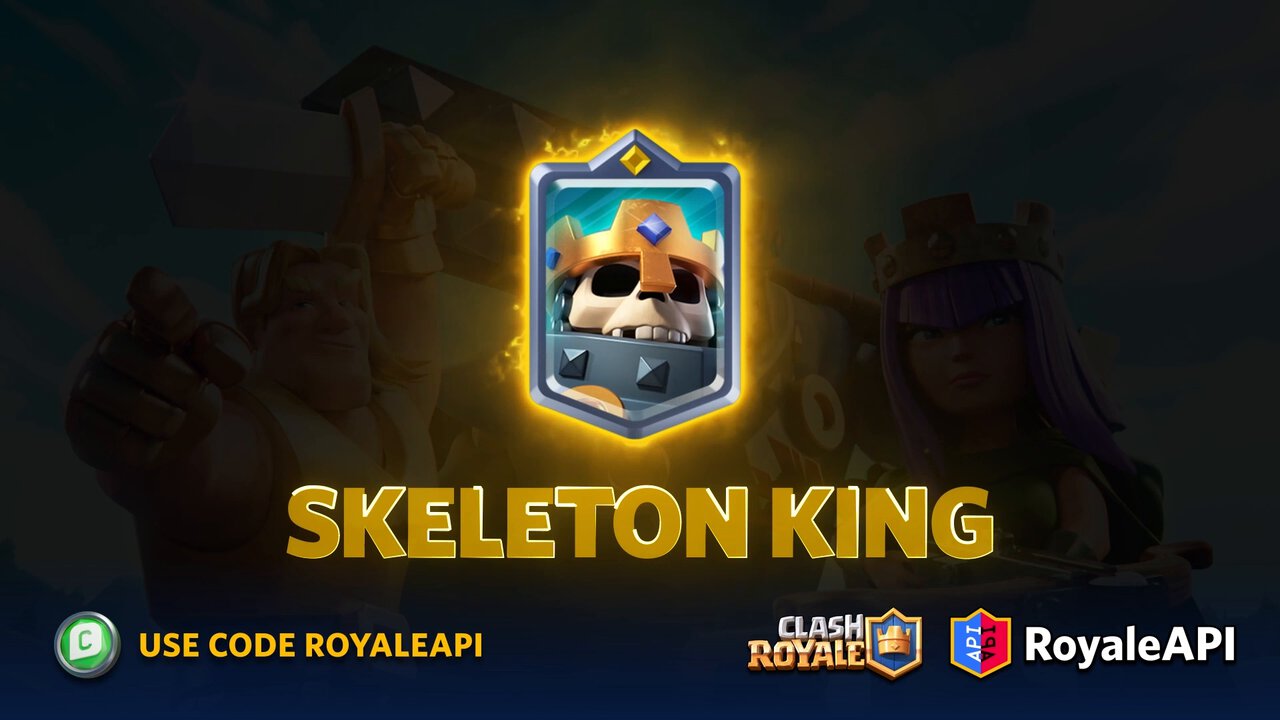 Skeleton King is a melee troop that that cost 4 Elixir.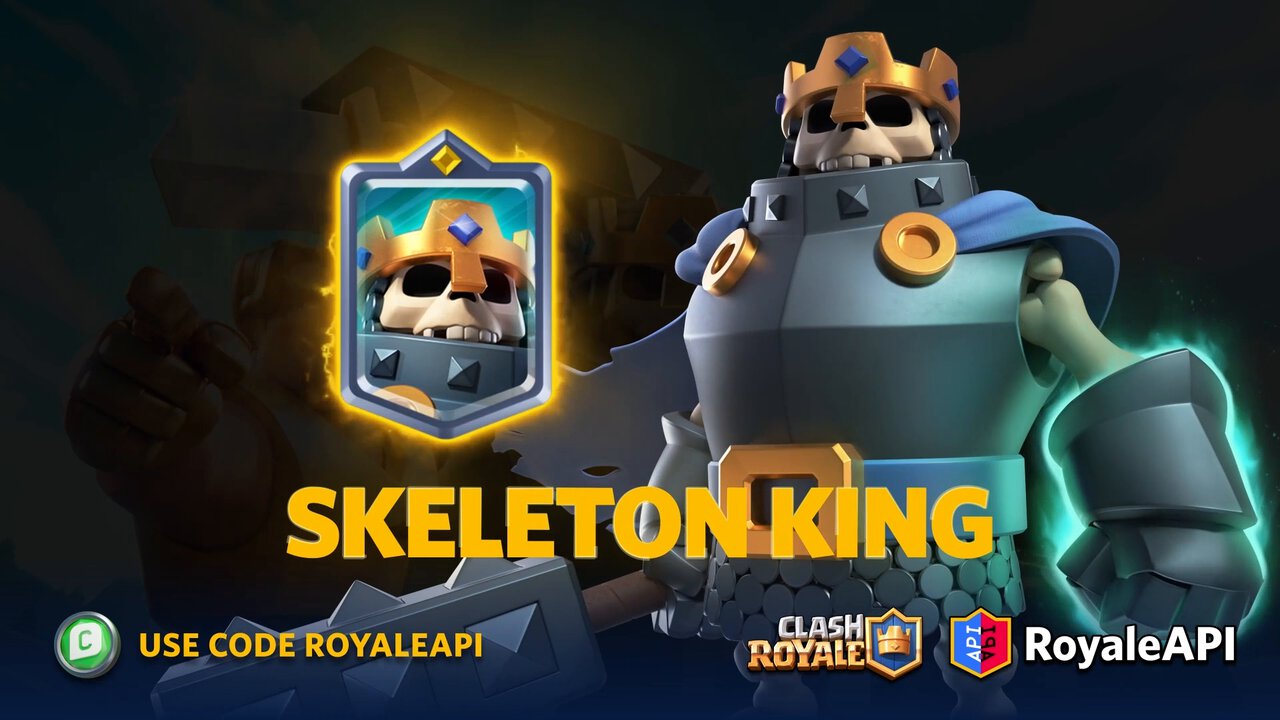 He may look really big, but he doesn't have a lot of health. Don't let that heavy armor fool you. He costs 4 Elixir after all, so don't expect him to tank like a Golem.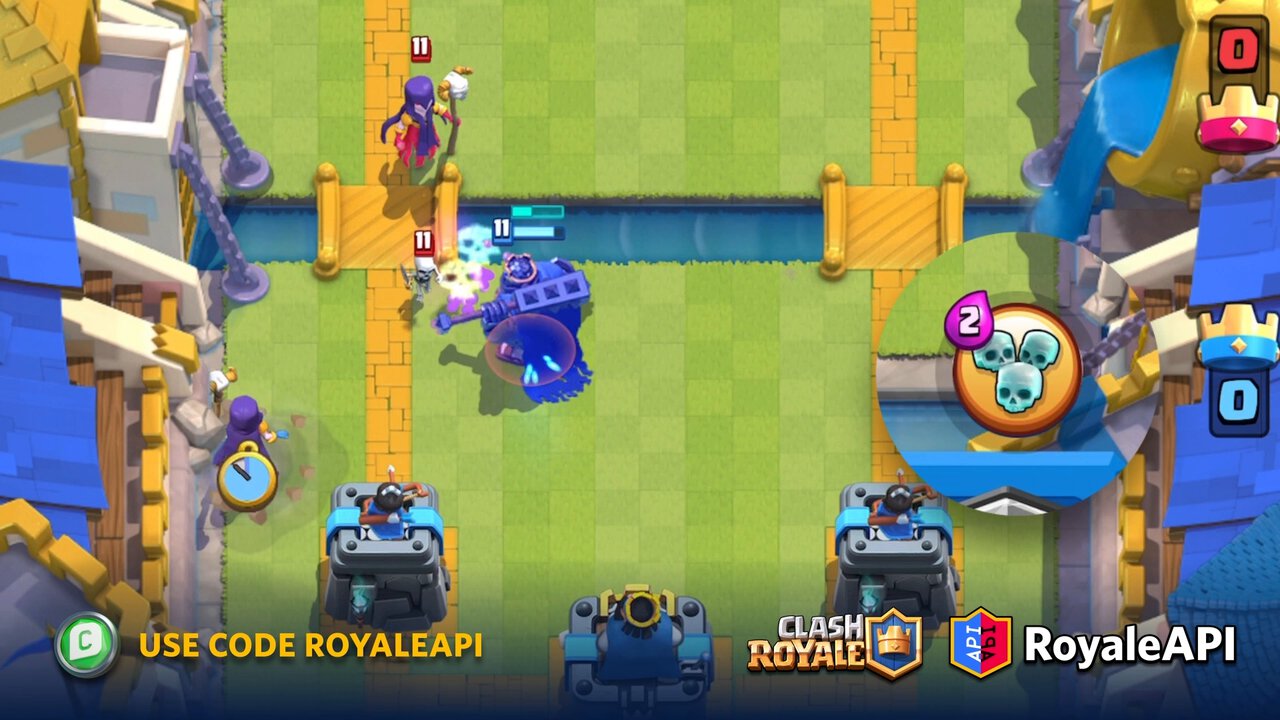 When you play a Champion onto the Arena, a Special Ability button appears at the lower right corner of your screen.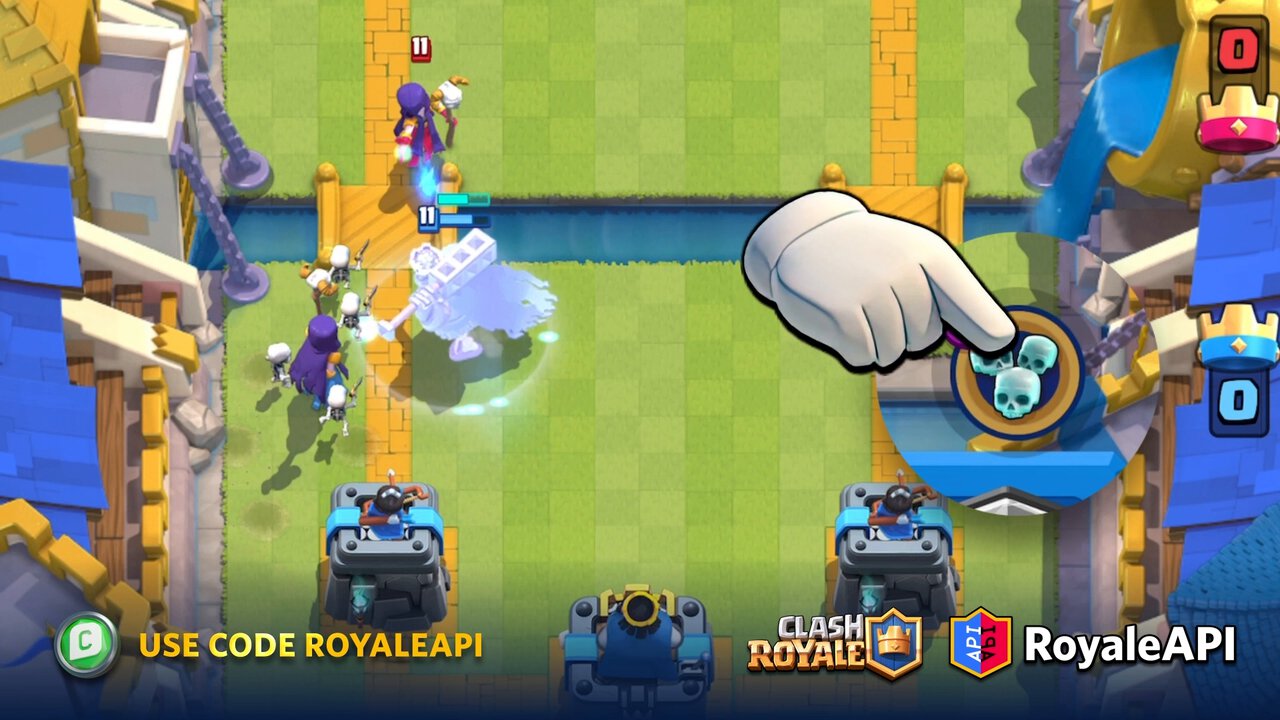 When you're ready to use the Champion's ability, tap to activate it. Skeleton King's ability is called Soul Summoning. It allows him to collect "souls" in the battlefield. When troops die, they become souls (look like a ghost) and the Skeleton King collects them, in turn charging the power level of his ability.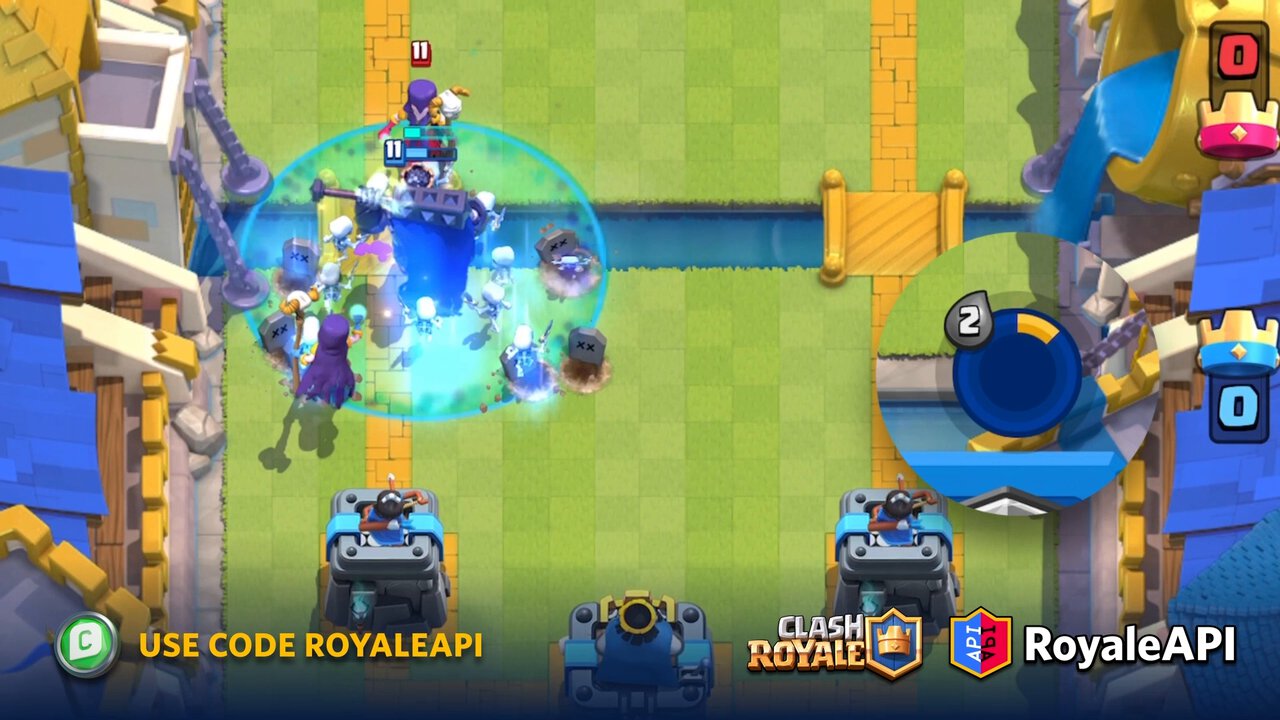 Once activated, these souls turn into something similar to a Graveyard spell, and spawns Skeletons around the Skeleton King. The spell area follows the Skeleton King as he walks around the arena.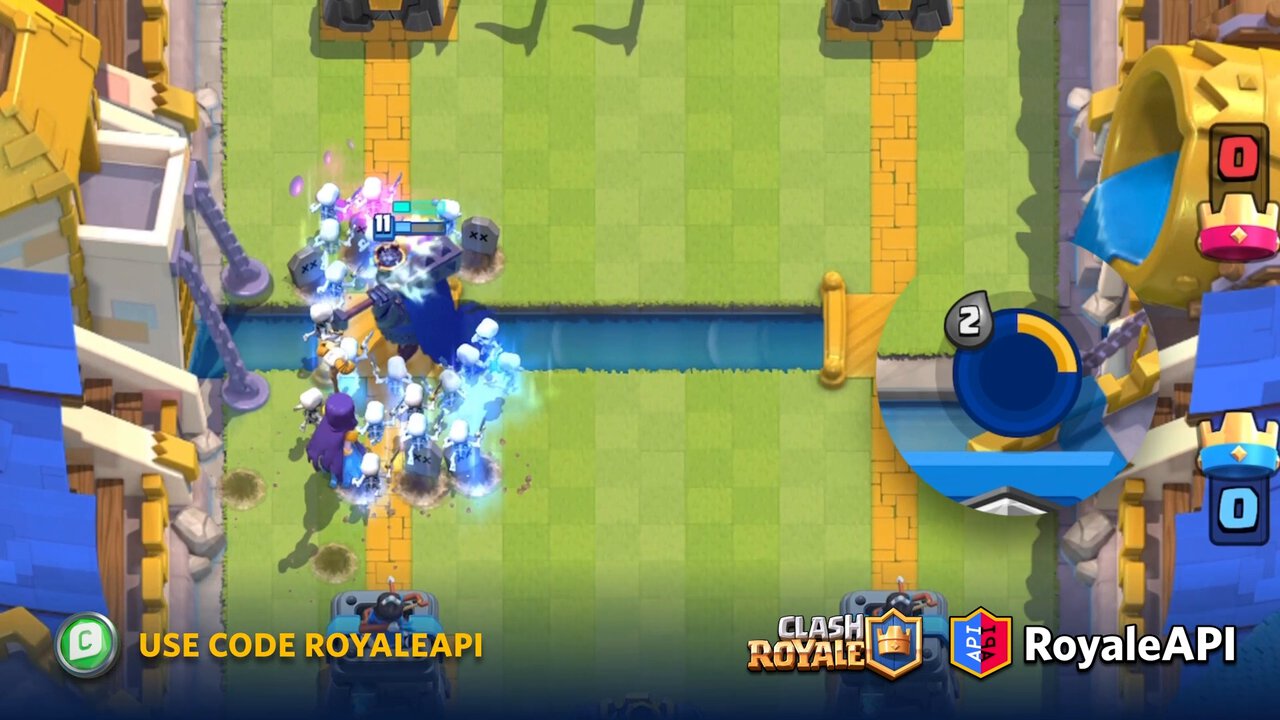 The more souls the Skeleton King is able to collect, the more powerful this Graveyard-look-alike will be!
What happens if the Skeleton King hasn't collected any souls? Well, his Graveyard ability will always have a minimum of 6 Skeletons, so he won't be completely useless if nothing is dying in the battle field.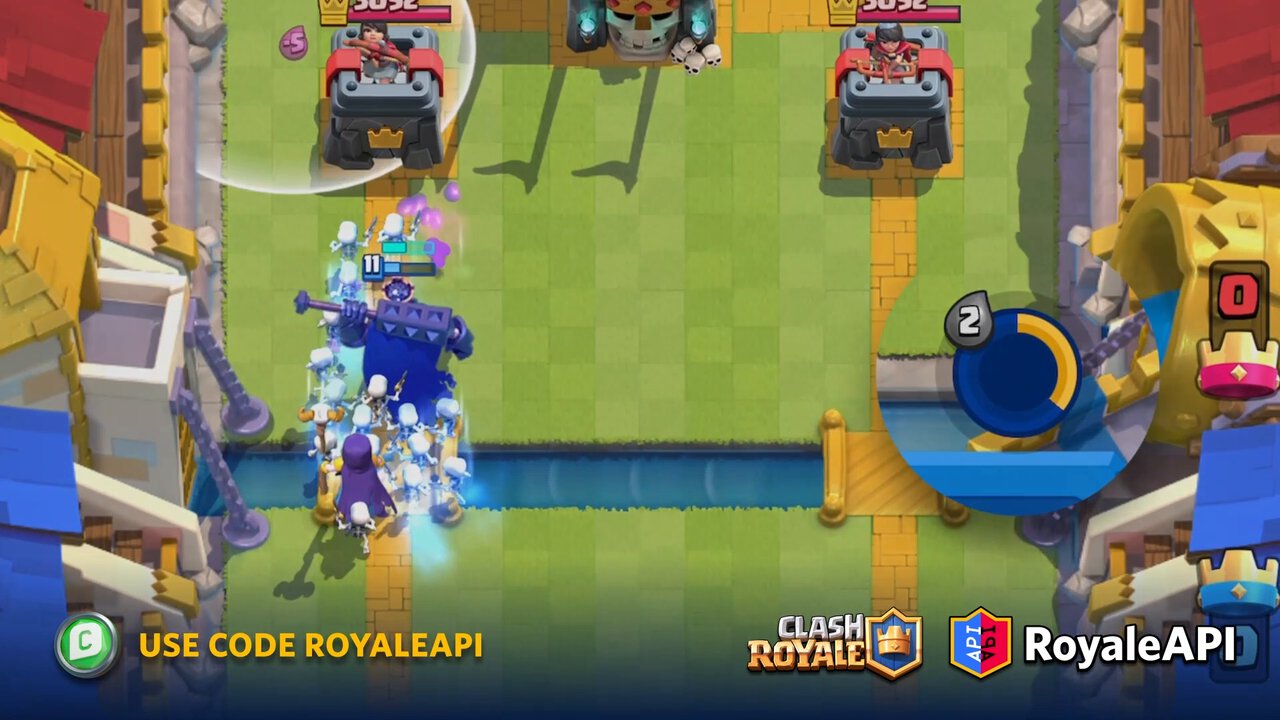 Once an ability is used, it goes through a cooldown before you can activate it again. The soul collection ability of the Skeleton King is passive, so he will continue to collect souls even though he's unable to activate another round of Graveyard immediately.
Champion: Archer Queen

Similar to Skeleton King, Archer Queen is like an Archer on the outset, but has her own unique ability.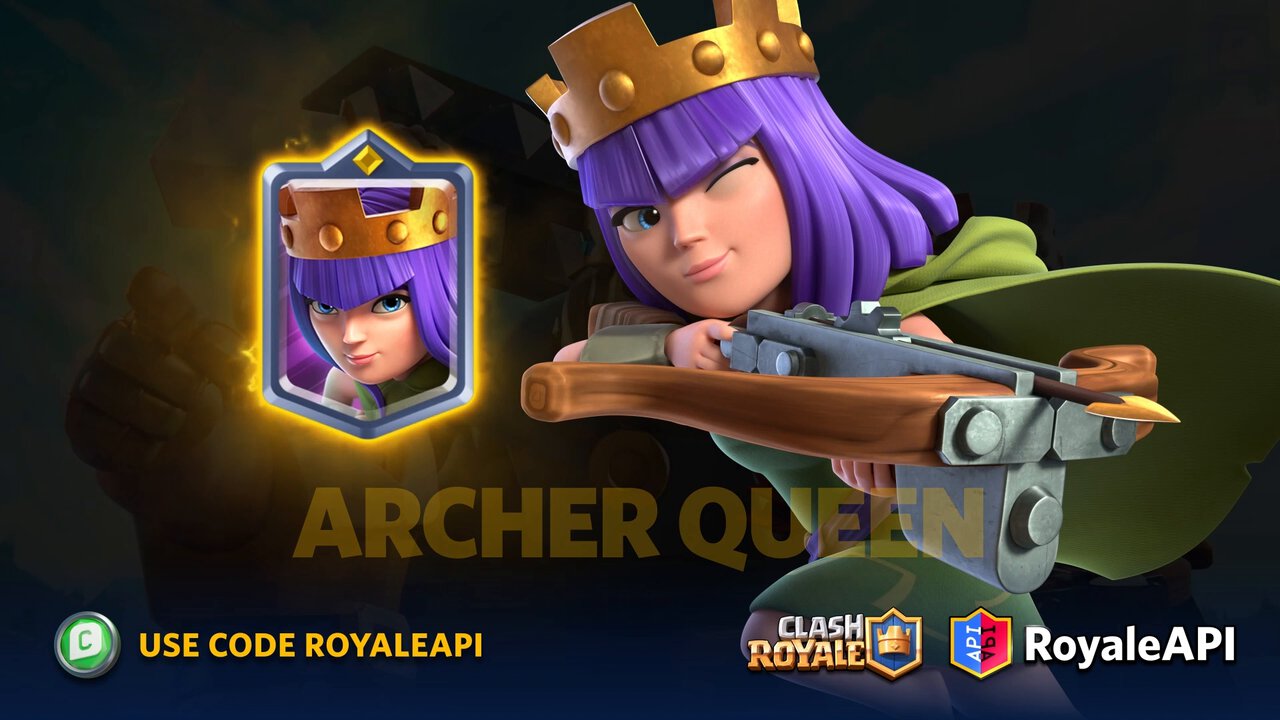 She costs 5 elixirs to deploy into the battle field, and her ability takes 1 elixir to activate.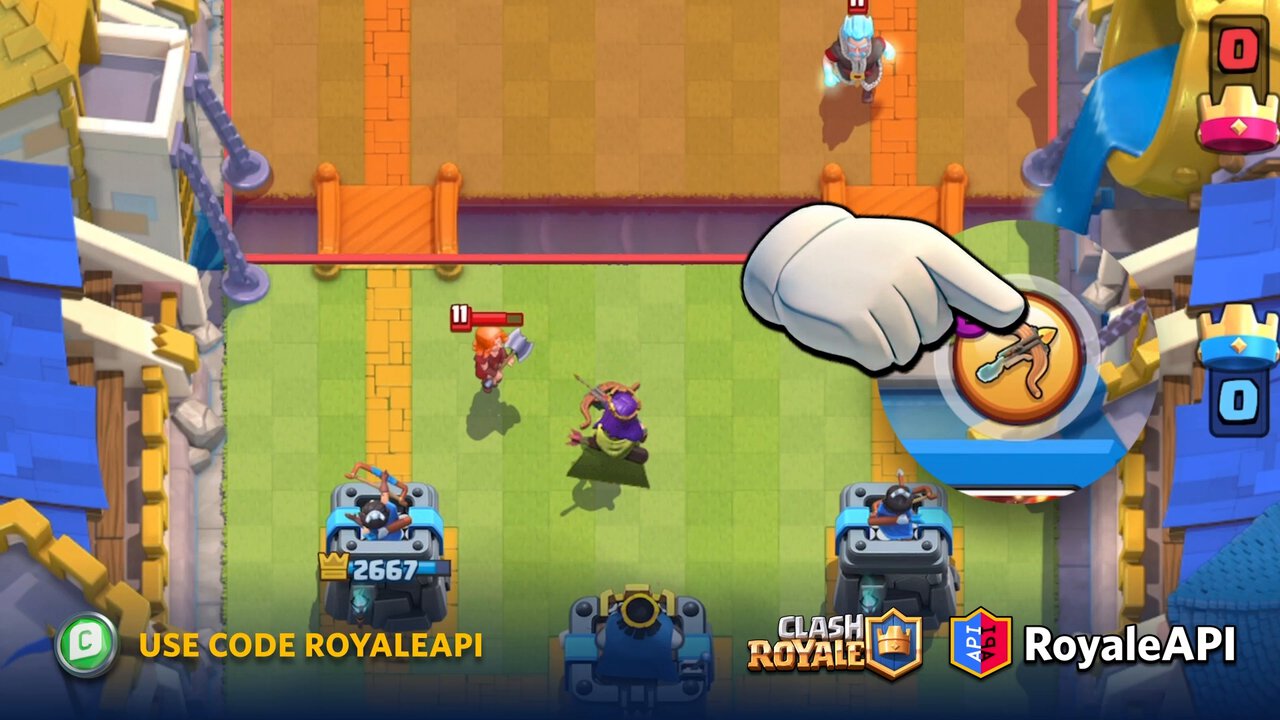 Once activated, her ability grants her a Cloaking Cape and makes her invisible to enemy units. It also increases her speed and allows her to burst attack.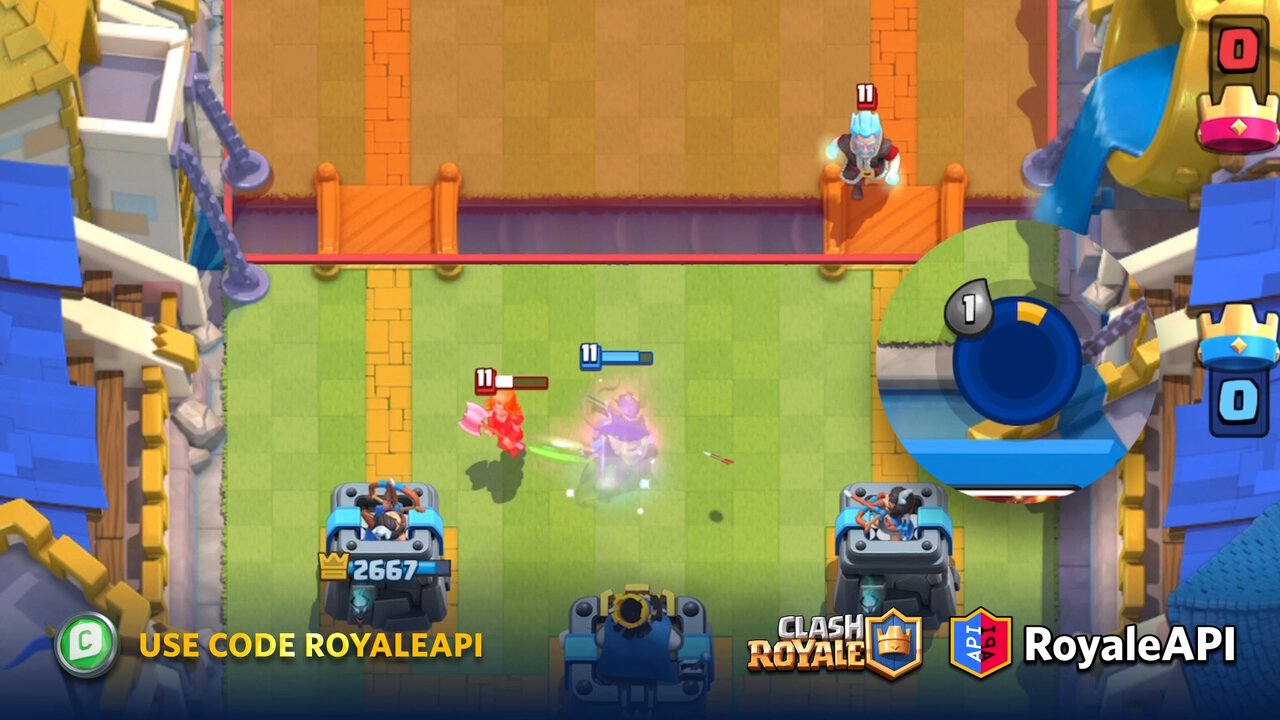 In the battle above, the Valkyrie was approaching the Archer Queen, but as soon as the Queen activated her ability, the Valkyrie lost sight of her and walked towards the tower.
The Archer Queen was then able to take her out and before joining a few Royal Hogs into battle.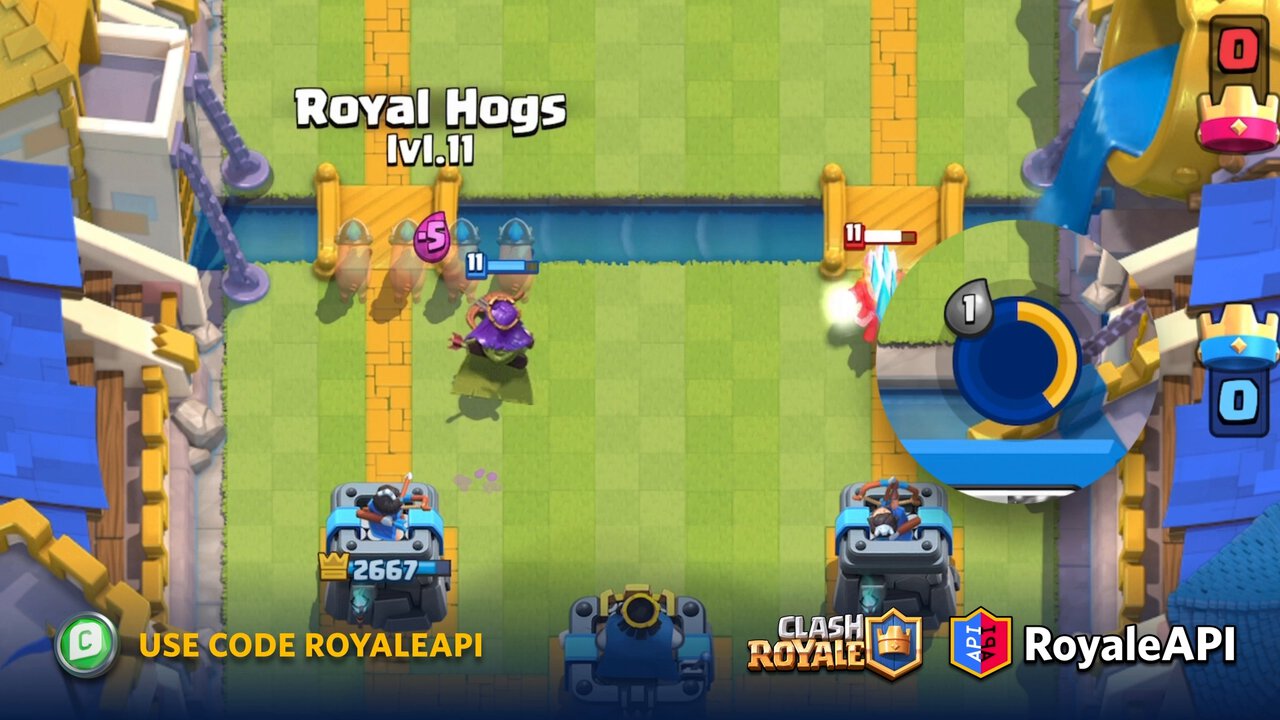 Champion: Golden Knight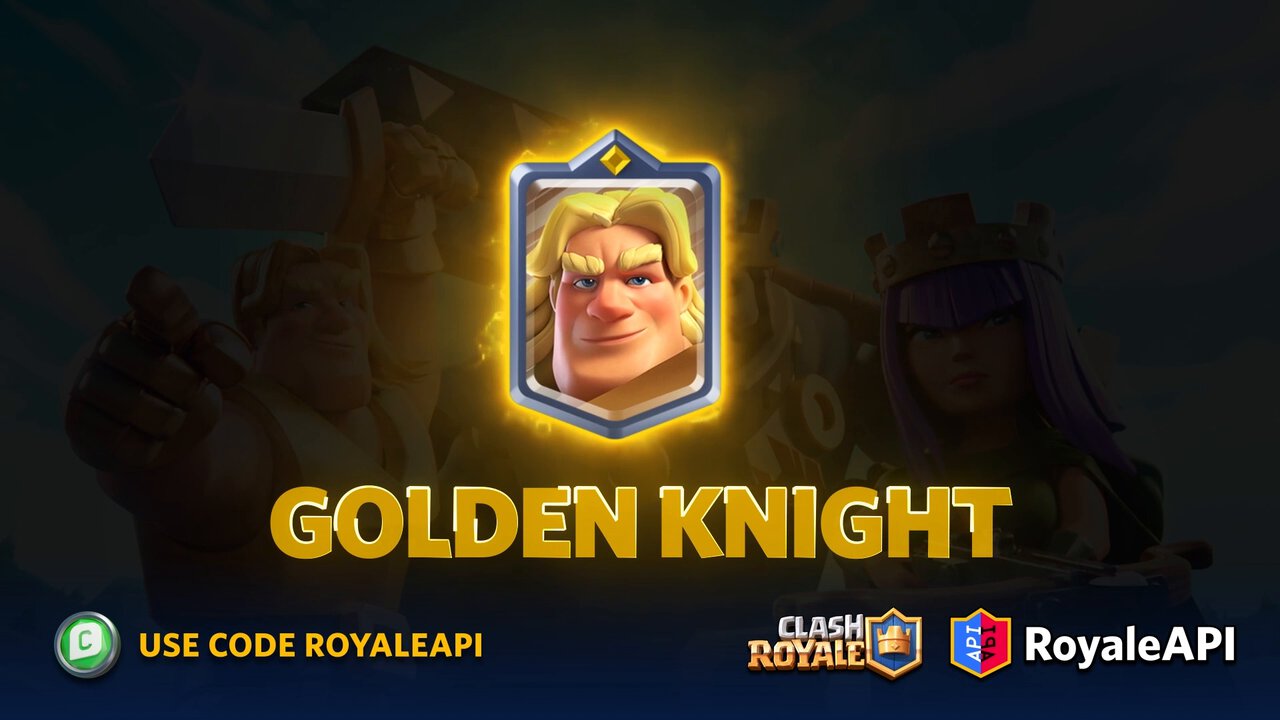 Golden Knight is the third Champion you can unlock at launch.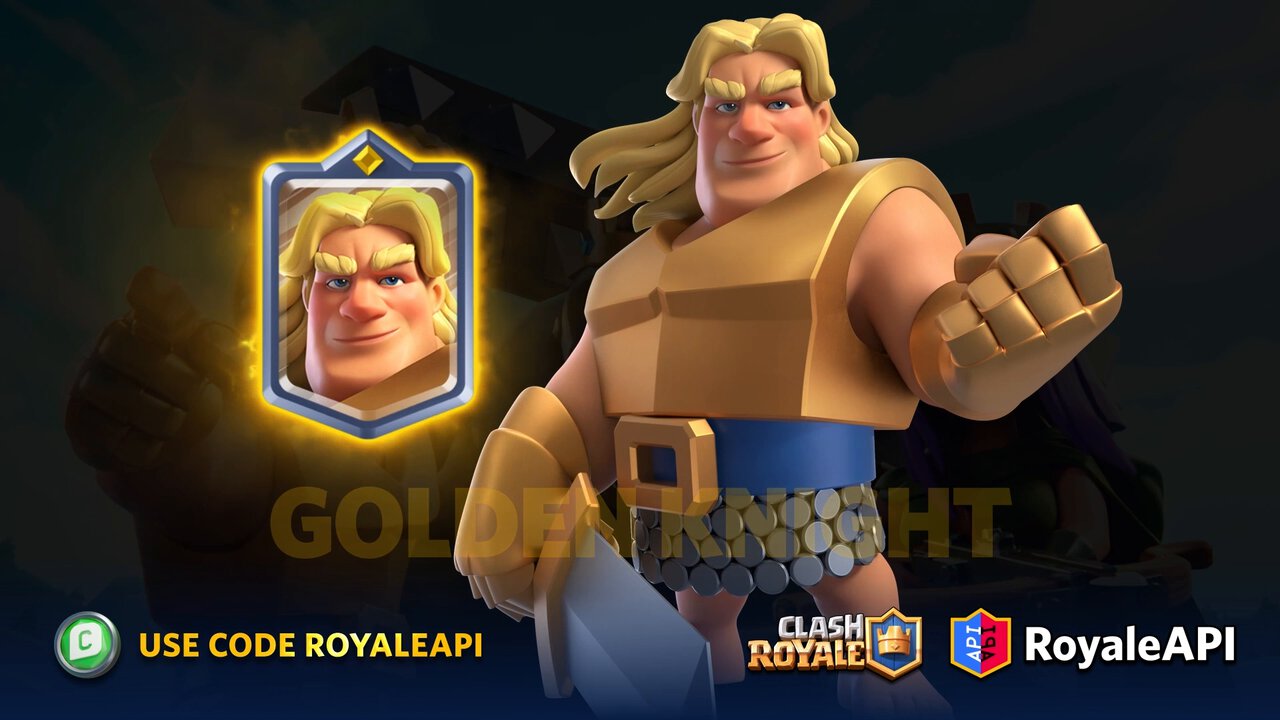 Although the update launches with three champions, Supercell is probably working on a few more already — if you looked closely at the Sneak Peek Animation, the majestic hall has quite a few statues in different poses that are simply covered.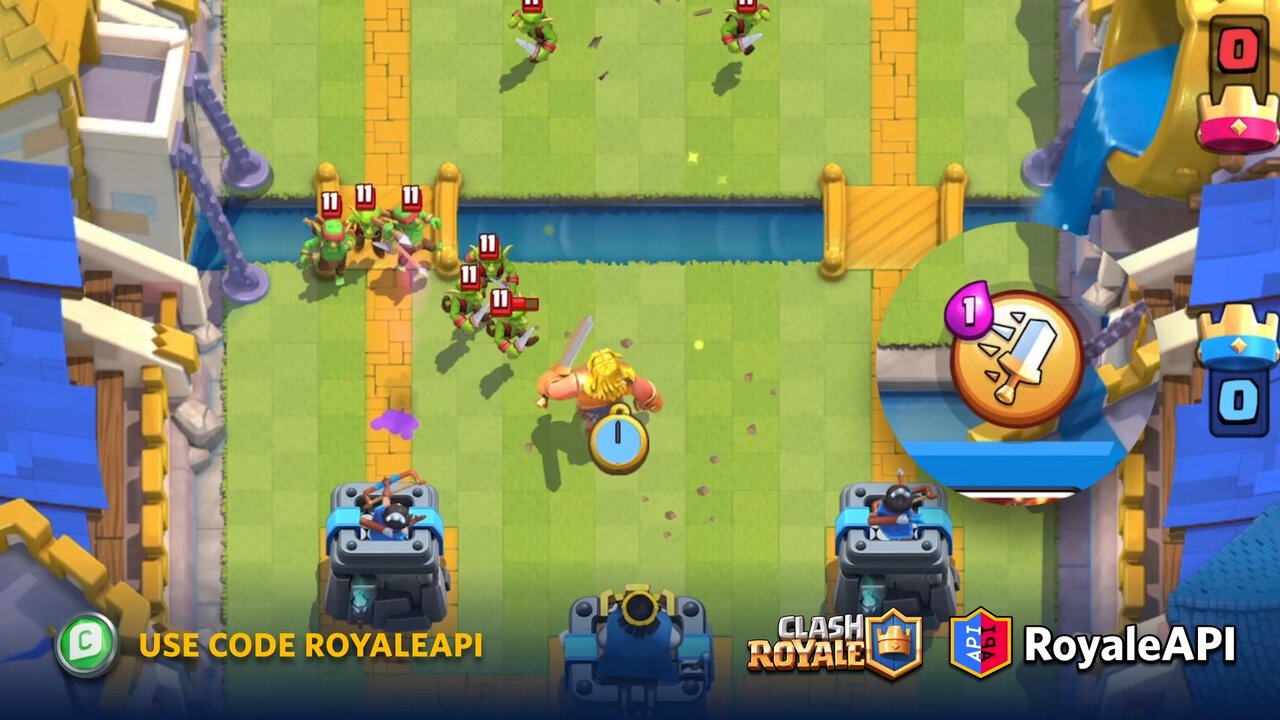 Golden Knight is a 4 Elixir-cost melee troop, with a 1-Elixir ability called Dashing Dash!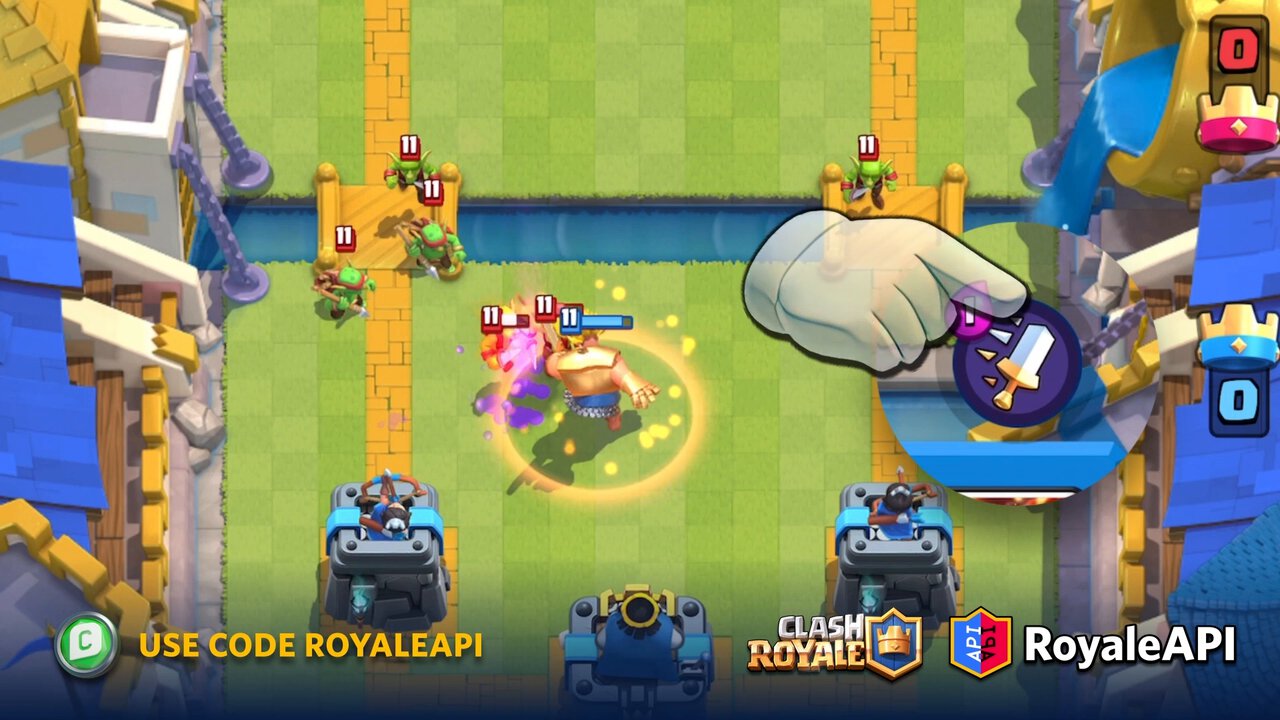 He attacks normally like a regular knight — one stab at a time. But once you've activated his ability, he dashes into the enemy troops and chains his attacks in lightning speed.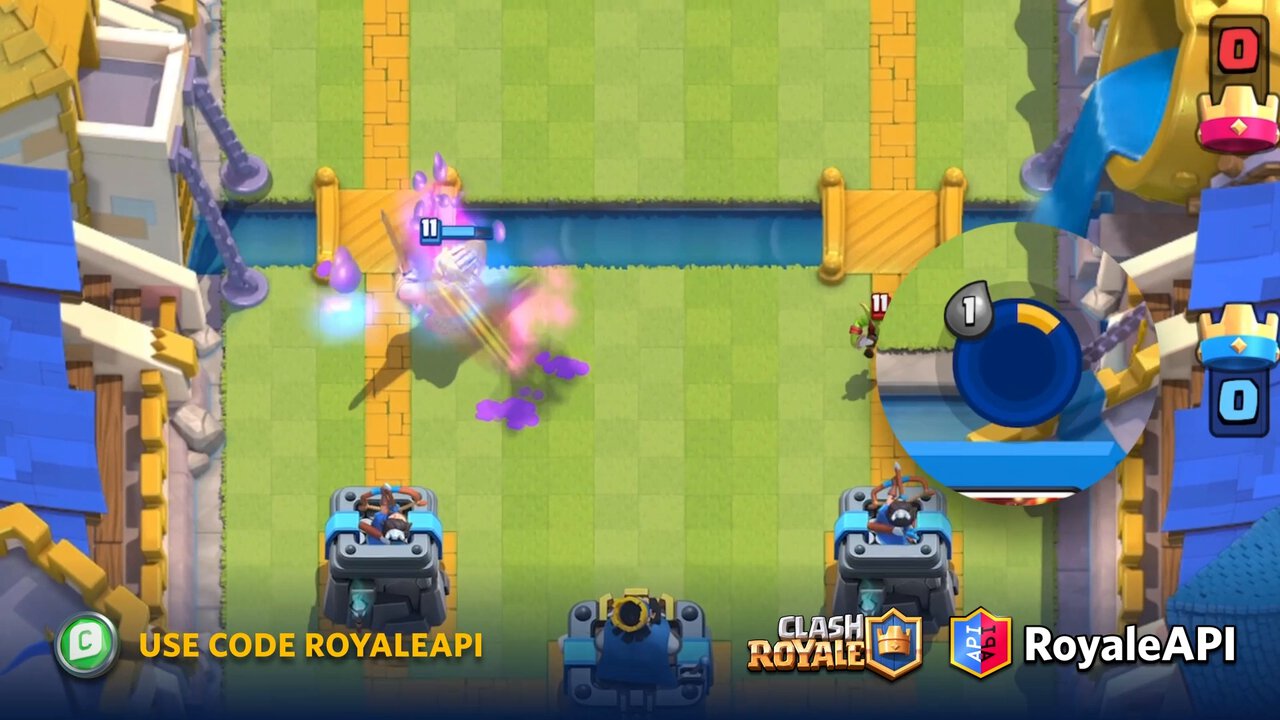 His ability is a bit difficult to explain in still images, so I'd highly recommend that you check out the video we've posted above. His dash is a bit like the Bandit dash, but chained together like the Electro Spirit.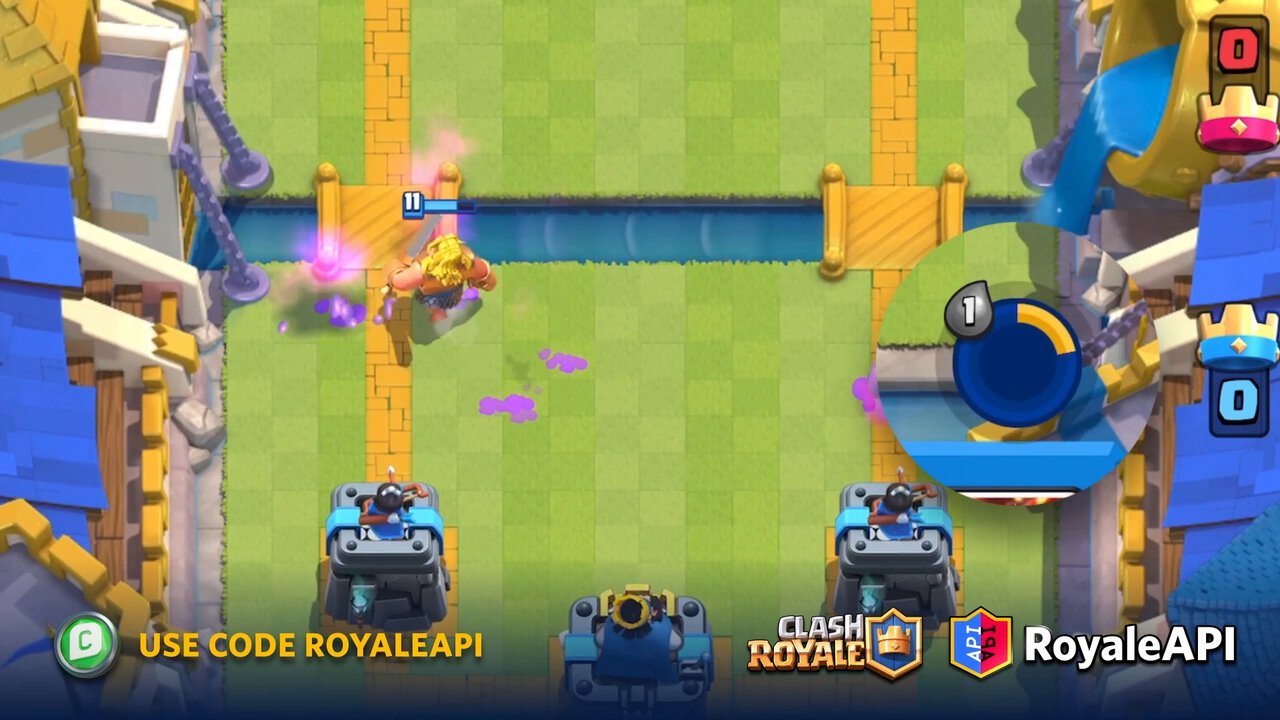 For me, the Golden Knight is the champion that takes some getting used to, because normally he has a single-target attack, but is able to deal with swarms once his Dashing Dash is activated.
Champions: Notes
Here are some important notes about champions that are not covered above:
You can only have one Champion per deck.
You can only deploy one Champion in the battle field at any time. Once you have played a champion, he is taken out of the deck cycle until he/she dies.
Champions unlocks at Card Level 11.
Champions is a higher rarity than Legendary, and so they're harder to obtain than a Legendary.
The Book of Books and the Magic Coin may be used to together to upgrade Champions.
When the update goes live, there will be multiple Champion "Build-a-Deck" challenges that will allow all players at King Level 8+ to play with Champions.
After the update, all Global Tournaments, Classic Challenges as well as Grand Challenges will have a deck builder that allows players to play with any card in the game even if they haven't unlocked them. That includes Champions.
Upgrade Costs
| Card Level | Cards | Gold |
| --- | --- | --- |
| 11 | Unlock | |
| 12 | 2 | 35,000 |
| 13 | 8 | 75,000 |
| 14 | 20 | 100,000 |
| Total | 30 | 210,000 |
King's Journey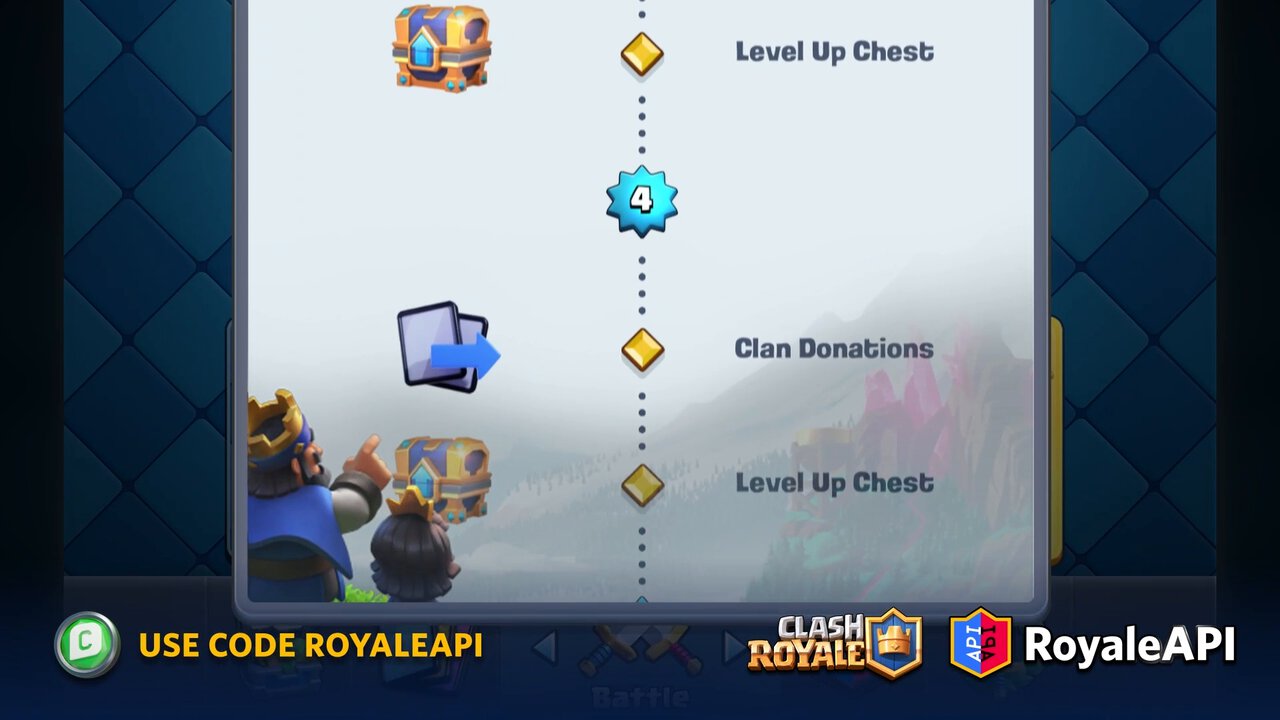 Also new in this update is a special feature called the King's Journey. It's a progression road like the trophy road, but instead of unlocking through trophies, you will unlock each level by upgrading your King Level.
Every time your King level up, you'll get a King Level Chest. This chest an only be unlocked through the King's Journey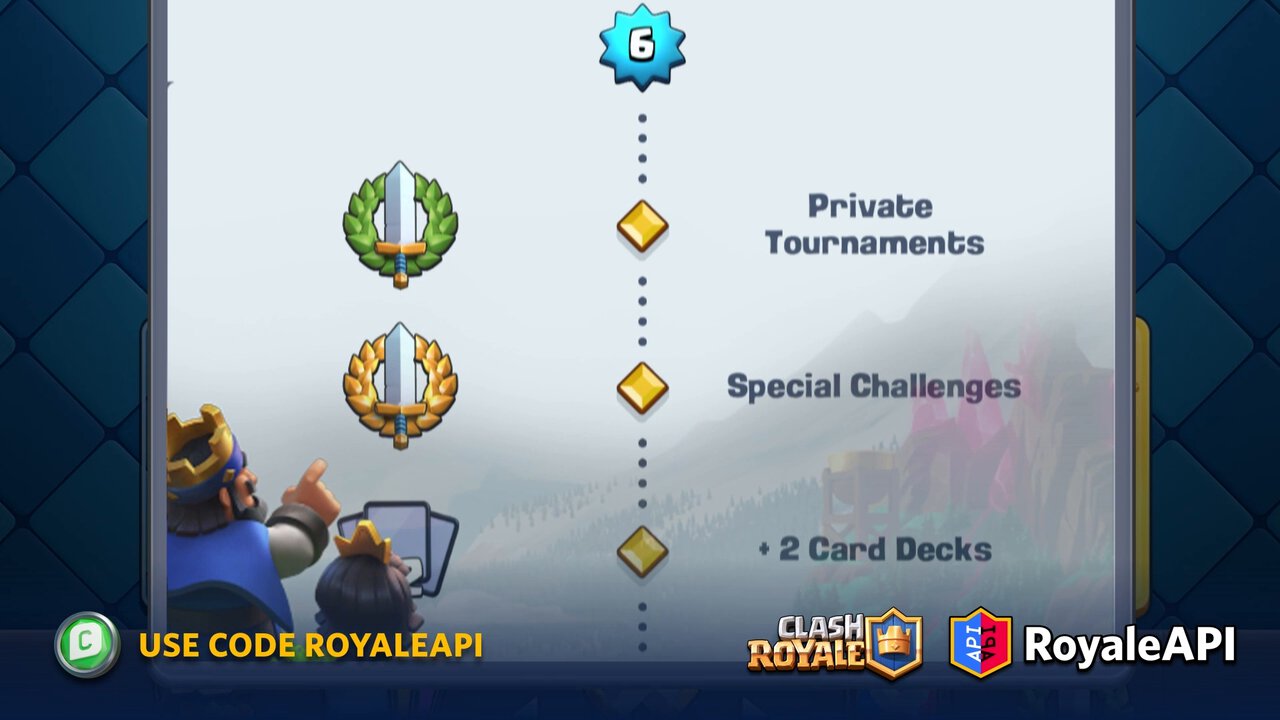 When the update goes live, you'll be able to collect all of your previous level up chests up to your current level.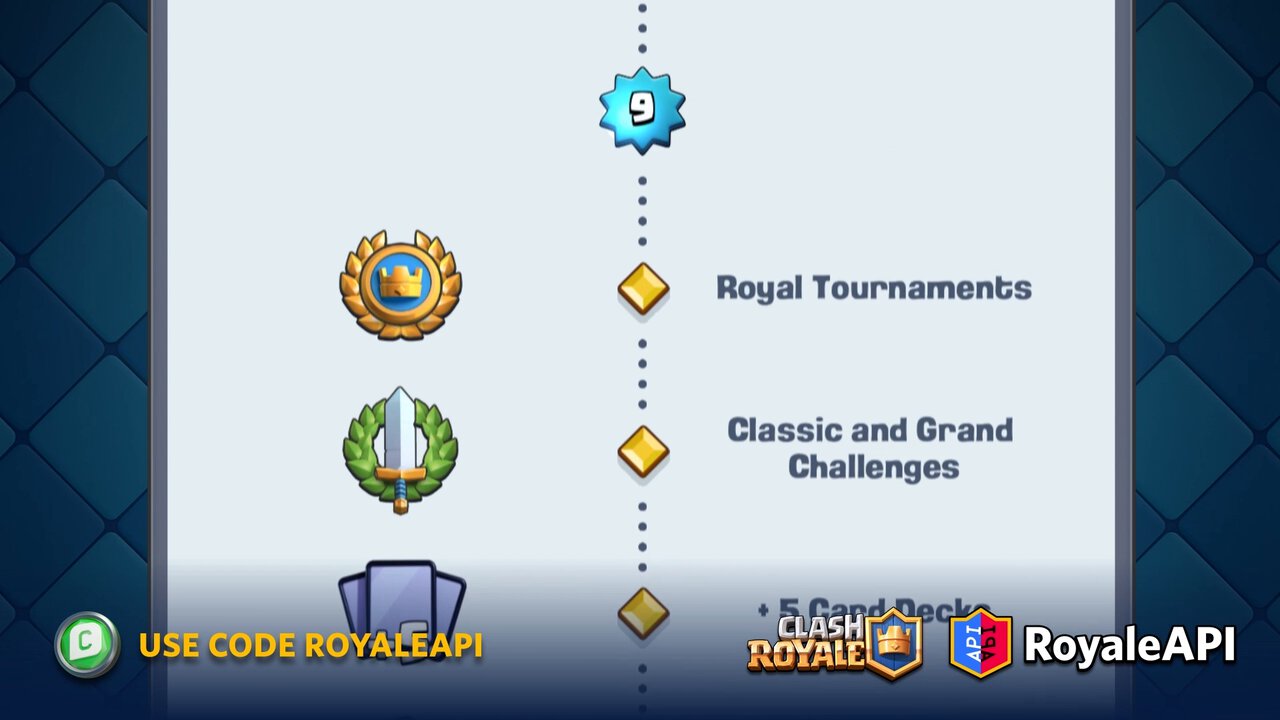 Each King Level grants special perks that you can unlock. For example, you'll be able to join private tournaments and challenges once you got to Level 5. And as you've learned previously, you'll be able to start earning Star Points at Level 6.
Of course, one of the best perks you get is increasing HP and Damage levels of your towers. Tower damage and its health are very important deciding factor to winning / losing the game. I estimate that each King Level increase is equivalent to upgrading 2 cards in a deck.

Once you're reached Level 14, you will receive a King Level 14 Chest that guarantees a Champion.
Season 29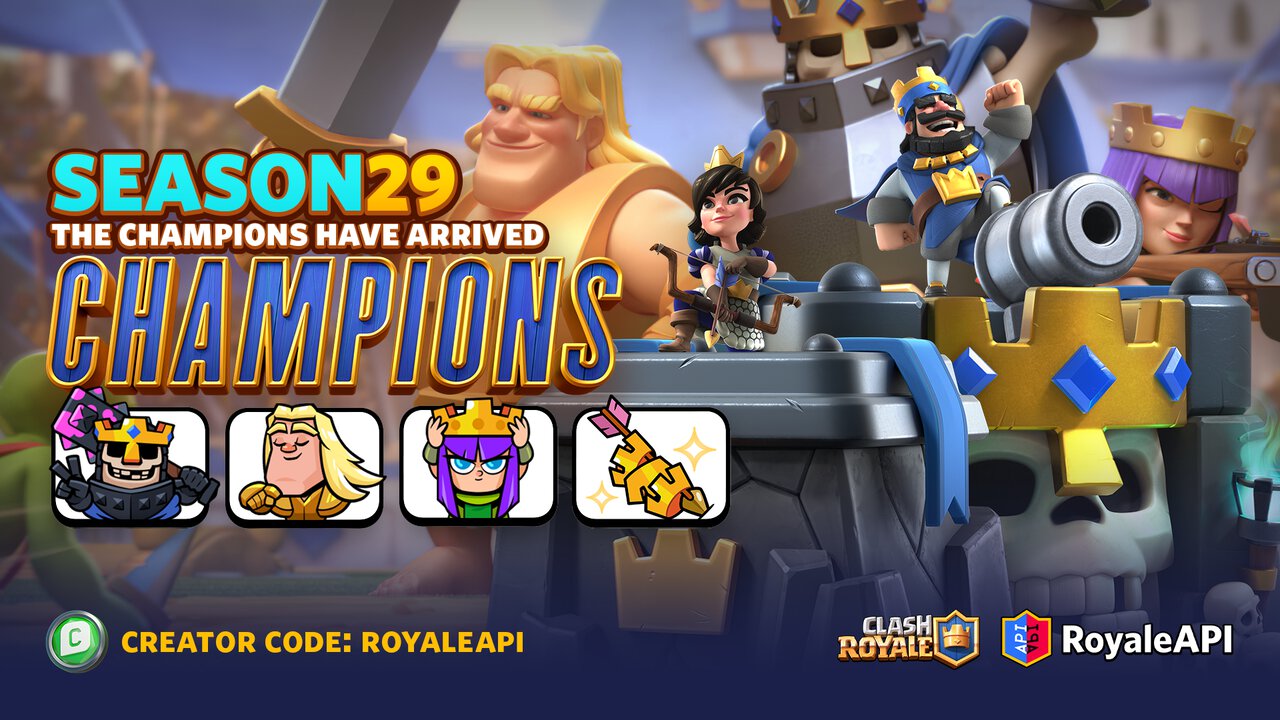 The Champions have arrived — is the name of the next season, Season 29. Based on the 3 giant figures in the teaser animation, it shouldn't take much to figure out that we'll be getting 3 Champions.
Season 29 starts on Monday, November 1, 2021.
Season 29: Boosted Card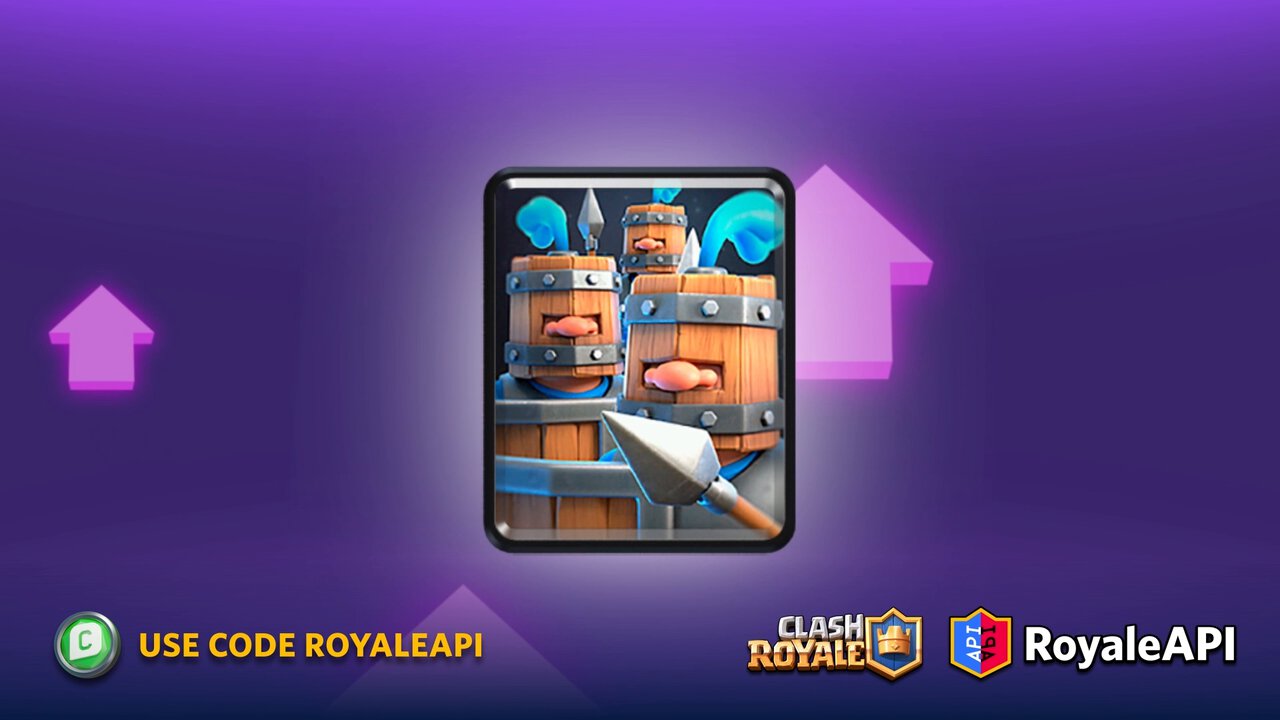 The boosted card for the next season is Royal Recruits.
Season 29: Free Book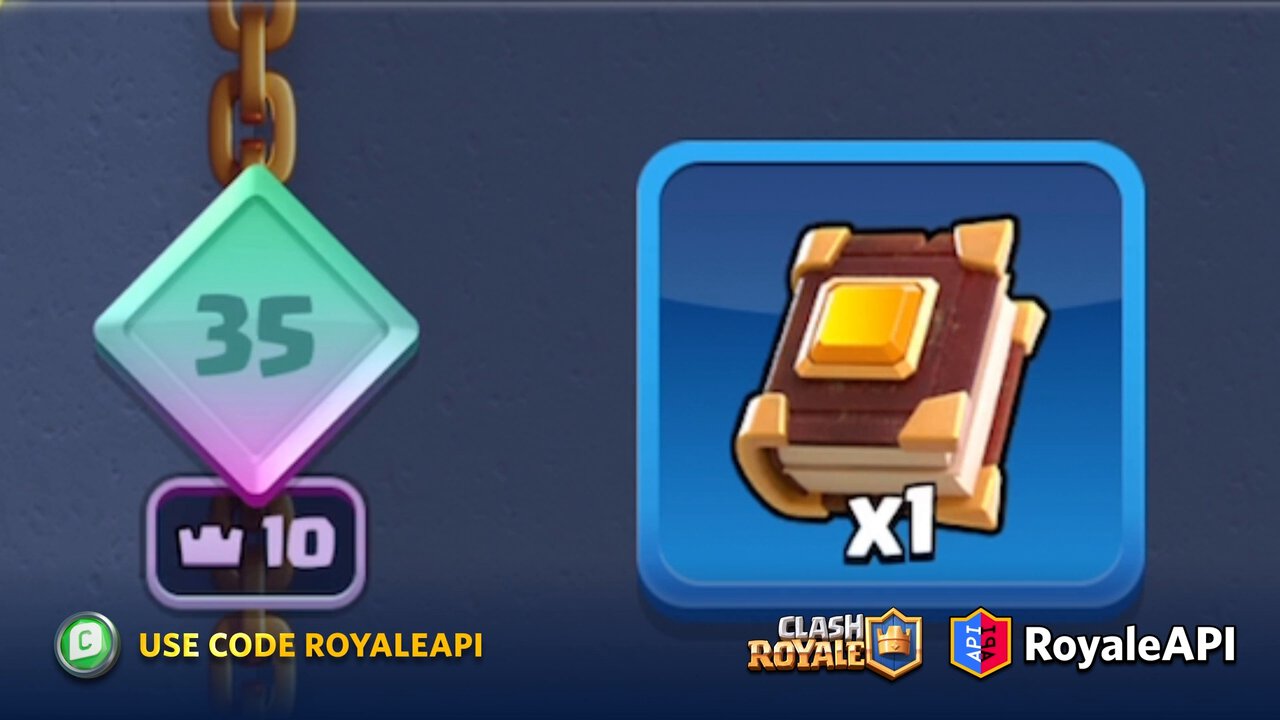 You'll get a Rare Book of Cards if you reach tier 35 on the free track of Pass Royale.
Season 29: Arena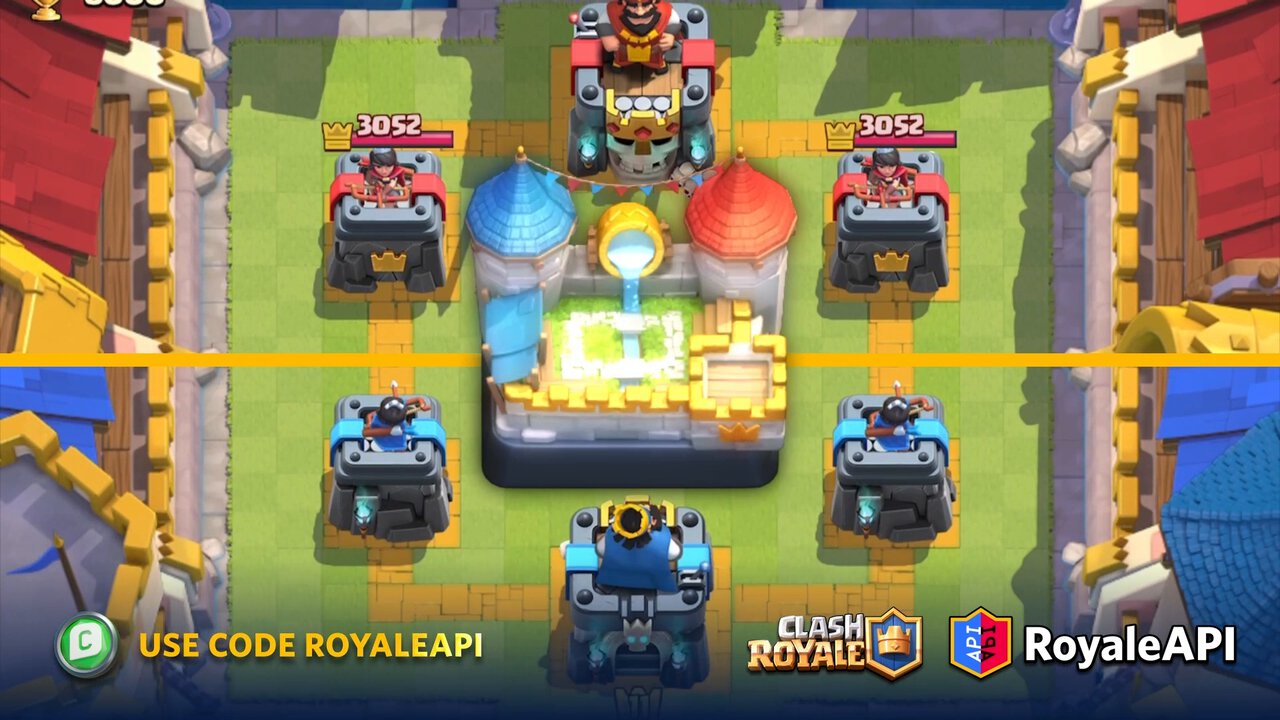 You will battle in the Royale Arena in Season 29. Yes, it's an old arena, but with so many new things in this update, there'll be plenty of new things to check out besides looking at the floor. The lush green grass actually contrasts well with all the new things you will see, so it's a nice arena to launch with the update really.
Season 29: Emotes
No season is complete without special emotes! This upcoming season will have 4 of them.
Arrows: 3 Crowns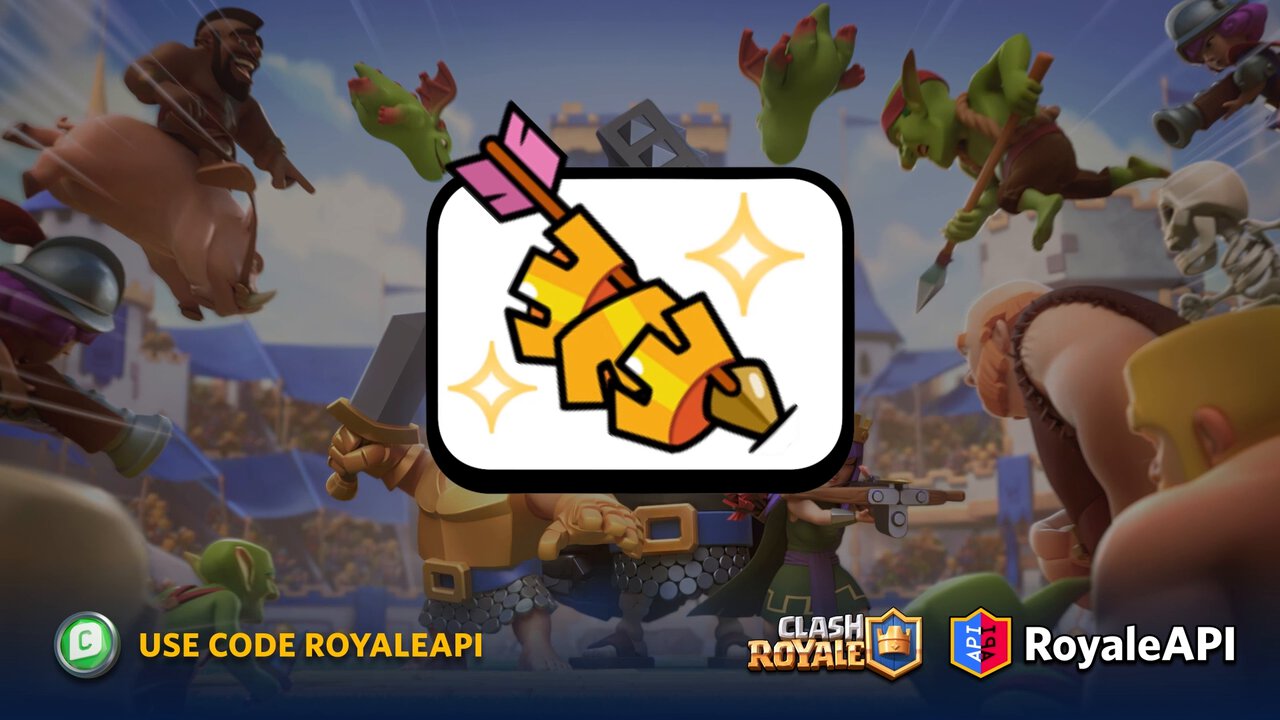 This emote is very special because it's the second spell who got their own emote — the first one is The Log! Emotes for spells are always difficult because they don't really have "emotions", but putting a core game concept into a spell emote is so much fun!
This will be an exclusive emote for people who buy the Pass Royale next season.
Skeleton King: Victory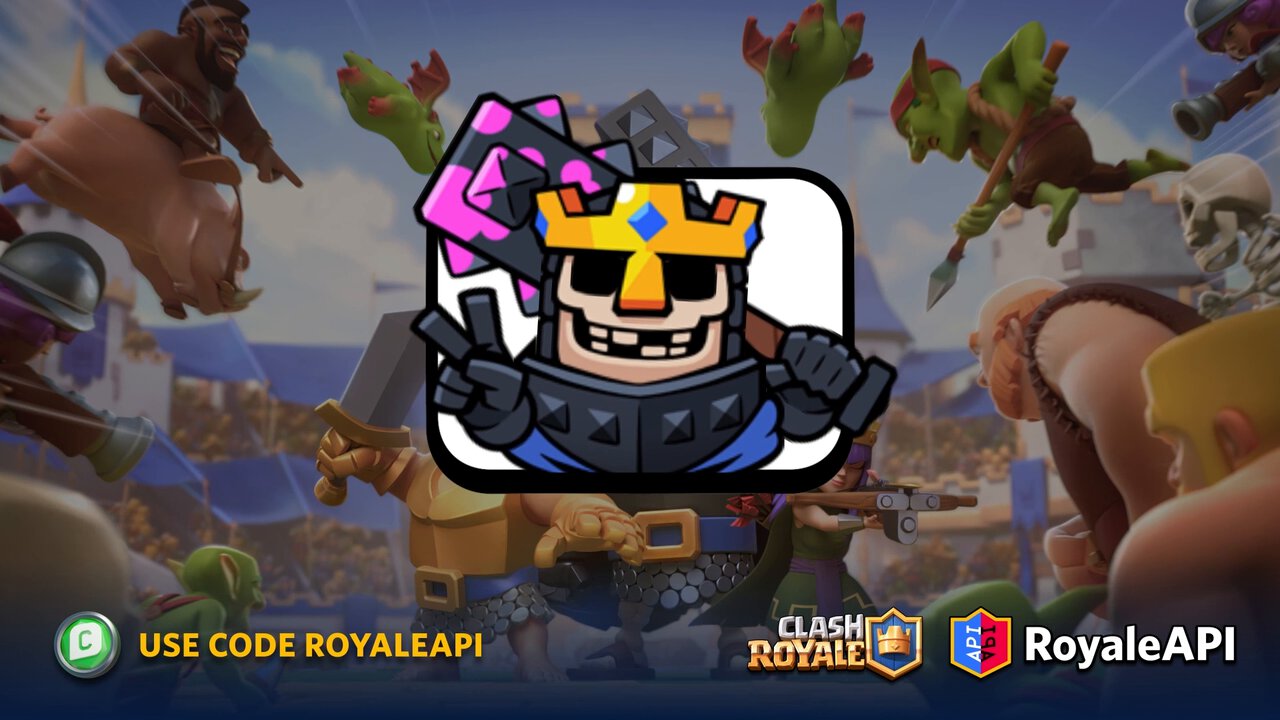 This is a special challenge emote unlockable through the Skeleton King Launch Party happening in November.
Golden Knight: Gorgeous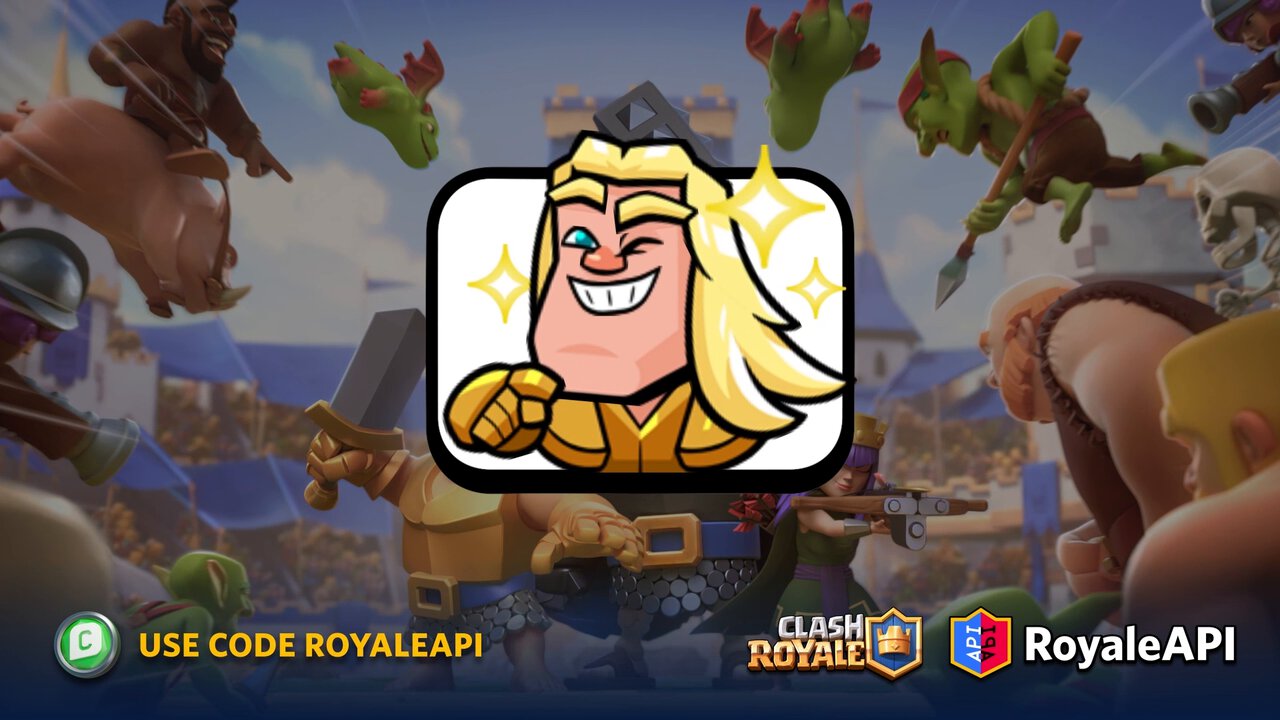 This is a special challenge emote unlockable through the Golden Knight Launch Party happening in November.
Archer Queen: Crown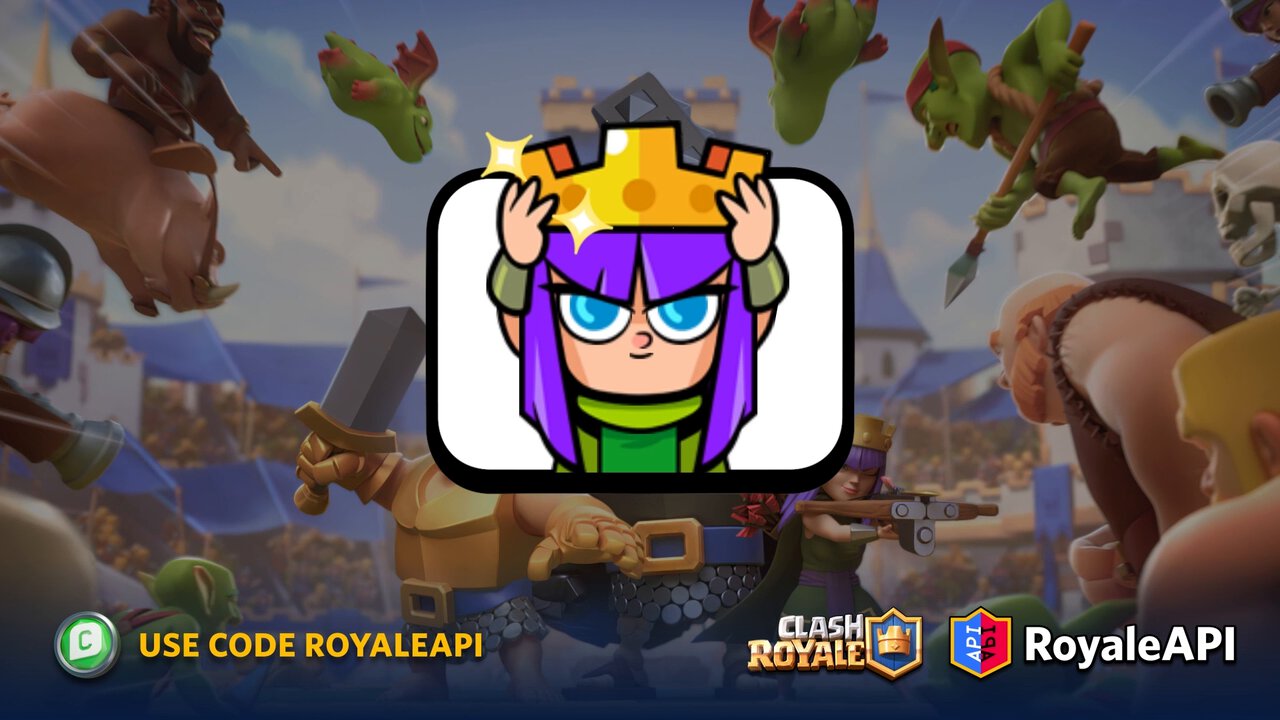 This is a special challenge emote unlockable through the Archer Queen Launch Party happening in November.
Tower Skins
Like emotes, no season is complete without thematic tower skins for Pass Royale owners!
The game update will launch with three tower skins, available through the next three seasons. Each tower skin corresponds to one of the new champions.
November (Season 29): Skeleton King Towers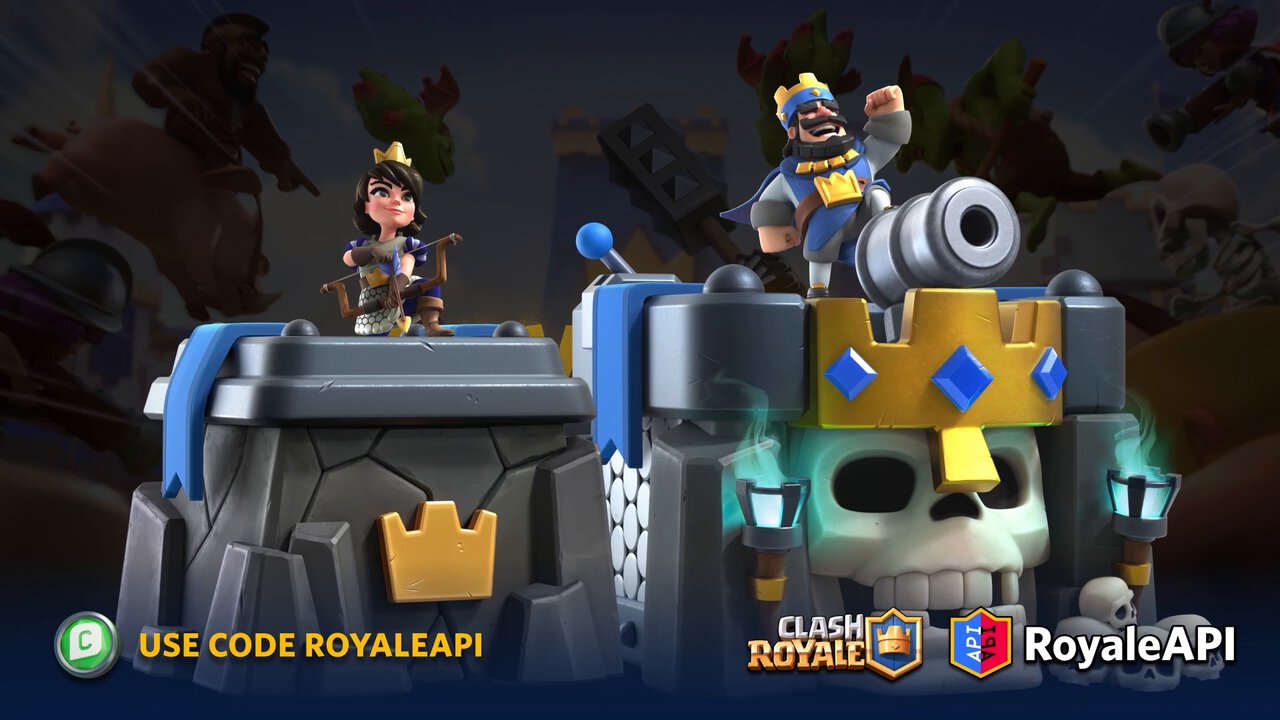 December (Season 30): Archer Queen Towers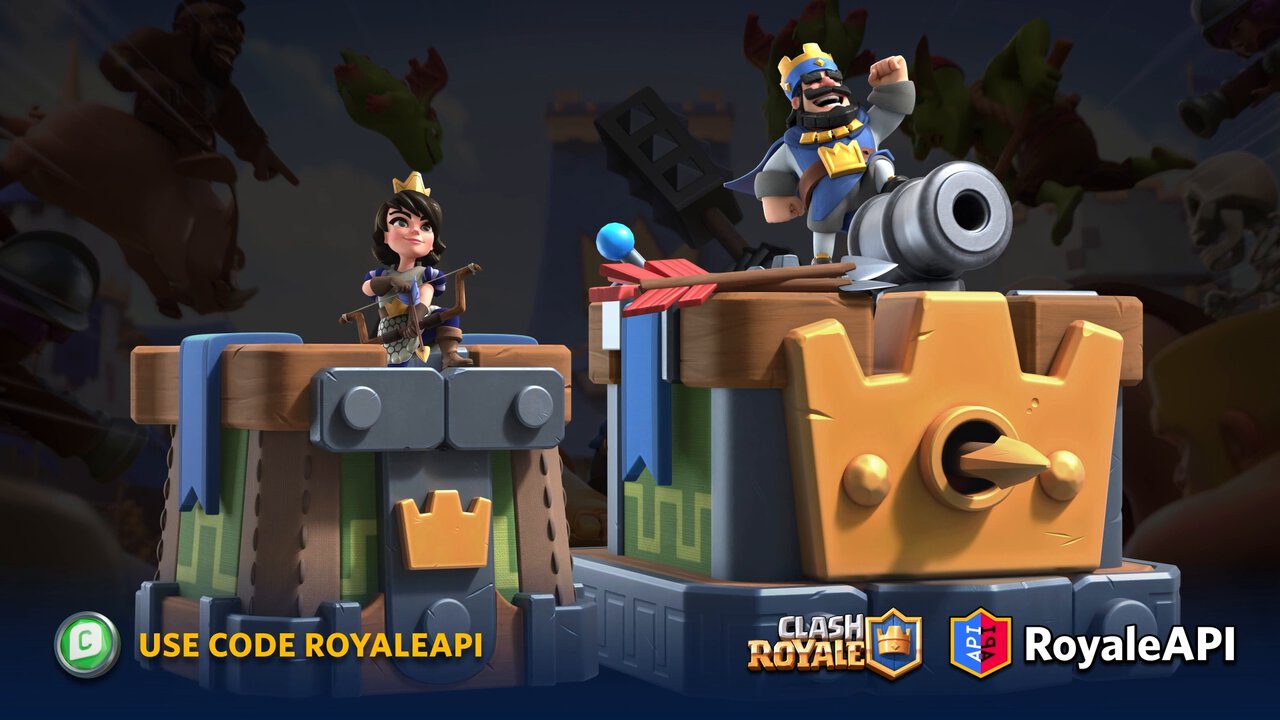 January (Season 31): Golden Knight Towers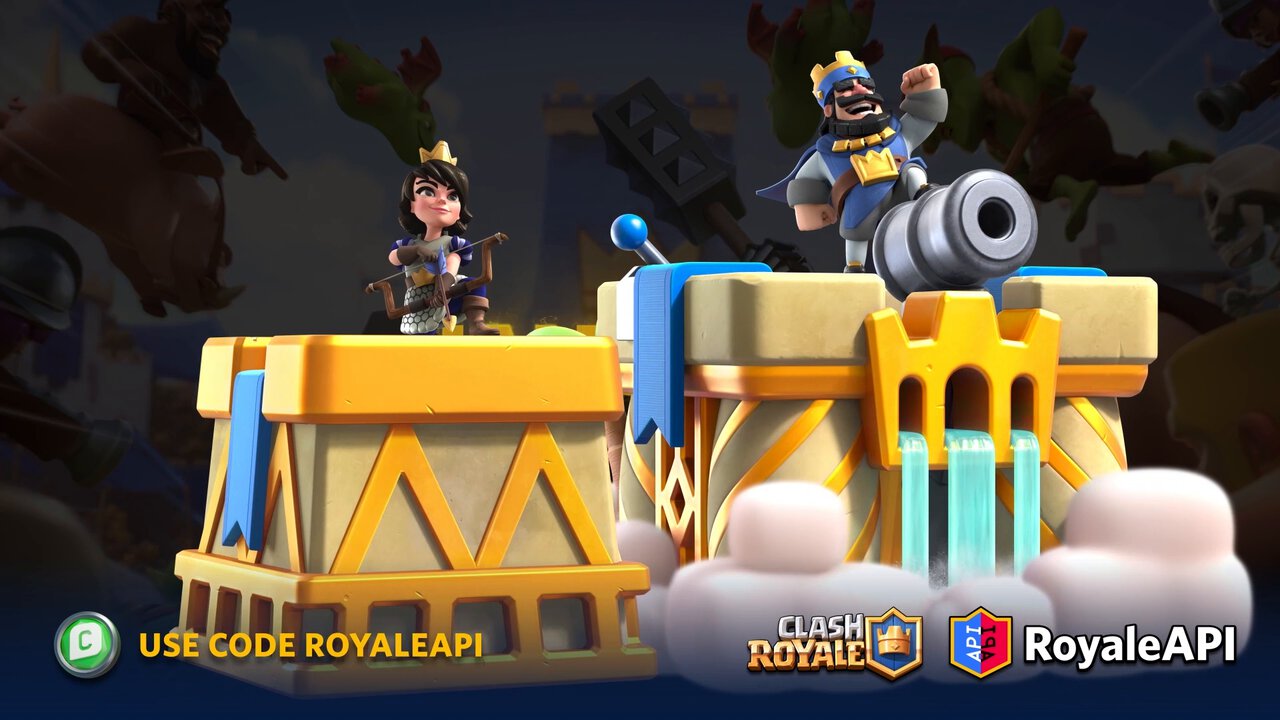 Release Date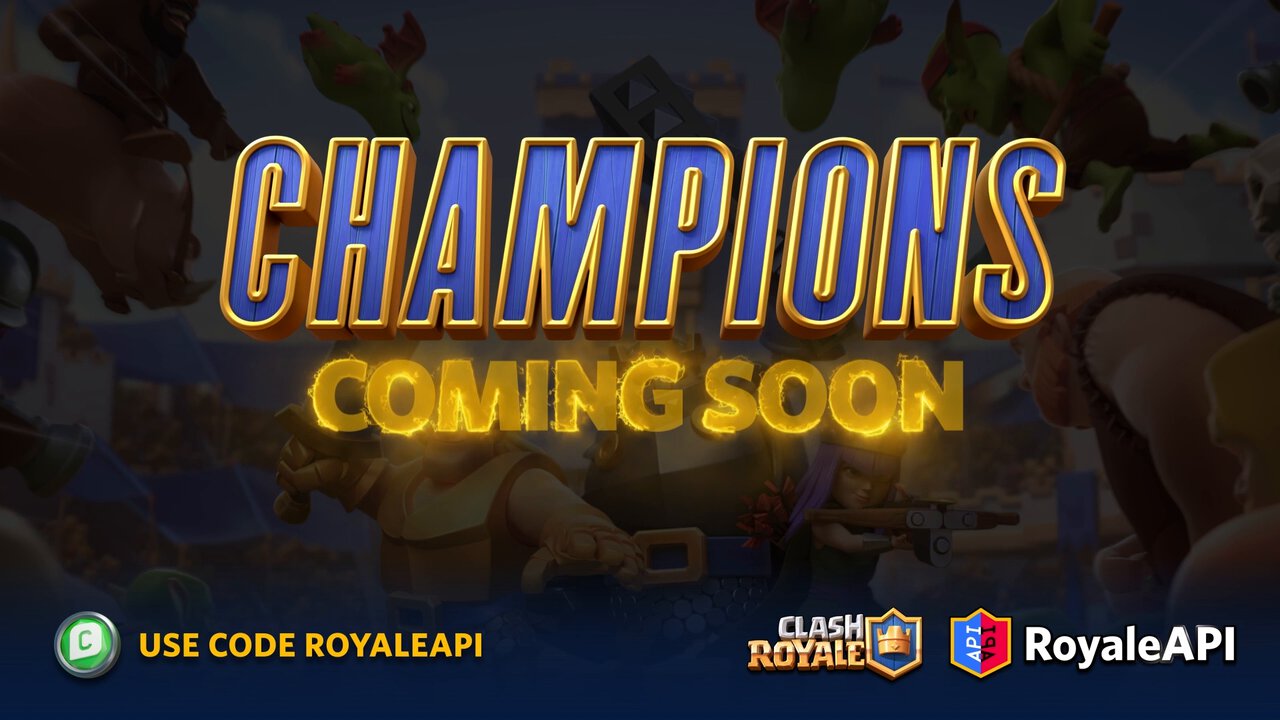 We can't tell you when the update is going to be but it's coming very soon. Season 29 will begin on Monday, November 1st.
New Tourney Standard
Before the update (now), players play in challenges and tournaments using their own card collection and card levels, up to a maximum of Level 9.
After the update, players will play all challenges as Friendly Level 11, and you'll be able to play with any card in the game in challenges, i.e. all cards unlocked.
This means that after the update, all challenges will only take skill into consideration and you will be playing in a 100% fair environment!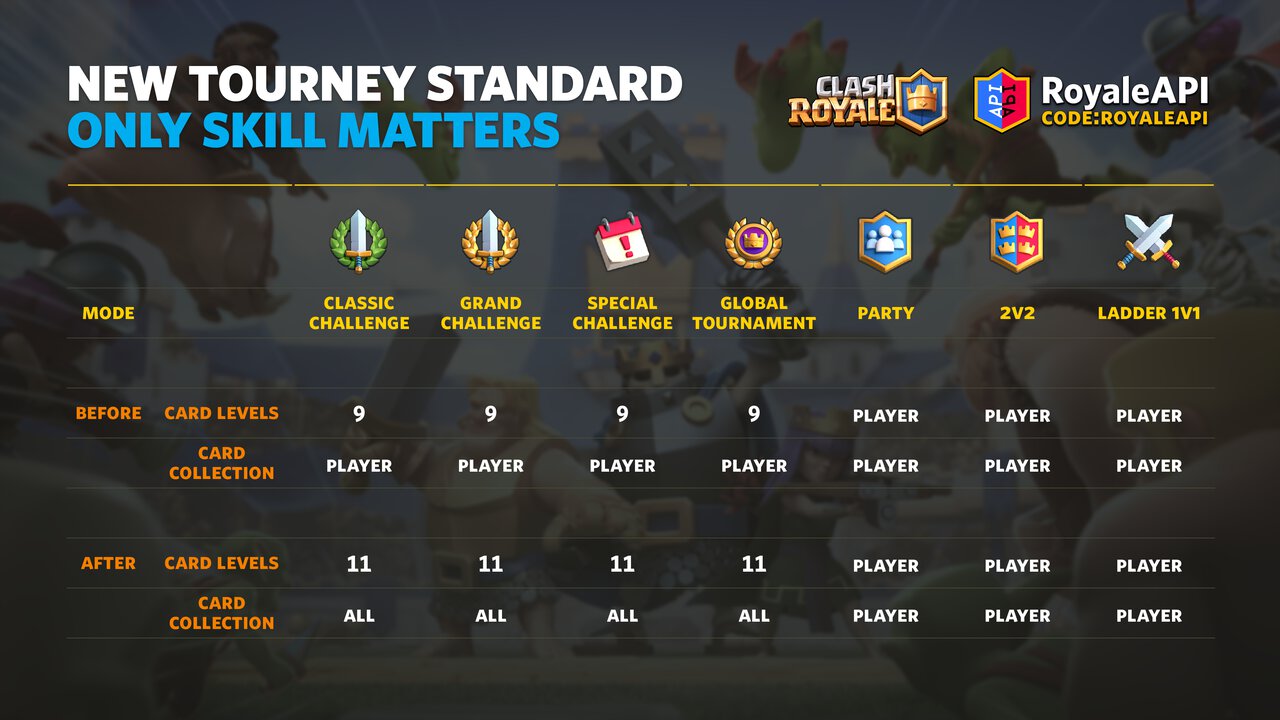 Friendly Level 11
Friendly Level 11 means that all of the cards you play will be exactly Level 11. You will no longer play in challenges at a disadvantage if you are underleveled.
Entire card collection
Besides having the same universal level, you will be able to play any card you want. This includes any cards that you haven't unlocked — including Champion cards which are unlockable only as a Level 14.
Game Modes
The Friendly Level 11 applies only to Classic Challenges, Grand Challenges, Special time-limited challenges, and Global Tournaments (to be renamed as Royal Tournaments).
Ladder 1v1, 2v2 and all party modes will remain as constrained by the levels and availability in your card collection.
All cards unlocked applies to Challenges only. Friendly Battles and In-Clan Friendly will play with the player's card collection, but still with Friendly rules (all cards at Level 11).
Clash Royale League FAQ
Will the CRL World Final be played as Level 11 Friendly Battle?
Most likely, yes.
Will players at the World Finals be allowed to use champions?
Supercell hopes that the Champion cards will be balanced well enough to allow them be played. But they will make the final decision properly later on.
Last Chance Qualifiers
Players in the LCQ will not be allowed to use Champions. Given the potential that LCQ may happen very close to the game update, LCQ will not be played on the live server with the active game update.
Instead, players will be given a separate build where friendly battles are played at Level 9.
This also means that you won't need to memorize a new set of spell numbers in such short notice.
Chest Cycle
Players at King Level 10+ are getting brand new chest cycles that will help with their Gold income — one of the hardest resources to obtain in Clash Royale.
By comparing the new summary table with the one published for the 2021 Q2 update (below), you can see that Supercell has added more opportunities for players to earn gold, based on these observations:
Shorter total cycle length for KL10+. Higher level players enjoy a chest cycle that comprises of less chests. This means that juicier chests appear more frequently in the cycle than chests of lower value. A starting player has 240 chests in the cycle, and a KL14 player has 188 total. Note that shorter cycle doesn't mean the time required to open all of them is shorter. It just means that you'll spend most time unlocking good stuff instead of chests you don't care about.
Higher King Levels have less Silver chests. Silver chests give the least amount of resources. By reducing their numbers in the cycle, you're more likely to reach better rewards quickly.
Gold Chests remain relatively untouched. There are minor differences but the change is not notcieably different.
Giant Chests, Magical Chests, Mega Lightning Chests, Epic Chests, and Legendary Chests remain the same as before.
More Gold Crates. Players at KL10+ are getting more gold crates in their cycle. For example, KL12 players are getting 6 more Gold Crates, 3 more Plentiful Gold Crates, and 1 more Overflowing Gold Crate than before the update.
Royal Wild Chests added. Royal Wild Chests are a new type of chest introduced for this update. It only contains Wild Cards, and they contain a guaranteed champion for KL14 players. All players from KL10 and above will have 2 of these in their complete cycles. If that's hard to imagine, you get 4 Magical Chests per cycle, which consistent throughout the levels — so getting the Royal Wild Chests is about half as frequent as getting the Magical Chests.


If you're looking to see what your complete chest cycle looks like, we've got you covered!
King Level 1-9 Chest Cycle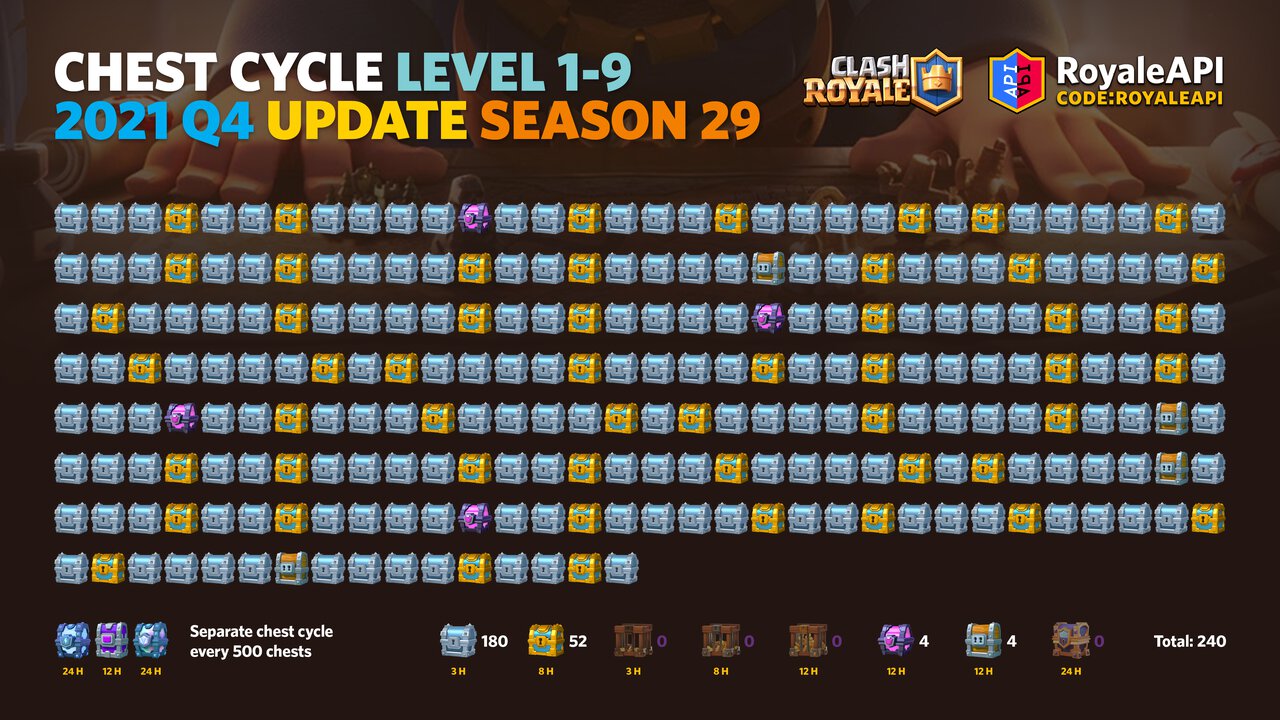 King Level 10 Chest Cycle

King Level 11 Chest Cycle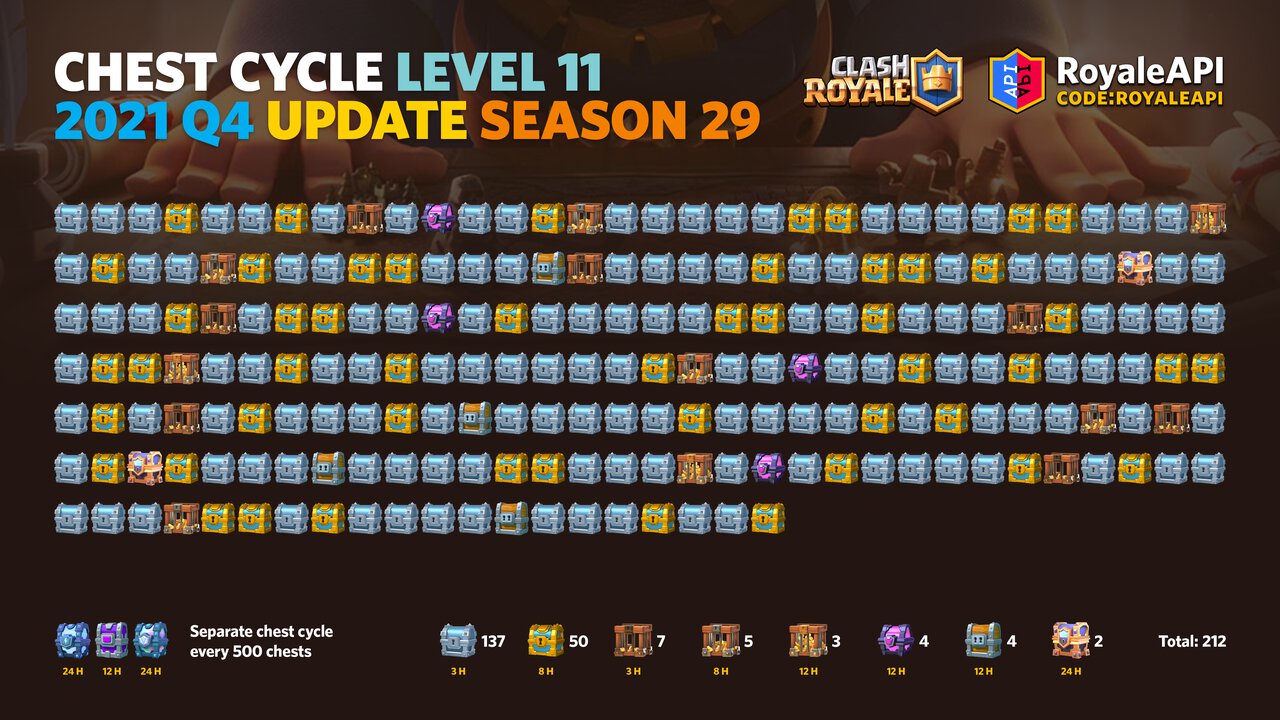 King Level 12 Chest Cycle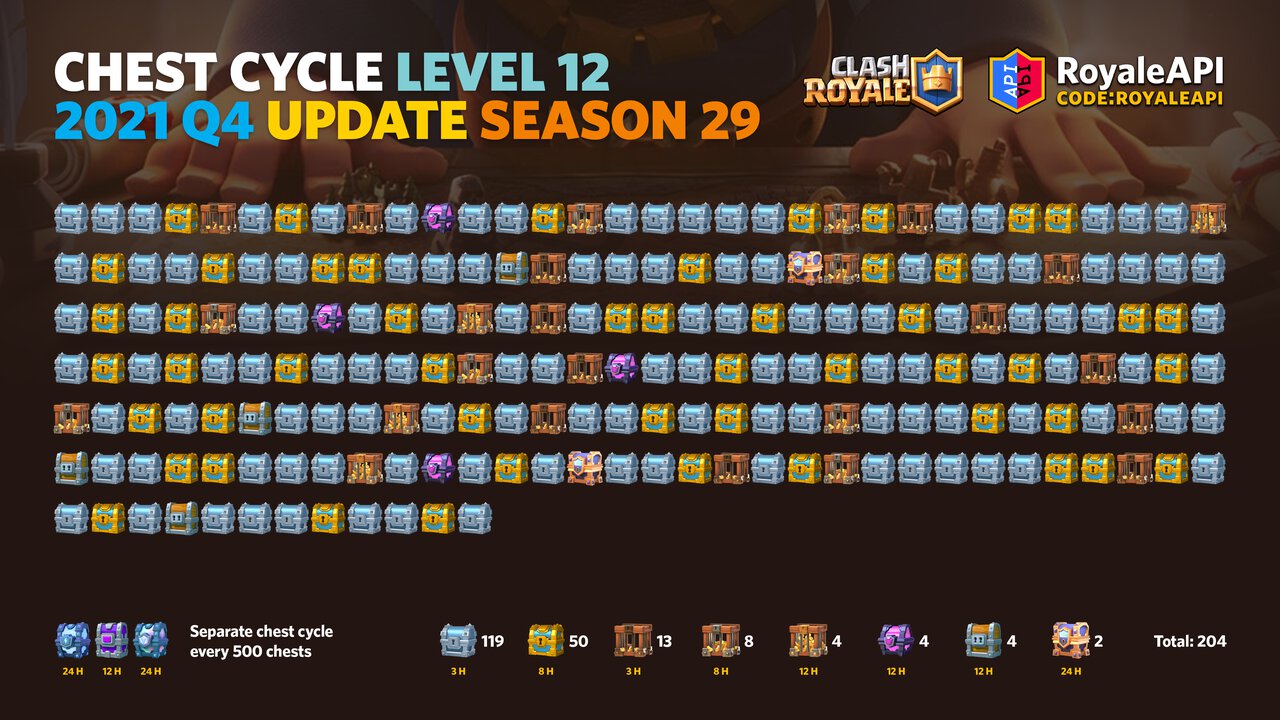 King Level 13 Chest Cycle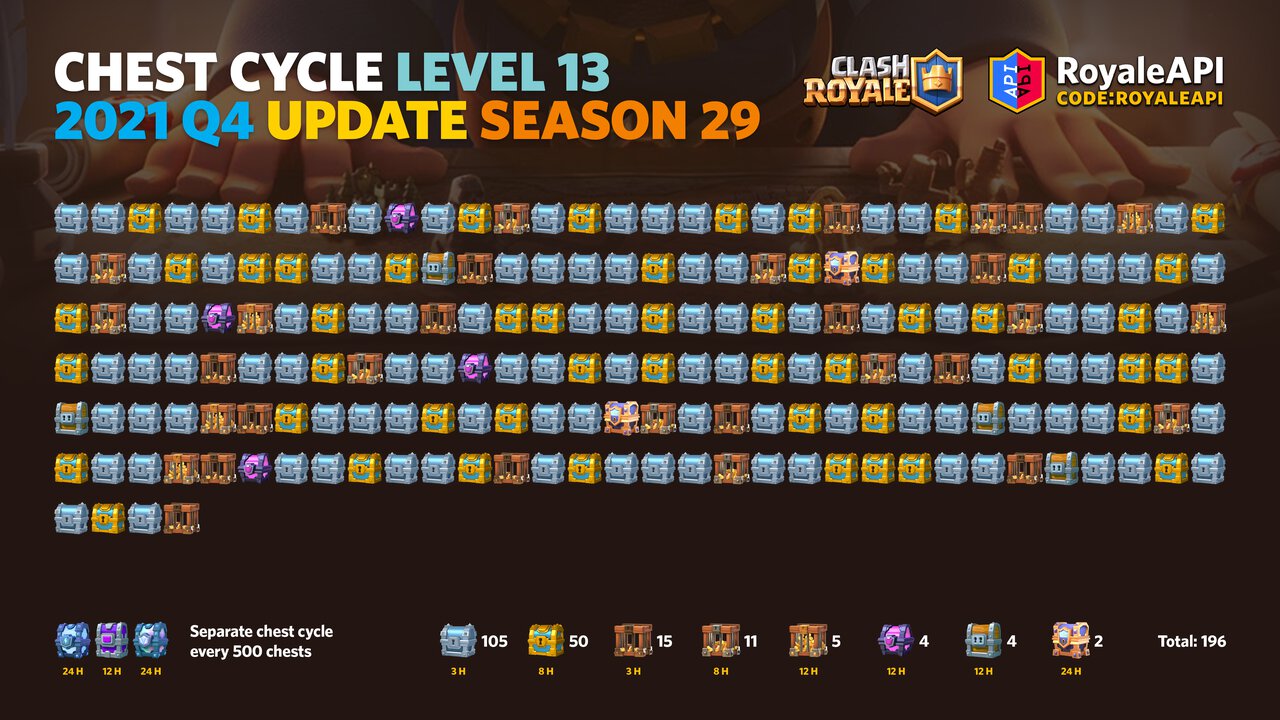 King Level 14 Chest Cycle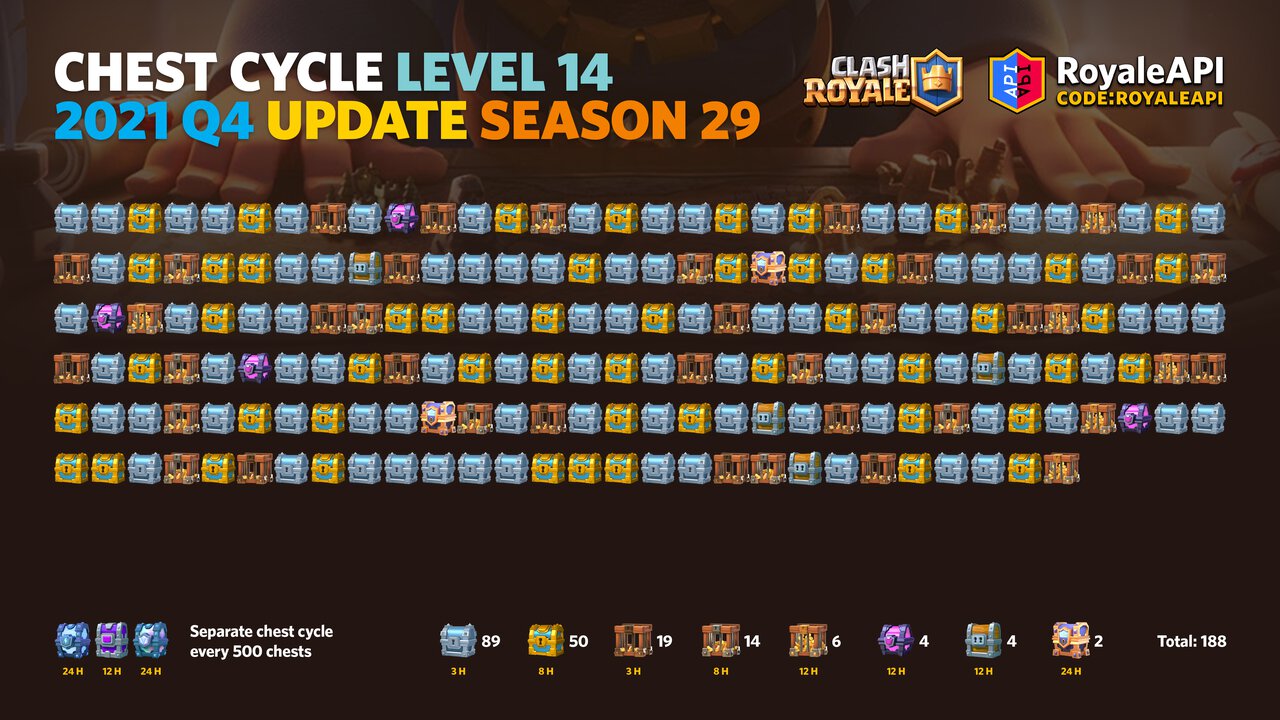 Macro / Micro Reading
If you squint your eyes, you will see that the chest cycles progressively move from a sea of blues (silver) to a lot more browns (Gold Crates). So even if you don't look at the actual numbers, you can compare the change easily.
This section was added on 2021-10-28, after the original article was published.
Other Game Improvements
New Chest Cycle Rewards
This probably will need a chart. As mentioned in my Endnote, I didn't have enough time to make additional charts for this post, but I'll get to them if time allows.
Legendary Cards
Legendary cards will appear more frequently in most chests. Champions' drop rate will be similar to how Legendary cards used to drop before the update.
Rearrange cards in deck
Before the update, if you want to move the cards around in a deck, you would need to do a "hack" where you first select a random card in the card collection to make the deck cards "come to live" so you can rearrange them. After the update, you'll be able to rearrange your cards' order by holding down and dragging them around.
Deck Copying
You'll be able to copy your opponents' decks directly from your battle log and TV Royale.
Misc Improvements
120 Hz device support
Increased delay between emote uses
Increased "required trophies" in clans to reflect changes to Trophy Road
Fixes TV Royale showing the incorrect arena number
Fixes unintended interaction with Goblin Drill and Clone
Change the trail for Goblin Drill to make it more distinctive from Miner
Fixed an issue with Replays becoming stuck
Misc UI fixes
Misc crash fixes
Misc minor imporvements
Nerdy Stuff
King Level Experience Points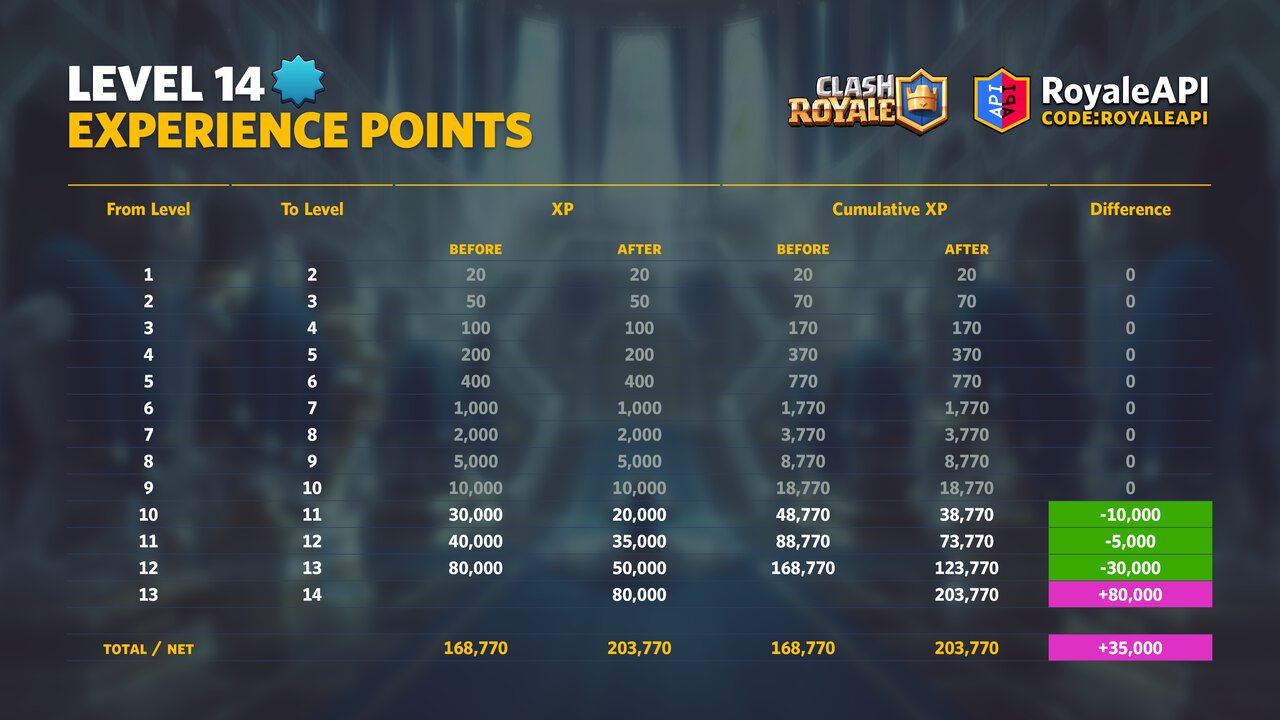 If you've missed our earlier coverage about this update, you can check them out here:
TV Royale
Here's the official video from Supercell about the upcoming update!
Endnotes
I know that some of you have come to expect our posts to have lots of data, charts and figures. But I've decided to switch it up for this post, after receiving positive feedback on Twitter for the last reaction post. Some of you said that you would prefer lots of illustrations with simpler words explaining things.
Let me know what you think!
Use our code RoyaleAPI to keep our site running 🥰
Discuss
update
season