Battles in August 2021 will take place in the Boat Arena.
season
update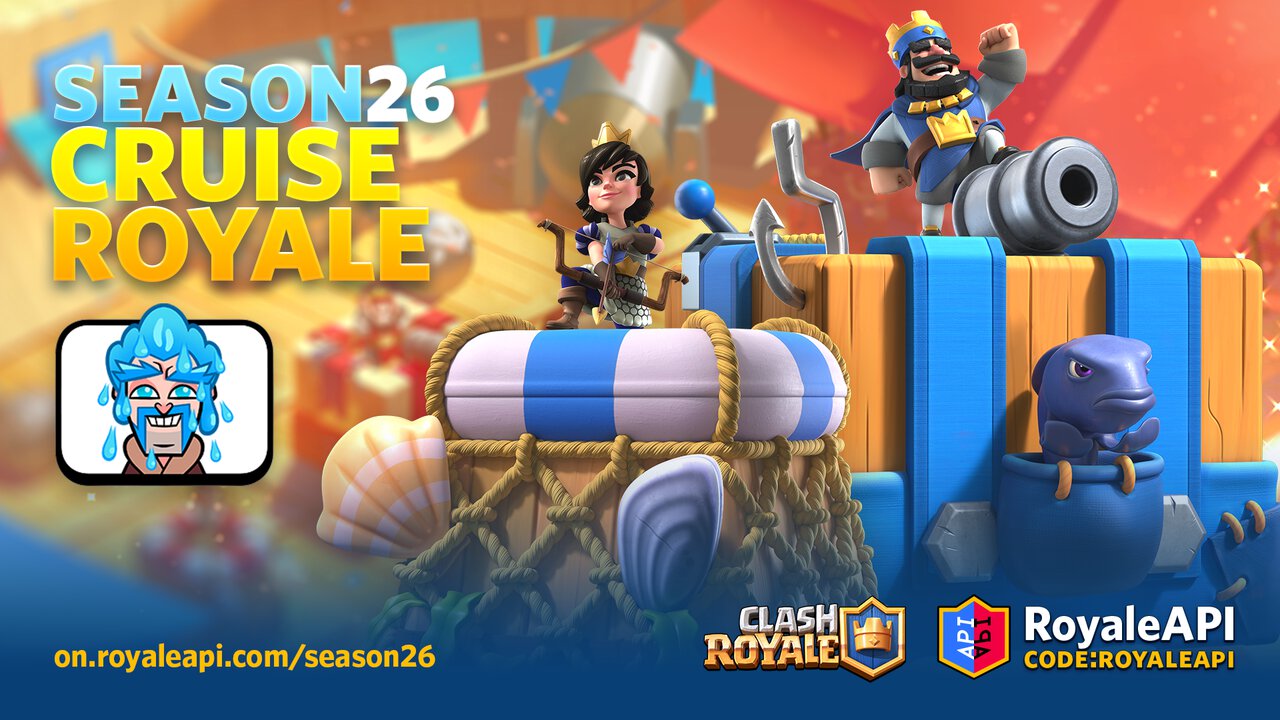 All aboard the summer cruise — the theme for Clash Royale Season 26 is Cruise Royale, where battles will take place in the Boat Arena with Fisherman being the star of the show.
Clash Royale Season 26 starts on Monday, August 2, 2021.
Media Usage: If you wish to use images in this blog post, you must meet all the conditions in our Media Usage Guidelines.
Table of Contents
Video Preview
Check out our video covering all the seasonal content!
Tower Skins

| | |
| --- | --- |
| | Fisherman tower skin set. Pass Royale at Tier 10. |
| | Fisherman King Tower. |
| | Seashell Princess Tower. |
Emotes
| | |
| --- | --- |
| | Ice Wizard: Melt Sweat. Pass Royale at Tier 20. |
Free Magic Item
| | |
| --- | --- |
| | A Common Book of Cards will be available at Tier 35 on the free track of Pass Royale. |
Boat Arena

Boosted Cards
| | |
| --- | --- |
| | Fisherman |
Challenges and Global Tournaments
Challenges
Retro/Modern Royale
Bandit Dash Draft
Mega Deck
2v2 Draft
Fisherman's Catch Draft (casual)
Global Tournaments
Use our code RoyaleAPI to keep our site running 🥰
Recent Site Updates
Deck Search Battle Types (2021-07-28)
⚔️ We've updated Deck Search and changed the default battle type to Normal Battles, which includes all regular 1v1 battles.
The following battle types are included in the Normal Battle filter:
Ladder
Classic Challenge
Grand Challenge
Friendly 1v1
In-Clan Friendly 1v1
Tournament (Normal battle 1v1)
Clan Wars Battle 1v1
Global Tournament (Classic)
✅ This ensures that the decks which show up in the default view won't be affected whenever special challenges are run. It is the same battle type filter we use for calculating Matchup.
🔎 Before this change, the default view shows decks from All Battles. You can still choose to filter results by this type, but the option is mostly left behind for completeness. There's a list of all battle types supported by Deck Search if you want to see all the options on a single page.
📺 Watch this video if you don't know how to search by battle types on our site.
Discuss
season
update