Summary Our API has been a staple in the Clash Royale community since its launch in Summer 2017. The API has served over 2,000 active [...]
api
dev
Summary
Our API has been a staple in the Clash Royale community since its launch in Summer 2017. The API has served over 2,000 active developer tokens and handles 15 million requests daily. Unfortunately, the cost of maintaining the resources to support this has far exceeded our ability to raise funds largely due to the limitations of the Supercell Fan Content Policy. After long and careful consideration we are discontinuing the API service effective March 1, 2020. Our flagship website (RoyaleAPI.com) will not be affected in any way by this change.
We have an endless amount of gratitude for those that supported the API project over the years through donations, personal time commitment, application development and a passion for expanding new tools for the Clash Royale community.
Background (the full story)
In the summer of 2017, we released a public API tool that enabled anyone to develop custom applications for the game. Over the past two and a half years, we've seen several amazing projects, websites, and applications come to life thanks to this platform. The largest project that came from the initial API was our flagship website: RoyaleAPI.com — a proof-of-concept for data analysis. This served as a way to encourage new projects and demonstrate the capability of our API and, over time, we've developed an unmatched database of analytical data to support the competitive community.
In mid-2018, Supercell released their official API, offering an alternative to RoyaleAPI. To our surprise, most developers continued to use our interface. As new projects were developed, we had to invest in more resources to support them. That progress has led us to our current state of more than 2,000 active developer tokens and over 15 million requests handled every day. The API's success also meant an increasing expense to our team, up to the point where it has become a financial burden.
Through the years, we have had many donations and supporters on Patreon and PayPal who helped us mitigate some of the operating costs. Without them and other key investors, this project would not have lasted as long as it did. To everyone listed on our donation page at //royaleapi.com/donate and the ~5,000 users on our developer Discord — THANK YOU!
The letters "API" will always be a big part of our brand and organization as a whole. It's the reason our website is as powerful as it is today and we're not planning to remove it from our name. Instead, we'll keep it to remember the countless hours of hard work that went into advancing the Clash Royale community and will use the initials to highlight the unmatched Analytics, Profiles, and Insights that you can gain at RoyaleAPI.com.
Supercell Fan Content Policy
Despite our best efforts, our API was not able to become economically sustainable. While we'll always be appreciative of the opportunity to serve the community, Supercell's Fan Content Policy is somewhat restricting as it only allows revenue from advertisements and donations. Frankly, as APIs cannot serve advertisements to consumers, we were not able to cover our expenses. The lack of any form of commercial features poses unique challenges for community tools like this, and even for our website, as we aim to minimize ads served to our community and have never pressed on any fundraising efforts.
We continue to partner with Supercell and strictly follow their fan content policy and we hope that with their help, and the help of the community, we can ensure that RoyaleAPI.com will remain a key resource for the full lifespan of Clash Royale.
For Developers
If you are a developer currently using our API service, we urge you to update your app soon and start using the official API instead. Our developer Discord server will remain open as a community support hub for the official API.
If you have any questions, please reach us on the developer Discord.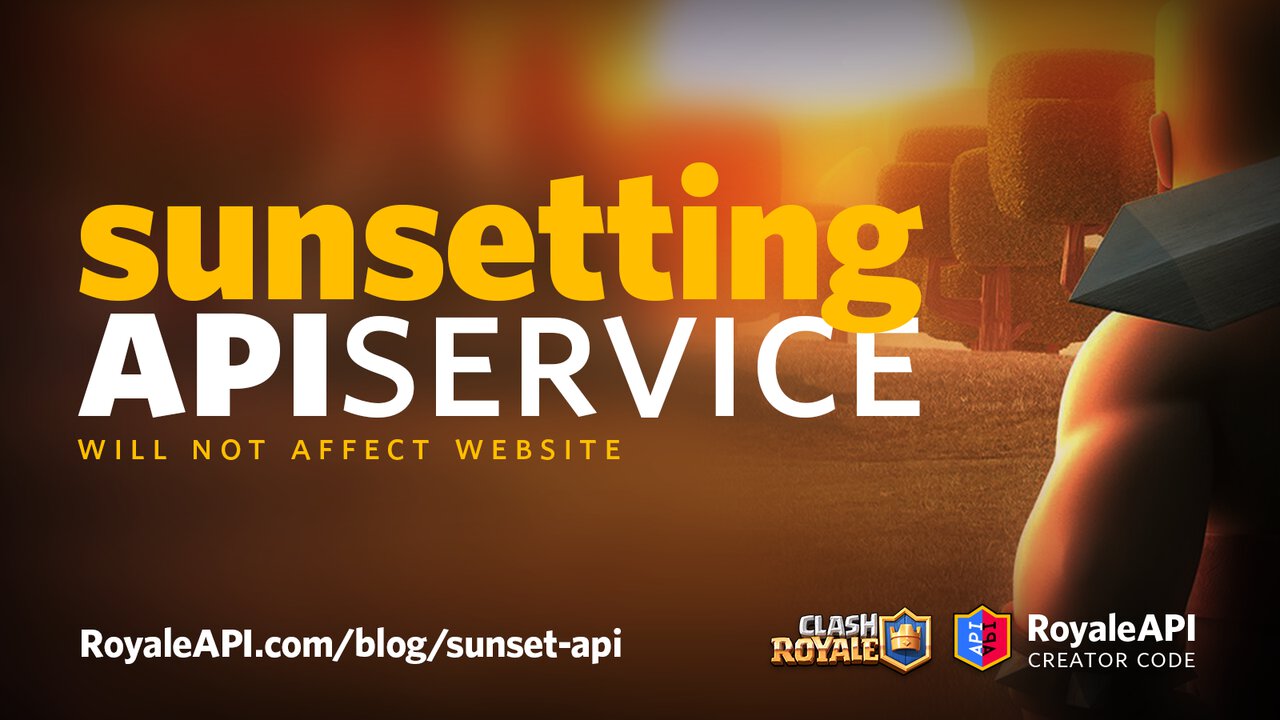 Discuss
api
dev