See how ladder trophies got balanced in December 2020 through data visualization.
datavis
update
infovis
At the start of Season 18 in December 2020, Clash Royale made some balance changes to the progression of Trophy Road (from 0 - 6000 trophies). With this change, players will now lose more trophies for a loss in 1v1 Ladder.
Data Visualization
It may be difficult to understand exactly what got changed by description alone, so we have made this data visualization to help you understand better.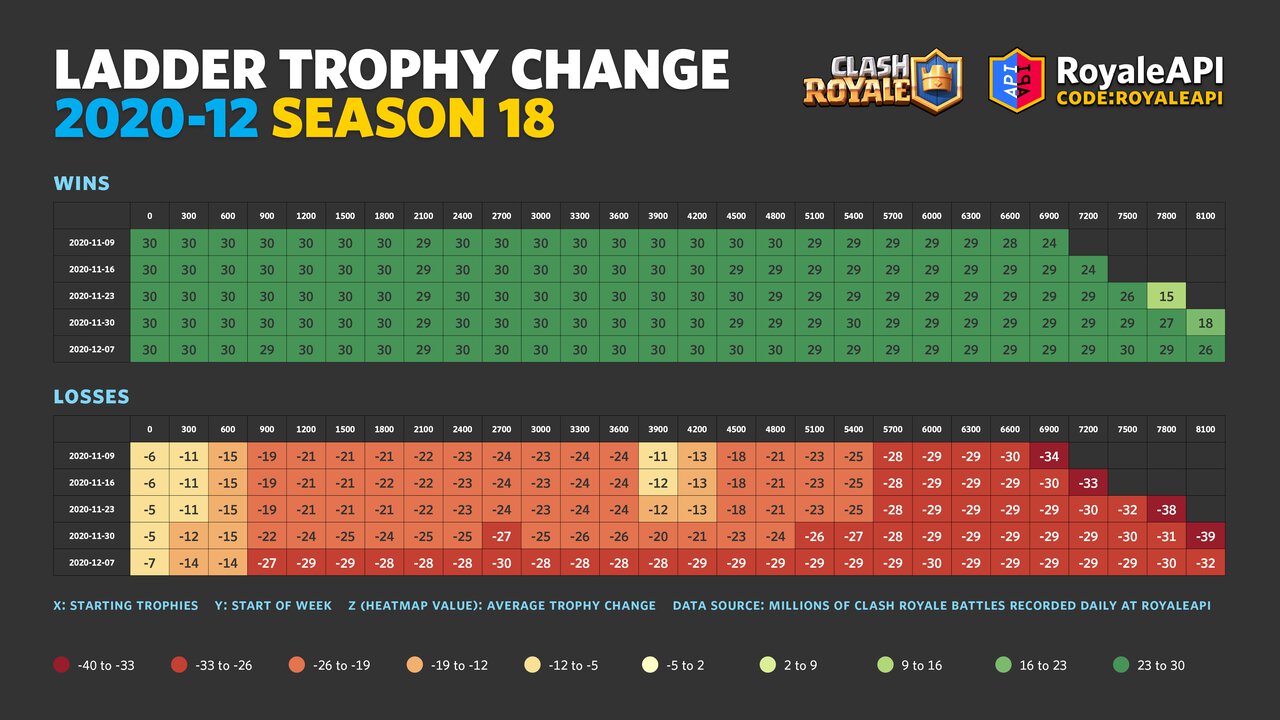 In this heat map, we have calculated the average trophy changes of all Ladder battles, segmented them by the battle timestamp, and grouped them by the trophy ranges of the players at the start of the battles at 300-trophy intervals.
X-Axis: Each column is a range of starting trophies. e.g. column 2400 contains battles from 2400 to 2699.
Y-Axis: Each row includes battles from the week of the start date. e.g. row 2020-11-23 includes battles that took place from November 23 at 00:00 UTC to November 29 at 23:59 UTC
Z-Axis: Each cell represents the average trophy change after a battle, rounded to the nearest integer.
Observations:
With the exception of the very top of Ladder, every win results in an average gain of 29-30 trophies
Before Season 18, each loss results in a variable loss depending on your trophy range.

Specifically, players above 6000 tend to lose the same amount of trophies (-29 to -30)
And players below 6000 trophies tend to lose much less trophies when they lose.
Additionally, players tend to lose less trophies towards 4000 than they would near 6000.

After Season 18, players lose the same amount of trophies throughout all the trophy ranges (-29 to -30), similar to the gains when they win.
In other words, with the small exceptions before 900 trophies and at the very top of the Ladder, the Ladder trophy balance makes Ladder trophies a 0-sum game again. Importantly, this 0-sum game will likely mean that players may not be able to get to their personal best as easily as previous seasons, since trophies no longer get "created" when battles take place.
Why was this changed?
Supercell has found that there was an increase in player sentiment of mismatched players since they have made changes to ladder trophy calculation when they have introduced Trophy Road in April 2018.
This imbalance of trophy changes when you win/loss has directly allowed players to get into Legendary League in a massively increased pace. However, their account progressions have not been able to keep up, and that resulted in a large number of players having to play against opponents with much higher card levels and King Tower levels.
After the trophy balance, players should now face overleveled opponent much less often, and be able to enjoy the game much more because they will now face similar king and card levels in their trophy ranges.
They expect this change to mainly impact players in Arenas 4-10 and lead to a smaller amount of King Level 8 and 9 players above 4000 Trophies.
Discuss
datavis
update
infovis