November 1, 2019 · 3 min read
Here's what to expect for Season 5 (November 2019). Jump to Tierbreakers, Goblin Feast, Elixir Golem Official Release, Balance [...]
update
balance
season
Here's what to expect for Season 5 (November 2019). Jump to Tierbreakers, Goblin Feast, Elixir Golem Official Release, Balance Changes, Classic Decks, Clan War Collection Day Battles, Mega Touchdown, 2v2 Touchdown Changes
Tiebreakers
Tiebreakers will be added to 1v1 Ladder. This means that all of the game modes will have a tiebreaker, with the lowest-health tower as the decider.
Goblin Feast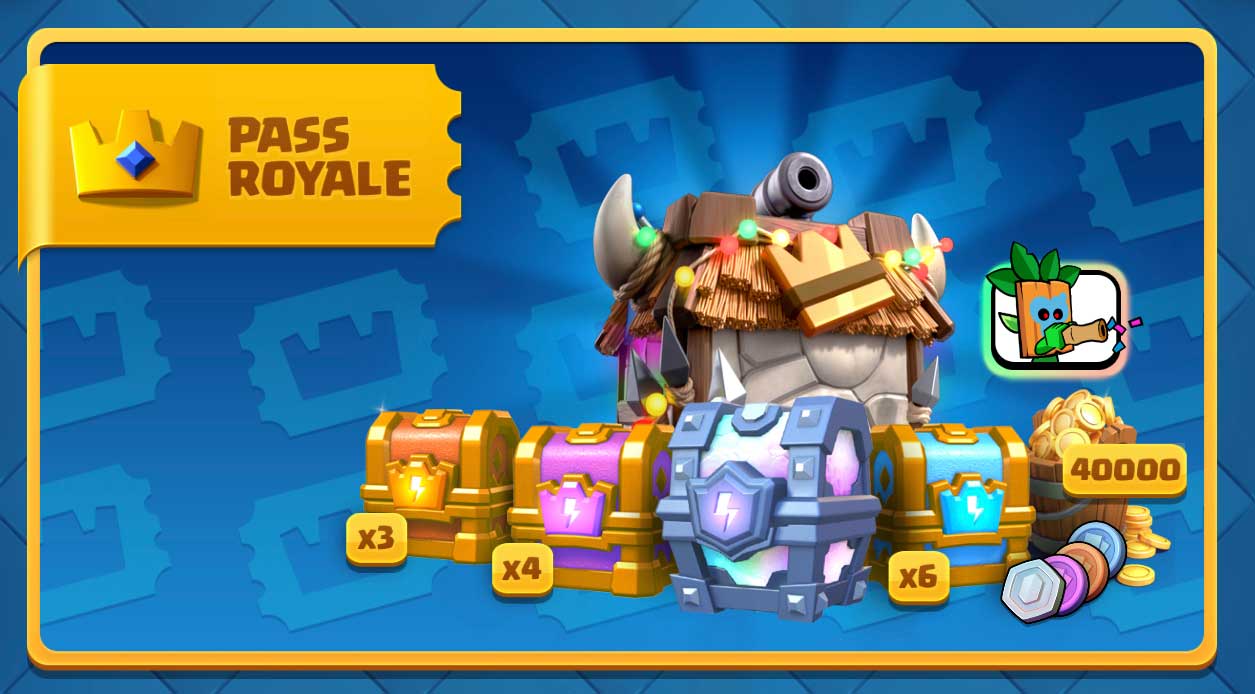 The theme for Season 5 is the Great Goblin Feast. Pass Royale holders will unlock the exclusive Party Hut tower skin and Dart Goblin emote. Everyone will be battling at the Great Goblin Feast Arena.
Elixir Golem: Official Release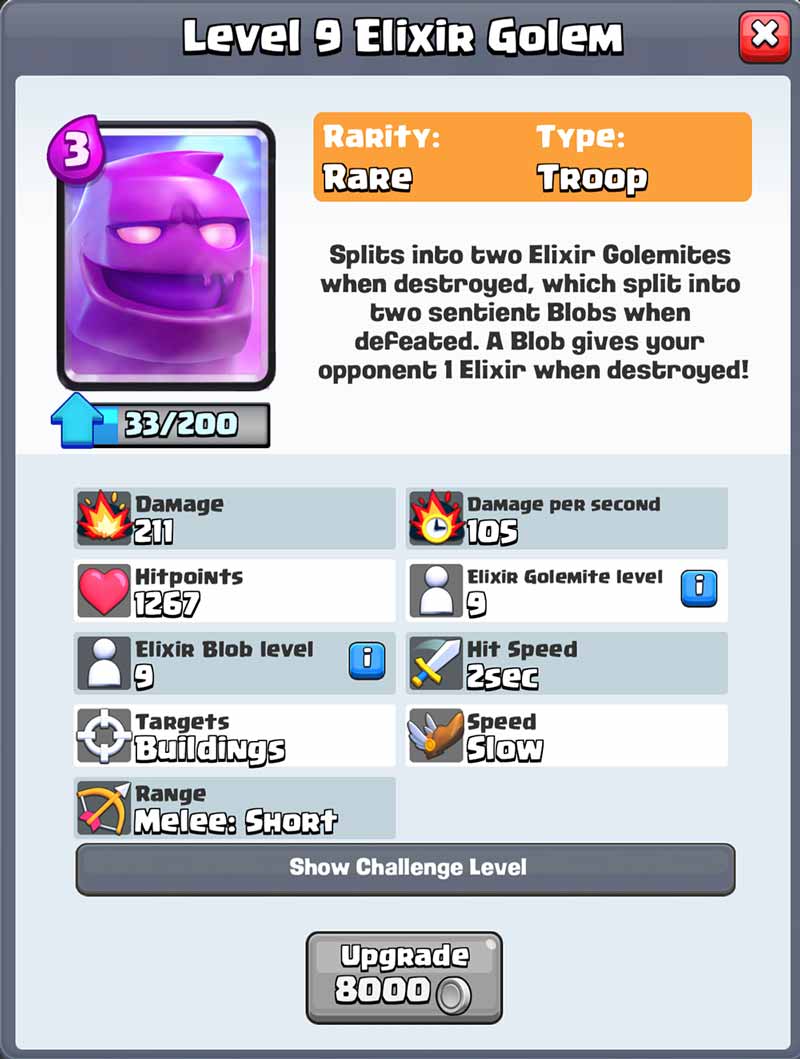 Elixir Golem is officially released and will be available for everyone to unlock from chests starting in Electro Valley (Arena 10).
Balance Changes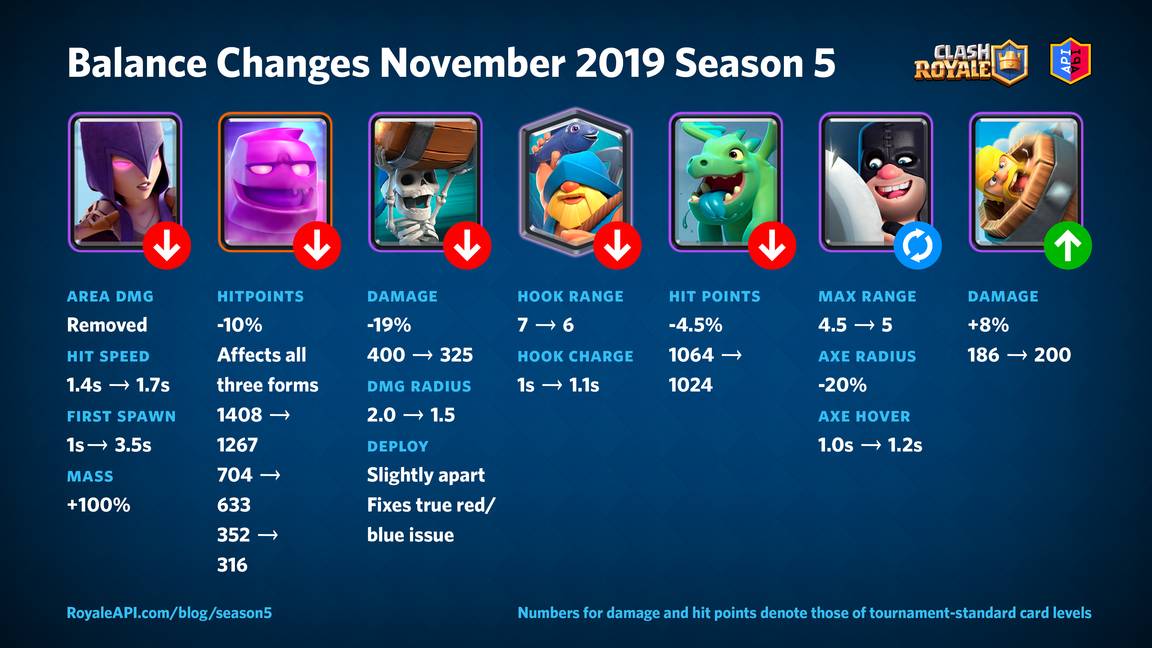 These balances will go live at the beginning of the November season (Season 5).
Witch

Area Damage
Hit Speed reduced:
Slower first Skeleton spawn:
Mass increased:

+100%
No longer pushed by Skeletons

Elixir Golem

Hitpoints:

-10%
Affects all three forms
Elixir Golem: 1408 → 1267
Elixir Golemite: 704 → 633
Elixir Blob: 352 → 316

Wall Breakers

Damage:
Area Damage Radius reduced:
Deploy slightly further apart

Fixes true red/true blue issue

Fisherman

Hook Range reduced:
Hook Charge Time increased:

Baby Dragon
Executioner

Max Range:
Axe Radius:
Axe Hover Time increased: -1.0 sec → 1.2 sec

Barbarian Barrel
Numbers for damage and hit points denote those of tournament-standard card levels
Classic Decks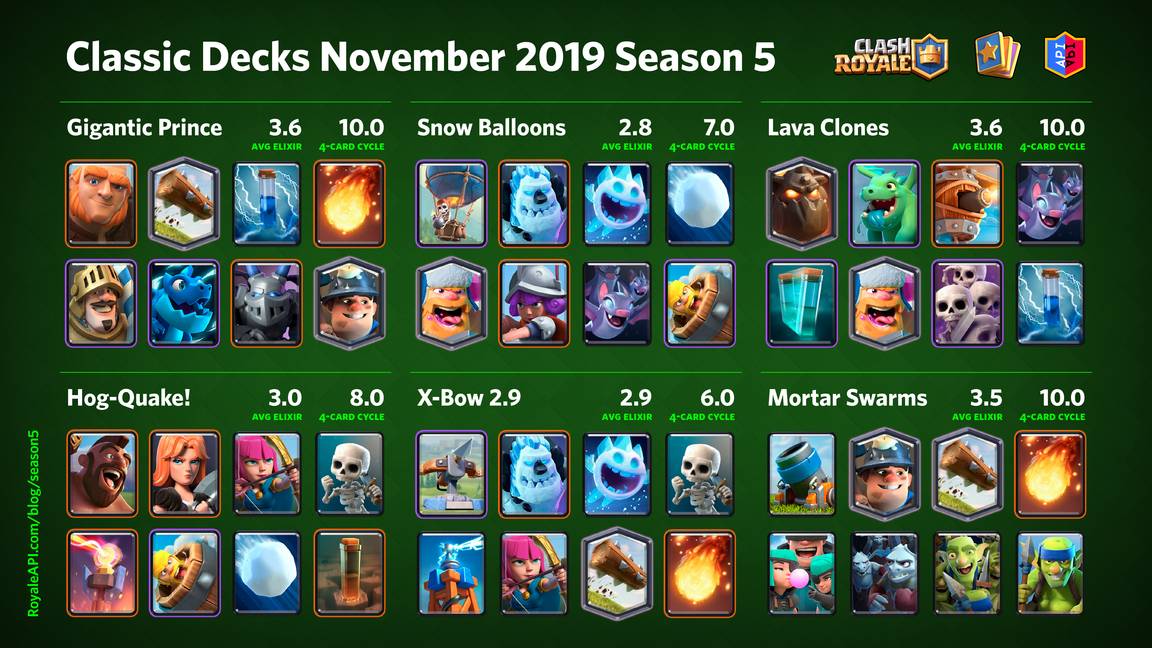 Gigantic Prince
Giant, The Log, Zap, Fireball, Prince, Electro Dragon, Mega Minion, Miner
Snow Balloons
Balloon, Ice Golem, Ice Spirit, Giant Snowball, Lumberjack, Musketeer, Bats, Barbarian Barrel
Lava Clones
Lava Hound, Baby Dragon, Flying Machine, Bats, Clone, Lumberjack, Skeleton Army, Zap
Hog-Quake!
Hog Rider, Valkyrie, Archers, Skeletons, Inferno Tower, Barbarian Barrel, Giant Snowball, Earthquake
X-Bow 2.9
X Bow, Ice Golem, Ice Spirit, Skeletons, Tesla, Archers, The Log, Fireball
Mortar Swarms
Mortar, Miner, The Log, Fireball, Rascals, Minion Horde, Goblin Gang, Spear Goblins
Clan War Collection Day Battles
1v1

Triple Draft
Classic Decks
Rage

2v2
Mega Touchdown
New game mode
Primary way to play Touchdown in challenges
Follows Mega Deck building rules (18 cards)
2x Elixir
2v2 Touchdown Changes
Updated draft choices
Guaranteed 2 "Runners" (fast troops / building targeters) for each player
Guaranteed 1-2 Building cards for each player
Elixir per player increased from 70% to 100%
Discuss
update
balance
season