November 30, 2019 · 4 min read
Jump to Season 6: Clashmas, Balance Changes, Battle Healer, Card Boost, Game Rule Changes, Creator Codes, Classic Decks, Clan War Game [...]
update
balance
season
Jump to Season 6: Clashmas, Balance Changes, Battle Healer, Card Boost, Game Rule Changes, Creator Codes, Classic Decks, Clan War Game Modes, New Card Info Screens, Mega Touchdown, 2v2 Touchdown Draft.
Season 6: Clashmas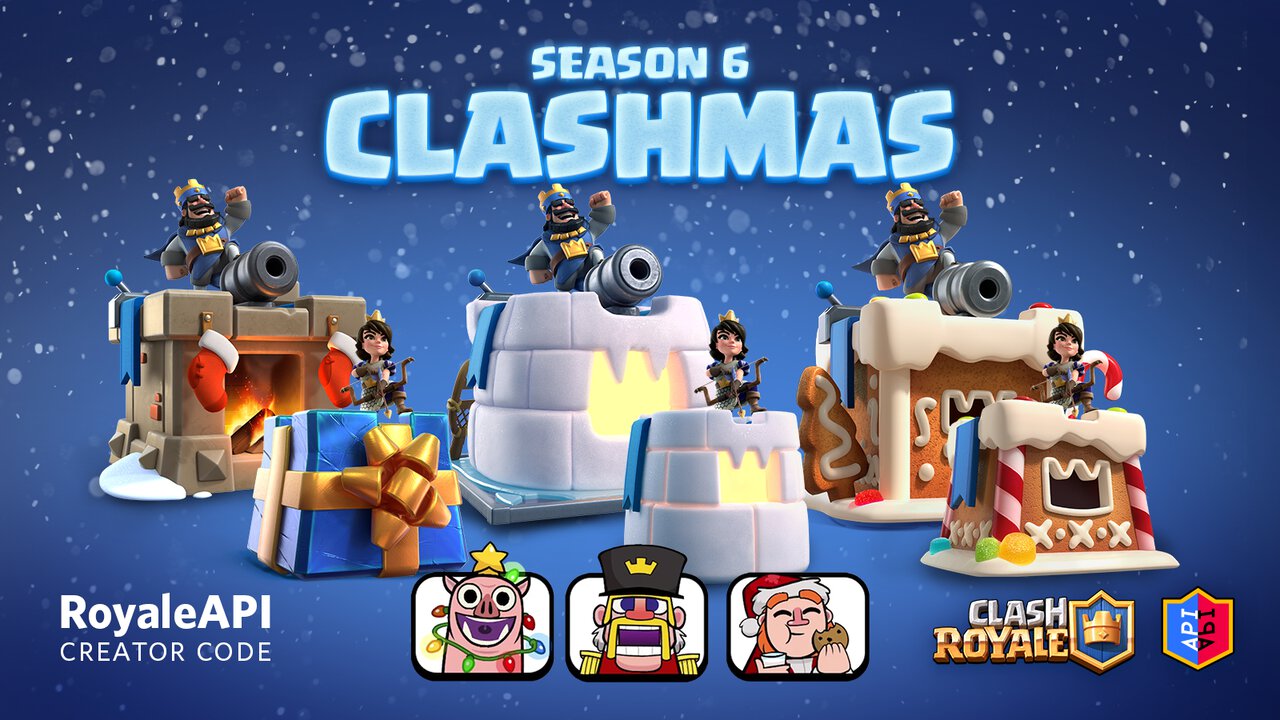 3 New Emotes: Nutcracker, Tree Hog (Pass Royale), Santa Giant (Challenge Reward)
3 Tower Skins:

Gingerbread Tower (Shop Dec 23)
Clashmas (Pass Royale: fireplace and presents)
Free Igloo tower skin for ALL players at Tier 24
Balance Changes
There will be 6 balance changes in total this season.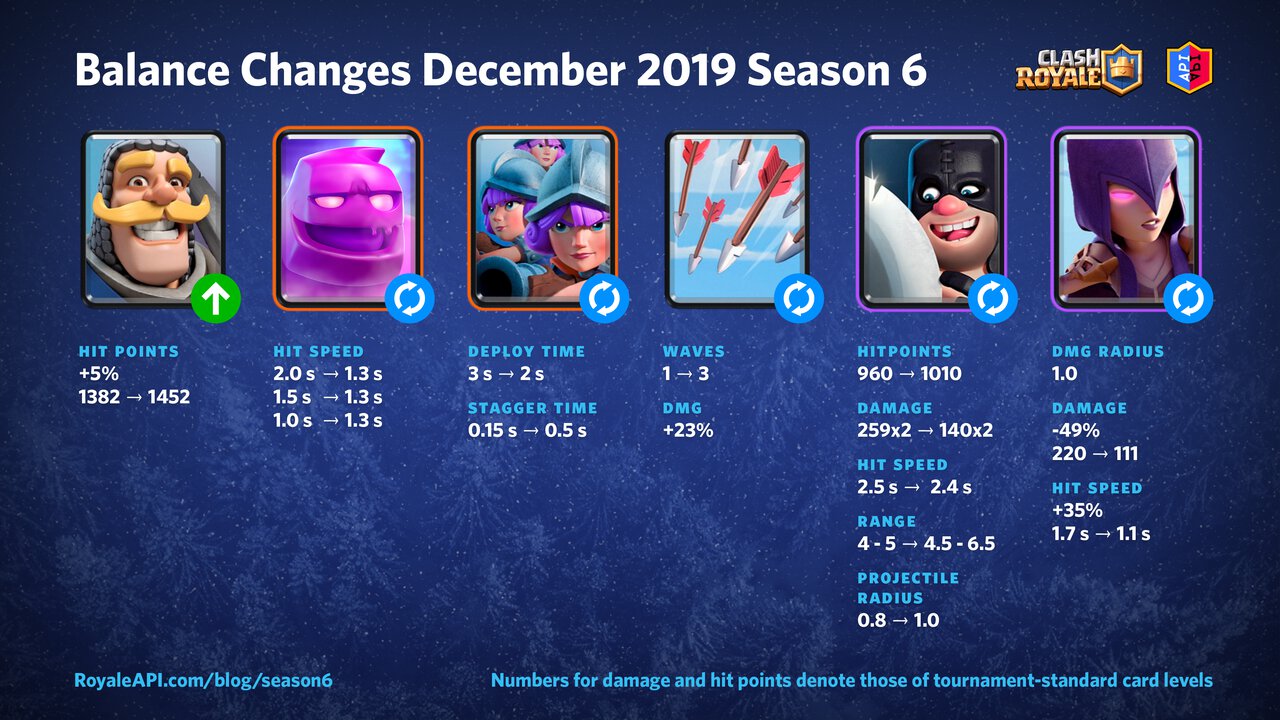 These balances will go live at the beginning of the December season (Season 6).
Knight
Elixir Golem

Hit Speed (interval)

2.0 s → 1.3 s (Golem)
1.5 s → 1.3 s (Golemite)
1.0 s → 1.3 s (Blob)

Three Musketeers
Arrows
Executioner

Hit Points
Damage:
Hit Speed:
Range:
Projectile Radius

Witch

Area Damage Radius:
Damage
Hit Speed
Key Takeaways from the Designer Blog by Supercell:
Primary focus when balancing cards is to get them to 4-12% use rate and 45-55% win rate
Statistically balanced cards sometimes lead to a downward turn for the meta
Metagame is not fun when powerful area-damage ranged attackers are prevalent
Balances should not fundamentally change the function of a card, thus the Witch will have her area damage back
Halted in-progress reworks for other area damage attackers (Bomber, Bowler, Wizard, etc)
Planned reworks for Arrows and Heal to be implemented over the next few months.
Battle Healer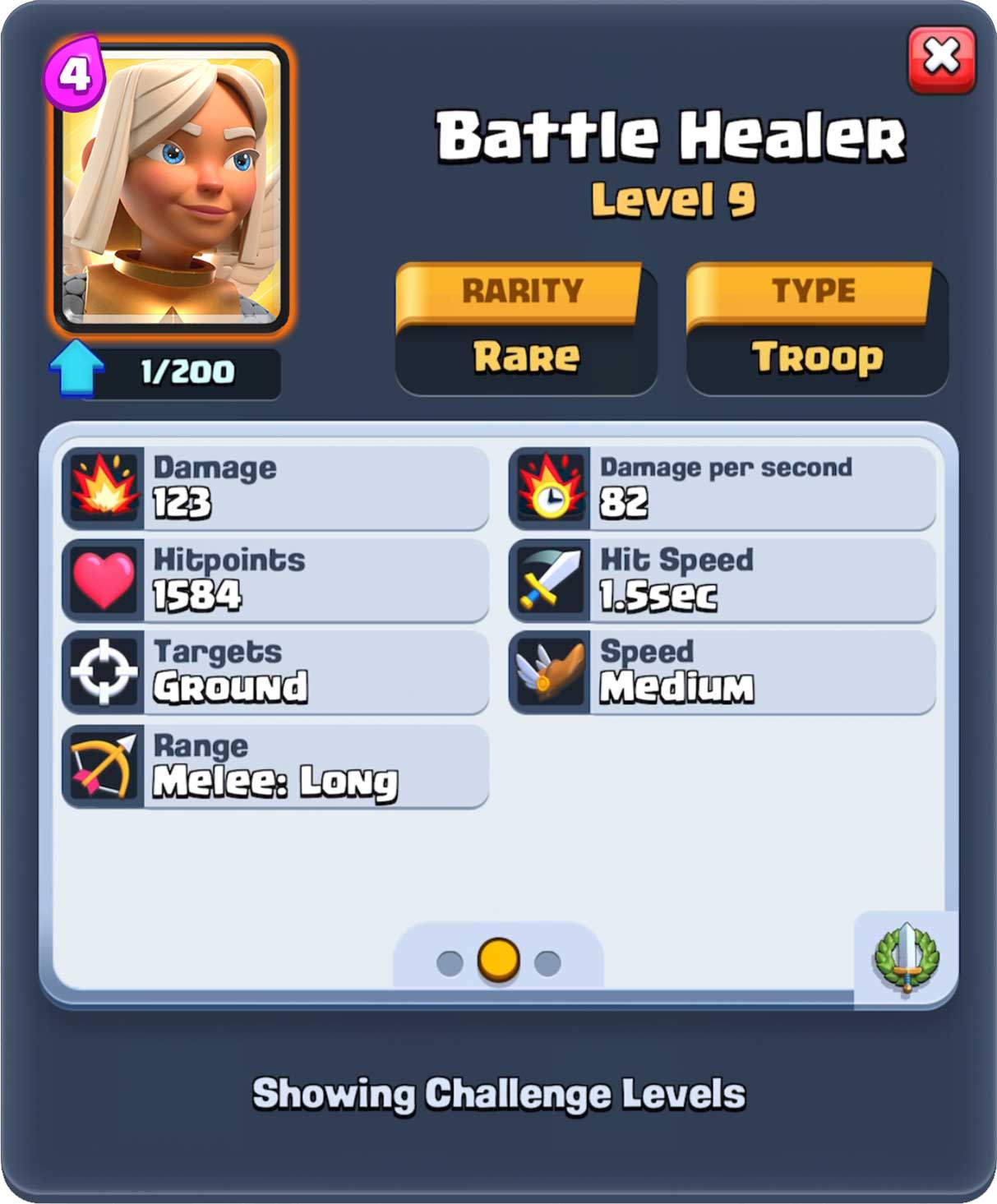 New Rare card
4 Elixir
Heals herself
Heals Friendly troops
Although hovering troops were intended to be introduced in the upcoming Season 6, Supercell has decided to keep Battle Healer and Royal Ghost as ground troops.
Card Boost
The card boost will be activated for the duration of the season once you have unlocked the Battle Healer. The card that gets boosted is not user selectable and is decided by the game only. It comes as a free feature that everyone can enjoy.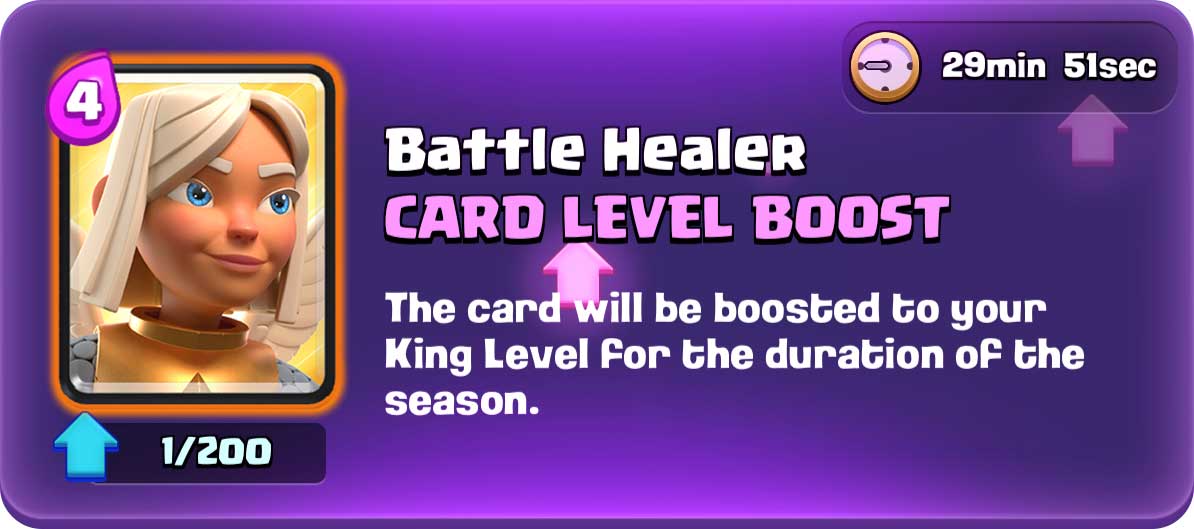 Game Rule Changes
All games will now be 5 minutes long
Overtime still lasts for 2 minutes, with 3x Elixir generation in the last minute.
| Time | Elixir | Phase |
| --- | --- | --- |
| 1 min | 1x | |
| 2 min | 1x | |
| 3 min | 2x | |
| 4 min | 2x | Overtime |
| 5 min | 3x | Overtime |
Creator Codes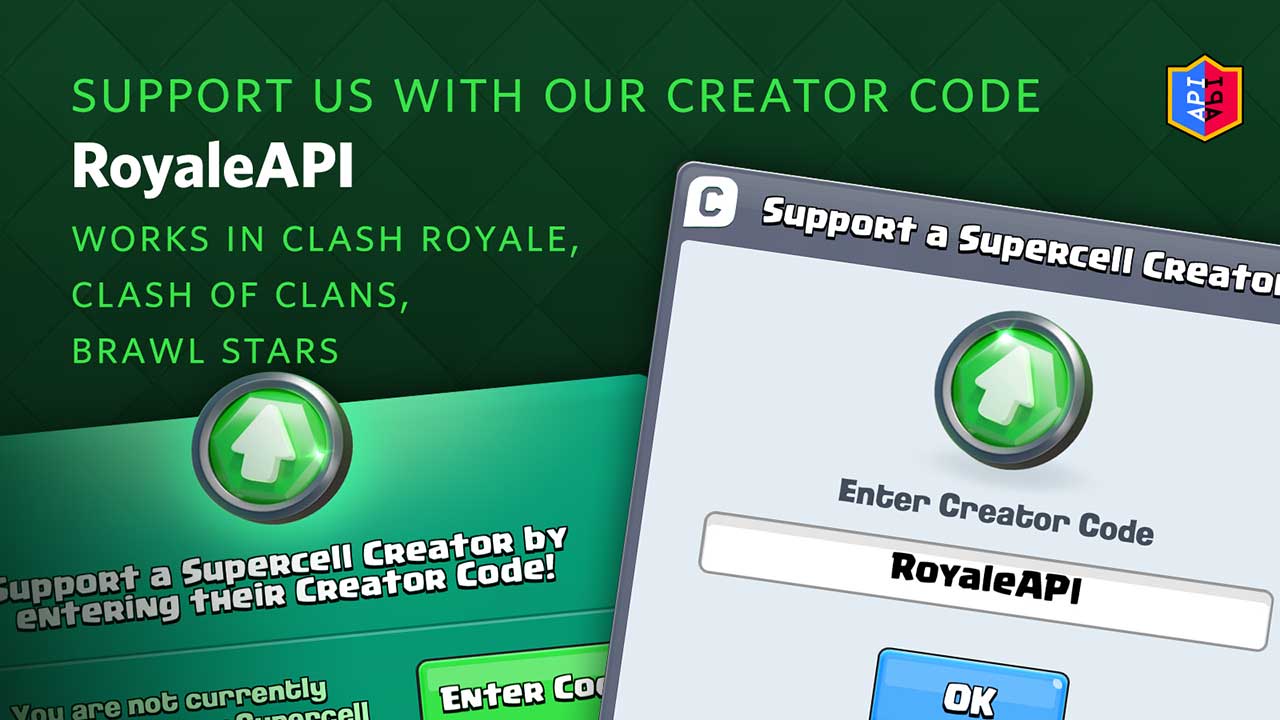 Support us with RoyaleAPI
Works in Clash Royale, Clash of Clans and Brawl Stars
Remember to enter again after 7 days
Creators get a percentage of the sales when players spend on Pass Royale and purchasing gems at the shop.
Purchasing items with gems e.g. spending 250 gems on emotes will not contribute to the creators. This differs from the Brawl Stars creator codes, where creators get the benefit when the player makes purchases with their gems.
Classic Decks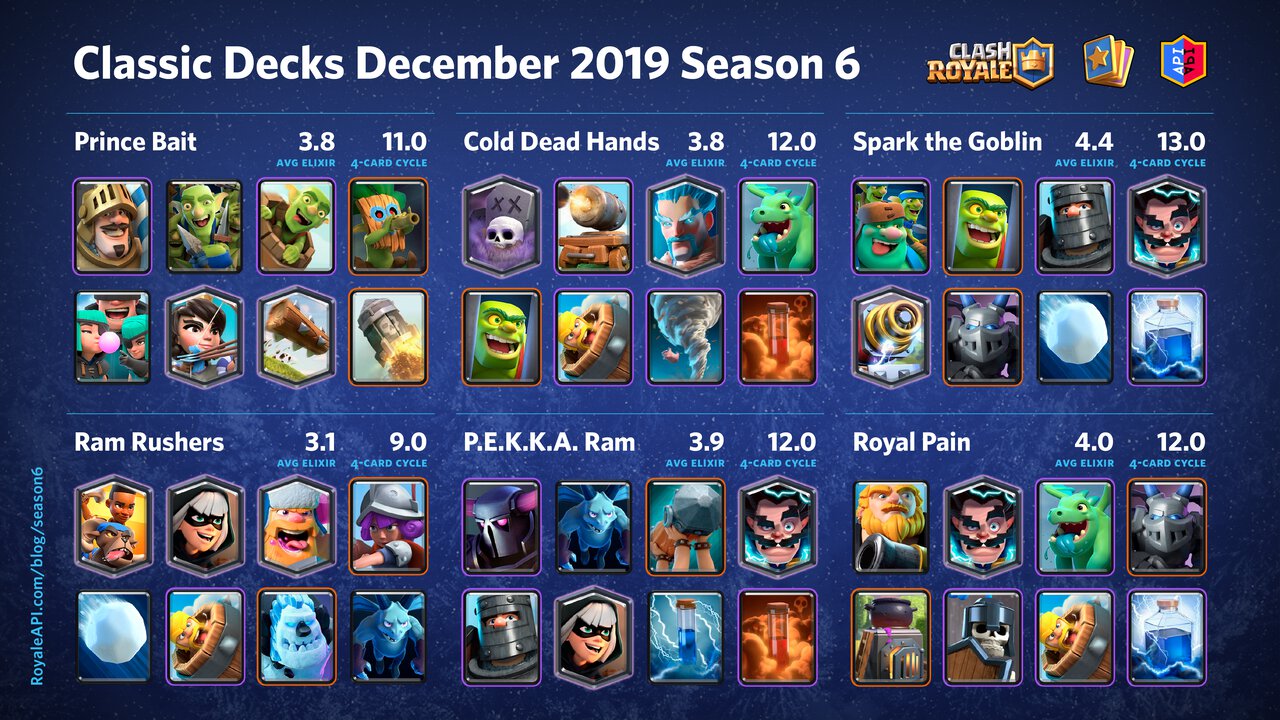 Prince Bait
Prince, Goblin Gang, Goblin Barrel, Dart Goblin, Rascals, Princess, The Log, Rocket
Cold Dead Hands
Graveyard, Cannon Cart, Ice Wizard, Baby Dragon, Goblin Cage, Barbarian Barrel, Tornado, Poison
Spark the Goblin
Goblin Giant, Goblin Cage, Dark Prince, Electro Wizard, Sparky, Mega Minion, Giant Snowball, Lightning
Ram Rushers
Ram Rider, Bandit, Lumberjack, Musketeer, Giant Snowball, Barbarian Barrel, Ice Golem, Minions
P.E.K.K.A Ram
Pekka, Minions, Battle Ram, Electro Wizard, Dark Prince, Bandit, Zap, Poison
Royal Pain
Royal Giant, Electro Wizard, Baby Dragon, Mega Minion, Furnace, Guards, Barbarian Barrel, Lightning
Clan War Game Modes
1v1

Sudden Death (Ladder)
Classic Decks
Triple Draft

2v2
New Card Info Screens
Card previews in the arena
Examples of how and how not to use a card
More space for stats and in-depth info
New artworks for cards
Mega Touchdown
Banned:
Hog Rider
Royal Hogs
Ram Rider
Freeze
2v2 Touchdown Draft
Each player now receives one "fast runner" (e.g. Hog Rider) and a "big runner" (e.g. Giant)
Originally published on November 21 with Balance Revert, revised with more new info
Discuss
update
balance
season