November 3, 2021 · 2 min read
Newly released champions will be balanced on November 14, 2021.
balance
update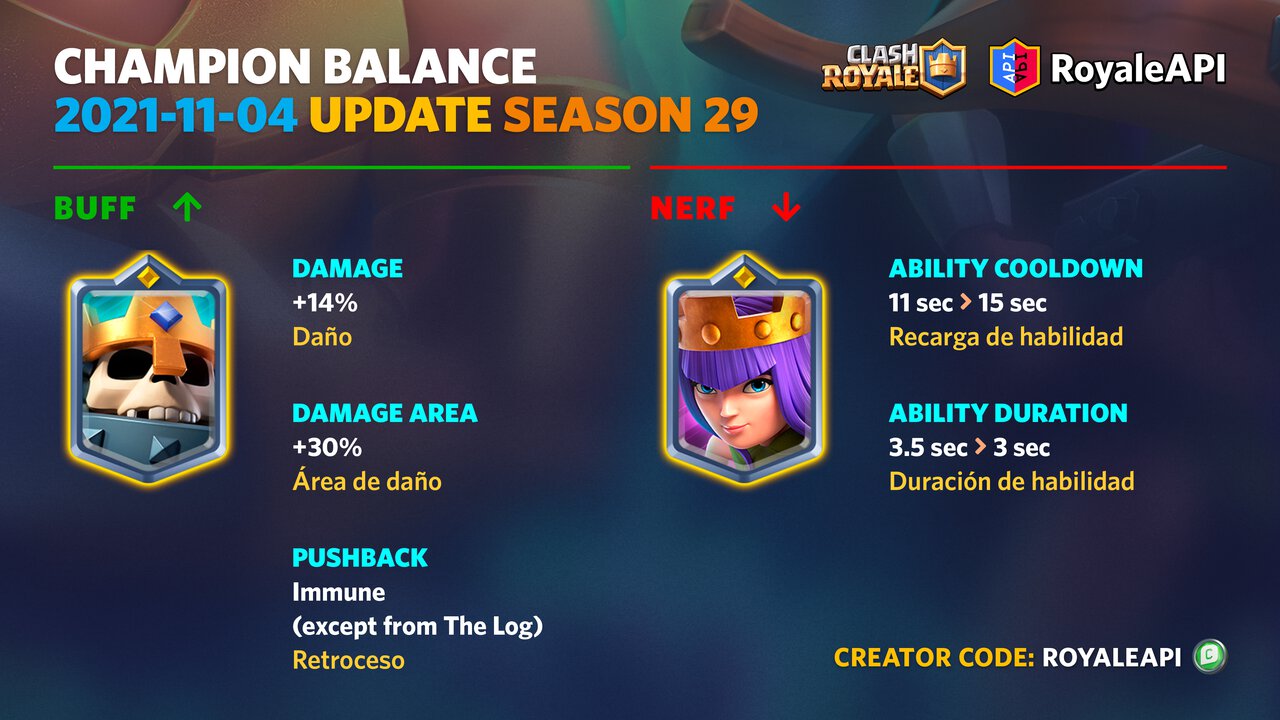 Champions have been active for a week in Clash Royale, and that has given some time for Supercell to gather data and adjust their strength accordingly.
Support us by using our Creator code RoyaleAPI
Table of Contents
Skeleton King (Buff)
The Skeleton King is receiving a moderate buff in his stats. In challenges he had low Win Rate and usage, and so did he in top ladder. In fact, he had the lowest card Win Rate in the Top 1000. Whether it was a slow development of deck synergies or a true lack of strength, the King of the Undead will now be more powerful. With bigger and stronger area damage, he will now be able to squish goblins with a single attack. 
Additionally, the Skeleton King will now resist pushback effects, although this immunity doesn't work against The Log.
| | Before | After |
| --- | --- | --- |
| Damage +14% | | |
| Damage Area +30% | | |
| Pushback | | Immune |
Golden Knight
The Golden Knight is the only champion that won't be balanced. In challenges he has medium usage and low Win Rate, while in top ladder he has low usage and average Win Rate. So he doesn't seem to be strong at the moment, but new cards with unique mechanics often need time to find their place.
Archer Queen (Nerf)
Archer Queen has proven to be the strongest of all 3 Champions. After a few days she consolidated her place in the meta by reaching 60% usage in Grand Challenges and a net positive Win Rate. To balance her, the duration of her ability is going to be reduced, and the cooldown increased. 
| | Before | After |
| --- | --- | --- |
| Ability Cooldown | 11 sec | 15 sec |
| Ability Duration | 3.5 sec | 3 sec |
Use our code RoyaleAPI to keep our site running 🥰
Effective Date
These changes will be live on Thursday, November 4, 2021 after a maintenance break.
Media Usage
If you wish to use images in this blog post, you must meet all the conditions in our Media Usage Guidelines.
Discuss
balance
update