Interesting potential upcoming changes seen in a game version created for China.
update

Clash Royale had a long maintenance on March 16, where players in China were migrated from the global servers into their own China-specific servers. As part of this server split, Chinese users have also received a brand new game client, where we have found many interesting features that we suspect will be coming to the international version in the future.
In this post, we will highlight what got changed as a result of this server split, as well as interesting things we have found on the UI (user interface) in the Chinese version that may imply what we will be getting in the future.
Table of Contents
Settings

A new More Settings panel contains various privacy settings that many of us have been asking for. Here are what's listed and what we think they are.
Clan Chat Filter. Profanity filter in clan chat.
Personal Info Display. Show / hide player profile. We found that some players' player profiles are blanked when opened inside the game on the Chinese edition. This is potentially that toggle.
Leaderboard Participation. Whether to show up on the leaderboard. We believe that this is potentially related to the spectate feature in Global Tournament Leaderboard (but could also be the Ladder Leaderboard). Where if you hide this setting, you won't show up, and thus can't be sniped.
Allow Spectators. This is one of the settings that I have been asking forever — essentially allowing players to have the privacy to play in peace and can't be spectated by friends.
Poison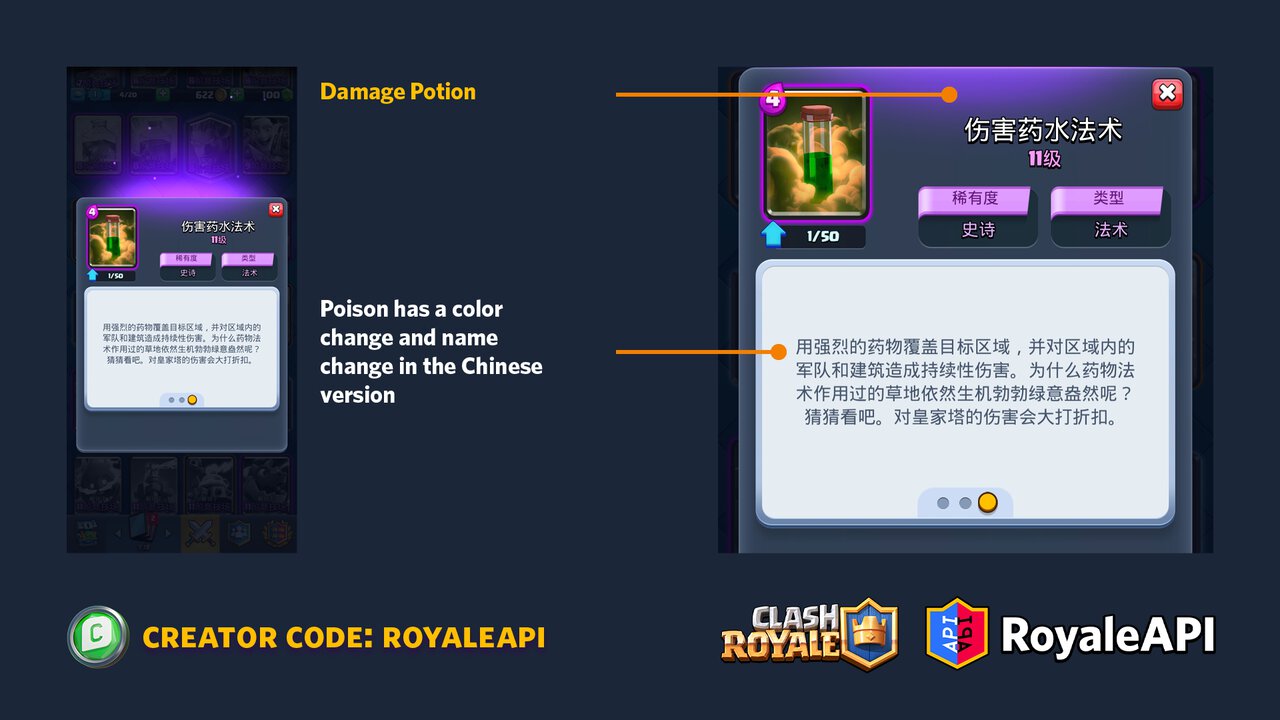 In the Chinese version, the Poison spell is renamed as Damage Spell, with its color changed to green. We don't think that the international version will be changed. It is highly likely that this has to do with a specific Chinese law that disallows games showing blood. Although poison is not blood, it is a "red liquid" and may have triggered some type of censorship sensitivity.
Valkyrie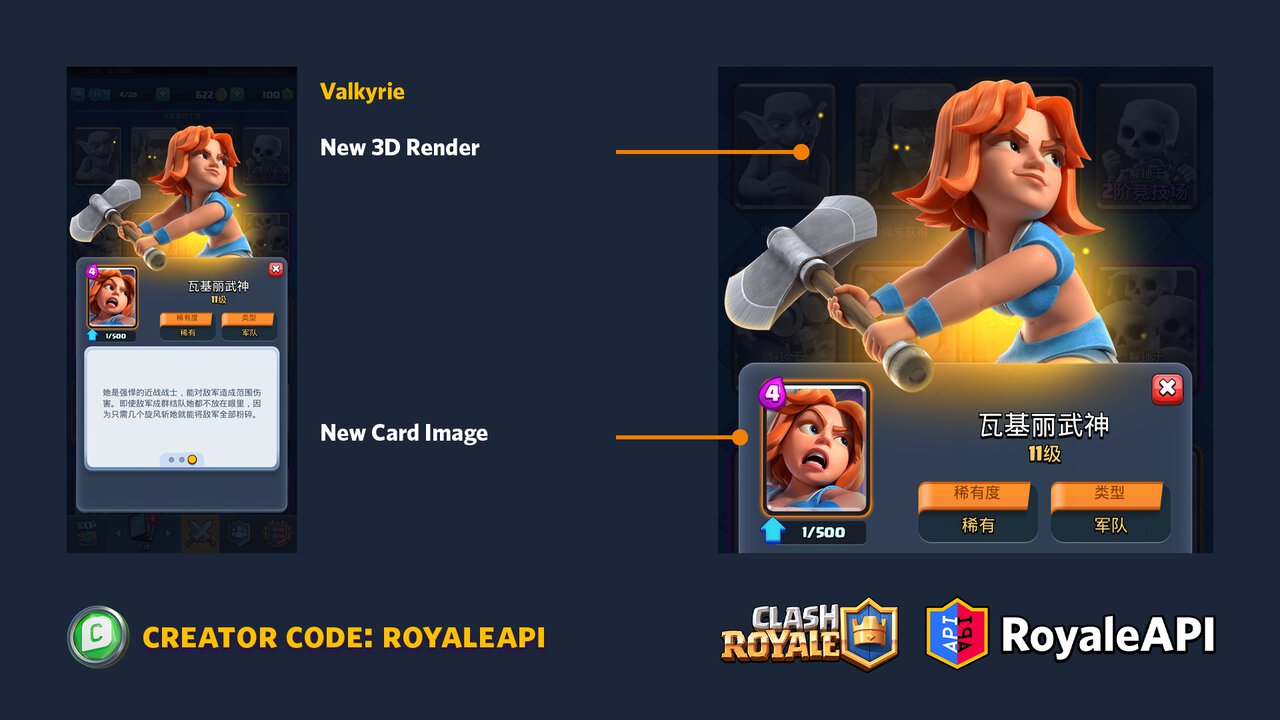 Valkyrie is getting a new card image and a new 3D render. We believe this character render is changed to make her clothings more conservative. We don't know if this version will make it to the international version or not.
Legendary Card Unlock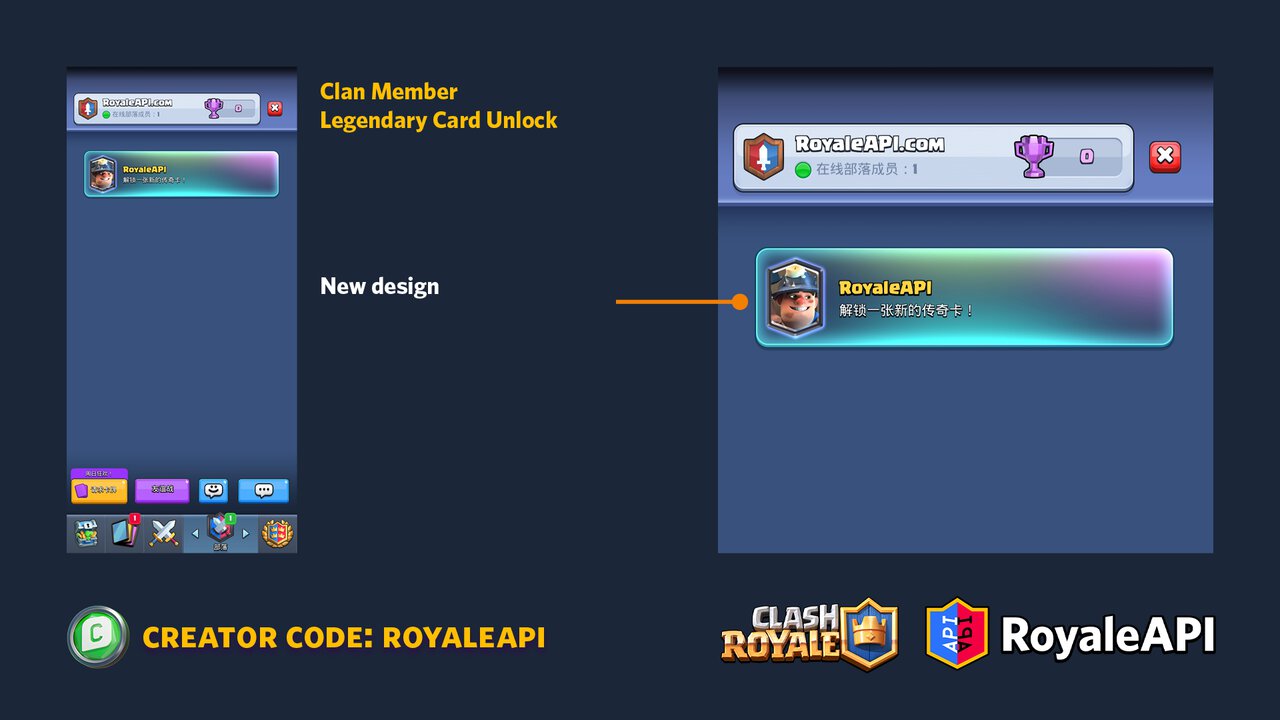 This is a relatively minor change — the Legendary card unlock notification in clan chat has a slightly different design. We believe that this will make it to the international version.
Separate Matchmaking

Matchmaking for Chinese players are now separate from everyone else. This means that you won't be able to play against players in China anymore. They also have their own global leaderboard.
Other Changes
No Supercell ID. Chinese players cannot login with Supercell ID. They can only login with either WeChat or QQ.
No creator code. Chinese players will not be able to support creators with Creator Code.
Bandit Dash fixed. The bandit dash bug is fixed in the Chinese version, which means that it will likely be fixed in the international version in the future.
Pasting Deck into challengers. This feature was added to the Chinese version, and will likely be added to the international version.
Free gifts. Chinese users had a 12-hour maintenance for their server migration, and has each received a few chests as compensation. Players outside of China will not get these gifts.
No API yet. When other Supercell game had their server split events, Supercell has given separate API access to their Chinese servers. So far, the same access has not been given to Clash Royale China. In turn, we are unable to provide data access to those players. Trust that we will implement this access as soon as Supercell enables it.
Discuss
update