We are opening our content partner program for anyone. See details
site
When you browse for decks on our site, you will often see deck guides associated with them. These guides are created by our content partners and displayed throughout RoyaleAPI based on each user's language and the decks they are viewing. The prospect of becoming a content partner on our site was previously very limited, with no clear path to follow for content creators seeking to collaborate with us.
Today, we are opening our content partnership program to anyone who is creating original video content for Clash Royale on YouTube!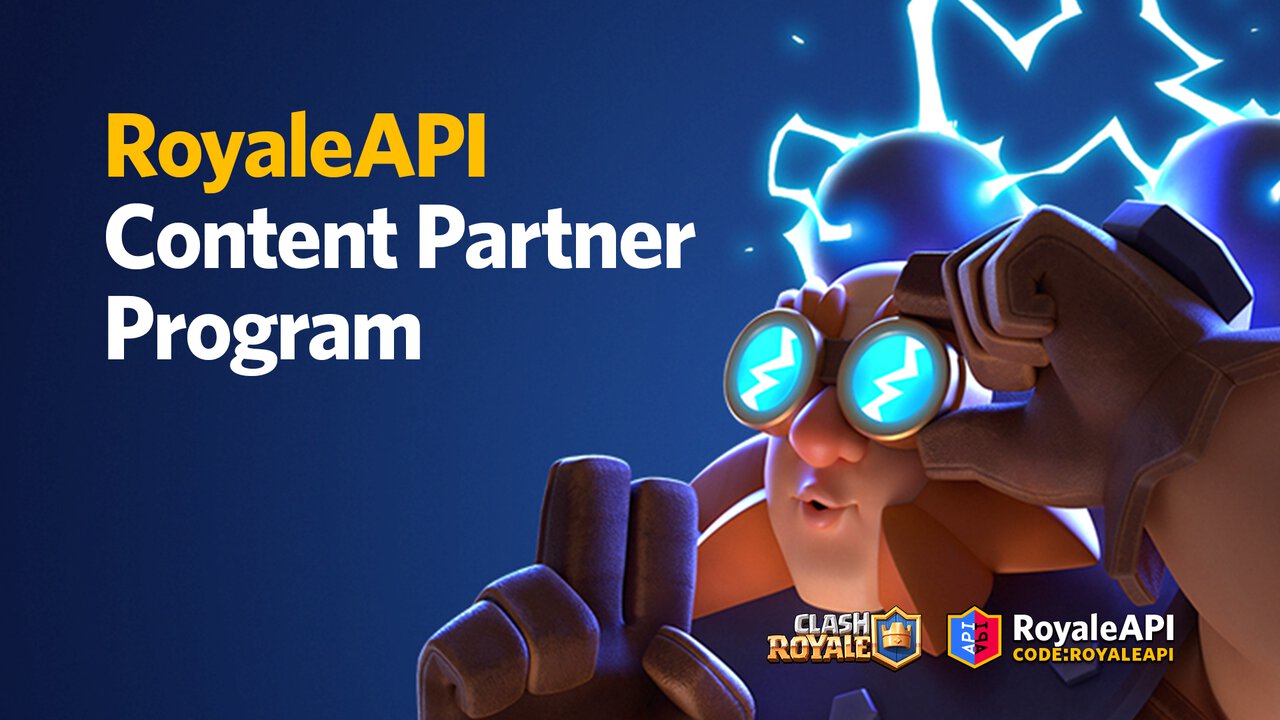 What you will get from being a partner:
Get your videos in front of millions of users
Have your videos featured on relevant pages — especially decks
Achieve better SEO (search engine optimization) by having your videos closely related and linked to Clash Royale content
Gain access to previews / betas of upcoming features on RoyaleAPI
Get a VIP label on your player profile on our site
What we require:
You associate video content related to decks to our deck stats pages
How to qualify
Your content must be family-friendly. This means your content should not contain anything relating to drugs, alcohol, pornography, foul language, or disrespectful behavior.
Your content must abide by the Supercell Terms of Service and you must follow Supercell's Fair Play Policy
You should regularly publish videos about Clash Royale. We expect our partners to make at least 1 video about a deck per week. Most partners publish videos every 1-2 days.
Your YouTube account should be at least half a year old
You should generally have at least 10,000 subscribers to your YouTube channel. However, this requirement can be flexible if you are a well-known player and you have recently started your channel. To meet this exception, you will need to have earned recognizable achievements in our esports profile.
FAQ
Must my channel focus entirely on Clash Royale?
No. You may have other content on your channel as you see fit, but we will ask you to put specific distinctions inside your video description so we can filter them out for indexing. Our partners, especially those whose content is not exclusive to Clash Royale, are expected to include #ClashRoyale or RoyaleAPI:ClashRoyale somewhere in their video description so that we know the content is related to Clash Royale.
Is this a paid partnership?
No. Our content partnership program is designed to be mutually beneficial. We expose your content to players around the world in exchange for better exposure to your YouTube audience. Having no financial stake ensures that our relationship is sincere and shows that we recognize the value both parties offer.
What language should my content be in?
We welcome content creators who create content in languages that our site supports. At the moment, this includes:
English
Español
Français
Deutsch
Italiano
Polski
Português
Русский
Nederlands
Tiếng Việt
日本語
한국어
中文 (普通话 / 國語 / 廣東話)
Does content get prioritized when viewing your site in a specific language?
Yes — if a user accesses our site in Spanish, we will prioritize the display of Spanish content when available. Otherwise, the displayed content is sorted reverse-chronologically.
How do I link to decks that I didn't find on RoyaleAPI?
If you have played the deck on your account, you will find it in your battle log. Clicking on any deck from your battle log will take you directly to its Deck Stats page.
Alternatively, you can enter the deck manually at https://royaleapi.com/decks/stats
Questions?
If you have any further questions after reading, reach out to us at business@royaleapi.com and we'll be more than happy to assist you!
Interested?
Discuss
site