Season 13: Beach Battle Season starts on Monday, July 6th. Pass Royale Tropical Turret Tower Skin Summer P.E.K.K.A sipping on a [...]
update
balance
season
Season 13: Beach Battle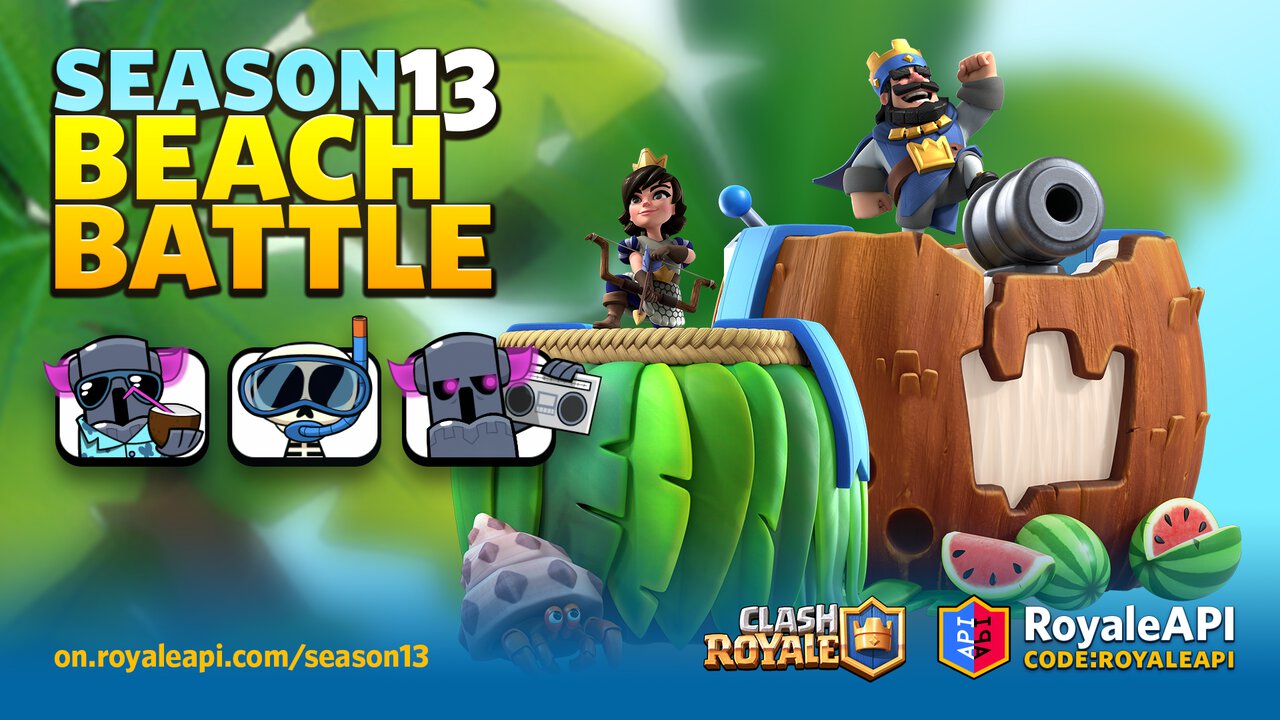 Season starts on Monday, July 6th.
Pass Royale
Tropical Turret Tower Skin
Summer P.E.K.K.A sipping on a Coconut (Pass Royale)
Other Emotes
Boombox P.E.K.K.A (Shop Offer)
Skeleton Snorkel (Challenge)
Emotes in Action
New Arena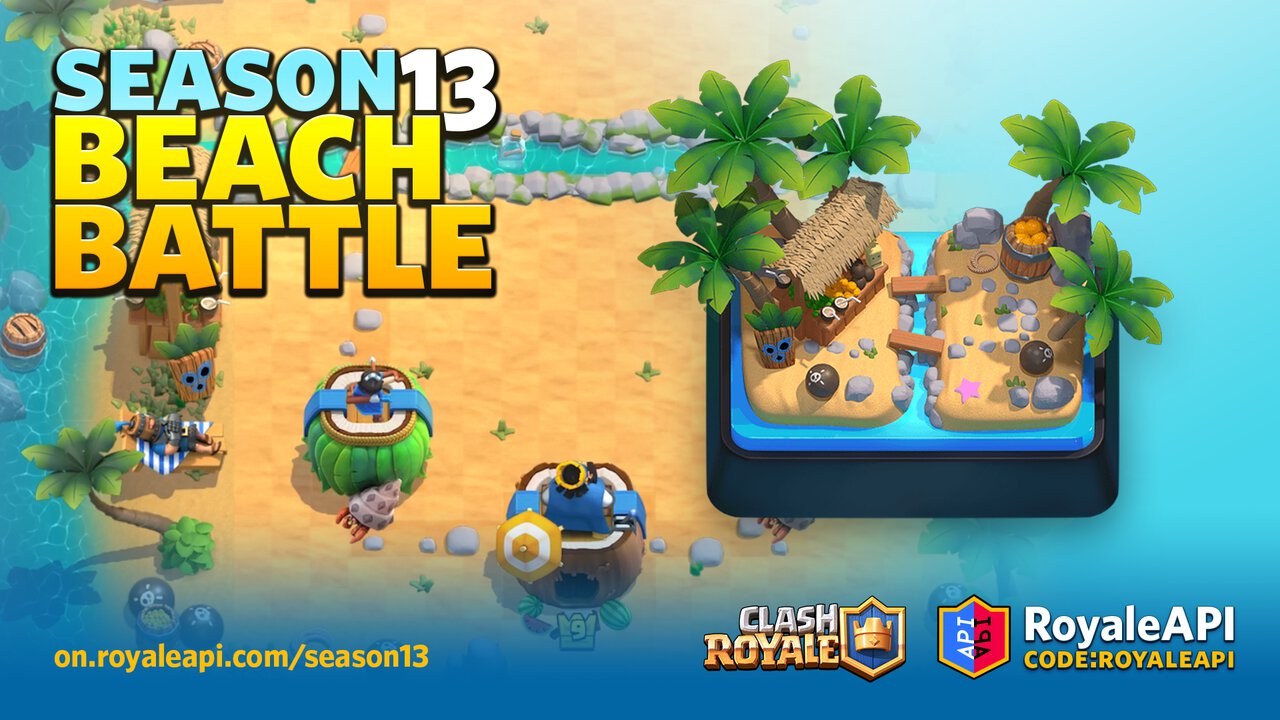 Balance Changes
Balances will be live on Tuesday, July 7, 2020. Discuss on Reddit
Fisherman (Buff)
| | Before | After |
| --- | --- | --- |
| Anchor Charge Up Speed -13% | 1.5 sec | 1.3 sec |
| Hit Speed -13% | 1.5 sec | 1.3 sec |
| DPS +15% | 105 | 123 |
Fisherman's usage rate has been low in recent seasons, and the Clash Royale balance team wishes to give him a nudge.
By focusing on what makes the card unique — his pulling mechanic — the updated Fisherman will charge his anchor faster while gaining higher DPS (Damage Per Second).
Zappies (Rework v2)
| | Before | After |
| --- | --- | --- |
| Damage +14% | 84 | 96 |
| Hit Speed +5% | 2 sec | 2.1 sec |
| DPS +9% | 42 | 46 |
Zappies got a rework in Season 8 but their usage remains low.
By increasing their damage, they will now be able to 2-hit minions.
Their slower Hit Speed makes them less likely to get into "stun-locking" when you play against them.
The combination of the damage increase and lower hit speed results in an overall DPS increase.
Skeleton Dragons (Nerf)
| | Before | After |
| --- | --- | --- |
| Damage -6% | 142 | 133 |
Overall, the Clash Royale team is happy with this newly released card.
But Skeleton Dragons' high Win Rates and Use Rates suggest that a nerf is in order. (This Dragon Duo has higher WR and UR than Fireball in challenges)
Reducing their damage will require 1 more hit to kill a Barbarian.
Firecracker (Nerf)
| | Before | After |
| --- | --- | --- |
| Pushback Distance -25% | 2.0 | 1.5 |
Firecracker is a great counter to melee troops. Her ability to push herself away from troops that she is attacking makes her one of the most challenging cards to deal with.
She is getting a pushback nerf, which should allow her to keep her unique mechanism while giving melee troops a chance to hit her back.
In a recent poll that we ran, 80% of the users who voted found Firecracker to be the most annoying card in the game. (Note: the balance team did not make this change based on this poll. We mentioned our poll here mainly to show that players also feel that a nerf is deserved.)
We know that that the Firecracker nerf will make SaintBelikin a very happy man.
Classic Decks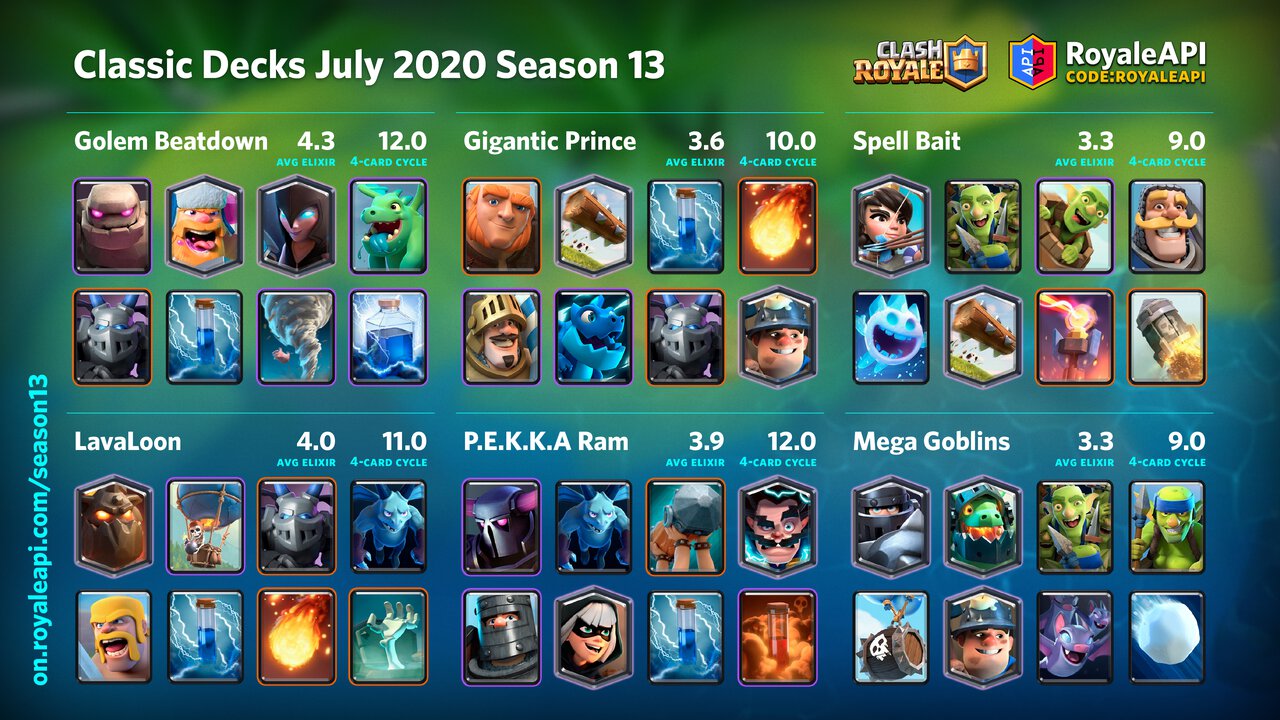 Classic Decks will be live on Tuesday, July 7, 2020. Discuss on Reddit
Golem Beatdown
Golem, Lumberjack, Night Witch, Baby Dragon, Mega Minion, Zap, Tornado, Lightning
Gigantic Prince
Giant, The Log, Zap, Fireball, Prince, Electro Dragon, Mega Minion, Miner
Spell Bait
Princess, Goblin Gang, Goblin Barrel, Knight, Ice Spirit, The Log, Inferno Tower, Rocket
LavaLoon
Lava Hound, Balloon, Mega Minion, Minions, Barbarians, Zap, Fireball, Tombstone
P.E.K.K.A Ram
Pekka, Minions, Battle Ram, Electro Wizard, Dark Prince, Bandit, Zap, Poison
Mega Goblins
Mega Knight, Inferno Dragon, Goblin Gang, Spear Goblins, Skeleton Barrel, Miner, Bats, Giant Snowball
New Game Modes
The Floor Is Healing.

Every troop and tower heals automatically!
No buildings.
Locked-create-a-deck mode.

Stop The Giant!

Locked-Create-a-deck mode with 1 Giant.
Giant is raged, super-powered and OP.
20-Win Challenge
Supercell has partnered with No Tilt to make the 20-Win Challenge the only way to qualify for the No Tilt World Championship, with IRL and online tournaments that come with cash prizes.
The challenge is currently scheduled to take place between July 23rd and July 26th this year.
More info will be available in the future.
Boosted Card
Ice Wizard.
Clan War Game Modes
Heal Spirit Spawn. Every 5 seconds, 2/4/6 Heal Spirits spawn into the arena.
Classic Decks
Sudden Death
Double Elixir Draft
Triple Draft
Future Sneak Peeks
That's all the information we have about Season 13! Make sure you are following us on Twitter @RoyaleAPI if you want to hear about future Clash Royale sneak peeks first!
Discuss
update
balance
season