August 1, 2020 · 4 min read
Season 14: Prepare for War Season starts on Monday, August 3rd, 2020. Pass Royale Mega Knight Tower Skin Slowmo Archer (Pass Royale) [...]
update
balance
season
Season 14: Prepare for War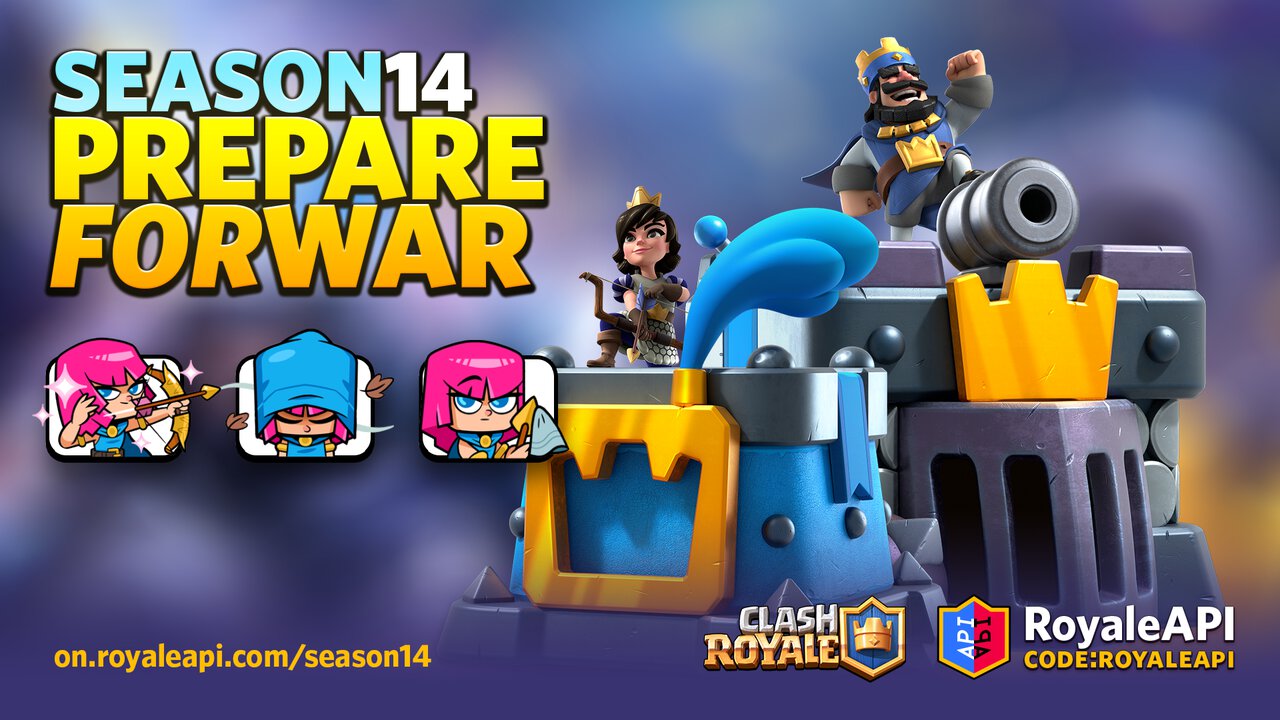 Season starts on Monday, August 3rd, 2020.
Pass Royale
Mega Knight Tower Skin
Slowmo Archer (Pass Royale)
Other Emotes
Archer with Hood (Shop Offer)
Archer cleaning arrowhead (Shop Offer)
Emotes in Action
Legendary Arena
In Season 14, players will return and battle in the Legendary Arena.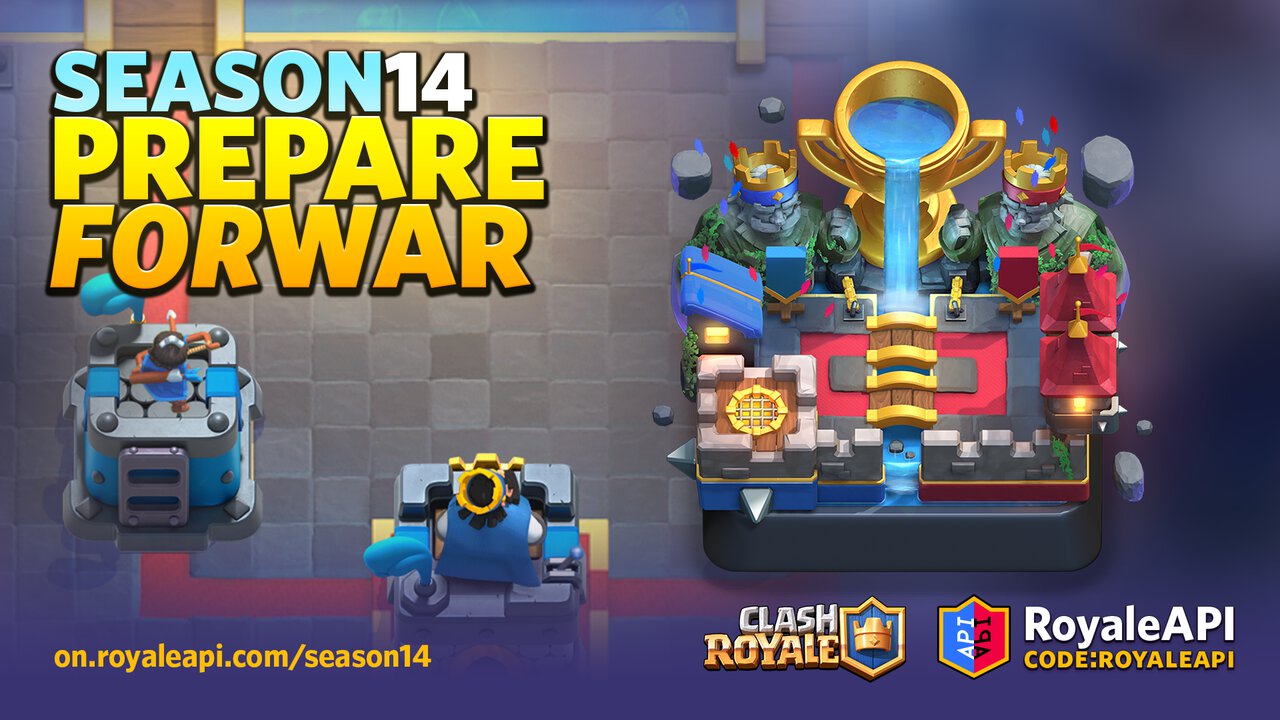 Balance Changes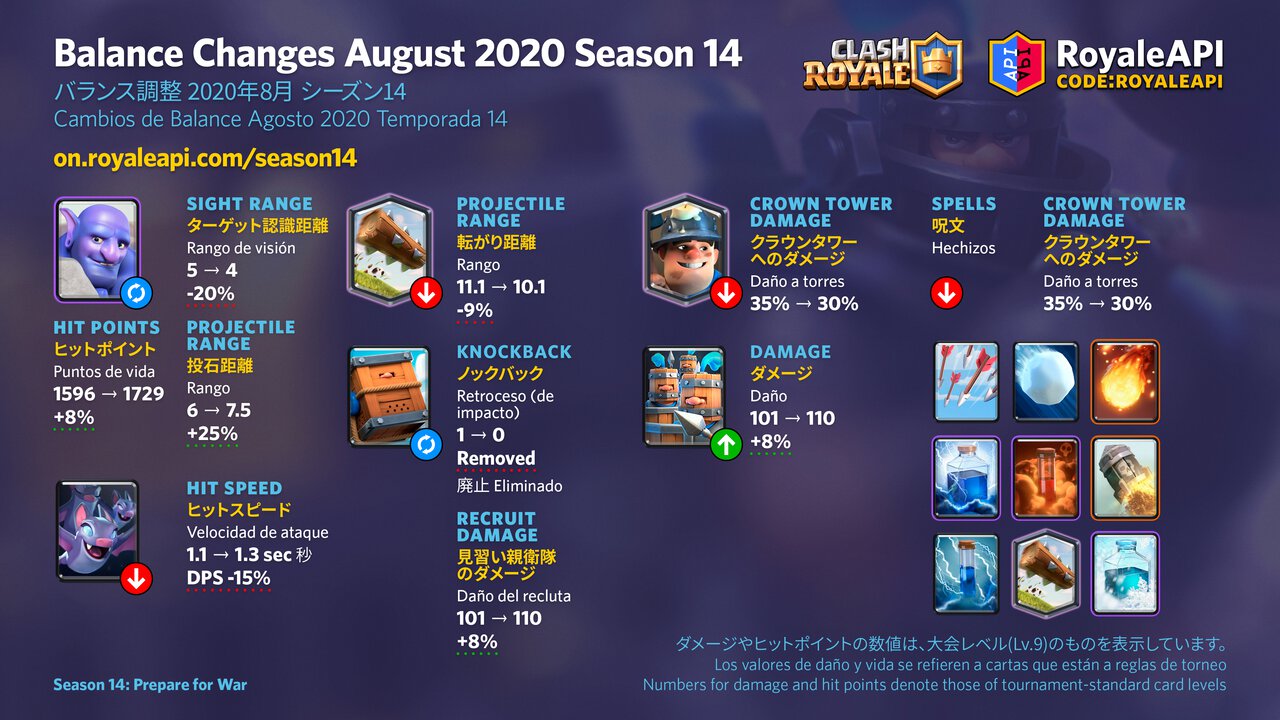 Balances will be live on Tuesday, August 4, 2020. Discuss on Reddit
Bowler (Rework)
| | Before | After |
| --- | --- | --- |
| Sight Range -20% | 5 | 4 |
| Projectile Range +25% | 6 | 7.5 |
| Hit Points +8% | 1596 | 1729 |
Bowler is getting a rework so that he can be a bit more viable in offense, while keeping his strong defensive potential.
After the rework, he will be able to reach the opponent's Princess Tower after crossing the bridge (projectile range).
However, he will need to be a bit closer to enemies in order to attack them (sight range).
Spells (Nerf)
| | Before | After |
| --- | --- | --- |
| Crown Tower Damage | 35% | 30% |
Spells have been the most popular and effective cards in the game since the beginning.
The Clash Royale balance team felt that while it's cool for spells to have healthy use rates, they provide too much value if used to destroy troops next to the opponent's tower.
In recent meta, there has been an unhealthy trend for "Spell Cycle" strategies, which tend to be both stale and frustrating.
For these reasons, the team has decided to give a slight reduction to spell damages on crown towers.
Going from 35% to 30% is effectively a -14% reduction to crown tower damages.
The following spells are affected by this change:

Arrows
Giant Snowball
Fireball
Freeze
Lightning
Poison
Rocket
The Log
Zap

Of note, Earthquake and Tornado escaped this nerf and are not affected.
Miner (Nerf)
| | Before | After |
| --- | --- | --- |
| Crown Tower Damage | 35% | 30% |
Miner is often used for his Crown Tower Damage, which was recently reduced to be in-line with spells (Season 9 Balance Changes)
In keeping with the same mechanism as spells, Miner is getting a crown tower damage nerf as well.
Royal Recruits (Buff)
| | Before | After |
| --- | --- | --- |
| Damage +8% | 101 | 110 |
Royal Recruits are getting a small damage buff this coming season.
After this buff, they will be able to destroy Spear Goblins with 1 hit.
Royal Delivery (Rework)
| | Before | After |
| --- | --- | --- |
| Recruit Damage +8% | 101 | 110 |
| Knockback Removed | 1 | 0 |
Royal Delivery has been a jack of all trades with a lot of value when used properly.
It hits both ground and air, deals significant damage, spawns a defending troop and retargets troops with knockback.
As Royal Recruits are getting a damage buff, Delivery will be getting its knockback removed, and make it a less viable option to answer every single kind of push.
Bats (Nerf)
| | Before | After |
| --- | --- | --- |
| Hit Speed +18% | 1.1 sec | 1.3 sec |
| DPS -15% | 60 | 51 |
The balance team observed that Bats have been one of the most used cards for a long time given their excellent stats: cheap, fast, high DPS.
Their Hit Speed (hit time / time between each hit) will be getting a nerf in the upcoming season because they are getting just a bit too much value for 2 Elixir.
The Hit Speed increase will lead to a lower Damage per second (DPS) overall (-15%).
The Log (Nerf)
| | Before | After |
| --- | --- | --- |
| Projectile Range -9% | 11.1 | 10.1 |
Similar to Bats, The Log has been a strong leader in Challenge use rates, and often leading far ahead of any other card.
The team does not want to touch the only Legendary spell in-game too much, but feel that it would make sense to increase its skill-cap slightly.
With this projectile range nerf, players will need to deploy The Log at the very top row of tiles in order to hit the opponent's tower.
Numbers for damage and hit points denote those of tournament-standard card levels (Level 9).
Spell Damage Cheatsheet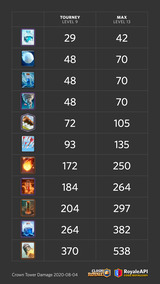 We've made a handy cheatsheet for you to use while playing or study to get ahead!
Deck building challenges
5 special challenges based around archetypes will give players opportunities to win Legendaries and prepare them for Clan Wars 2!
Master the Deck… Beatdown!
Master the Deck… Bridge Spam!
Master the Decks… Siege & Air!
Master the Deck… Tower Damage!
Master the Deck… High Damage!
Clan Wars 2 will be coming in Season 14, but not at the start of the season.
Classic Decks
These classic decks will be live on Tuesday, August 4, 2020. Discuss on Reddit
Golem Beatdown
Golem, Lumberjack, Night Witch, Baby Dragon, Mega Minion, Zap, Tornado, Lightning
Spark the Goblin
Goblin Giant, Goblin Cage, Dark Prince, Electro Wizard, Sparky, Mega Minion, Giant Snowball, Lightning
Pigs on Parade
Royal Hogs, Bandit, Flying Machine, Bats, Barbarians, Musketeer, Barbarian Barrel, Giant Snowball
LavaLoon
Lava Hound, Balloon, Mega Minion, Minions, Barbarians, Zap, Fireball, Tombstone
P.E.K.K.A Ram
Pekka, Minions, Battle Ram, Electro Wizard, Dark Prince, Bandit, Zap, Poison
Mega Goblins
Mega Knight, Inferno Dragon, Goblin Gang, Spear Goblins, Skeleton Barrel, Miner, Bats, Giant Snowball
Future Sneak Peeks
That's all the information we have about Season 14! Make sure you are following us on Twitter @RoyaleAPI if you want to hear about future Clash Royale sneak peeks first!
Discuss
update
balance
season