February 29, 2020 · 3 min read
Season 9: Birthday Royale Clash Royale is celebrating its 4th Birthday since its global release on March 2nd, 2016 and everyone is [...]
update
balance
season
Season 9: Birthday Royale
Clash Royale is celebrating its 4th Birthday since its global release on March 2nd, 2016 and everyone is invited!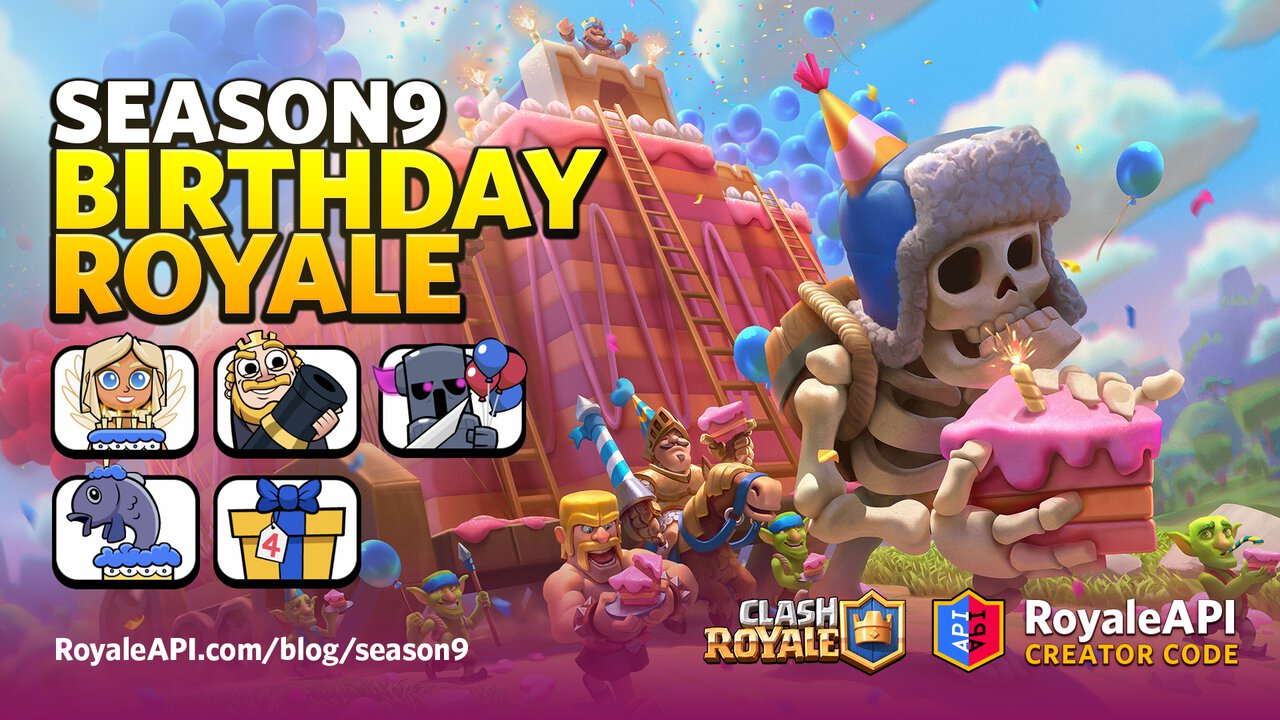 Pass Royale
Tower Skin: Fondant Fortress Skin
Emote: Exclusive 4th Birthday Battle Healer Emote
Other Emotes
Royal Giant (Challenge unlock)
Pekka w/ Balloons (Creator exclusive)
Fish in Cake (Shop)
Sparky (Shop)
Emotes in Action
Fondant Fortress Skin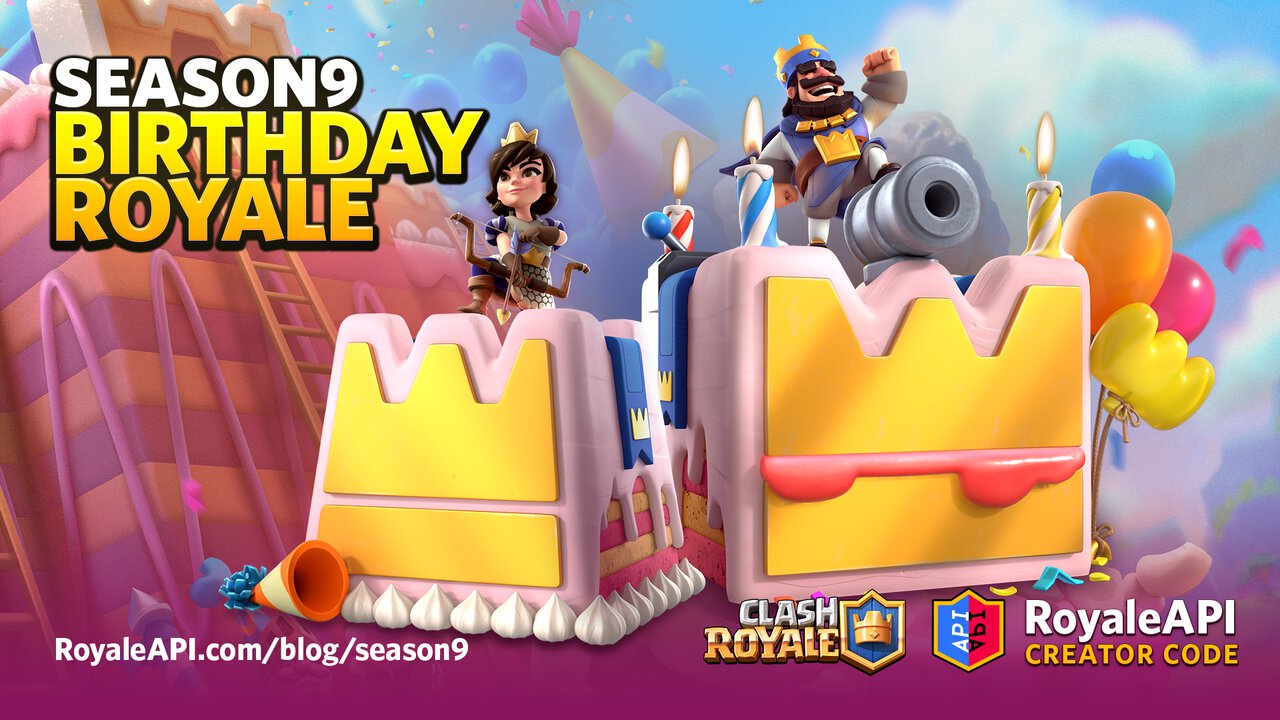 Season starts on Monday, March 2nd, 2020.
New Card: Royal Delivery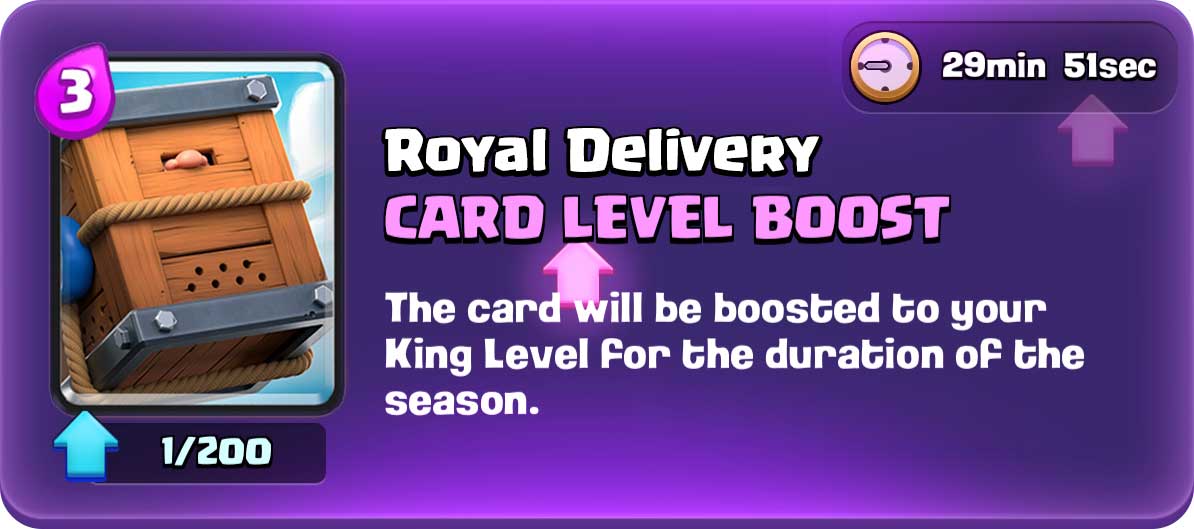 3-Elixir Common Spell
Crashes from above and causes area damage
Knocks back any troops that it hits
Delivers a Royal Recruit upon impact
Can only be played on your side of the arena, similar to The Log
Boosted to your King Level for the duration of Season 9
Balance Changes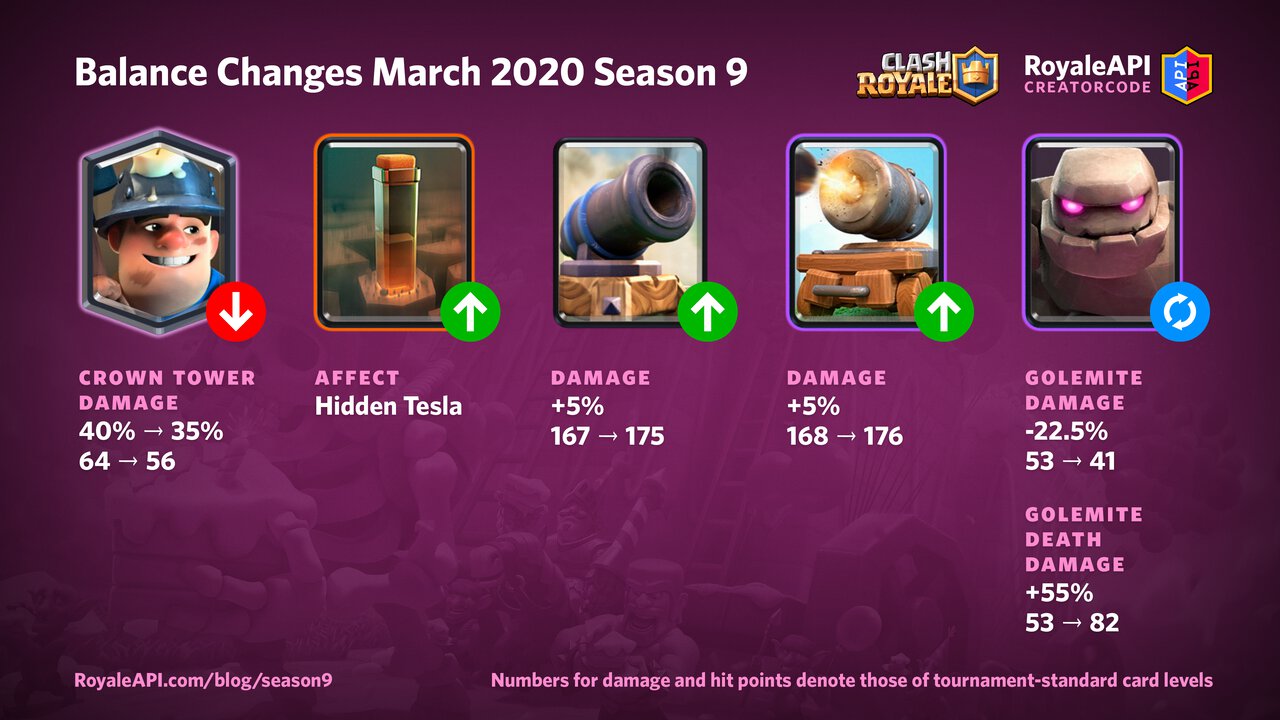 Balances will be live on Tuesday, March 3rd, 2020. Discuss on Reddit
Miner (Nerf)
Before
After
Crown Tower Damage
40%
64
35%
56
Earthquake (Buff)
| | Before | After |
| --- | --- | --- |
| Affects | - | Hidden Tesla |
Cannon (Buff)
| | Before | After |
| --- | --- | --- |
| Damage +5% | 167 | 175 |
Cannon Cart (Buff)
| | Before | After |
| --- | --- | --- |
| Damage +5% | 168 | 176 |
Golem (Rework)
| | Before | After |
| --- | --- | --- |
| Golemite Damage -22.5% | 53 | 41 |
| Golemite Death Damage +55% | 53 | 82 |
Emote Giveaway
Update: Emote Giveaway Tournaments Detail
Supercell Creators will be giving away an exclusive and limited 4th Birthday Emote throughout March (Pekka w/ Balloon, see Emotes in Action). This emote can only be collected from the content creators.
How to get it
Join one of the 10 tournaments hosted by a creator. As long as you are listed in the tournament when it ends, you will receive the emote.
Creators can give out an additional 10 emotes per day. You will be required to complete a simple task, such as playing a match against that creator. This will vary from creator to creator.
RoyaleAPI will be hosting these giveaways! Follow our Twitter @RoyaleAPI and Join our Discord as we will be announcing how to join our giveaways there!
Giveaways will start on March 2nd and lasts until Season 10 begins.
Classic Decks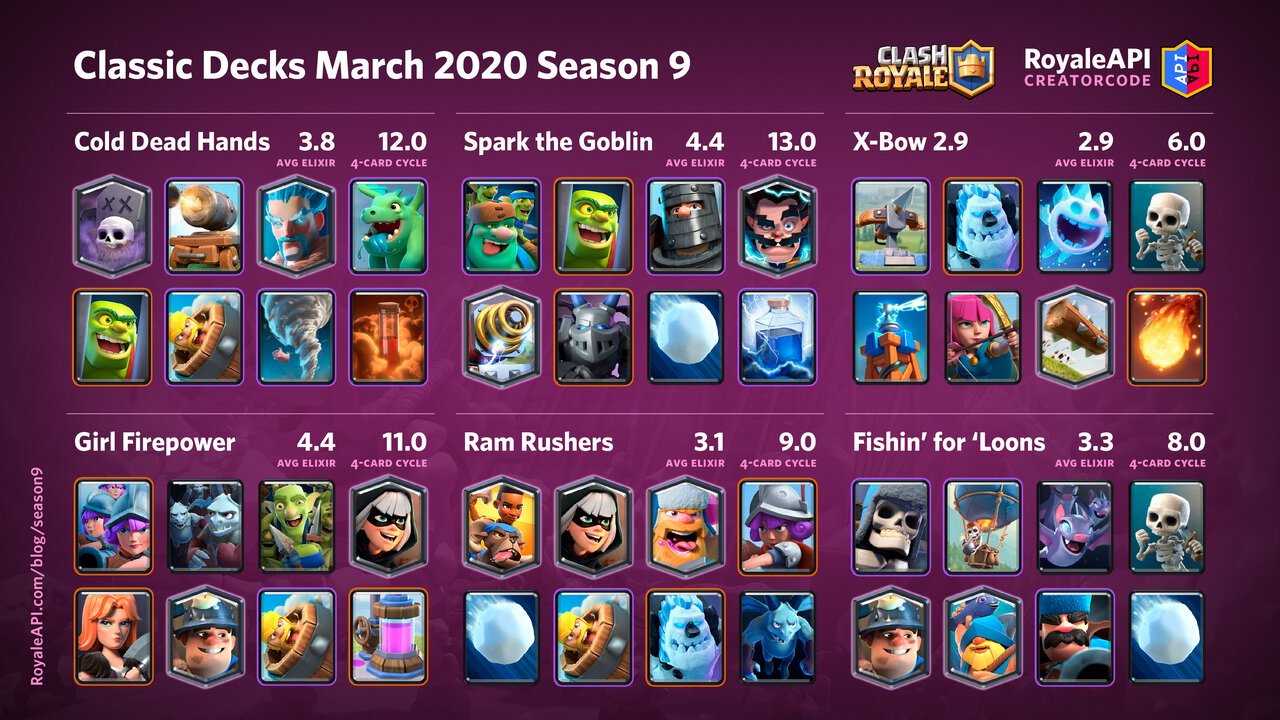 These Classic Decks will be live on Tuesday, March 3rd, 2020. Discuss on Reddit
Cold Dead Hands
Graveyard, Cannon Cart, Ice Wizard, Baby Dragon, Goblin Cage, Barbarian Barrel, Tornado, Poison
Spark the Goblin
Goblin Giant, Goblin Cage, Dark Prince, Electro Wizard, Sparky, Mega Minion, Giant Snowball, Lightning
X-Bow 2.9
X-Bow, Ice Golem, Ice Spirit, Skeletons, Tesla, Archers, The Log, Fireball
Girl Firepower
Three Musketeers, Minion Horde, Goblin Gang, Bandit, Valkyrie, Miner, Barbarian Barrel, Elixir Collector
Ram Rushers
Ram Rider, Bandit, Lumberjack, Musketeer, Giant Snowball, Barbarian Barrel, Ice Golem, Minions
Fishin' for 'Loons
Giant Skeleton, Balloon, Bats, Skeletons, Miner, Fisherman, Hunter, Giant Snowball
Clan War Collection Day Battles
1v1
Wall Breakers
Classic Decks
Triple Draft
Sudden Death
Double Elixir Draft
Supercell Creator Challenges
Supercell has teamed up with some content creators for some custom challenges designed by them:
CWA's Elite Barbarian Rush
WithZack's Sparky Shocker
Legendaray's Infinite Elixir
SirTag's Cycle Mayhem
Miscellaneous
Season Trophy Reset
For this month only, trophy reset will be 25% instead of 50%
Party Mode
You can vote for what mode you want to play in-game using the voting option in News Royale (starts on Friday, March 6th).
TV Royale
Discuss
update
balance
season