Jump to Season 4: Shocktober, Pass Royale: Free Gifts to Clanmates, Pass Royale: Bonus Bank, New Card: Elixir Golem, Balance Changes, [...]
update
balance
season
Jump to Season 4: Shocktober, Pass Royale: Free Gifts to Clanmates, Pass Royale: Bonus Bank, New Card: Elixir Golem, Balance Changes, Clan War Game Modes, Classic Decks, TV Royale.
Season 4: Shocktober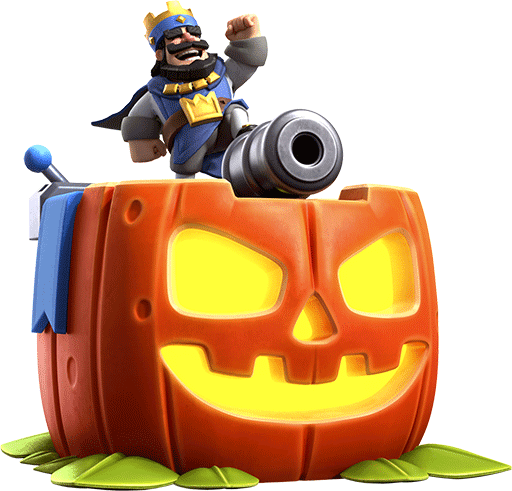 Earn rewards, including an exclusive Seasonal Tower Skin & Emote. Instantly unlock perks!
Perk: Unlimited re-entries and continues for special challenges.
Perk: Exclusive golden player name color.
Perk: Tier chests get Strikes. Strikes give a better chance to get the cards you want.
Perk: Queue your next chest to unlock automatically.
Costs $4.99 USD
Gives free gifts to Clanmates!
Bonus Bank: Earn up to 10000 Gold once Reward Tiers are complete!
Pass Royale: Free Gifts to Clanmates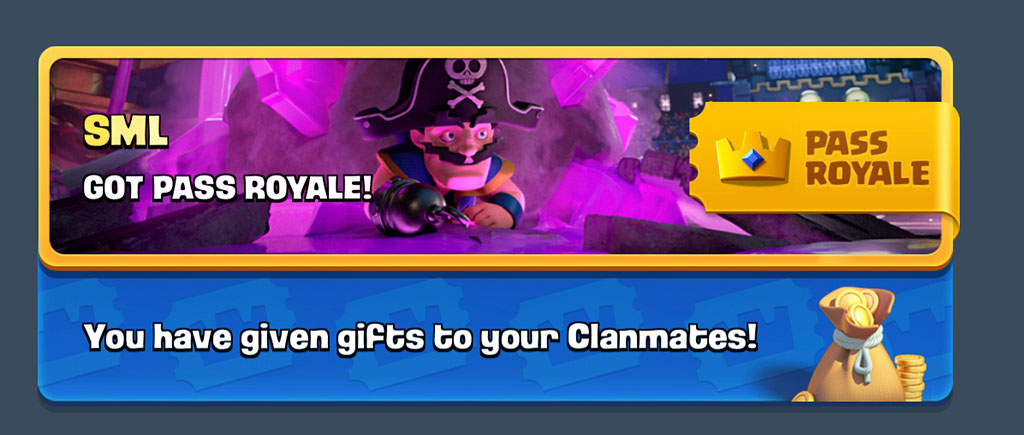 When purchased, clan notification includes gold gifts for other clan members.
Each player can collect up to 10 of these gifts.
If the player switches clan, that counter persists.
Players cannot receive the gift if he joined the clan after the Pass was purchased.
The amount of claimable gold is dependent on King level (up to 500 Gold).
Pass Royale: Bonus Bank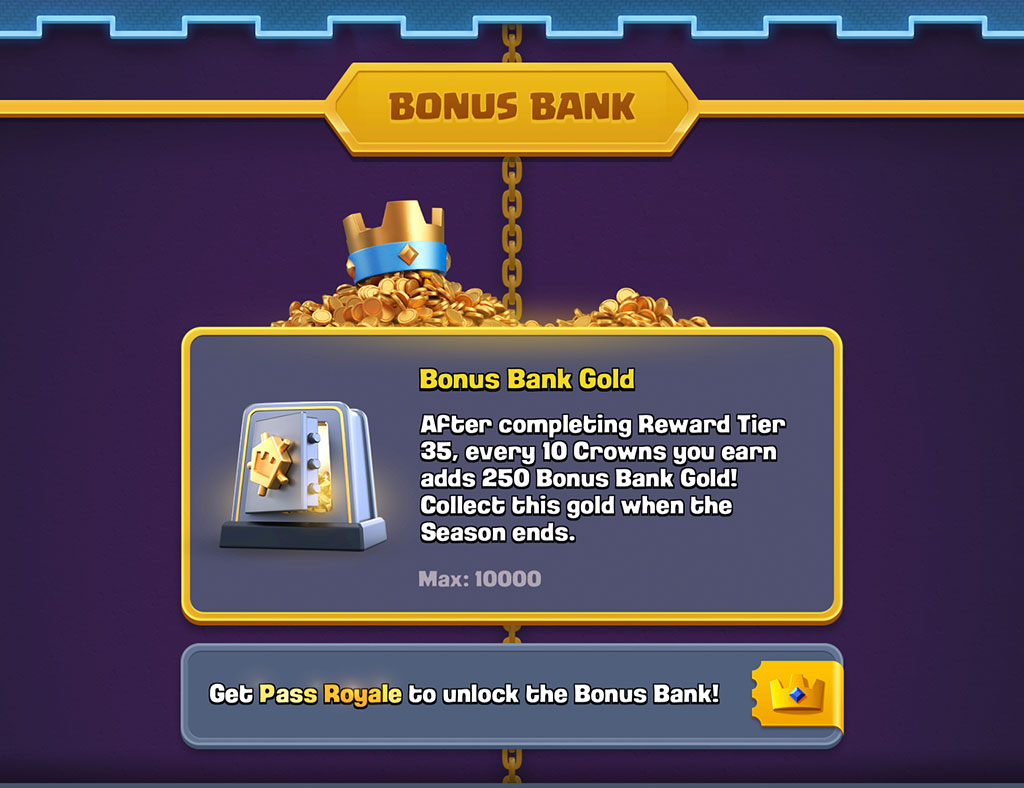 Available to players who have purcahsed Pass Royale
After all 35 tiers are completed, every 10 crowns contribute 250 Gold to the Bonus Bank.
Victory gold for the entire season are also added to the Bonus Bank.
Bank contents can be claimed at the end of the current season, when the new season begins.
Bank holds a maximum of 10,000 Gold.
New Card: Elixir Golem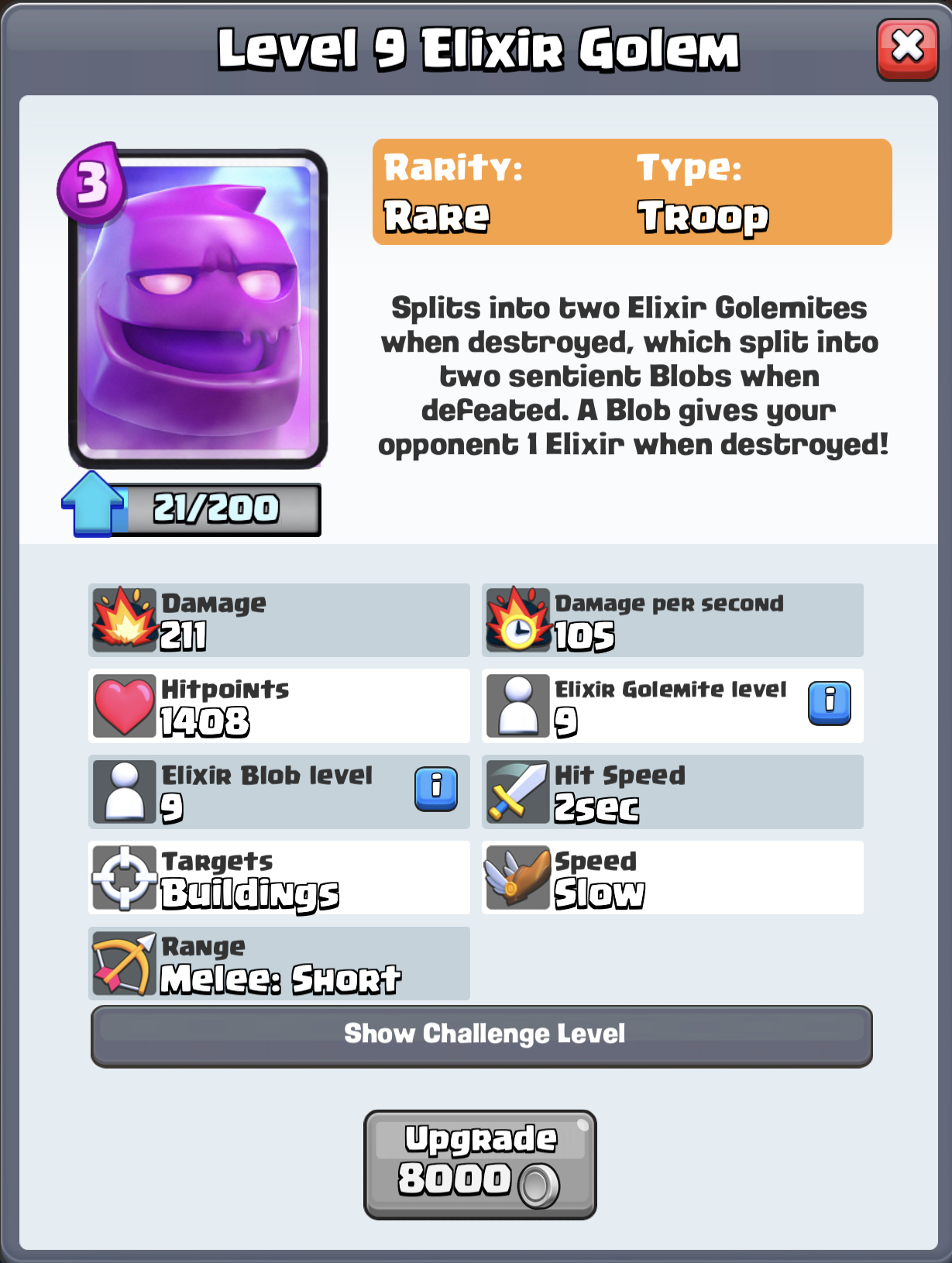 Splits into two Elixir Golemites when destroyed, which split into two sentient Blobs when defeated.
Each Blob gives your opponent 1 Elixir when destroyed.
Rare card
Targets buildings
Strong stats with low elixir cost
In 2v2 games, players are assigned 1 and 2 on each team, and the Elixir given when Blobs get destroyed are given to the corresponding player on the oponent team. Team 1 Player 1 EG → Team 2 Player 1 Elixir.
Balance Changes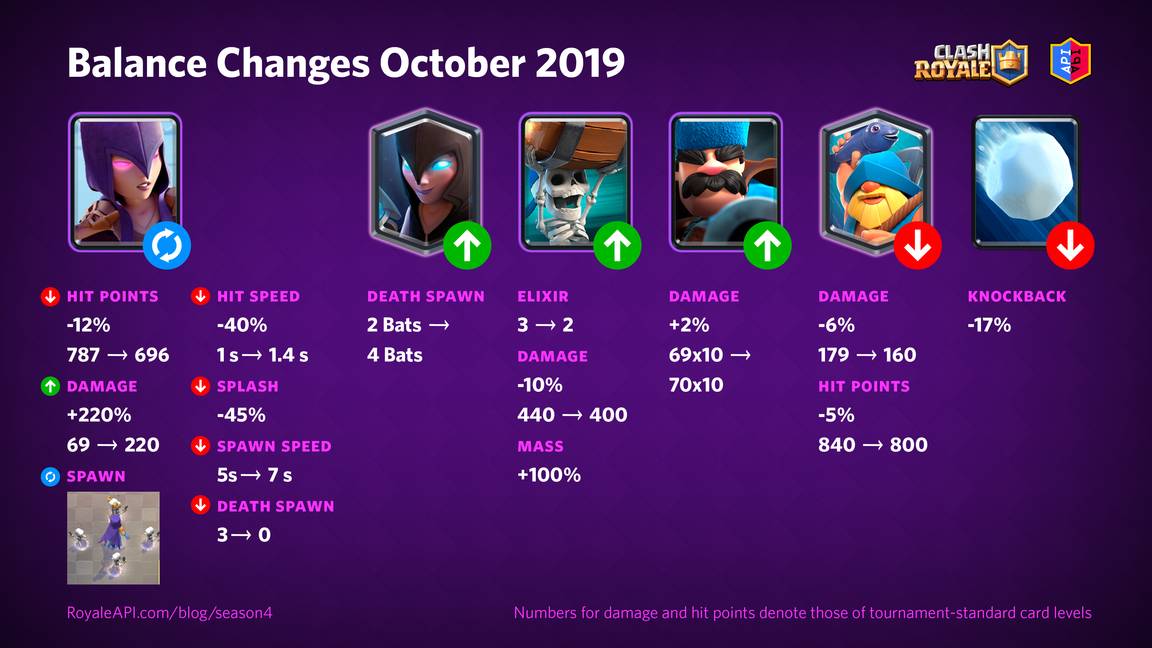 Witch:

Damage:
Hitpoints:

-12% (787 → 696)
Hit Speed
-40% (1s → 1.4s)

Splash
Skeleton Spawns

4 Skeletons in radius around the Witch

Skeleton Spawn Time
Skeleton Death Spawn

Night Witch:
Wall Breakers:
Hunter:
Fisherman:
Snowball:
Numbers for damage and hit points denote those of tournament-standard card levels
Clan War Game Modes
1v1 Triple Elixir Ladder
1v1 Classic Decks
1v1 Double Elixir Draft
2v2 Draft
2v2 Rage Ladder
Classic Decks
Pigs on Parade
Royal Hogs, Bandit, Flying Machine, Bats, Barbarians, Musketeer, Barbarian Barrel, Giant Snowball
Ram Rushers
Ram Rider, Bandit, Lumberjack, Musketeer, Giant Snowball, Barbarian Barrel, Ice Golem, Minions
Prince Bait
Prince, Goblin Gang, Goblin Barrel, Dart Goblin, Rascals, Princess, The Log, Rocket
Fishin' for Loons
Giant Skeleton, Balloon, Bats, Skeletons, Miner, Fisherman, Hunter, Giant Snowball
Cold Dead Hands
Graveyard, Cannon Cart, Ice Wizard, Baby Dragon, Goblin Cage, Barbarian Barrel, Tornado, Poison
Golem Beatdown
Golem, Lumberjack, Night Witch, Baby Dragon, Mega Minion, Zap, Tornado, Lightning
TV Royale
Season 4: Shocktober
New Card: Elixir Golem
Discuss
update
balance
season