Come celebrate Clash Royale's 7th Birthday with two new challenge-only cards, 7 new emotes, 2 tower skins, 36 banner items, and more!
season
update

Has it been 7 years already? March 2023 marks the 7th year since Clash Royale has launched globally. Everyone is welcome to join in the birthday celebration at the Goblin Party.
There will be 2 new tower skins, 6 new emotes, and a whopping 32 banner items for everyone to enjoy. You'll be able to earn 150,000 Gold through challenges this season!
Season 45 begins on Monday, March 6th, 2023. There are no balance changes this month.
Table of Contents
Video Preview
Our video serves as a great introduction to everything you'll see in the upcoming season. Check it out first before reading!
Arena
Battles in March will take place in the Goblin Party arena, which has themes of the Legendary Arena decorated with festive lights and a disco ball.

Tower Skins
Two tower skins are available this season. One will be available with the paid side of Pass Royale. Another will be available for purchase at the shop.
Party Protector (Pass Royale)
A tower with wooden exterior. It is stylistically similar to the Goblin Party arena, with lots of lights and confetti. My favorite is the Goblin party balloon. I hope that Supercell would consider making some of these and maybe send me one of them. 🥺



| | |
| --- | --- |
| | Party Protector tower skin set. Pass Royale at Tier 10. |
| | Party Protector King Tower. |
| | Party Protector Princess Tower. |
Disco Defense (Shop)
The Disco Defense tower skin uses the classic Disco ball as the entire tower. There's disco lights leaking from the front of the King emblem. Quite special. I don't think that I have seen this in other tower skins before. There's a disco checker light floor seen from the back of the king tower.



| | |
| --- | --- |
| | Disco Defense tower skin set. In-App Purchase. |
| | Disco Defense King Tower. |
| | Disco Defense Princess Tower. |
Emotes
There will be seven (7) new emotes this season.
Goblin: Eternal Wait (Free)
Update 2023-03-06: Supercell just added this emote at the shop as a freebie to all the players. Collect it soon!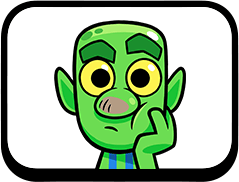 Goblin: Eternal Wait.
Goblin: Guitar Fire (Goblin Party Hut Challenge)
A Goblin rocking with his guitar which shoots fire in the air. I wonder who on the Clash Royale team loves to rock. 😏

Goblin: Mic Drop (Shop)
Dropping the microphone is a way to gesture the conclusion of a musical event. Here performed by a Goblin in pink hair. 🎤


Goblin: Robot Dance (Shop)
A clear reference to Daft Punk, this Goblin wears a helmet with LED lights depicting his face while dancing as a robot. 🤖


Goblin Giant: Afraid (Path of Legends)
Goblin Giant looks scared and disappears from the frame.



Wizard: Disco Balls (Season Shop - Events 2.0)
A funky wizard juggles a bunch of disco balls in his hands. This will be available at the new Season Shop where you'd be able to purchase items with a new seasonal currency that you win from special challenges (aka Events 2.0). What's that? Check out our blog post about the Clash Royale 2023 Roadmap

Wizard: Disco Dance (Pass Royale)
A wizard dances to the tune of funky music. All these 70s reference… the Clash Royale art team is getting funky!

Free Magic Item
A Common Book of Cards will be up for grabs at Tier 35 on the free track of Pass Royale.

| | |
| --- | --- |
| | A Common Book of Cards at Tier 35 on the free track of Pass Royale. |
Boosted Cards
Three (3) cards will be boosted in the the entire March.
Goblins

Goblin Hut

Dart Goblin

Banner Items
Thirty-Six (36) brand new banner items will be available this season. Sixteen (16) will come in your Banner Box, fourteen (14) will be available for purchase at the shop, and two (2) will be available to everyone as a freebie!
High Chance
Barbarian Ride / Crossed Swords
Sometimes I wonder who came up with these banner description: What's more dangerous than an Elite Barbarian? An Elite Barbarian riding another Elite Barbarian, carrying two swords. 😄
Based on Twitter posts, I think that Drew wrote most of them, but I could be wrong…

Lumberjack / Elixir Leak

Rare
Cannon / Bombed Battlefield

Electro Spirit / Ride the Lightning
Official description: What's an Electro Spirit's Favorite ice cream flavor? Shock-a-lot.

Gone Fishin / Wicked Waves

Extremely Rare
Birthday Barbarian / Birthday Banner

Birthday Goblins / Birthday Battle

Party Wizard / Goblin Dance Music
Official description: He still thinks Disco is cool and keeps talking to his necktie. Background: You might not be ready for GDM yet, but your kids are gonna love it.
Translation: this one is for all the dads out there who enjoys playing a "kids mobile game" 🙃

Shop
These banners for the shop don't come with official description — so please, chill, Reddit. I'm just a simple guy trying to provide description to images that often come with a single word. 😌
Most of the banners at the shop for this season is about Clash Royale's 7th Birthday and different party celebrations.
Rascals Cake Party
This image is technically called "Bandit Cake Party" but it's really the Rascals here. I've now realized that I can't trust these file names anymore.

Dragon Party
A baby dragon chowing down a huge birthday cake with candles.

Minions Gift
Minions bring presents from the sky.

Chibi Party Goblin Dance
Chibi series returns with a Goblin in sunglasses rocking on the disco dance floor.

Chibi Party Goblin Party
A Goblin duo celebrate the festivities inside the party hut. I sometimes wonder which artist is behind this popular chibi series. I will find out.

Dancing Fever Goblin

Party Soul Goblin

Free
If you don't count the three free banners that came with the Banner Box introduction, here's the first time a banner set was given for free to every player.
Goblin Bouncer
This features a Goblin Brawler standing in front of the door of the party as a bouncer. Want to get into the VIP lounge at the party? Use code: RoyaleAPI.

Challenges and Global Tournaments
Goblin Outbreak Chain: March 6-12
A challenge chain that consists for 4 challenges. Complete each part to move onto the next. Each part requires 3 wins to go through.
Part 1: Build a deck with Goblins
Part 2: Build a deck with Goblin Giant and Spear Goblins
Part 3: Build a deck with Goblin Barrel, Goblin Cage, and Dart Goblin
Part 4: Build a deck with Goblin Drill, Goblin Gang, and Spear Goblins
Come back to our site during the challenge for the best decks! (Update 2023-03-06: use the links above)

The first two parts are casual challenges. Part 3 and 4 are regular challenges.

Royal Tournament Standard: March 11-15
Global tournament in normal battle mode. You know the drill.
Party Hut Challenge: March 13-19
Complete this challenge and win the Goblin Rocket emote.

The Party Hut is a 5-elixir Legendary building card.

The building doesn't spawn Goblins. Instead, a Dart Goblin stands on top of the building and has extremely far range. Use it like an X-Bow!

When the Party Hut is destroyed, it spawns a Goblin Brawler, a Goblin Gang.


Card is fairly strong for 5 elixir.
Heist Draft: March 20-26
Heist mode, but in draft. Each player select 4 cards and gives 4 cards to the opponent. This mode always tricks me up because all the cards interacts differently when there are no towers to help out. Swarms and flying units tend to be strong in this mode.

Royal Tournament Triple Draft: March 25 - April 1
Triple Draft returns in Global Tournament.
Party Rocket: March 27 - April 5
A special challenge with a unique card. Party Rocket is a 5-elixir Legendary card the deals high damage to a small area. Information about this mode has been intentionally kept as a secret. I wonder why.

Party Modes
2v2 Draft: March 6-12
The classic 2v2 Battle! Team up with a friend or another player at your level. Draft your deck inside the Battle.
Triple Elixir: March 13-19
Elixir generates at triple speed!
Classic Draft: March 20-26
Choose 4 cards and receive 4 from your opponent
Loading Screen
Here's the Loading Screen for the upcoming season, featuring al your favorite Goblin troops in the game!

Path of Legends Config Change
The win multipliers will change at season reset on Monday, March 6, 2023.
Previously, win multipliers were capped at 6. After the change, the multipliers will correspond to the league number.
| League | Win Multiplier |
| --- | --- |
| League 1 | 1× |
| League 2 | 2× |
| League 3 | 3× |
| League 4 | 4× |
| League 5 | 5× |
| League 6 | 6× |
| League 7 | 7× |
| League 8 | 8× |
| League 9 | 9× |
| League 10 | 10× |
Let's say your first win is at 6x, and you have just won your first game. You will gain 6 steps instead of 1 step. So you have skipped 5 steps since 1 step came from your win.
With this, we can determine the following:
Before: players will be able to skip 15 steps quickly with a 6× max multiplier.
5+4+3+2+1 = 15
After: players will be able to skip 45 steps quickly with a 10× max multiplier.
9+8+7+6+5+4+3+2+1 = 45
Clash Royale League (CRL)
The February season reset will be the first season where you can qualify to play at the CRL through Path of Legends. Get to Top 1000 in Ultimate Champion to be invited! More information at our CRL 2023 coverage.
Pass Royale 2.0
Extra! Clash Royale just posted a teaser about the Pass Royale rework. Here's a quick summary.

Pass Royale was originally launched in 2019, and has remained largely unchanged over the years — with a free track for everyone and a paid track for around $5 USD / month (actual in-app prices differ slightly depending on the player's location).
With an upcoming update, there will be three tiers instead: Free, Gold, and Diamond.
Tier 1: Free:

Crown Chests
Season Tokens

Tier 2: Gold:

Tier 1 Rewards, plus…
Tower Skins
Wild Cards
Emotes
Plentiful Gold Crates

Tier 3: Diamond:

Tier 1 and 2 Rewards, plus…
Champion
Overflowing Gold Crates
Battle Banner
Lightning Chests
Season Tokens will be the big change for the pass. Previously, season tokens were teased as rewards from special challenges (Events 2.0) only. But it appears that you'll be able to get these season tokens from the pass as well.
You'll be able to spend these tokens at the new upcoming Season Shop for things that you want to buy, thus allowing you to decide what you want to get — instead of the random drops from the chests.
We will post more information about this upcoming update in the future.
FAQ
Will I be able to collect everything in the March pass? I don't want to buy the pass again when Pass Royale 2.0 comes out.
The pass will not change during the season. So you'll be able to collect everything by the end of the March season. Translation: Pass Royale 2.0 won't be available for the March season.
Checklist
Here's everything for this season in a convenient checklist to you can check your collection progress:

Discuss
season
update