September 28, 2019 · 3 min read
update
balance
classic decks
A new client update is coming on September 30th. Here's what you can expect. Jump to Tiebreaker, Transparent Countdown Timer, Triple Draft, Party Mode, Matchmaking, Supercell ID Exclusive Emote, Clan Leader Rotation, TV Royale
Tiebreaker
Gone are the days of spending 6 minutes only to result in a draw that gives you no rewards. A tiebreaker is introduced with this update: whoever has the lowest tower health will lose the game — the same rule that is already being used in CRL. This new tiebreaker will be used in all the game modes besides Ladder. If it proves to be successful, it will be used on Ladder later on as well. Check out the video replay to see how this works.
Transparent Countdown Timer
The Clash Royale team has finally tackled one of the most complained items on Reddit — the countdown timer and any overlay text will now be semi-transparent! You can see the implementation on the video above about the Tiebreaker.
New Game Mode: Triple Draft
This is a new style of drafting where each team come up with their own decks indepdently. For each round of draft, you will select one card out of three cards. After 8 rounds, you will have the full deck to play. You no longer draft for your opponent, but you will be able to see what they have picked to formulate your strategy. The legacy Draft mode where each team pick 4 and give 4 to opponent is not going away. Check out the video to see how this works.
Party Mode
You will have more ways to earn Crown, Victory Gold and Chests without the risk of losing your trophies. The 2v2 button is going to be replaced by the Party button. Alongside the 2v2 mode, there will be a constant rotation of game modes for you to play.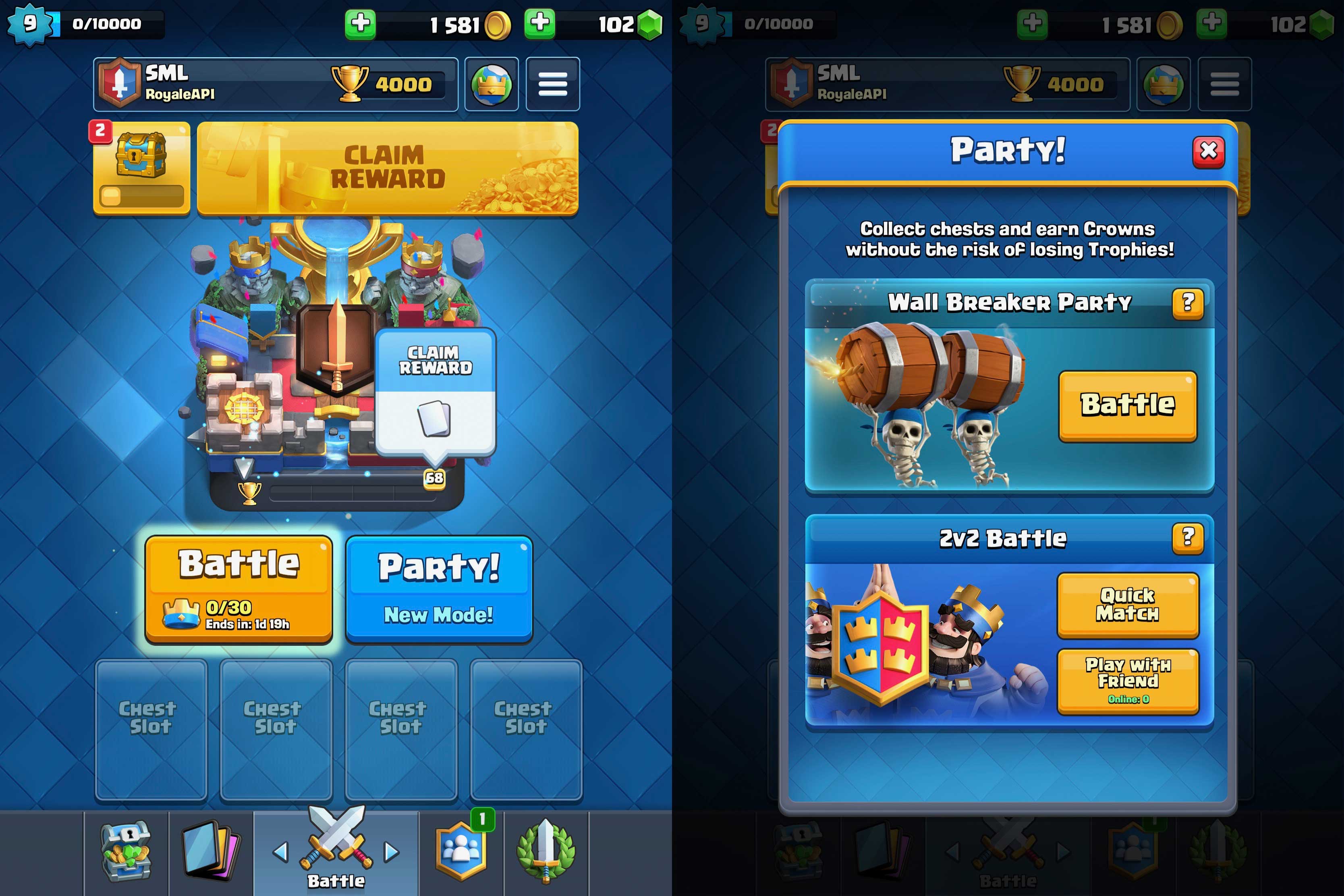 Matchmaking Changes
Matchmaking for Party Mode will have some interesting changes: it will now be based on both King Tower level as well as card levels. If you have a Level 12 King but playing with Level 10 cards, you will be matched with players who also has a Level 12 King and Level 10 cards. The main goal for this to make it more fair for everybody and encourage players to experiment with more decks.
Supercell ID Exclusive Emote
Enjoy an exclusive emote unique to players who connect to the Supercell ID!
Clan Leader Rotation
Are you in a clan with an inactive Leader? Has this been preventing your clan from further growth? Supercell has heard your concerns — and starting from this update, the Leader role will get transferred to the longest serving Co-Leader automatically after 35 days of inactivity.
Fear not — you will get warning messages before this happens. The first warning message will be sent 14 days before the rotation, with another follow-up message sent 3 days prior. If there is no Co-Leader in the clan, then the Leader role will be given to the longest serving Elder.
Season 4
These are not Season 4 changes. Season 4 will be coming on October 7th with even more goodies — stay tuned for our coverage next week!
TV Royale
Discuss
update
balance
classic decks