January 7, 2021 · 2 min read
Historic performance of players in Clash Royale Clan Wars 2: Fame, Repair Points, Boat Attacks in every season.
clan wars 2
site
new feature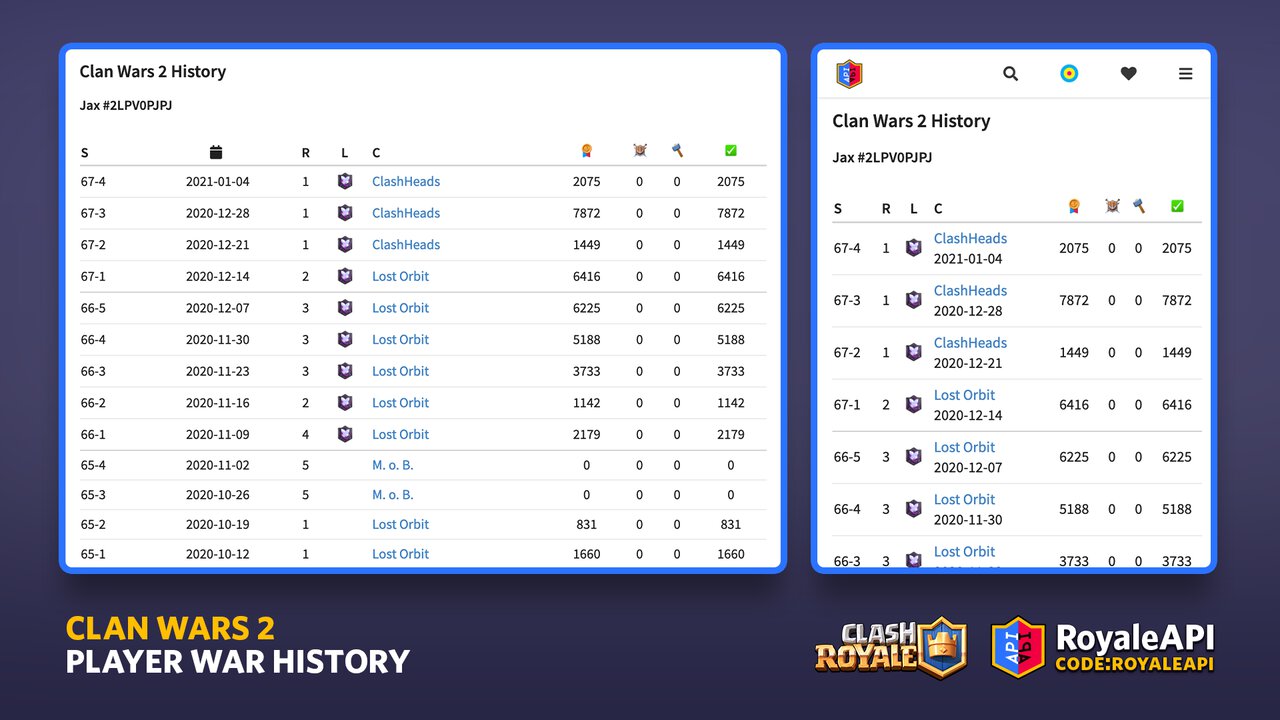 We have added Clan Wars 2 History to player profiles today!
Here are the fields included in each entry:
Season ID (S): the unique ID representing the clan war season and week number
Date: the end date of the week, i.e. when the log entry was created
Clan Rank (R): the placement / position of the clan among the group of 5
Clan Name (C): name of the clan (link to clan war analytics)
Clan League (L): clan war league, e.g. Bronze, Silver, Gold or Legendary and its division (1-3)

Clan trophies (and thus clan league) were not correctly reported before season 66, so we have excluded those from display.
We did not index clan ranks with player history until Season 65 so these will be missing for Season 64. Season 64 is the first season after CW2 has started.

Fame: Number of points contributed towards clan fame
Repair Points: Number of points contributed towards boat repairs
Boat Attacks: Number of times player has attacked other clan boats
Total Contribution: The sum of points from Fame and Repair Points
Notes
As with Clan Wars 1 History, it only contains history that we know about.
When you visit the clan war log or clan war analytics pages of a clan, we automatically log the performance of all of the clan members.

In order for us to have a record of a player, someone must have visited the clan the player belong to at some point.
It's not possible to fetch this info from Supercell beyond the last 10 war weeks — so if any dates are missing, it is lost forever.

Members belonging to clans with clan history enabled will be automatically logged.
Where is it?
The Clan Wars 2 History is located at the bottom of your player profile, where you'll find your Clan History and Trophy History.
Feedback
Let us know what you think on Reddit
See also
Discuss
clan wars 2
site
new feature