The game removed the Top 3 badges. We've re-added them to our player profiles.
update
site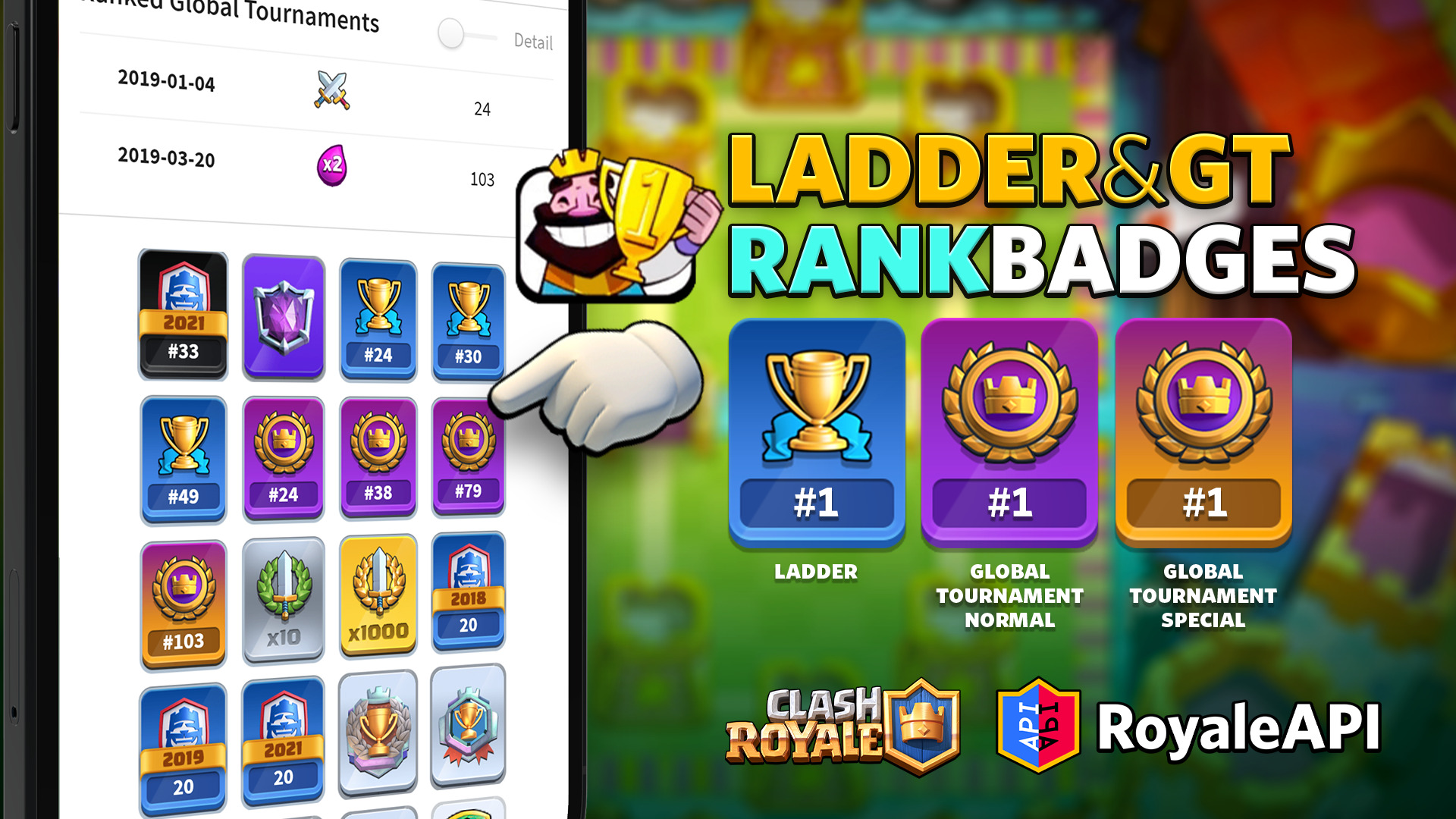 Did someone say that they missed the Top-3 badges? Say no more!
Clash Royale removed the top 3 ranked badges from the player profile in the 2022 Q1 Update. Knowing how hard it has been for most of you who worked on your badges, we've added them back to your profiles — only on RoyaleAPI.
Table of Contents
Badges
We have added 3 new badges (up to 7 total) in this badge enhancement.
Top 3 Ladder Ranks. These are your best finishes on Ladder. Only the top 3 finishes are shown.
Top 3 Normal Global Tournament Ranks. Your best 3 ranks from GTs with normal battle mode.
Best Special Global Tournament Ranks. We have separated GTs that play in special modes (Sudden Death, Draft, Triple Elixir, etc) in its own category — mostly because we feel that getting high ranks in these special modes is very different than getting top ranks for normal battles. In proportion to their relative importance, we are showing only one rank for this badge.
Global Tournament Details
In addition to badges, we have added a whole new section to showcase all of your historic performances in Global Tournaments. Like Ranked Seasons, which showcases all of your ranked season finishes on Ladder, the Ranked Global Tournaments section showcases all of your GT finishes within the Top 1K.
One thing of note here is that there may be some discrepancies of these badges from what you used to have in the update. The GT leaderboard we have contain absolute results after all the players have gone through fair play checks. So players who have not passed FP checks will not show up in this section. As our badges also depend on these historic records, they won't have those badges either.
Design
We have followed the older badge system to guide our designs. We feel that less is more — the simpler and cleaner approach highlights the information better. In this case, the Ladder trophy is readily recognizable, and the Global Tournament icon is unmistakenly so. We also used background colors to differentiate the two types of GT badges.
The sharp-eyed user will also note that we have decided to keep the older designs of the challenge badges, for the same reason as above. we feel that the old challenge badges highlights the game modes very clearly. The newer badges are complex and they looked like it took a lot of work and effort to produce. But we feel that the added complexity does not immediately reminds us of the challenge modes, and in that regard they don't succeed as well as the older designs. So at least for now, we will stick with the older design with our own twists. We may allow users to pick which icon system they prefer as a user preference setting in the future.
Bottom line — we want to provide you with what we believe is the best way to present the information, with the end goal of encouraging players to work towards higher level badges.
Feedback
What do you think about this feature? Are there other types of badges you would like to see? Tell us in the comment section below!
FAQ
My ranks are different from what I remembered. Is that a bug?
No, that's not a bug. Some players may see that their ranks have moved up (e.g. from 642 to 638) and wondered why. The reason for this is because the Global Tournament Leaderboard data we've received from Supercell is the final ranking after Fair Play checks.
Fair Play checks, also known as ToS checks, is the process where Supercell go through every player profile to make sure that they have played fair — e.g. no account sharing / pushing, no win trade etc.
If someone above you didn't pass Fair Play checks and thus was disqualified from receiving the GT badge, he will not show up on the final Leaderboard, and everyone's ranks will get bumped. This is normal and an expected behavior.
I had more Top-1000 finishes than what is displayed.
If there are discrepancies, it likely has to do with Fair Play checks as well. The in-game badge system appears to be performed before Fair Play, but the final GT leaderboard rankings are performed after Fair Play. So it's possible that you would have more GT leels than we can find from the leaderboard.
We understand that this is potentially confusing, and so we will try to work with Supercell to see if it's possible to get the pre-Fair Play checks leaderboard instead. But as this is a rather unusual request, they might not change / implement this nuance just for us.
Discuss
update
site