January 4, 2020 · 3 min read
Jump to Season 7: Lunar Festival, Balance Changes, Firecracker - New Card, Classic Decks, Clan War Game Modes. Season 7: Lunar [...]
update
balance
season
Jump to Season 7: Lunar Festival, Balance Changes, Firecracker - New Card, Classic Decks, Clan War Game Modes.
Season 7: Lunar Festival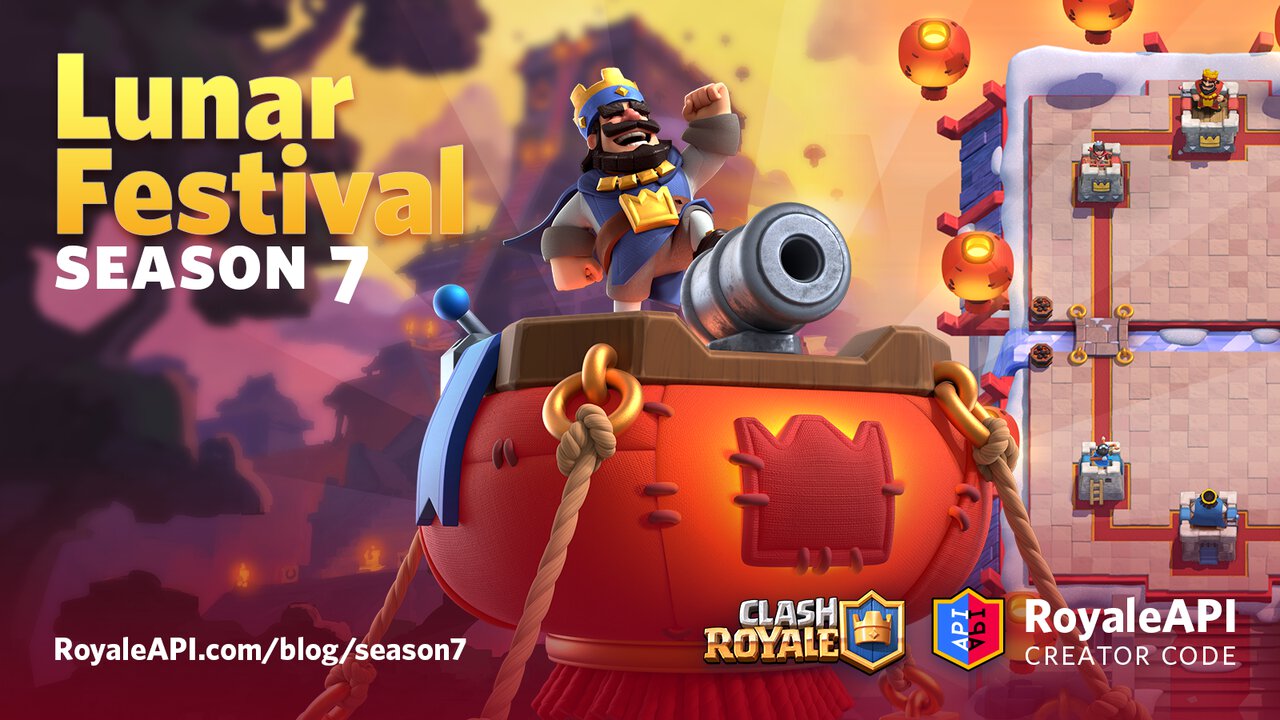 A unique tower skin and emoji for Pass Royale. Don't forget to enter our Creator Code: RoyaleAPI before getting your pass — the creator code resets every 7 days.
Balance Changes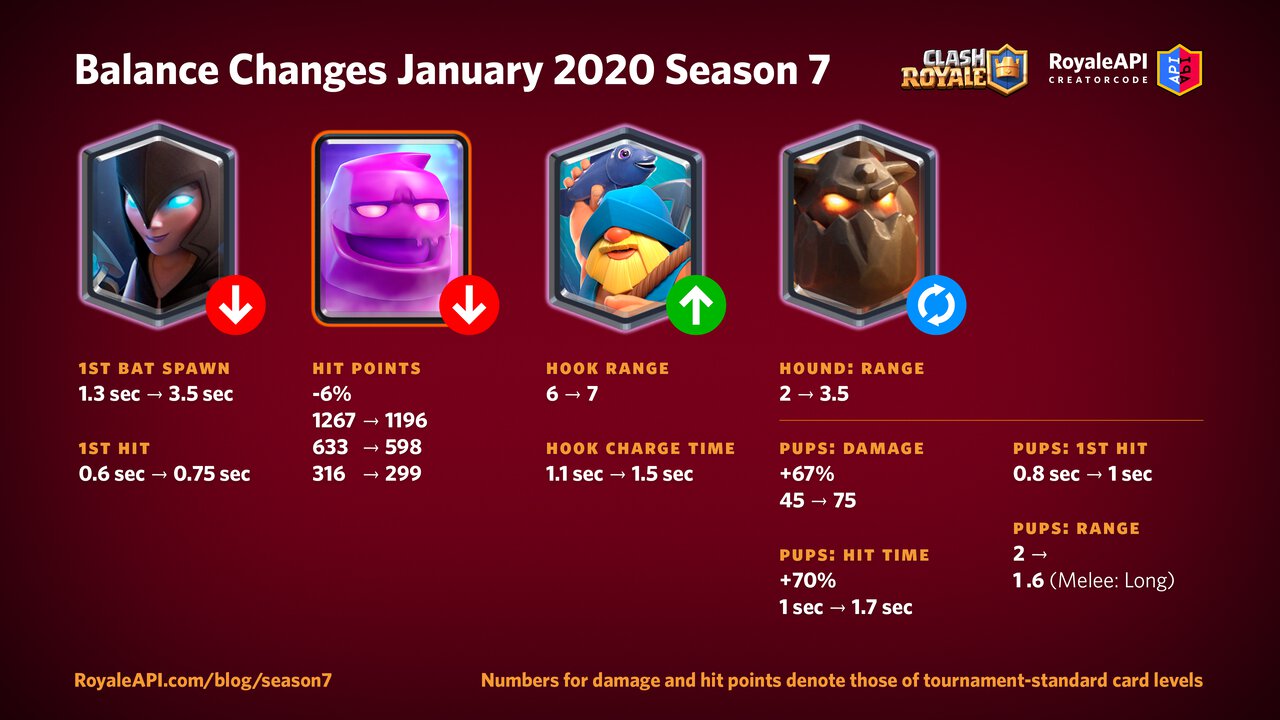 Although Season 7 will start on January 6th Monday, these balances will go live on January 7th.
Night Witch (Nerf)
1st Bat Spawn
1st Hit
This change is intended to reduce her versatility.
She will now be less effective as a defensive troop, while remaining good as a support role.
She will continue to defend slow tanks welll (e.g. Giant) but will struggle against faster troops (e.g. Hog).
Elixir Golem (Nerf)
Hit Points

-6%
1267 → 1196
633 → 598
316 → 299

This HP nerf is meant to reduce his shielding ability, making support troops less protected behind him.
Fisherman (Buff)
Hook Range
Hook Charge Time
Fisherman's utility was greatly reduced when he has 6 tiles of range. He iw getting back his 7-tile range while getting nerfed in a less critical stat.
Fisherman will be able to pull Hog to King Tower again.
Lava Hound (Rework)
HOUND: Range
PUPS: Damage
PUPS: Hit Time
PUPS: 1st Hit
PUPS: Range
Lava Hound has always been one of the strongest win conditions in the game. This change will make it harder for the Lava Pups to attack the tower, as they will now have to move a larger distance to reach it.
The rework is intended to nerf its overall power after the Executioner revert.
The Hound will die further away from the tower and thus the Pups will need to travel longer to hit the tower.
With the pups' damage buff, they will be able to 1-shot skeletons after the update (they currently 2-shot skeletons).
Read the reasoning behind these changes
Firecracker - New Card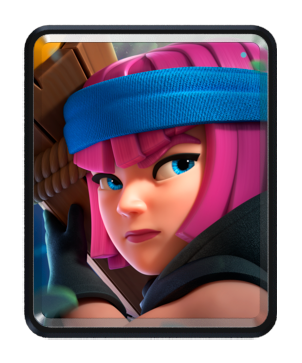 The Firecracker is a 3-elixir Common ground troop, with the same Hit Points as an Archer. This means that she can be taken out by Arrows, but survives The Log and the Barbarian Barrel.

The Firecracker can attack both ground and air troops. After hitting a target, her projectile spreads and damages support and other troops that were behind the main objective.

This new card can be unlocked in a challenge that will start at the beginning of Season 7, on January 6th. It will be available at your King's Tower level due to the Card Boost throughout the season.
Firecracker - Pro Tips by Coltonw83
How it works: TV Royale
Classic Decks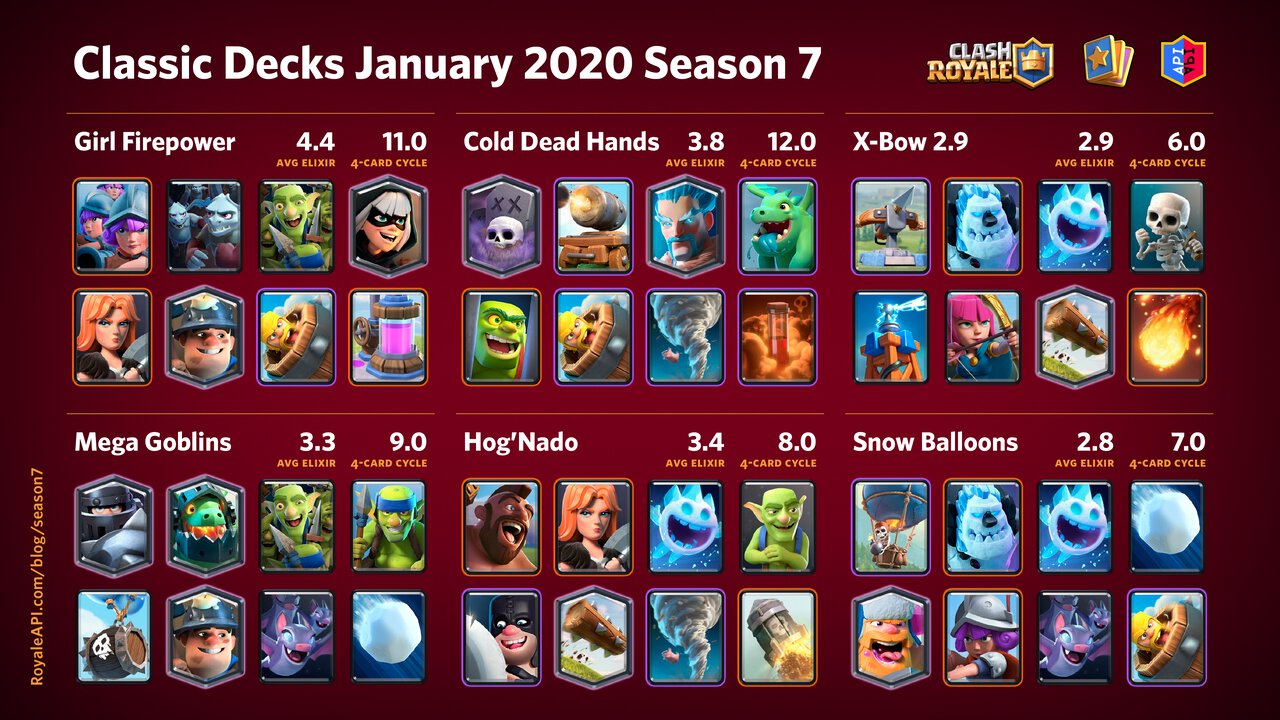 Girl Firepower
Three Musketeers, Minion Horde, Goblin Gang, Bandit, Valkyrie, Miner, Barbarian Barrel, Elixir Collector
X-Bow 2.9
X Bow, Ice Golem, Ice Spirit, Skeletons, Tesla, Archers, The Log, Fireball
Cold Dead Hands
Graveyard, Cannon Cart, Ice Wizard, Baby Dragon, Goblin Cage, Barbarian Barrel, Tornado, Poison
Mega Goblins
Mega Knight, Inferno Dragon, Goblin Gang, Spear Goblins, Skeleton Barrel, Miner, Bats, Giant Snowball
Hog'Nado
Hog Rider, Valkyrie, Ice Spirit, Goblins, Executioner, The Log, Tornado, Rocket
Snow Balloons
Balloon, Ice Golem, Ice Spirit, Giant Snowball, Lumberjack, Musketeer, Bats, Barbarian Barrel
Clan War Game Modes
1v1 Triple Elixir (Ladder)
1v1 Classic Decks
1v1 Triple Draft
2v2 Touchdown (Friendly)
2v2 Royal Hog Race (Ladder)
Discuss
update
balance
season