We look at the last decks played by the Top 1000 players and find out what they have used most.
meta
infovis
stats

The June 2022 season has just finished and we have collected fresh new stats from Top Ladder again. In this post, we'll first take a look at cards that perform well in the season, then we provide representative decks that utilize those cards. At the end of the post, you'll get the raw data we used to create these charts, as well as a link to explore all of the decks.
Table of Contents
Introduction
With balance changes happening every 2 months, we have decided that it would make sense to give you a glimpse of the meta every 2 months. Specifically, we thought that we would provide these analysis at the start of the season where there are no balance changes, so you can utilize these results to inform the types of decks you can play in the following season.
Visually, it goes something like this:
Season 2022-06: Balance
Season 2022-07: Our analysis
Season 2022-08: Balance
Season 2022-09: Our analysis
You can use our Cards section to observe card usage throughout the season. For this analysis, we focus specifically on the last deck that the players use to complete their season. It goes hand-in-hand with our Leaderboard Decks feature. Or more specifically, these are the cards from the Season 2022-06 Leaderboard Decks.
As with previous analysis, we have provided data for both Top 1000 and Top 200 because some of the professional players prefer to see Top 200 results while we feel that Top 1000 provide a more holistic view of the meta.
Best Cards Top 1000

Best Cards Top 200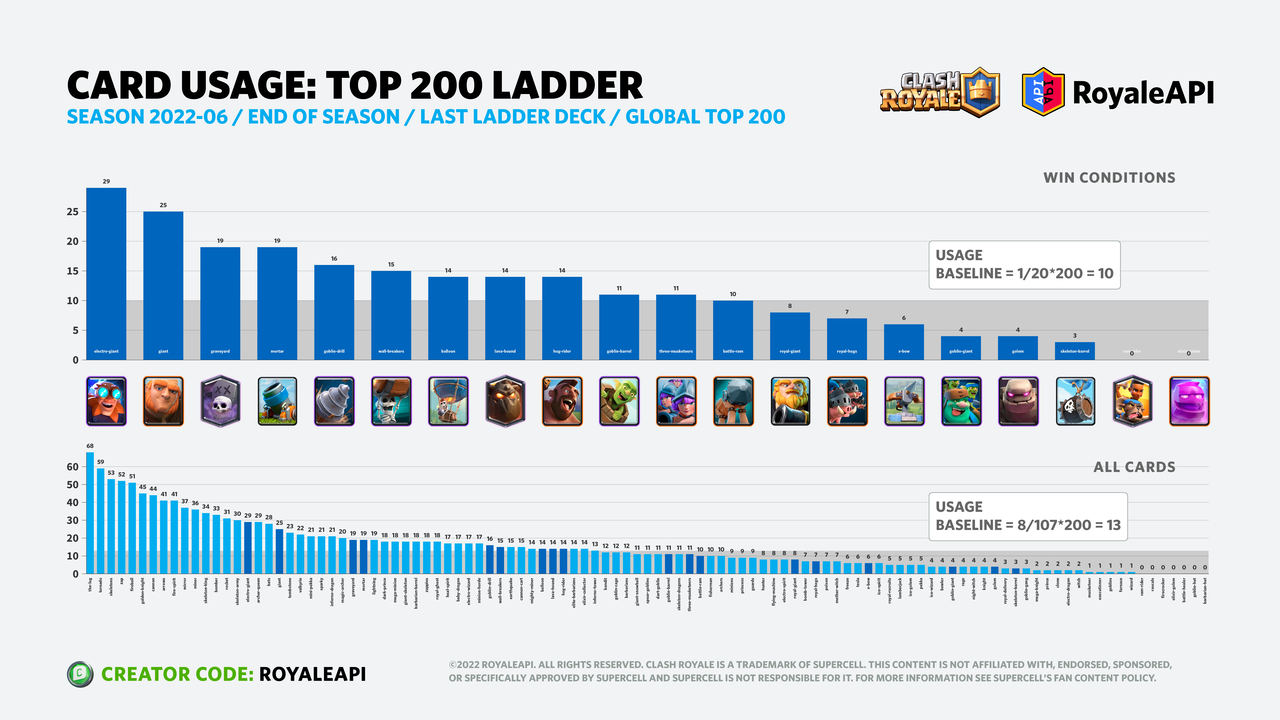 Analysis: Win Conditions
This month's limelight was taken by Electro Giant — evenly split between Electro Giant Mirror and Electro Giant Lightning.
Goblin Drill, Balloon, Giant, Graveyard, Mortar and Goblin Drill are all almost evenly tied, with the more evergreen win-conditions Hog Rider and Lava Hound in the middle.
Of note, neither Ram Rider nor Elixir Golem were seen on the Top 200. They're also at the bottom end in the Top 1000 Ladder.
Decks
Here are some representative decks:
Electro Giant Mirror
Both the Rocket variation and the Lightning variation are popular in Top Ladder. Also tried: Earthquake.
Electro Giant Lightning
Giant Sparky
There are a few variations of Giant Sparky decks.
Giant Double Prince
One of the more evergreen decks, some players forego Mirror and go with the traditional combination with Prince, Dark Prince, Mega Minion, Electro Wizard, and Miner:
Giant Graveyard
All of the Graveyard decks feature Giant. Here are a few variations:
Mortar Miner Bait
Mortar is a strong contender in the meta, and is usually paired with Miner, Skeleton King and lots of bait cards.
Mortar Cycle
Also observed are a few quick cycle Mortar decks.
Goblin Drill
Despite receiving a bug-fix nerf, Goblin Drill's quick cycle decks continue to be dominant at the top of the Ladder. Here are a few variations.
Wall Breakers Cycle
Lava Loon
Lava Loon mainly comes in two variations this season: the one with Mighty Miner and the one with the recently buffed Barbarians.
If you wish to learn the variation with Mighty Miner, check out Carl the Legend when he streams on Twitch. He has been playing this deck for the entire season! Carl streams in German but will answer your questions in English. You can also follow him on Twitter.
Giant Skeleton Hog Rider
GS Hog Rider is the dominant Hog Rider deck at the top of the Ladder, with Ian77 leading the pack for the whole season. If you wish to learn this deck, check out his YouTube channel where he mainly posts decks about the Hog! You can also follow him on Twitter if you wish to look for tips.
Want more?
Analysis: Spells
Despite receiving a tower damage nerf, The Log (35% usage) remained as the most popular small spell, with Fireball (29.1% usage) being the most popular big spell. In fact, their popularity hasn't changed at all from 2 months ago before the balances.
Data Top 1000
| card | count | ratio | pc | total |
| --- | --- | --- | --- | --- |
| the-log | 350 | 0.35 | 35.00% | 1000 |
| fireball | 291 | 0.291 | 29.10% | 1000 |
| tornado | 252 | 0.252 | 25.20% | 1000 |
| skeletons | 238 | 0.238 | 23.80% | 1000 |
| zap | 225 | 0.225 | 22.50% | 1000 |
| golden-knight | 217 | 0.217 | 21.70% | 1000 |
| mirror | 184 | 0.184 | 18.40% | 1000 |
| cannon | 180 | 0.18 | 18.00% | 1000 |
| arrows | 179 | 0.179 | 17.90% | 1000 |
| fire-spirit | 165 | 0.165 | 16.50% | 1000 |
| miner | 155 | 0.155 | 15.50% | 1000 |
| skeleton-army | 151 | 0.151 | 15.10% | 1000 |
| bomber | 146 | 0.146 | 14.60% | 1000 |
| skeleton-king | 133 | 0.133 | 13.30% | 1000 |
| rocket | 131 | 0.131 | 13.10% | 1000 |
| barbarian-barrel | 123 | 0.123 | 12.30% | 1000 |
| bats | 123 | 0.123 | 12.30% | 1000 |
| electro-giant | 120 | 0.12 | 12.00% | 1000 |
| archer-queen | 117 | 0.117 | 11.70% | 1000 |
| electro-wizard | 112 | 0.112 | 11.20% | 1000 |
| valkyrie | 111 | 0.111 | 11.10% | 1000 |
| royal-ghost | 105 | 0.105 | 10.50% | 1000 |
| mega-minion | 101 | 0.101 | 10.10% | 1000 |
| inferno-dragon | 100 | 0.1 | 10.00% | 1000 |
| tombstone | 99 | 0.099 | 9.90% | 1000 |
| goblin-drill | 96 | 0.096 | 9.60% | 1000 |
| balloon | 96 | 0.096 | 9.60% | 1000 |
| mini-pekka | 96 | 0.096 | 9.60% | 1000 |
| dark-prince | 94 | 0.094 | 9.40% | 1000 |
| inferno-tower | 94 | 0.094 | 9.40% | 1000 |
| giant | 92 | 0.092 | 9.20% | 1000 |
| graveyard | 88 | 0.088 | 8.80% | 1000 |
| mortar | 87 | 0.087 | 8.70% | 1000 |
| zappies | 87 | 0.087 | 8.70% | 1000 |
| cannon-cart | 87 | 0.087 | 8.70% | 1000 |
| lightning | 87 | 0.087 | 8.70% | 1000 |
| goblin-barrel | 86 | 0.086 | 8.60% | 1000 |
| magic-archer | 82 | 0.082 | 8.20% | 1000 |
| bandit | 82 | 0.082 | 8.20% | 1000 |
| giant-skeleton | 80 | 0.08 | 8.00% | 1000 |
| baby-dragon | 79 | 0.079 | 7.90% | 1000 |
| heal-spirit | 76 | 0.076 | 7.60% | 1000 |
| giant-snowball | 74 | 0.074 | 7.40% | 1000 |
| guards | 72 | 0.072 | 7.20% | 1000 |
| sparky | 70 | 0.07 | 7.00% | 1000 |
| electro-spirit | 70 | 0.07 | 7.00% | 1000 |
| dart-goblin | 68 | 0.068 | 6.80% | 1000 |
| hog-rider | 68 | 0.068 | 6.80% | 1000 |
| princess | 65 | 0.065 | 6.50% | 1000 |
| lava-hound | 65 | 0.065 | 6.50% | 1000 |
| earthquake | 65 | 0.065 | 6.50% | 1000 |
| elite-barbarians | 63 | 0.063 | 6.30% | 1000 |
| musketeer | 63 | 0.063 | 6.30% | 1000 |
| fisherman | 62 | 0.062 | 6.20% | 1000 |
| mother-witch | 60 | 0.06 | 6.00% | 1000 |
| elixir-collector | 59 | 0.059 | 5.90% | 1000 |
| ice-golem | 57 | 0.057 | 5.70% | 1000 |
| minions | 54 | 0.054 | 5.40% | 1000 |
| barbarians | 54 | 0.054 | 5.40% | 1000 |
| skeleton-dragons | 53 | 0.053 | 5.30% | 1000 |
| royal-giant | 53 | 0.053 | 5.30% | 1000 |
| hunter | 52 | 0.052 | 5.20% | 1000 |
| poison | 52 | 0.052 | 5.20% | 1000 |
| wall-breakers | 51 | 0.051 | 5.10% | 1000 |
| minion-horde | 49 | 0.049 | 4.90% | 1000 |
| goblin-cage | 47 | 0.047 | 4.70% | 1000 |
| mighty-miner | 46 | 0.046 | 4.60% | 1000 |
| pekka | 46 | 0.046 | 4.60% | 1000 |
| battle-ram | 44 | 0.044 | 4.40% | 1000 |
| ice-spirit | 44 | 0.044 | 4.40% | 1000 |
| royal-hogs | 43 | 0.043 | 4.30% | 1000 |
| three-musketeers | 41 | 0.041 | 4.10% | 1000 |
| flying-machine | 40 | 0.04 | 4.00% | 1000 |
| bowler | 38 | 0.038 | 3.80% | 1000 |
| freeze | 37 | 0.037 | 3.70% | 1000 |
| lumberjack | 35 | 0.035 | 3.50% | 1000 |
| rage | 35 | 0.035 | 3.50% | 1000 |
| tesla | 34 | 0.034 | 3.40% | 1000 |
| spear-goblins | 30 | 0.03 | 3.00% | 1000 |
| x-bow | 30 | 0.03 | 3.00% | 1000 |
| goblin-giant | 30 | 0.03 | 3.00% | 1000 |
| night-witch | 30 | 0.03 | 3.00% | 1000 |
| royal-delivery | 29 | 0.029 | 2.90% | 1000 |
| archers | 27 | 0.027 | 2.70% | 1000 |
| bomb-tower | 24 | 0.024 | 2.40% | 1000 |
| knight | 23 | 0.023 | 2.30% | 1000 |
| golem | 23 | 0.023 | 2.30% | 1000 |
| skeleton-barrel | 20 | 0.02 | 2.00% | 1000 |
| witch | 19 | 0.019 | 1.90% | 1000 |
| ice-wizard | 18 | 0.018 | 1.80% | 1000 |
| royal-recruits | 17 | 0.017 | 1.70% | 1000 |
| mega-knight | 17 | 0.017 | 1.70% | 1000 |
| prince | 16 | 0.016 | 1.60% | 1000 |
| rascals | 15 | 0.015 | 1.50% | 1000 |
| electro-dragon | 14 | 0.014 | 1.40% | 1000 |
| ram-rider | 13 | 0.013 | 1.30% | 1000 |
| goblin-gang | 12 | 0.012 | 1.20% | 1000 |
| executioner | 11 | 0.011 | 1.10% | 1000 |
| clone | 10 | 0.01 | 1.00% | 1000 |
| furnace | 9 | 0.009 | 0.90% | 1000 |
| elixir-golem | 8 | 0.008 | 0.80% | 1000 |
| firecracker | 8 | 0.008 | 0.80% | 1000 |
| goblins | 6 | 0.006 | 0.60% | 1000 |
| battle-healer | 5 | 0.005 | 0.50% | 1000 |
| wizard | 4 | 0.004 | 0.40% | 1000 |
| goblin-hut | 4 | 0.004 | 0.40% | 1000 |
| barbarian-hut | 2 | 0.002 | 0.20% | 1000 |
Data Top 200
| card | count | ratio | pc | total |
| --- | --- | --- | --- | --- |
| the-log | 68 | 0.34 | 34.00% | 200 |
| tornado | 59 | 0.295 | 29.50% | 200 |
| skeletons | 53 | 0.265 | 26.50% | 200 |
| zap | 52 | 0.26 | 26.00% | 200 |
| fireball | 51 | 0.255 | 25.50% | 200 |
| golden-knight | 45 | 0.225 | 22.50% | 200 |
| cannon | 44 | 0.22 | 22.00% | 200 |
| arrows | 41 | 0.205 | 20.50% | 200 |
| fire-spirit | 41 | 0.205 | 20.50% | 200 |
| mirror | 37 | 0.185 | 18.50% | 200 |
| miner | 36 | 0.18 | 18.00% | 200 |
| skeleton-king | 34 | 0.17 | 17.00% | 200 |
| bomber | 33 | 0.165 | 16.50% | 200 |
| rocket | 31 | 0.155 | 15.50% | 200 |
| skeleton-army | 30 | 0.15 | 15.00% | 200 |
| electro-giant | 29 | 0.145 | 14.50% | 200 |
| archer-queen | 29 | 0.145 | 14.50% | 200 |
| bats | 28 | 0.14 | 14.00% | 200 |
| giant | 25 | 0.125 | 12.50% | 200 |
| tombstone | 23 | 0.115 | 11.50% | 200 |
| valkyrie | 22 | 0.11 | 11.00% | 200 |
| mini-pekka | 21 | 0.105 | 10.50% | 200 |
| sparky | 21 | 0.105 | 10.50% | 200 |
| inferno-dragon | 21 | 0.105 | 10.50% | 200 |
| magic-archer | 20 | 0.1 | 10.00% | 200 |
| graveyard | 19 | 0.095 | 9.50% | 200 |
| mortar | 19 | 0.095 | 9.50% | 200 |
| lightning | 19 | 0.095 | 9.50% | 200 |
| dark-prince | 18 | 0.09 | 9.00% | 200 |
| mega-minion | 18 | 0.09 | 9.00% | 200 |
| giant-skeleton | 18 | 0.09 | 9.00% | 200 |
| barbarian-barrel | 18 | 0.09 | 9.00% | 200 |
| zappies | 18 | 0.09 | 9.00% | 200 |
| royal-ghost | 18 | 0.09 | 9.00% | 200 |
| heal-spirit | 17 | 0.085 | 8.50% | 200 |
| baby-dragon | 17 | 0.085 | 8.50% | 200 |
| electro-wizard | 17 | 0.085 | 8.50% | 200 |
| minion-horde | 17 | 0.085 | 8.50% | 200 |
| goblin-drill | 16 | 0.08 | 8.00% | 200 |
| wall-breakers | 15 | 0.075 | 7.50% | 200 |
| earthquake | 15 | 0.075 | 7.50% | 200 |
| cannon-cart | 15 | 0.075 | 7.50% | 200 |
| mighty-miner | 14 | 0.07 | 7.00% | 200 |
| balloon | 14 | 0.07 | 7.00% | 200 |
| lava-hound | 14 | 0.07 | 7.00% | 200 |
| hog-rider | 14 | 0.07 | 7.00% | 200 |
| elite-barbarians | 14 | 0.07 | 7.00% | 200 |
| elixir-collector | 14 | 0.07 | 7.00% | 200 |
| inferno-tower | 13 | 0.065 | 6.50% | 200 |
| bandit | 12 | 0.06 | 6.00% | 200 |
| goblin-cage | 12 | 0.06 | 6.00% | 200 |
| barbarians | 12 | 0.06 | 6.00% | 200 |
| giant-snowball | 11 | 0.055 | 5.50% | 200 |
| spear-goblins | 11 | 0.055 | 5.50% | 200 |
| dart-goblin | 11 | 0.055 | 5.50% | 200 |
| goblin-barrel | 11 | 0.055 | 5.50% | 200 |
| skeleton-dragons | 11 | 0.055 | 5.50% | 200 |
| three-musketeers | 11 | 0.055 | 5.50% | 200 |
| battle-ram | 10 | 0.05 | 5.00% | 200 |
| fisherman | 10 | 0.05 | 5.00% | 200 |
| archers | 10 | 0.05 | 5.00% | 200 |
| minions | 9 | 0.045 | 4.50% | 200 |
| princess | 9 | 0.045 | 4.50% | 200 |
| guards | 9 | 0.045 | 4.50% | 200 |
| hunter | 8 | 0.04 | 4.00% | 200 |
| flying-machine | 8 | 0.04 | 4.00% | 200 |
| electro-spirit | 8 | 0.04 | 4.00% | 200 |
| royal-giant | 8 | 0.04 | 4.00% | 200 |
| bomb-tower | 7 | 0.035 | 3.50% | 200 |
| royal-hogs | 7 | 0.035 | 3.50% | 200 |
| poison | 7 | 0.035 | 3.50% | 200 |
| mother-witch | 7 | 0.035 | 3.50% | 200 |
| freeze | 6 | 0.03 | 3.00% | 200 |
| tesla | 6 | 0.03 | 3.00% | 200 |
| x-bow | 6 | 0.03 | 3.00% | 200 |
| ice-spirit | 6 | 0.03 | 3.00% | 200 |
| royal-recruits | 5 | 0.025 | 2.50% | 200 |
| lumberjack | 5 | 0.025 | 2.50% | 200 |
| ice-golem | 5 | 0.025 | 2.50% | 200 |
| pekka | 5 | 0.025 | 2.50% | 200 |
| ice-wizard | 4 | 0.02 | 2.00% | 200 |
| bowler | 4 | 0.02 | 2.00% | 200 |
| goblin-giant | 4 | 0.02 | 2.00% | 200 |
| rage | 4 | 0.02 | 2.00% | 200 |
| night-witch | 4 | 0.02 | 2.00% | 200 |
| knight | 4 | 0.02 | 2.00% | 200 |
| golem | 4 | 0.02 | 2.00% | 200 |
| royal-delivery | 3 | 0.015 | 1.50% | 200 |
| skeleton-barrel | 3 | 0.015 | 1.50% | 200 |
| goblin-gang | 3 | 0.015 | 1.50% | 200 |
| mega-knight | 2 | 0.01 | 1.00% | 200 |
| prince | 2 | 0.01 | 1.00% | 200 |
| clone | 2 | 0.01 | 1.00% | 200 |
| electro-dragon | 2 | 0.01 | 1.00% | 200 |
| witch | 2 | 0.01 | 1.00% | 200 |
| musketeer | 1 | 0.005 | 0.50% | 200 |
| executioner | 1 | 0.005 | 0.50% | 200 |
| goblins | 1 | 0.005 | 0.50% | 200 |
| furnace | 1 | 0.005 | 0.50% | 200 |
| wizard | 1 | 0.005 | 0.50% | 200 |
| ram-rider | 0 | 0.0 | 0.00% | 200 |
| rascals | 0 | 0.0 | 0.00% | 200 |
| firecracker | 0 | 0.0 | 0.00% | 200 |
| elixir-golem | 0 | 0.0 | 0.00% | 200 |
| battle-healer | 0 | 0.0 | 0.00% | 200 |
| goblin-hut | 0 | 0.0 | 0.00% | 200 |
| barbarian-hut | 0 | 0.0 | 0.00% | 200 |
Discuss
meta
infovis
stats