September 22, 2021 · 2 min read
We have added achievement tiers for player achievements and team achievements to esports profiles today.
esports
site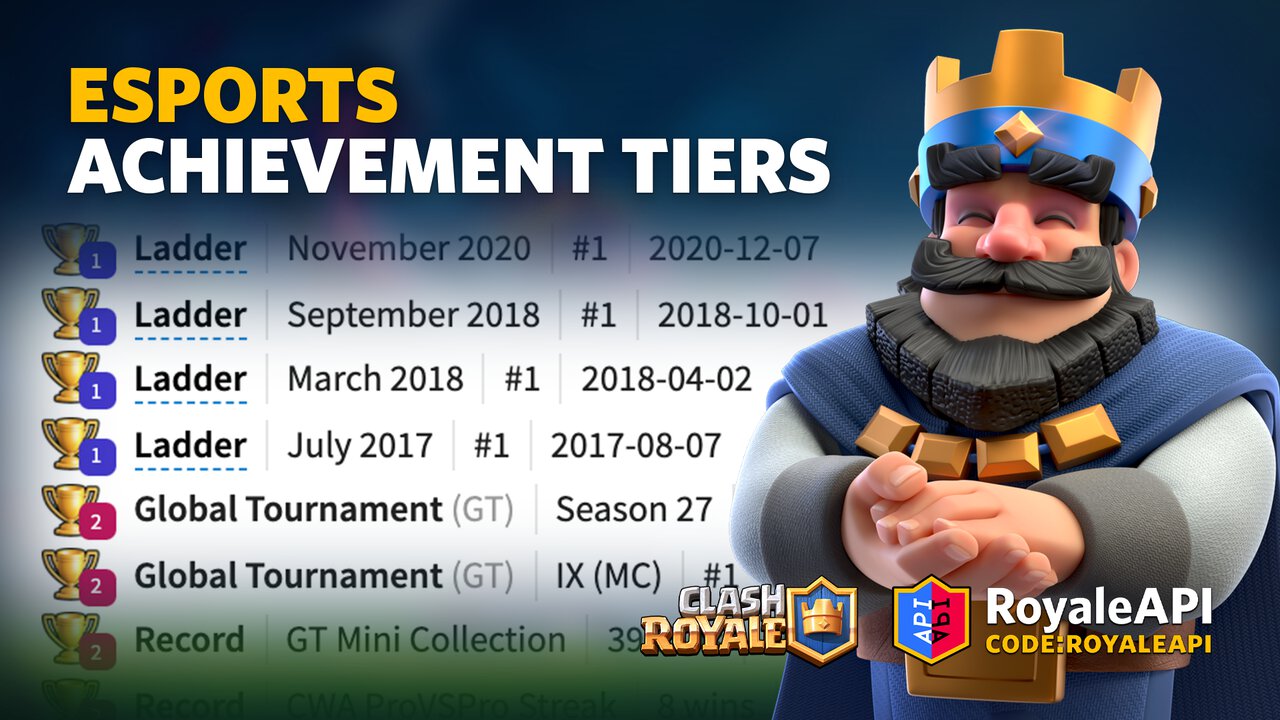 We've added achievement tiers for both player achievements and team achievements to esports profiles today. In this blog post, we'll explain what this new feature is, and how it was implemented.
Clash Royale Esports
The competitive scene of Clash Royale started in early 2016 with the release of the game, when players wanted to measure themselves against others to prove their strength and have fun.
Event Requirements and Relevance
At RoyaleAPI, we have kept track of many events through the years while building a detailed esports database. Having reliable information for the most relevant events is our priority, so we have established a few requirements to help us decide which deserved our attention.
One of the most relevant requirement we have is the $500 USD prize pool requirement. Only events that are above this minimum are added to our database, and only events that meet this requirements are shown in player esports profiles. These achievements aren't easy to earn for most players, but some professionals have been so consistently good over time that their list of achievements is now overwhelmingly long.
For example, Egór currently has 53 individual achievements, and even more as part of a team. While this creates an impressive list in his profile, it also makes it hard to digest so much information. Some of his most worthy achievements become buried within others that aren't as relevant.
Achievement Tiers
Today we are introducing achievement tiers. These tiers will be displayed as a label next to each achievement and will help you know how relevant an achievement is.
One of the advantages of achievement tiers is how they highlight the most impressive achievements, addressing the issue that we mentioned earlier. Tiers also give you additional context for lesser known events; even if you have never heard of one, you can now get a basic idea of its size and relevance.
Tier details
How do they work? Each tier is a number from 1 to 9. The best achievements in Clash Royale history belong to Tier 1, and higher numbers represent lower tiers.
For example, being the champion of CCGS 2017 is a Tier 1 achievement of SergioRamos. Most Tier 1 achievements are given in international events with high prize pools.
Each event gives achievements to the players in the highest placements, so we assign different tiers to these achievements. This means that the tier of an achievement depends both on the size of the event and the placement. Here's an example:
| Achievement | Tier |
| --- | --- |
| Ladder #1 | Tier 1 |
| Ladder #2 | Tier 2 |
| Ladder #4 | Tier 3 |
| Ladder #10 | Tier 4 |
Due to this progression, you should expect lower tier achievements to be more frequent, and Tier 1 achievements more rare. A Tier 4 achievement can be obtained with a high placement in a mid-sized event, but also with a mid-placement in a well known event.
We hope this blog post was helpful to understand what tiers mean. If you have any questions, please let us know in the comments below.
Discuss
esports
site