Season 15: Set Sail for War Season starts on Monday, September 7th, 2020. Tower Skin There's not one but TWO tower skins for this [...]
update
balance
season
Season 15: Set Sail for War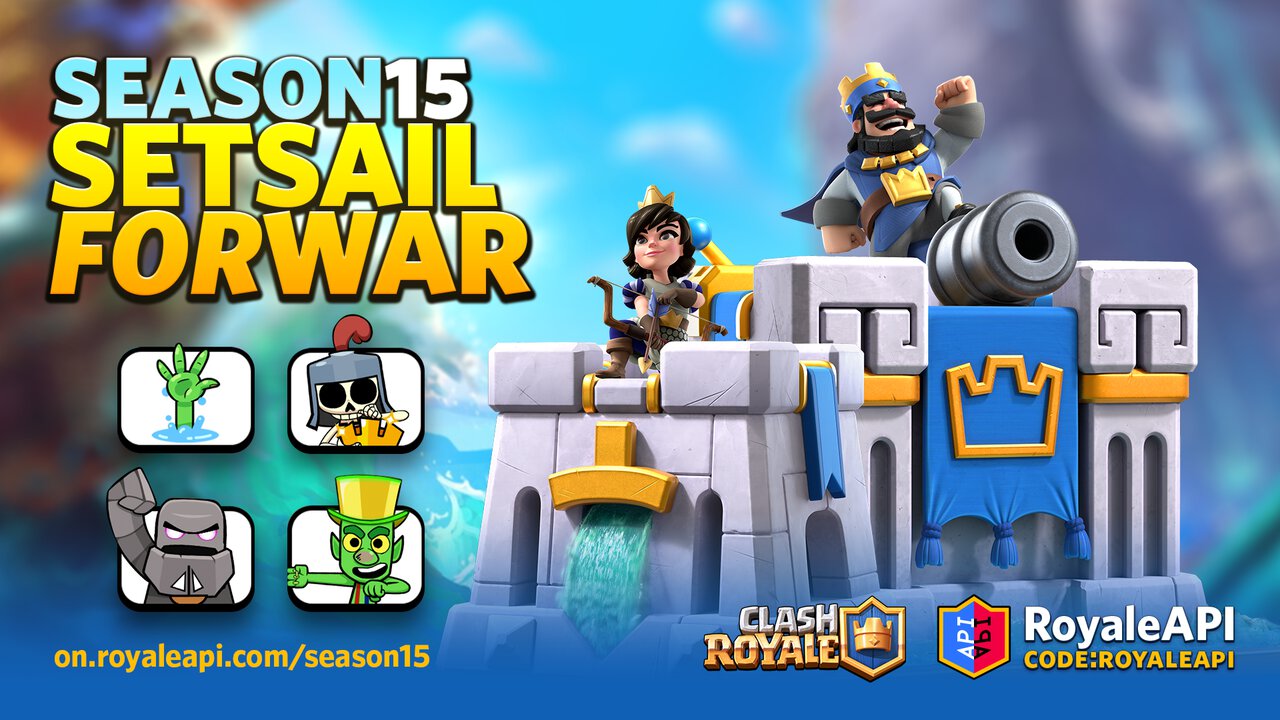 Season starts on Monday, September 7th, 2020.
Tower Skin
There's not one but TWO tower skins for this season!
Colossal Castle tower skin. Pass Royale at Tier 5.
Clan Boat Bastion tower skin. FREE for everyone on the free side of Pass Royale at Tier 10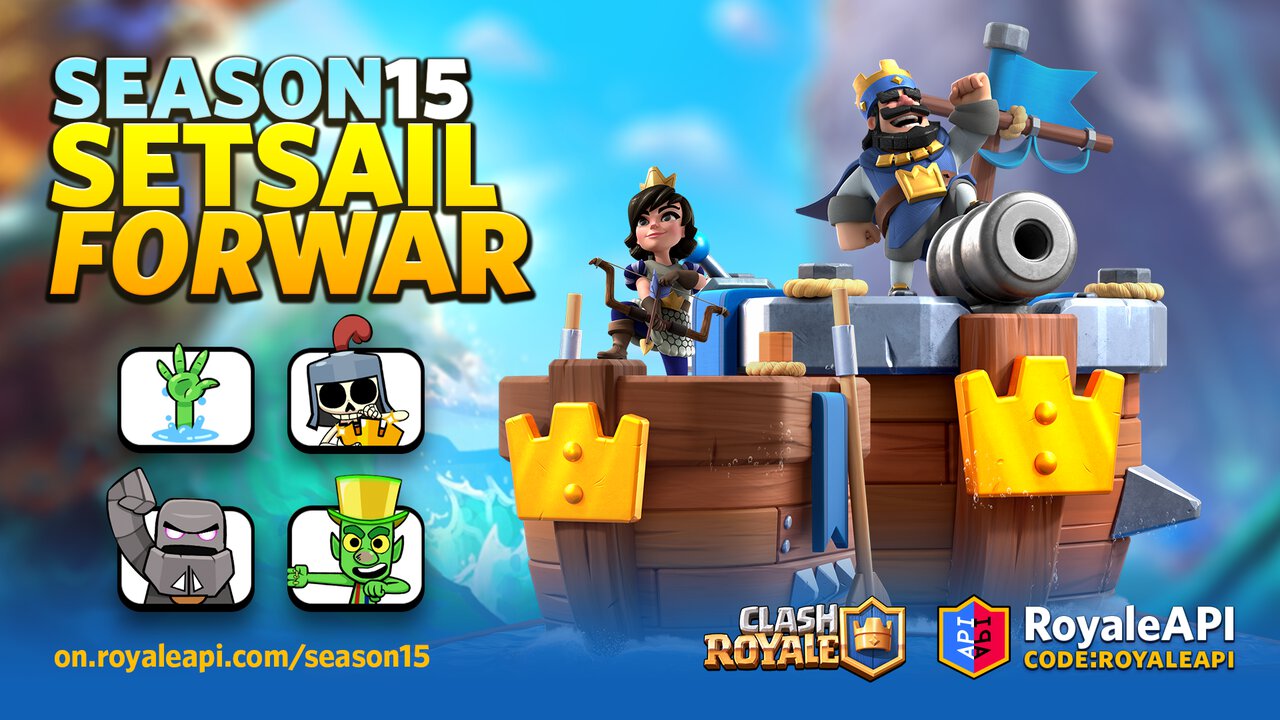 Emotes
He'll Be Back (Goblin Thumbs Up). Pass Royale
Guard with Crown. FREE: Lost and Crowned promo for Clash Short Animation (Guard) available in the Shop
Golem with Boat. First ever Golem emote!
Goblin Top Hat Dance. From the Lost and Crowned animation.
Boosted Card
Emotes in Action
Boat Arena
In Season 15, players will battle in the Fisherman's Float arena, originally introduced in Season 1.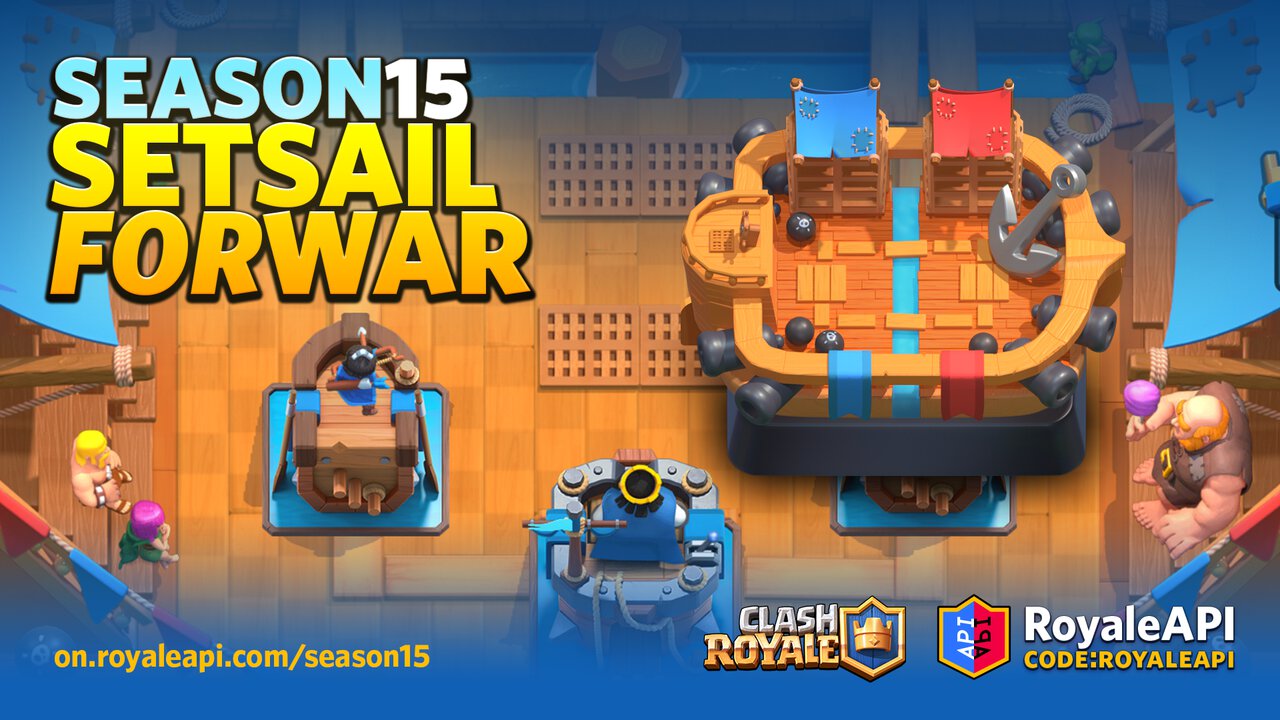 Balance Changes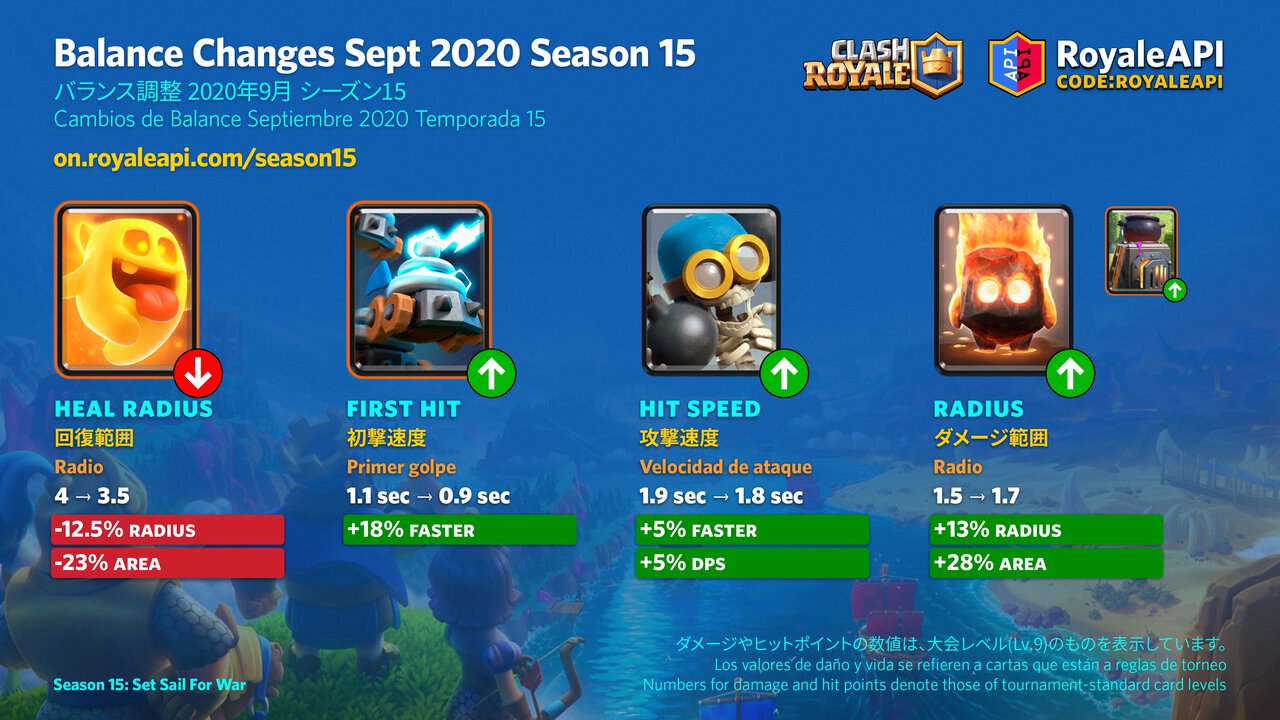 Balances will be live on Tuesday, September 8, 2020. Discuss on Reddit
Heal Spirit (Nerf)
| | Before | After |
| --- | --- | --- |
| Heal Radius -12.5% | 4 | 3.5 |
| Heal Area -23% | 50 | 38.5 |
Heal Spirit has been dominating in challenges and on ladder.
Decreasing its heal radius (a -23% area decrease) will decrease the amount of troops it can heal, while being able to perform its primary function of keeping troops alive.
Overall, this should keep its value in-check for this single-elixir card.
Zappies (Buff)
| | Before | After |
| --- | --- | --- |
| First Hit +18% faster | 1.1 sec | 0.9 sec |
Zappies' use rate did not increase a lot after their most recent buff in Season 13.
Increasing their First Hit will allow them to deal with enemies more quickly.
Bomber (Buff)
| | Before | After |
| --- | --- | --- |
| Hit Time +5% faster | 1.9 sec | 1.8 sec |
| DPS +5% | 142 | 150 |
Bomber's usage rate remains to be low on Ladder and challenges.
The Clash Royale balance team has decided to give this bomb-throwing skeleton a nudge.
Fire Spirits (Buff)
| | Before | After |
| --- | --- | --- |
| Radius +13% | 1.5 | 1.7 |
| Area +28% | 7 | 9 |
While some players love these warm and adorable spirits, they don't get as much love from the entire community.
They are one of the least used cards in challenges.
By increasing their damage area radius, the balance team hopes that players will use them more often.
Buffing Fire Spirits means that Furnace is also getting a buff indirectly.
What do you think about these changes? Share your thoughts with us!
Supercell Creators Tournament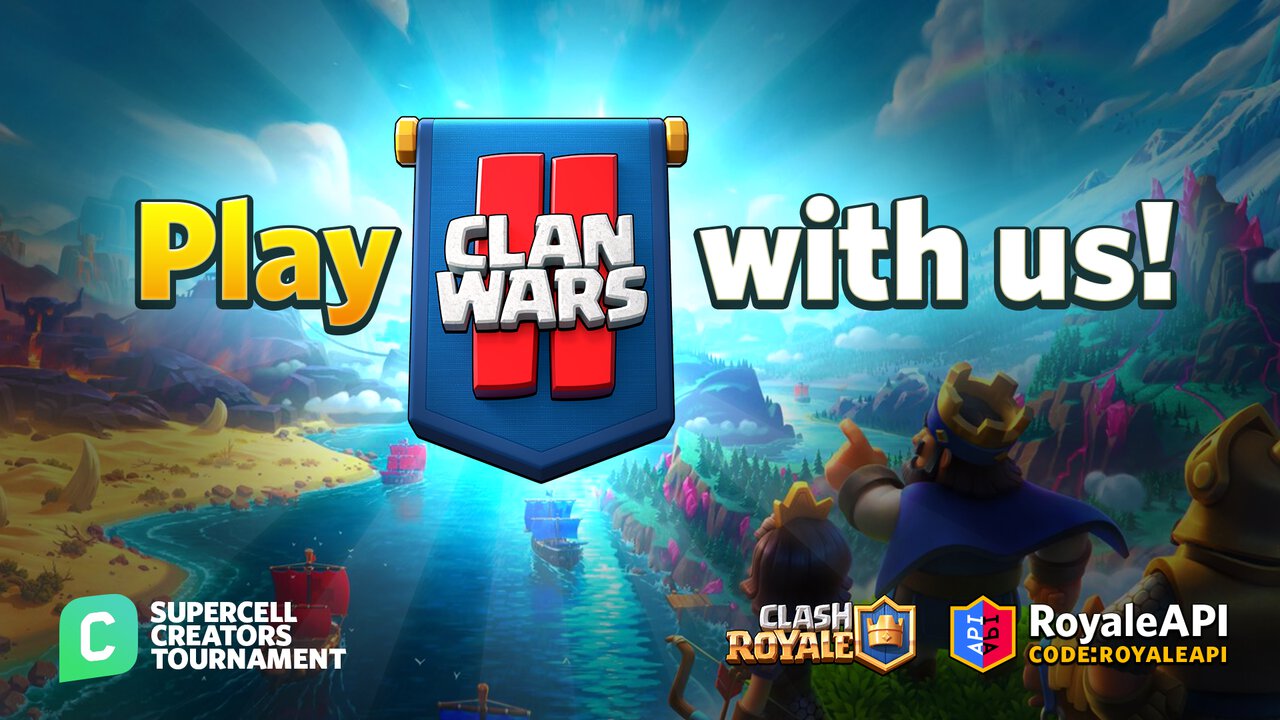 Supercell has organized a tournament for content creators that everyone can participate in. Check out our blog post to read more about it!
Optional Update
An Optional Update will be released next week on Tuesday (Sept 8) or Wednesday (Sept 9). This list is provided to us by Supercell and is not yet final. The optional update will address the following:
Tapping "Clan" button should switch between war and chat views
Chat message text is too small
Player can enter 2v2 without a full deck
When testing boat defenses the units spawned are always L9
Boat Battle Defeat end screen is missing Fame points
Testing defenses when your defenses have been destroyed does not use the correct towers
Quest Queue Button order changed. Unlock Now (with gems) button is now on left.
Clan cannot be set to "Invite Only"
Trying to attack other boats when repairing or your boat has no defenses, or your clan finished the race shows "Matchmaking Failed"
Friend button overlaps in Tencent build
There is no tip when player authorize success or failed when login with QQ.
Unlocking a new card from the trader does not show in the card collection until restarting
Can exceed boat defense max capacity by tapping save at the same time on two accounts
No feedback animation shown when defense is destroyed
Fixed player info screen trying to go into an inbox view on non-local players, if the local player has something new in their local inbox.
Client crashes if it restarts when there's a CW2 tutorial with the pointing finger visible.
Text fixes & localisation updates
Lots of other crash fixes
Future Sneak Peeks
That's all the information we have about Season 15! Make sure you are following us on Twitter @RoyaleAPI if you want to hear about future Clash Royale sneak peeks first!
Discuss
update
balance
season