How it works, rewards you'll win.
season
update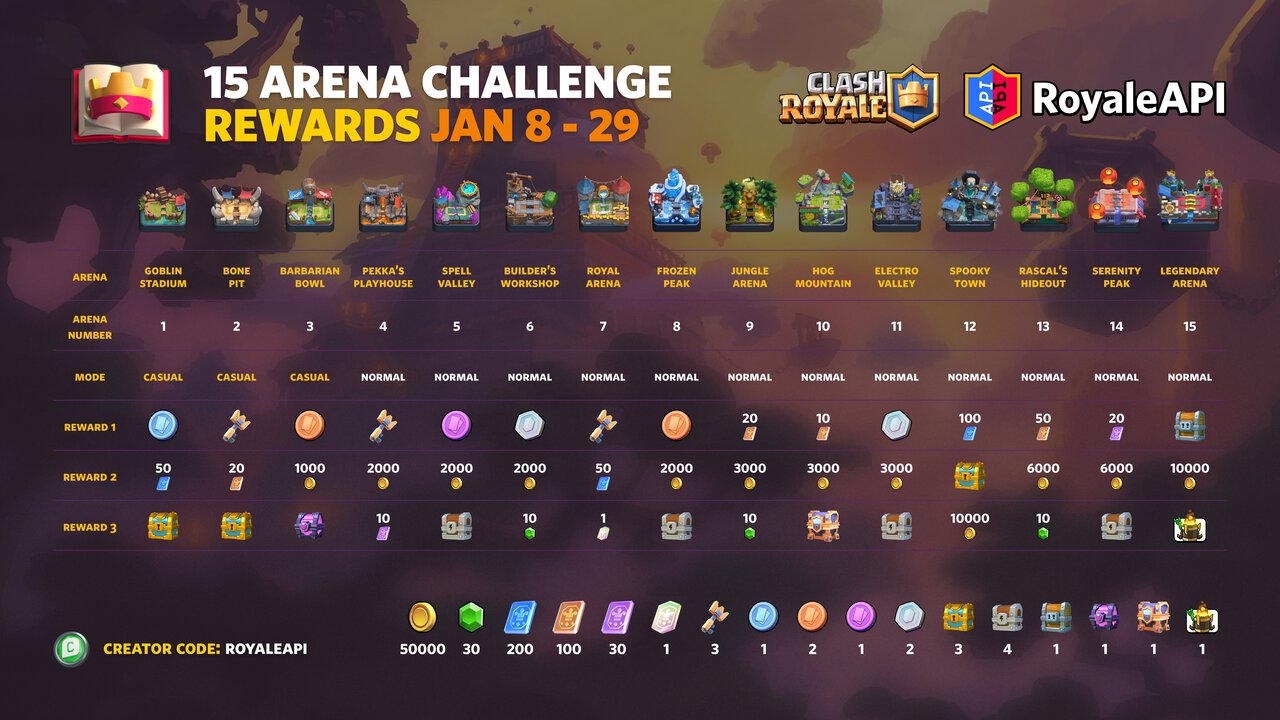 A set of challenges called the "15 Arena Challenge" is scheduled to run from January 8th to January 29th. We'll go over the rewards and rules in this post.
Table of Contents
Introduction
The 15 Arena Challenge is a 15-stage challenge. Players will start from Arena 1 and complete the entire series at Arena 15.
Build a deck with cards unlocked from each arena
🔓 You will build a deck with cards that are unlocked in each of the arena. For example, in Stage 1, you will only have cards that are unlockeable in Arena 1. In Stage 9, you will only have cards that are unlockeable from Arena 1 to 9.
Challenge Modes
😌 The first 3 arenas are in casual mode. This means that you can continue the challenge indefinitely. In other words, losses don't count.
😬 Starting from Arena 4, all of the challenges will have a maximum of 2 losses — 3 losses and you are out!
🥲 If you have failed a stage, you can retry for 10 gems, or you can 😄 continue for free if you have the Pass Royale.
😋 Each stage requires 3 wins, and each win gives a prize. With 15 stages, you will need 45 victories total to get to the final prize.
Rewards
Here are the detailed breakdowns of the rewards in each stage: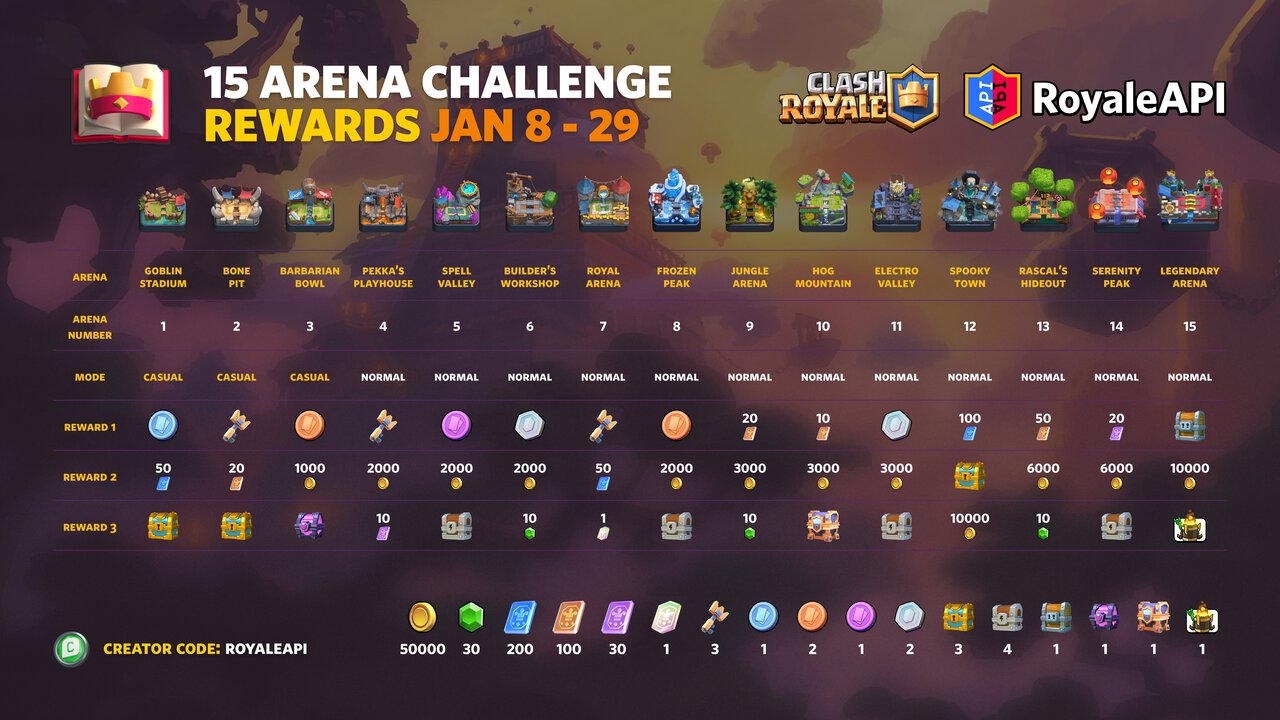 🎁 Prizes in summary:
50,000 Gold
30 Gems
200 Common Wild Cards
100 Rare Wild Cards
30 Epic Wild Cards
1 Legendary Wild Card
3 Chest Keys
1 Common Trade Token
2 Rare Trade Tokens
1 Epic Trade Token
2 Legendary Trade Tokens
3 Golden Chests
4 Lightning Chests
1 Giant Chest
1 Magical Chest
1 Royal Wild Chest
Rocket Goblin Ride emote
Rocket Goblin Ride Emote
💬 At the moment, only two other spells have emotes (🪵 The Log and 🏹 Arrows). The 🚀 Goblin Ride Rocket emote is now the third spell with an emote. It's really neat and it looks like that 3-star skin for Rocket where a Goblin rides on the rocket!
🏆 This emote is unlockable only after you have completed all 45 victories.

Difficulty
With each stage requiring only 3 wins and allowing up to 2 losses, it shouldn't be very difficult to complete. That said, you will have a signifantly easier time if you have a Pass Royale that gives you unlimited retries!
🥰 Kudos to players who use our code before getting the pass!
When
The challenge will be live from January 8 to January 29 at 8am UTC. In other words, you have 3 weeks to complete this challenge.
This challenge may seem a bit long for players who are active, but seeing that 45 victories is required, the Clash Royale team wants to set the event duration to be long enough so that everyone has a chance to complete it and win that juicy emote!
Best Decks
Winners
Discuss
season
update