March 1, 2021 · 14 min read
We are giving away an exclusive Battle Healer Emote for the Clash Royale Birthday.
update
season
giveaway
Clash Royale is celebrating its 5th Birthday and everyone is invited!
Table of Contents
How to join
We will be hosting tournaments throughout the season.
Join up and stay til the end of the tournaments.
Emote will be delivered in 7 days by Supercell after the tournament has ended.
Get Notified
We will post the tournament info on our Discord server.
If you want to be notified, React to the giveaway message in the #self-roles channel.
We will notify you when we open the tournaments!
Bonus for Top 3
Top 3 finishes in each of the tournaments that RoyaleAPI host will get the animated emote next to your player name on your player profile!
Cosmetics will be delivered to your profile within 24 hours after the tournament has ended.
Here's what the animated emote looks like on one of the winners:
FAQ
Who in the tournament will get the emote?
Everyone who joins the tournament and stays til the end will get the emote.
Do I need to play a game?
Yes, you will have to play at least one game in the tournament in order to receive the emote.
Do all the creators tournament give the same emote?
Yes.
Can I transfer my emote to a friend?
No. Supercell will look for players who are present in the tournaments and automatically send out emotes. You can't transfer emotes to a friend. If you want to help your friend, you can enter raffles on Twitter / Discord as someone else.
Can I play in a RoyaleAPI tournament even though I've already gotten the emote from someone else?
Technically speaking, yes. But we ask that you do this in later tournaments if your goal is to get the Bonus Prize. Don't take away another player's chance to get the exclusive emote just because you want to go for Top 3. If you see that you won't get onto Top 3 in the middle of the tournament, you might want to leave so that more players can have a chance to get the exclusive emote.
How do I search for tournaments?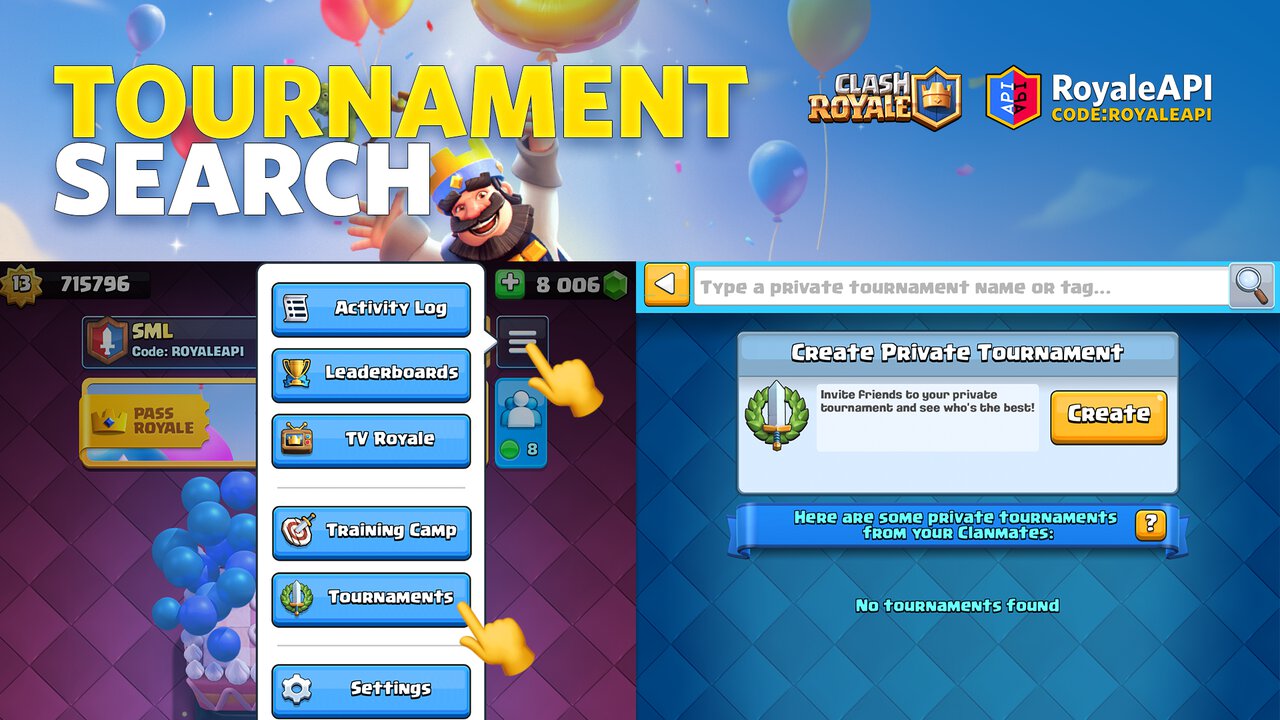 Go to home screen
Tap on Burger Menu (icon with 3 bars)
Tap on Tournaments
Search by name or tag

If you search by tag, you must include the # hashtag
Our site does not require it, but the game does
Tournament Schedule
We will be hosting 10 tournaments total.
We will update this table as we schedule them.
Tournaments will be hosted by SML (#C0G20PR2), Founder of RoyaleAPI.
Password will be released on Discord only.
Tournament will start immediately after tournament is full.
Arrive early. The first tournaments are filled in seconds.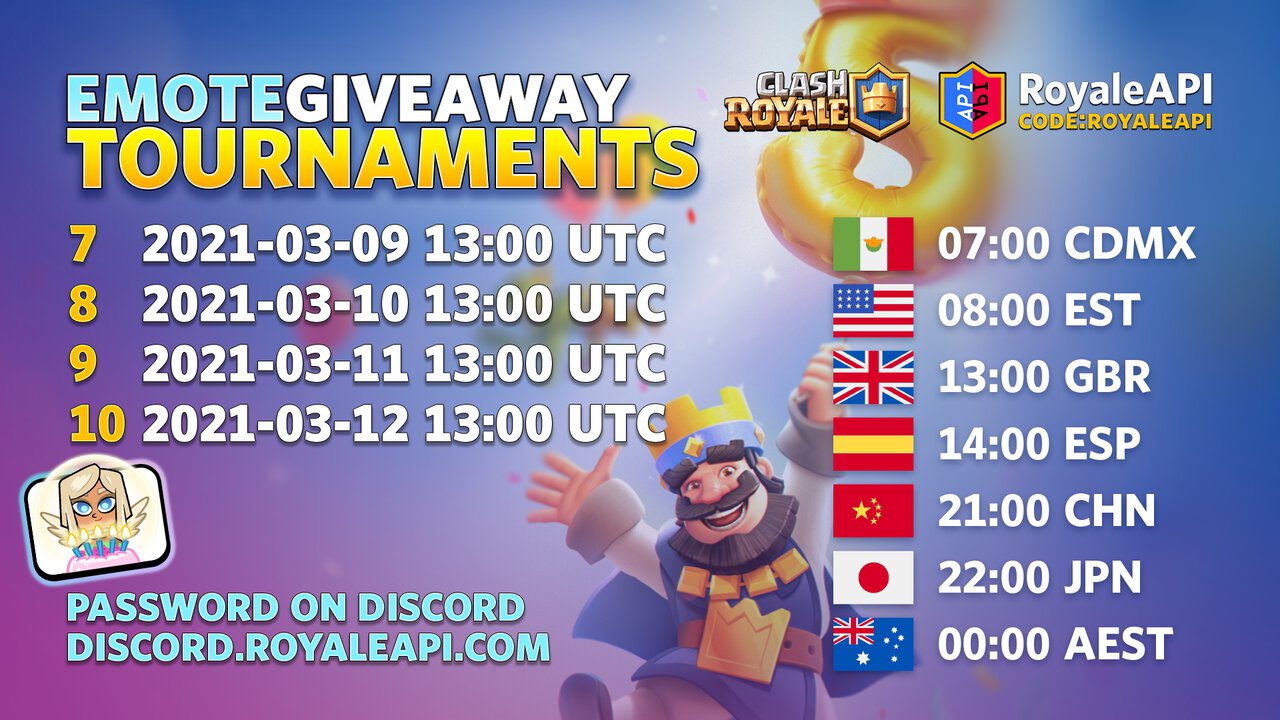 1st Tournament
Bonus Prize Winners
2nd Tournament
Bonus Prize Winners
3rd Tournament
Bonus Prize Winners
4th Tournament
Bonus Prize Winners
5th Tournament
Bonus Prize Winners
6th Tournament
Bonus Prize Winners
7th Tournament
Bonus Prize Winners
8th Tournament
Bonus Prize Winners
9th Tournament
Bonus Prize Winners
10th Tournament
Bonus Prize Winners
11th Tournament (No Bonus)
The 11th tournament was an open tournament intended to give players in-game emotes only. To make sure that players with emotes already won't take up space, it does not give the Top 3 Bonus.
12th Tournament
Bonus Prize Winners
13th Tournament
Bonus Prize Winners
14th Tournament
Bonus Prize Winners
Identifying Authentic Giveaway Tournaments

Every time Supercell runs one of these giveaway events, there are troublemakers who create seemingly authentic giveaway tournaments that in fact do not give players any emotes. In order to help players identify the athentic tournaments, we have added a Supercell Creators icon next to the hosts who we know are participating in this giveaway on our Tournaments page and when you view a tournament detail.
If a tournament does not have this icon, it doesn't necessarily mean that they are fake — the creator might have signed up late and so we did not have their player tags. However, if a tournament has this icon, we are 100% sure that they are real and authentic, and as long as the creators have remembered to submit the tournament to Supercell, those who participate will get the emote!
There may be late signups for some creators, so please let us know if we've missed any of you!
Finding Creators Tournaments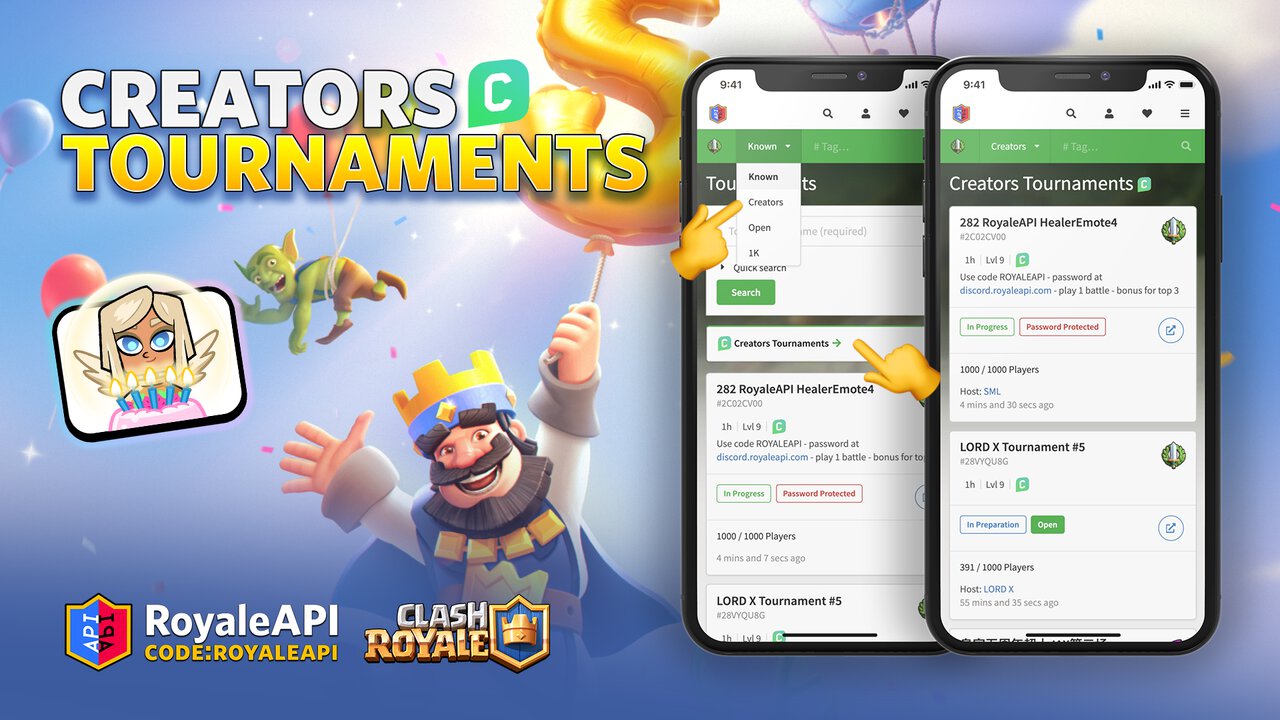 To help you find tournaments hosted by Supercell Creators more easily, we have added at new section in our tournament pages called Creators Tournaments
You can get to it with the quick link on the tournaments page or use the dropdown menu in the tournament pages.
Creators: if you want your tournaments to show up:
Search for your tournament
Tap on the correct tournament in the search results to show the tournament detail page
It will appear on the Creators Tournaments page after approximately 1 minute
Twitter Bot @RoyaleAPI_bot
Additionally, you can follow our Twitter Bot @RoyaleAPI_Bot who will be tweeting tournaments created by verified Supercell Creators when we know about it.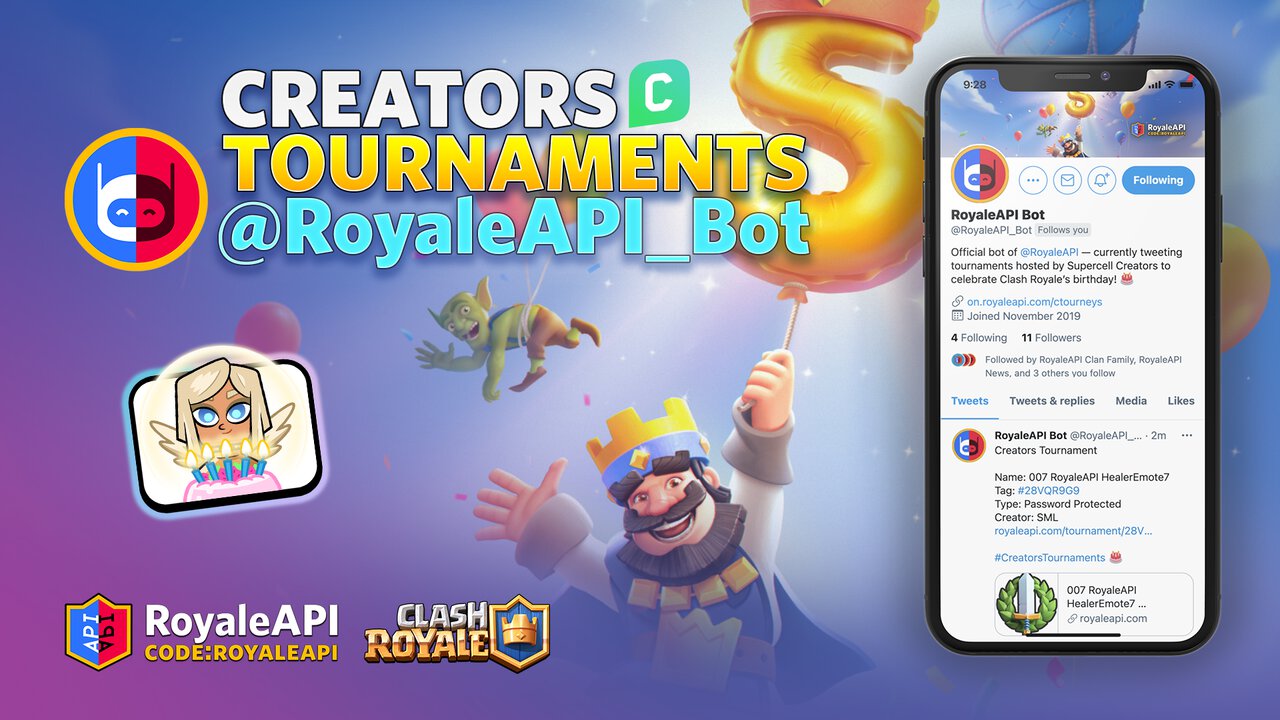 Participating Creators
Here's a list of known participating creators. If you participate in tournaments hosted by these creators, you will get the Birthday emote.
We are listed under SML (RoyaleAPI). RoyaleAPI is the name of our site (and our Creator Code). SML is the Founder of RoyaleAPI and is the tournament host. This list is also available on the official Clash Royale blog post.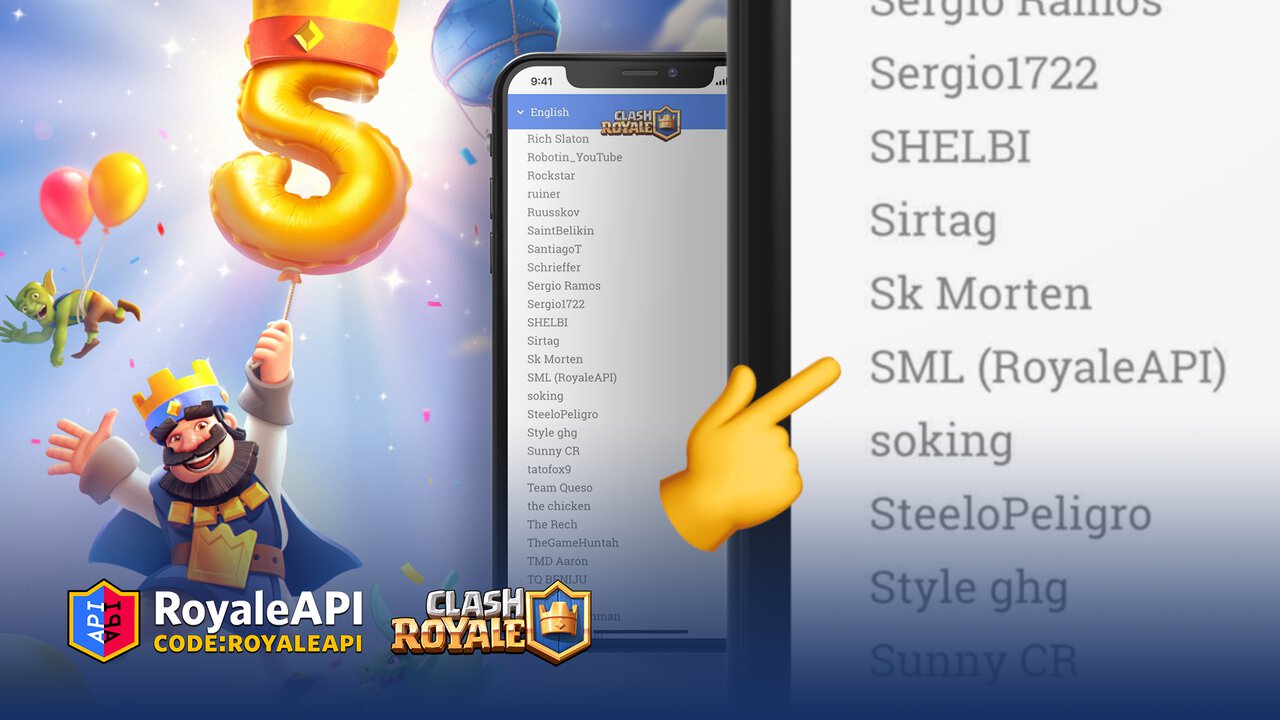 Level One Raffle
This raffle is over.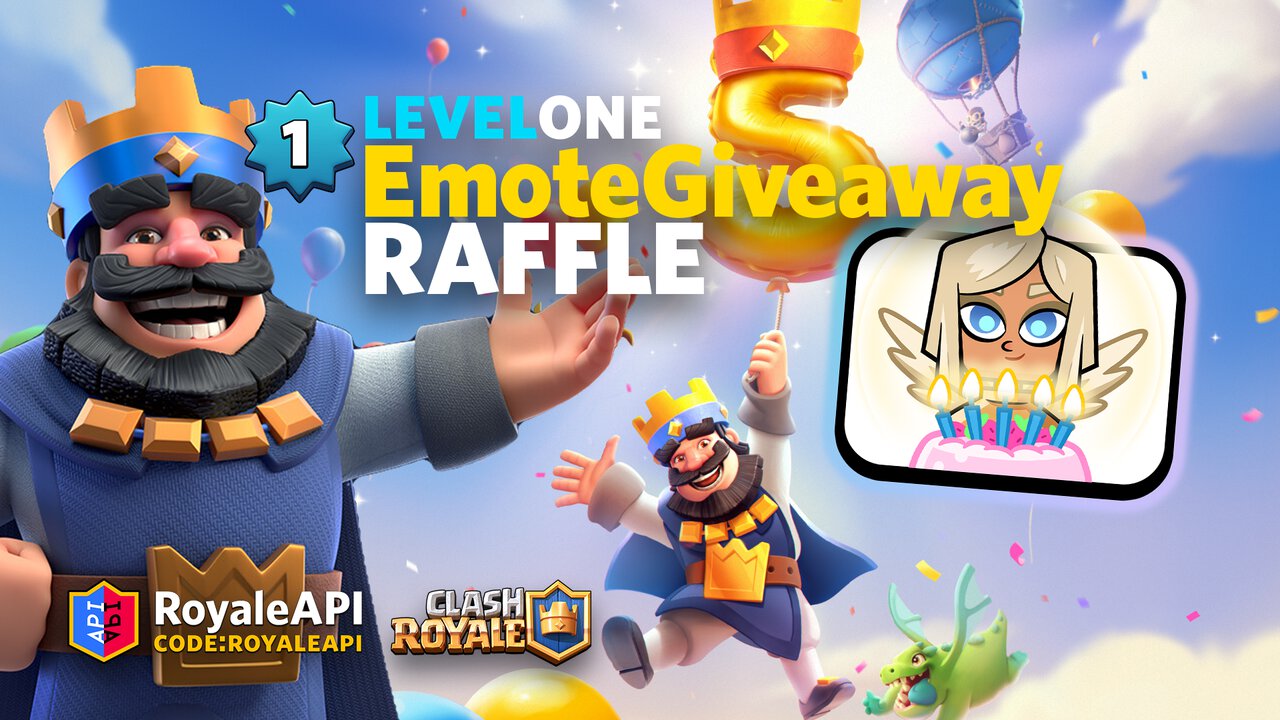 To enable Level 1 accounts to get the emote (because Level One accounts can't participate in tournaments), we are having a special emote giveaway raffle for Level One accounts only.
Rules:
🏆 Level 1 account with at least 1000 highest trophies (PB)
🎉 20 winners
⏰ Deadline: 2021-03-11 13:00 UTC
Submit this form http://on.royaleapi.com/s21emL1
All accounts will be checked to make sure that they meet the rules. Winners will be announced on this blog post as well as on Twitter
Winners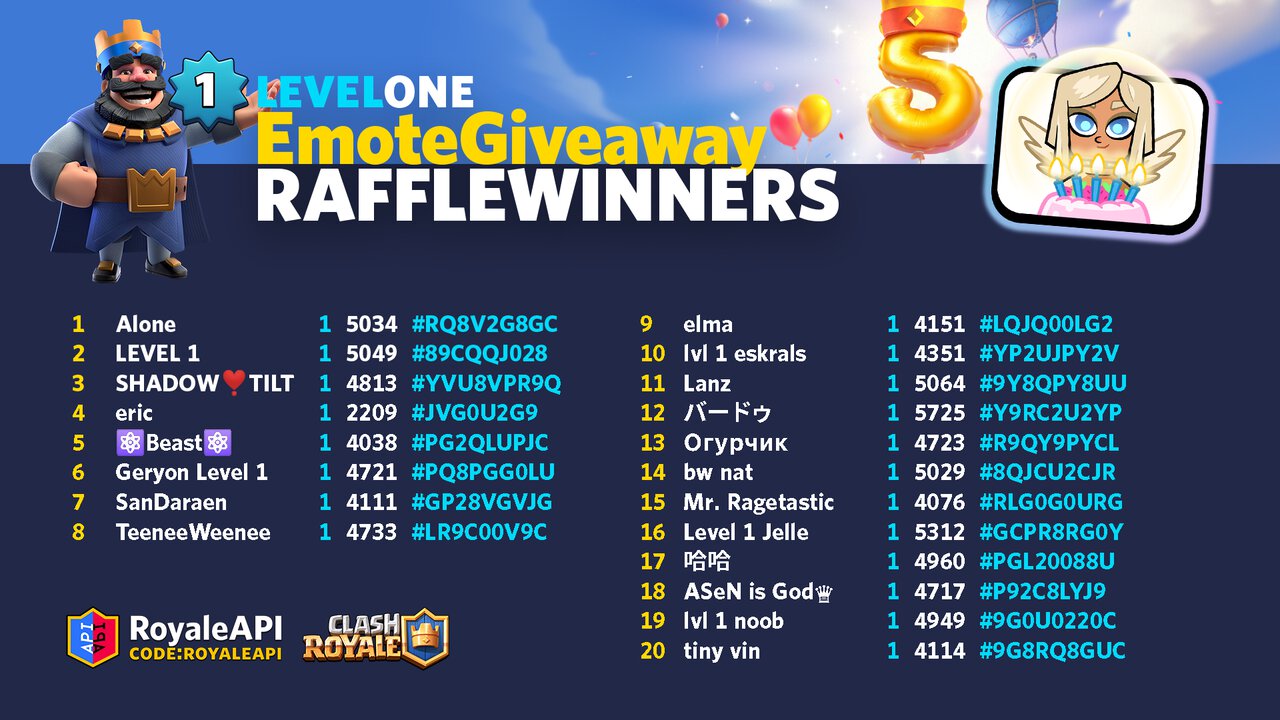 Level One to Four Raffle
Update: Because of the popualrity of this raffle, we are extending this til 2021-03-24 (70 more winners)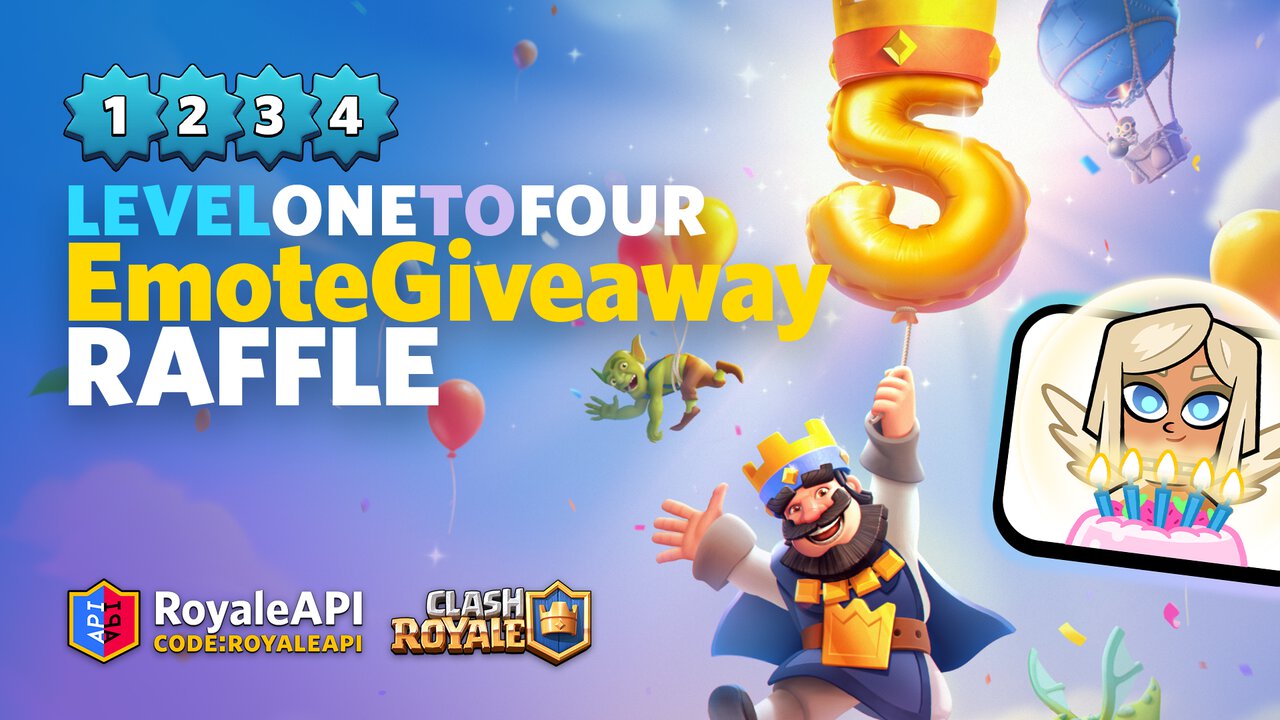 Rules
🎂 Clash Royale Birthday Emote Giveaway for Level 1 to 4
❤️ Follow @RoyaleAPI
🎙 Tell us why you play on a Level 1-4 account and what makes it fun. If you're a new player, tell us what you think about Clash Royale so far.
🔗 Submit player tag with your form in this format: #C0G20PR2
✅ Requirements: At least 50 games (life time, total games played on the account)
⏰ 10 winners daily @ 13:00 UTC, 2021-03-13 to 2021-03-24
How to find your player tag
Winners
Date
Name
Tag
Level
PB
2021-03-16
#G9JG0YGYL
1
1805
2021-03-16
Jovani
#RCGCG9U9C
1
1076
2021-03-16
UNO Youerte
#R9CCCVPP9
1
4054
2021-03-16
疯狂的羽TY
#YRCCL22LV
1
4205
2021-03-16
CruXZ:)
#G8PCR9QLY
1
1440
2021-03-16
GuyForget
#8GRQQQ90P
1
1668
2021-03-16
Mafy(n)XPlvl1
#8C2VJ9YL9
1
5612
2021-03-16
[CWU
TrolLollo](/player/G98LRG2UP)
#G98LRG2UP
1
5557
2021-03-16
You'reBadBro :)
#YCCRRJJUP
1
4912
2021-03-16
#9YUY9JQC0
1
5224
| Date | Name | Tag | Level | PB |
| --- | --- | --- | --- | --- |
| 2021-03-22 | もち2 | #PYUL2LQJL | 1 | 6067 |
| 2021-03-22 | 〤боль〤 | #G99QGRJ0P | 4 | 6015 |
| 2021-03-22 | 中須かすみ | #QRGR92PV9 | 1 | 2446 |
| 2021-03-22 | 생갈치1호의 행방불명 | #YCV92YP2P | 1 | 5613 |
| 2021-03-22 | Sakurauchi Riko | #Y0229VPLG | 1 | 5601 |
Twitter Daily Raffle
Twitter Daily Raffle has ended because more than 70% of the entries have already won!
Like + Retweet this tweet
Follow @RoyaleAPI
Put the link to your RoyaleAPI player profile in your Twitter bio
Reply to the tweet and tell us your favorite feature of RoyaleAPI
We will be giving out 10 emotes per day on Twitter until the end of Season 21.
Raffles will be drawn daily and posted on this blog post and @RoyaleAPI_Help
We will giveaway more emotes on our Discord server
Twitter Raffle Winners
Discuss
update
season
giveaway