Info and reasoning behind each balance changes scheduled for November 3, and highlights about seasonal content for Pass Royale.
balance
update
season
Balance Changes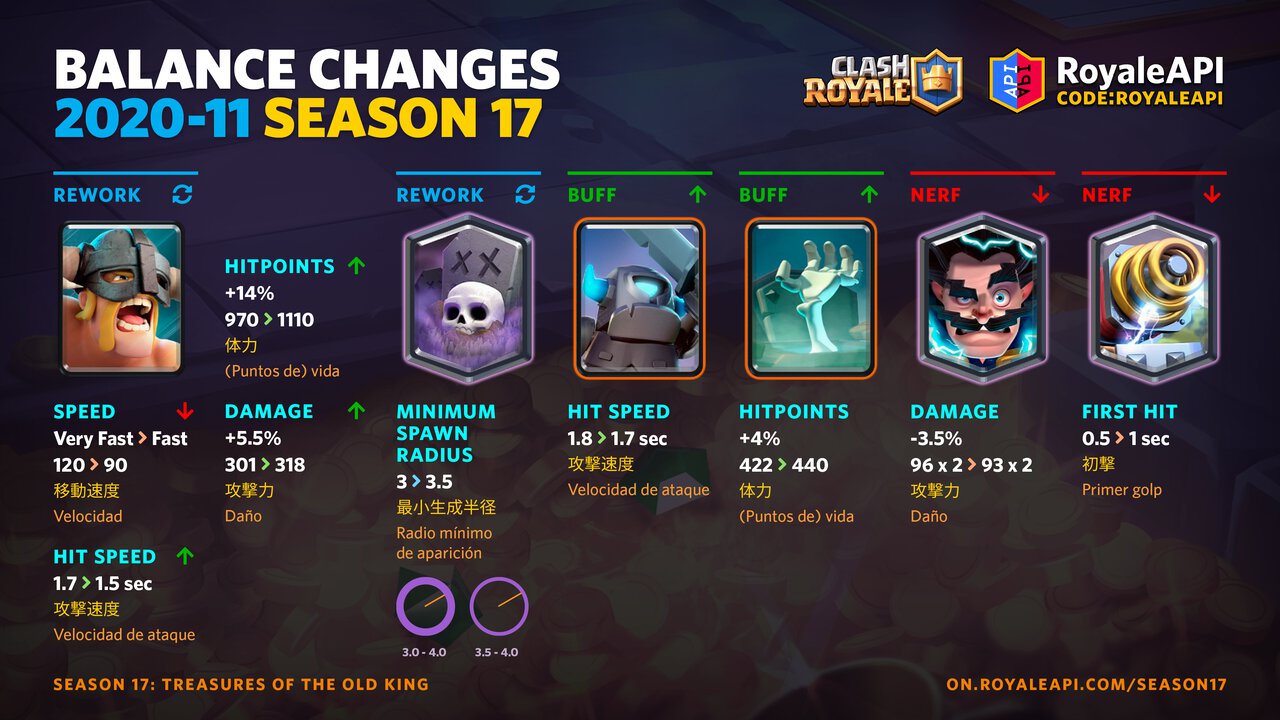 Balances will be live on Tuesday, November 3rd, 2020. Discuss on Reddit
Elite Barbarians (Rework)
Before
After
Speed
Very Fast
120
Fast
90
Hit Speed
1.7 sec
1.5 sec
Hitpoints +14%
970
1110
Damage +5.5%
301
318
DPS +19.7%
301/1.7
177
318 / 1.5
212
Elite Barbarians are getting a rework in November.
They will no longer rush to towers as quickly as they do right now. Speed has been one of the most frustrating part of their attributes, and it will be changed from Very Fast to Fast.
To compensate for this change, they are getting a boost in Hitpoints, Damage and Hit Speed.
Supercell hopes that this rework will give players more options to pick from when selecting High Damage melee troops.
The combined stats result in an increase in DPS by 19.7%.
Graveyard (Rework)
| | Before | After |
| --- | --- | --- |
| Minimum Skeleton Spawn Radius | 3.0 | 3.5 |
Skeletons will spawn closer to the edge of the circle.
Graveyard has been one of the strongest win conditions in the game in the past few seasons.
Official Supercell Graveyard stats for GC 8+ wins: 11% usage, 54% win rate.
Part of the reasons is its ability to spawn right on top of the target, and giving players little time to react.
This rework will make Skeletons spawn much closer to the edge and thus provide more time for players to react.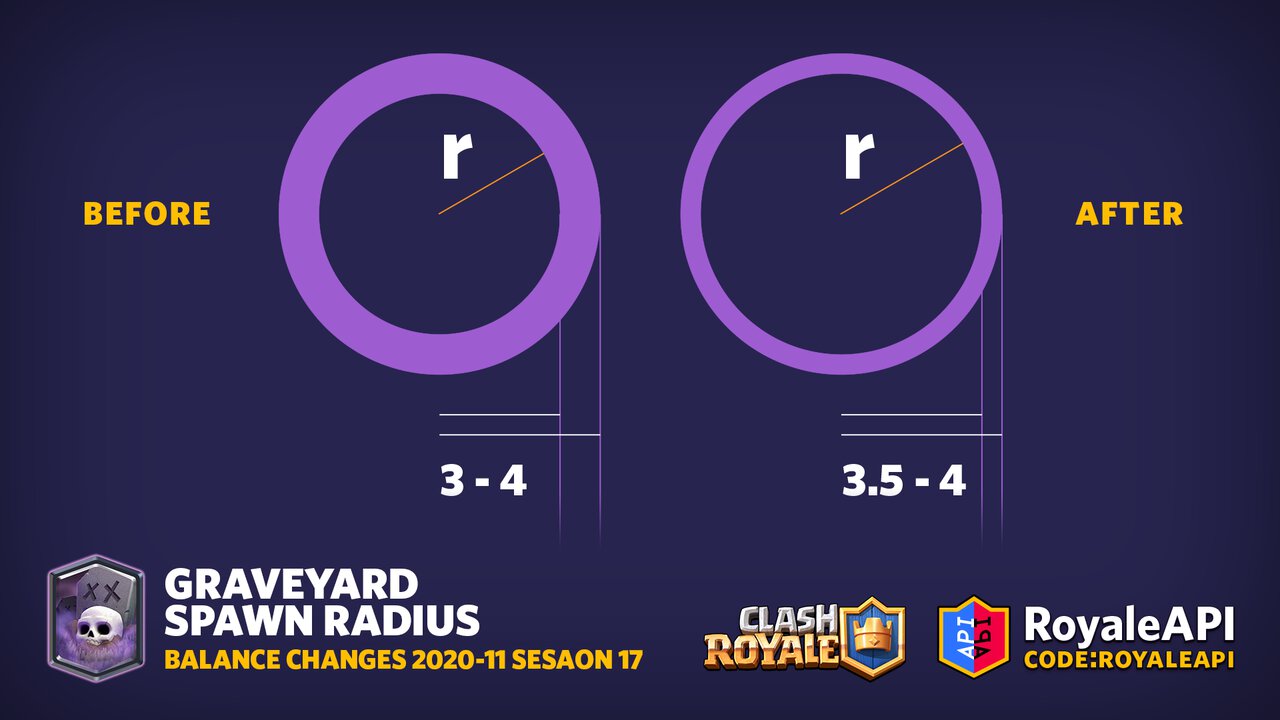 This change is extremely subtle and may not be noticeable even if you compare before-and-after videos side-by-side.
That's why we have created this illustration, and hopefully it allows you to compare the changes a bit more easily.
Before: Skeletons spawn at between 3.0 - 4.0 radius.
After: Skeletons spawn at between 3.5 - 4.0 radius.
The maximum spawn radius remain the same as before, effectively making Skeletons spawn closer to the edge, away from the center.
Overall, this change reduces the RNG-factor of Graveyard and make interactions a bit more predictable.
Mini Pekka (Buff)
| | Before | After |
| --- | --- | --- |
| Hit Speed | 1.8 sec | 1.7 sec |
Supercell has noticed a decline in Mini Pekka usage ever since his nerf in Season 11
In turn, the meta has slowly shifted to favor Knight — and at an alarming popularity (25% of all decks use Knight).
The balance team opted to give him a Hit Speed buff so that there won't be any change in interaction nor allow him to get to the tower more often.
Instead, his overall DPS increase should help with his primary role: defending against tanky enemies.
Tombstone (Buff)
| | Before | After |
| --- | --- | --- |
| Hit Points +4% | 422 | 440 |
Tombstone will be getting a small bump to its health so that it can survive random attacks.
This brings its health to 440, a standardized number that Supercell intend to use for fragile cards, such as Skeleton Dragons.
Electro Wizard (Nerf)
| | Before | After |
| --- | --- | --- |
| Damage -3.5% | 96 x 2 | 93 x 2 |
Electro Wizard has been one of the strongest troops in the meta for his entire lifetime.
Players can get easily frustrated by his repeated stuns paired with his high damage output.
The reduction in damage coming after the balance updates mean that he won't be able to kill a single Minion with both bolts anymore — in turn making it easier to swarm around him with cards like Minion Horde.
Sparky (Nerf)
| | Before | After |
| --- | --- | --- |
| First Hit | 0.5 sec | 1 sec |
Sparky has been one of win conditions with the highest win rates in the professional community as well as top-level battles (GC 8+ wins, Top Ladder).
Official Supercell Sparky stats for GC 8+ wins: 9% usage, 56% win rate.
Additionally, casual players who haven't learned how to defend against Sparky get really frustrated by the card.
With Sparky being dominant in the meta, players have no choice but to include cards with stun abilities in their decks. This in return makes deck building much more restrictive and drastically decrease the diversity in the meta.
She will be getting a First Hit nerf from 0.5 to 1.0 second, which means that she won't be able to attack until a full second after she has moved.
Players should note that Sparky still takes 4.0 seconds to charge — and as such, Sparky's First Hit change does not apply to her first First Hit after initial deploy.
Are you confused about First Hit, Deploy and other important concepts that are crucial to understanding the game? We have prepared a special article about these terms. Check it out!
Tap to enter our code RoyaleAPI automatically so you won't forget on Monday!
Season 17: Treasures of the Old King
Clash Royale Season 17 begins on Monday, November 2nd, 2020.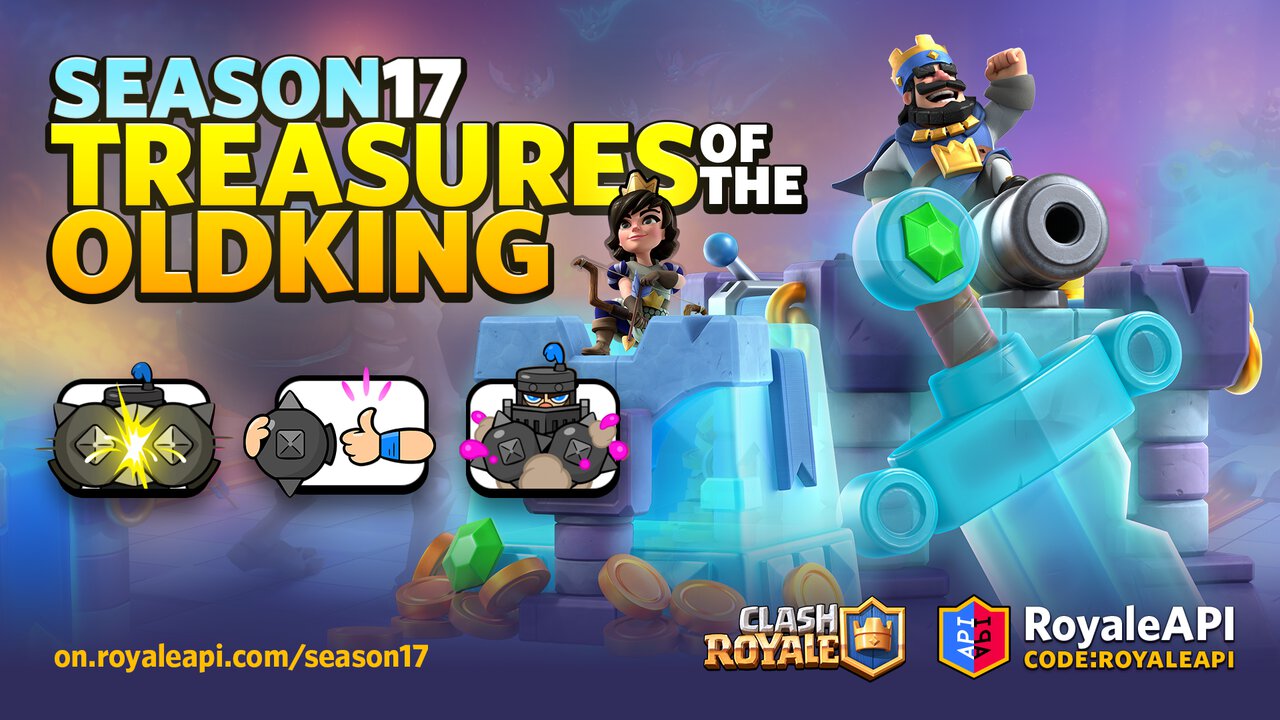 Tower Skin
The first semi-transparent tower skin that you can see through!
Ghostly Treasure tower skin. Pass Royale at Tier 10.
Mega Knight Emotes
Mega Knight Ball Clash. Pass Royale at Tier 20.
Mega Knight Thumbs Up.
Mega Knight Smash.
Emotes in Action
Boosted Cards
Royal Ghost
Electro Giant
Royal Tomb Arena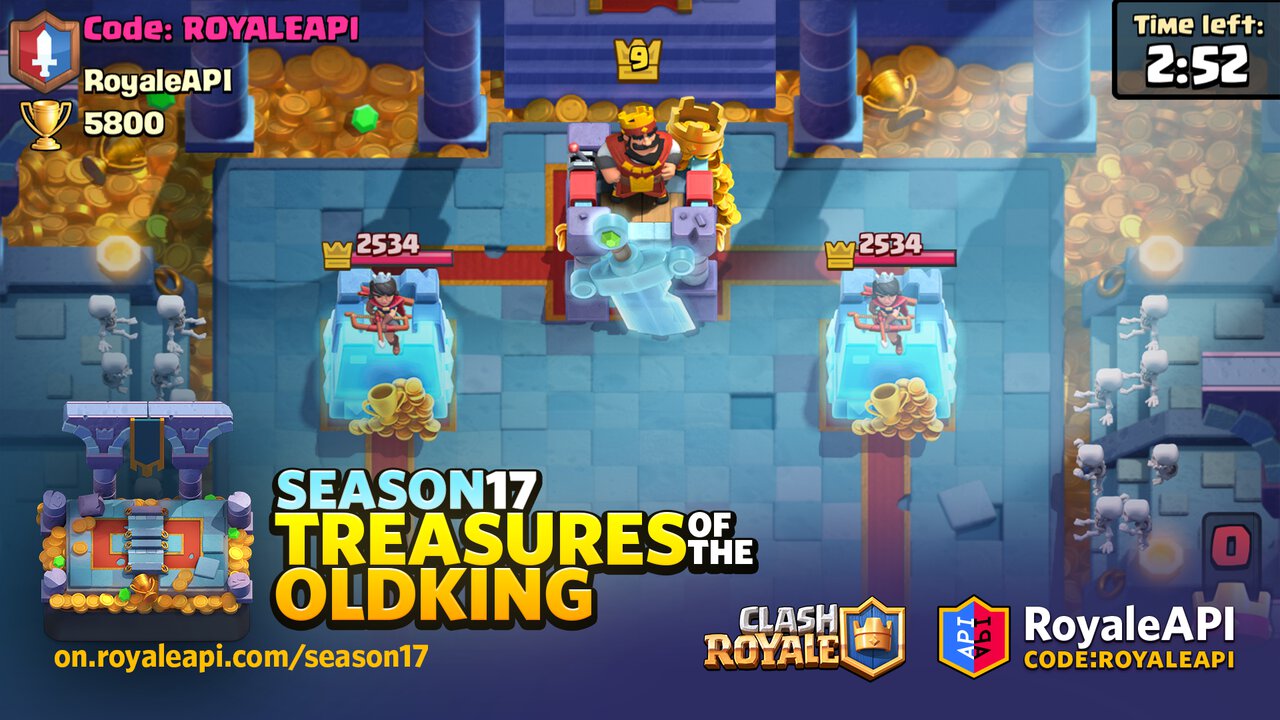 Tap to enter our code RoyaleAPI automatically so you won't forget on Monday!
Originally posted on October 29th with the season content.
Updated on October 31st to include Balance Changes.
Discuss
balance
update
season