November 14, 2020 · 5 min read
Clash Royale will get a game client update on the week of November 18. Get all the info plus some bonus scoops here!
update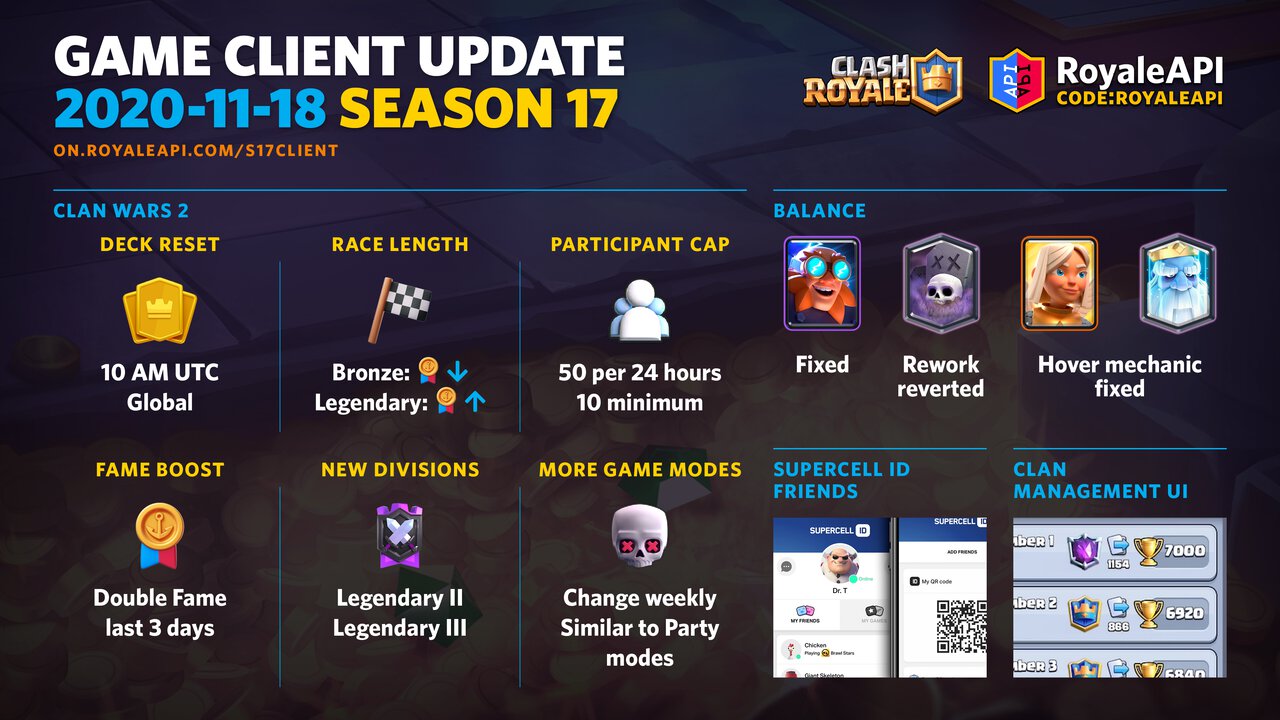 Clash Royale will get a game client update on the week of Nov 18. Here's what we know. (Update is live now!)
Clan Wars 2
Global War Deck Reset Time

War Deck reset time is currently tied to the player's time zone — or more specifically, the player account's shop reset time at midnight in their local time.
This leads to unfair advantages to clans that have members from Asia and Europe as they are able to battle more quickly than players living in the Americas — and as such, complete the race faster than other regions.
After the update, War Deck Reset will happen at the same time for everyone: 10:00am UTC.
10am UTC is the time when the clan war week starts, so everyone will have exactly 24 hours after the start before their war decks are reset.
Supercell does recognize that having the same global reset time is still somewhat unfair as 10am UTC is technically night time for those living in Americas: (2am West Coast, 5am East Coast).
A planned implementation will divide clans from the entire globe into two regions (East and West) in the future so there won't be day-time / night-time issue. However, this division is not possible in the upcoming update — so wait for this improvement at a later date!
Live on November 18.
Clan War Matchmaking Improvements

Additional clan performance factors will be used to make sure that clans are matched evenly:

Skill levels of players
Clan activity

Matchmaking has already been updated on November 2 to match clans with similar trophies.
These additional factors will go live on November 18.
River Race Lengths

At the moment, clans in lower leagues have issues completing their race while clans in higher leagues are able to finish their races quickly in 1-2 days.
After the update, the amount of Fame needed to complete the River Race will be lowered for lower leagues while it will take more Fame to complete the race in higher leagues.
The exact amount of Fame needed is unknown at the moment.
Live on December 7 when the next Clan War Season starts.
Clan War Participation Cap: 50 Players

Many clans have utilized the "member cycling" strategy to gain an unfair advantage against other clans, by having more than 50 player accounts play in their war.
After the update, only 50 participants will be allowed for every 24-hour period.
If you try to attack in a Clan War when 50 members have already attacked, you will get a notification that you cannot attack.
Live on November 18.
Minimum number of clan members to participate in Clan War: 10

Currently, all clans are automatically enrolled in Clan Wars, and there is no way to opt-out of it in any way.
After the update, clans will not participate in Clan Wars unless they have at least 10 members.
You can't get removed if you have already started, however. Clans will continue to participate in the War they are in even if their member count has dropped after they have entered the War.
Live on November 18.
Fame Boosts (New!)

To help clans finish the race and get the clan war rewards instead of the dreaded "Boot" , Fame will be boosted at the end of the River Race as a catch-up mechanism.
Fame will be doubled in the last 3 days.
Repair Points will be doubled as well.
The boosts will start when the deck cool-down ends, i.e. at the start of the 5th day.
New divisions in Legendary League

Two new divisions will be added to Legendary League:

Legendary League II
Legendary League III

Rewards will be scaled accordingly — so expect more rewards when your clan has reached these new heights!
More Game Modes in Clan Wars

New game modes will get added to Clan Wars.
These game modes will change on a weekly basis.
They will be similar to what you see in Party modes.
Tap to enter our code RoyaleAPI automatically so we can bring you more useful content in the future!
Balance Changes (Cards)
This update will fix a number of issues in card mechanism — consider this a mini balance update!
Electro Giant: Fixed Reflected Damage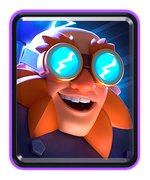 Electro Giant didn't have a spectacular card launch because one of his core mechanics was not implemented correctly in the game.
Crucially, Reflected Damage does not scale with levels at all (the amount was the same for a Level 6 all the way up to Level 13)
After the update, Reflected Damage will scale correctly according to his levels.
Graveyard: Rework Reverted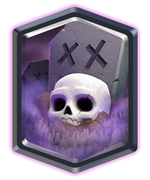 Graveyard got a rework in the beginning of Season 17 where its minimum spawn radius was changed from 3 to 3.5.
This change will be reverted on November 16. That is, Graveyard will behave as it used to be before Season 17.
The rework is being reverted because while the original intention was to nerf the card, the rework actually appeared to have buffed the card when it is placed in its optimal placement next to the King Tower.
The balance team promises to rework the card in a more comprehensive way in the future — one that will potentially remove the RNG factor completely. TBD.
Hover Mechanic: Bug Fix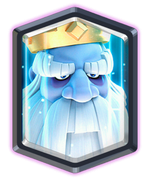 The two troops with the Hover mechanic — Battle Healer and Royal Ghost — will receive bug fixes specific to this mechanic.
They will no longer pass through buildings.
They will no longer push back air units.
They will no longer bounce off the river when they get knocked back.
Support us with creator code RoyaleAPI
Supercell ID Friends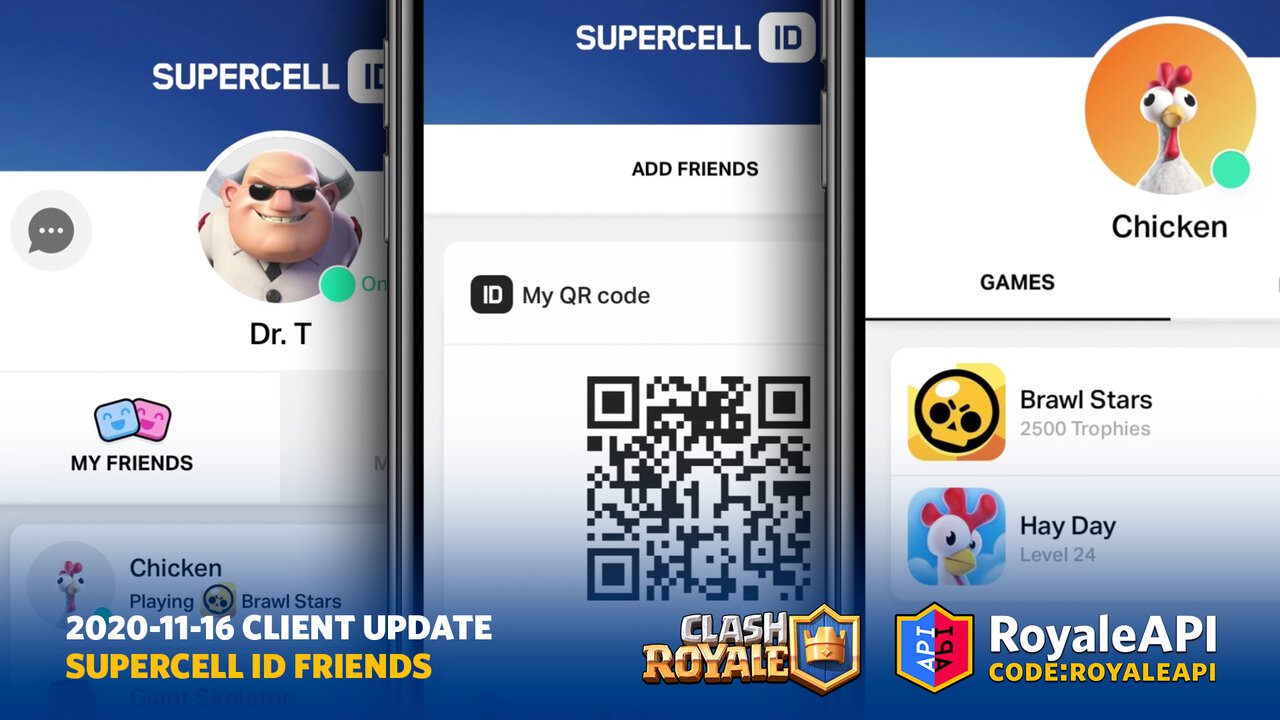 If you play Brawl Stars, you would have already seen the Supercell ID Friends UI. This new Supercell ID interface is coming to Clash Royale as well! Here are some new functionalities:
Adding friends in Clash Royale will become easier.
If you add someone as a friend in Clash Royale, you will be friends with them in Brawl Stars and other Supercell games also.
You'll be able to see what they are playing from the friends list, with the option to join them and play together.
You will be able to add friends in-real-life with a QR code scan!
Supercell ID button will be added to the hamburger menu on the main screen
Quick Account Switching will be added! This means that you no longer have to tap 7 times just to switch accounts. Account switching will be just one tap away!
Support us with creator code RoyaleAPI because you are awesome!
Clan Management UI Improvements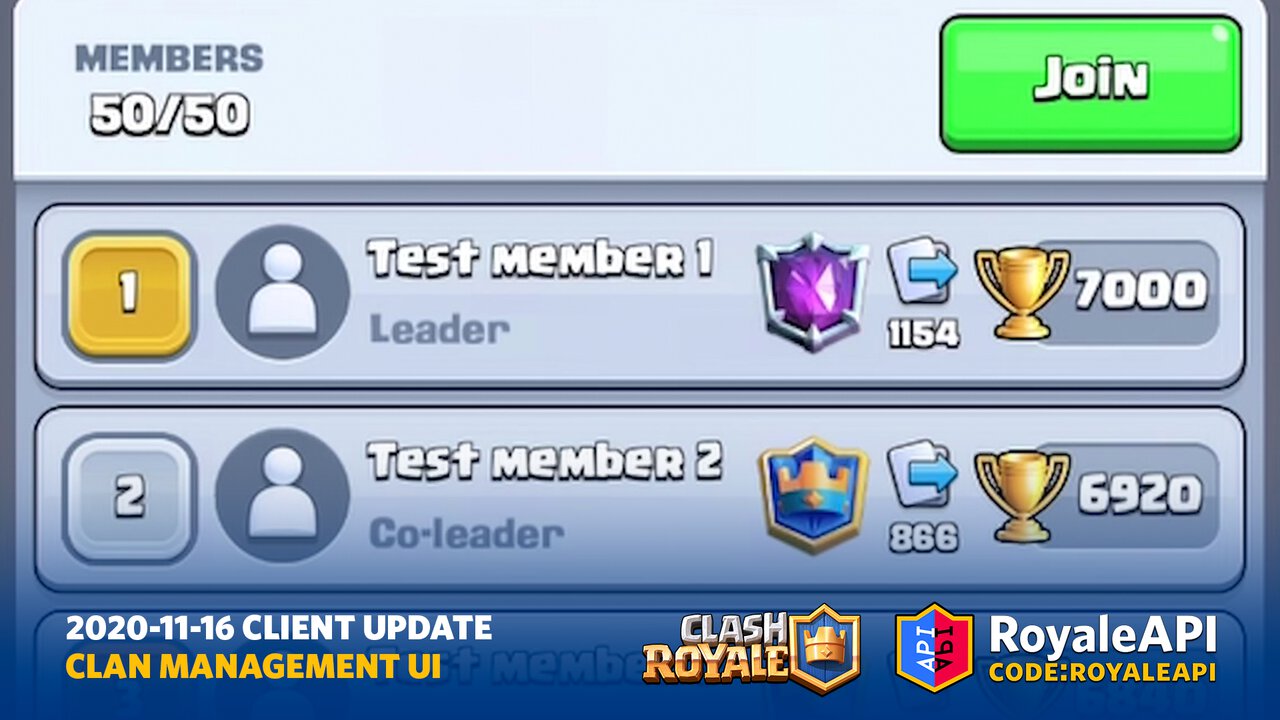 The Clan UI will be improved with more useful information about each member:
Added ladder league / arena icon.
Added card donation count.
TV Royale
Feedback
Tell us what you think about this update on Twitter and Reddit.
Future Sneak Peeks
Make sure you are following us on Twitter @RoyaleAPI if you want to hear about future Clash Royale sneak peeks first!
Corrections
In our original post, we have incorrectly started that the launch will be on the day of Nov 16. It will be released on the week of Nov 16 instead — which turns out to be November 18. Sorry about the mix up!
Discuss
update