We take a look at the performance of each Classic Deck against each other. After 2 weeks gathering battles, we now have enough data to [...]
classic decks
We take a look at the performance of each Classic Deck against each other. After 2 weeks gathering battles, we now have enough data to provide a reliable analysis of the matchups.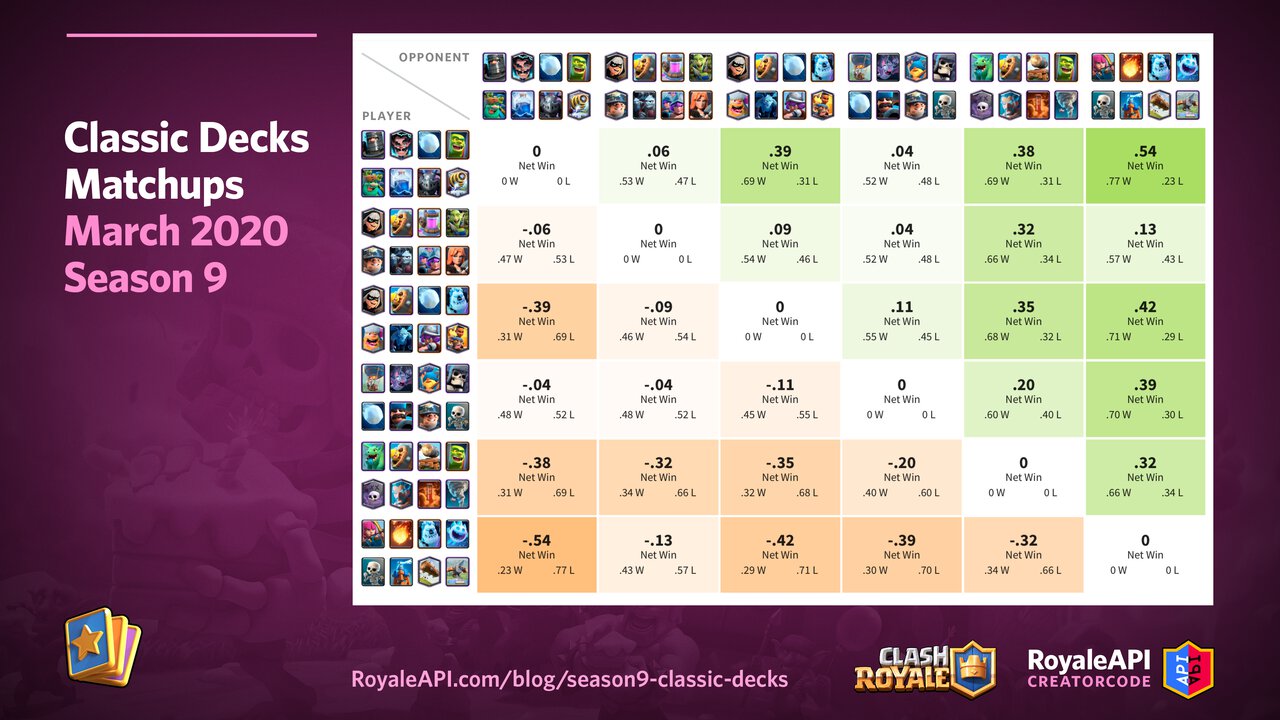 Net WinRate (NWR) charts are great to see the clear matchup advantages some decks have over others. The NWR range goes from negative (disadvantageous matchup, in orange) to positive (adventageous, in green).
Ideally, for all decks to be balanced, you'd see very neutral NWRs for all matchups, or a balance of adventageous/disadvantageous matchups: 2-3 good and 2-3 bad for each deck.
Season 9 has a fairly balanced set of decks—with many Net WinRates in the single digits, matchups weren't the defining factor in many cases. It's a noticeable improvement when compared to other seasons, but still not great. To see which were the good and bad options, let's take a look at them by order of success:
The decks selected for this season can be divided into two clearly separate groups: balanced and bad.
Out of the 6, 4 belong to the balanced group. Among themselves, balanced decks have the low NWR that was previously mentioned. In return, they have always good matchups against the 2 decks that are left out.
With Sparky and Lightning as a big spell, Ram Rushers is an easy adversary for this deck. That creates the only high WinRate matchup within the balanced decks, making this the best Classic Deck of Season 9.
The Three Musketeers haven't been very popular lately, but when there isn't a strong spell to stop them, they become as powerful as they ever were.
Bridge spam can create a lot of pressure to overwhelm the opponent. Despite not having a big spell, this has been enough to place Ram Rushers as the second best deck.
Classic Decks of Season 9 has A LOT of air defense, but this miner balloon deck has performed well against the last 2 decks for unclear reasons. Balloons can surprise players who are unfamiliar with the deck they are using, and as we all know, one unexpected connection is often enough to secure a game.
Considering there aren't great defensive options against Graveyard in the other decks, these bad results go against matchup predictions. Although there isn't a clear explanation, the playstyle of this deck might have been the cause. Some players might not be used to the control strategy and the elixir management needed to succeed with Graveyard decks.
Similar to Graveyard, X-Bow requires an unusual playstyle and isn't very forgiving with mistakes or overcommitments. So as usual, this archetype has the worst performance among the set of Classic Decks.
Do you have any tips to put up a fight against the hard matchups? Let us know in the comments of Reddit!
Here are all the decks again, in case you have missed our season introduction: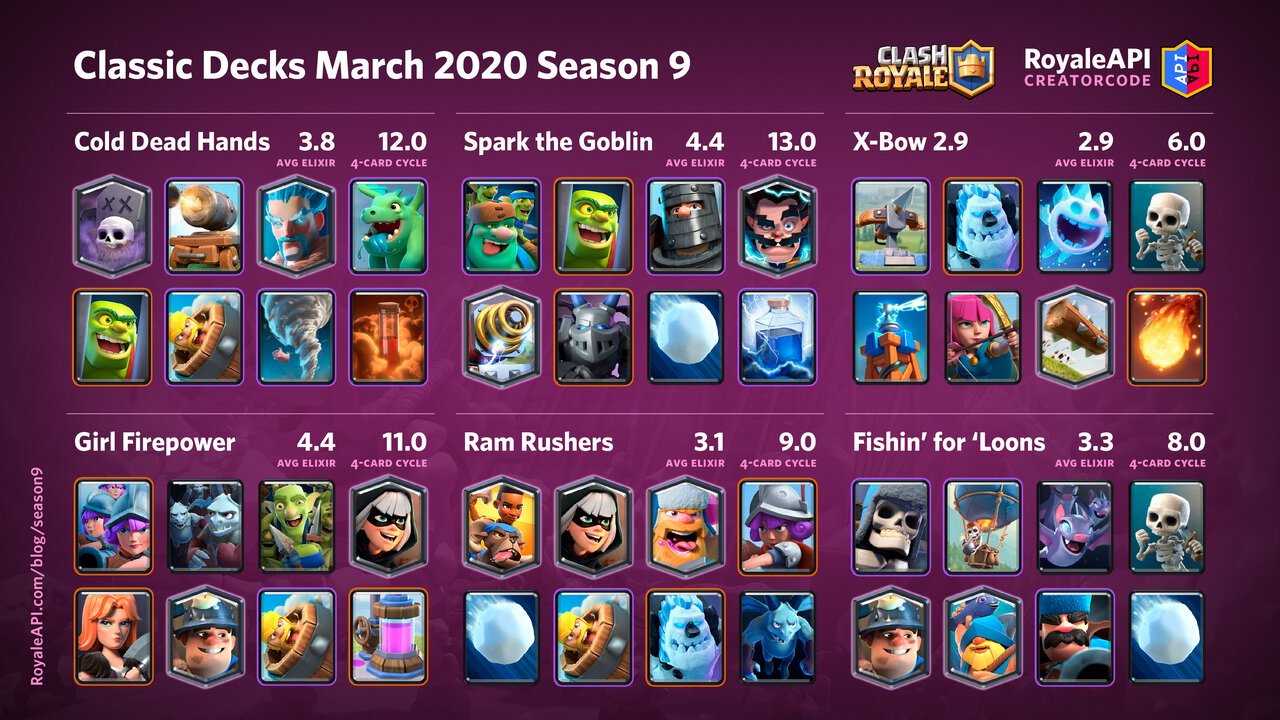 Discuss
classic decks