We are going to take a look at the performance of each Classic Deck against each other. After 2 weeks gathering battles, we now have [...]
classic decks
matchup
We are going to take a look at the performance of each Classic Deck against each other. After 2 weeks gathering battles, we now have enough data to provide a reliable analysis of the matchups. Due to the players who were sampled and the format of Classic Decks battles, this is a great place to find out matchup balance between average players—players who haven't master the deck they'll have to use but who do have considerable knowledge of the game.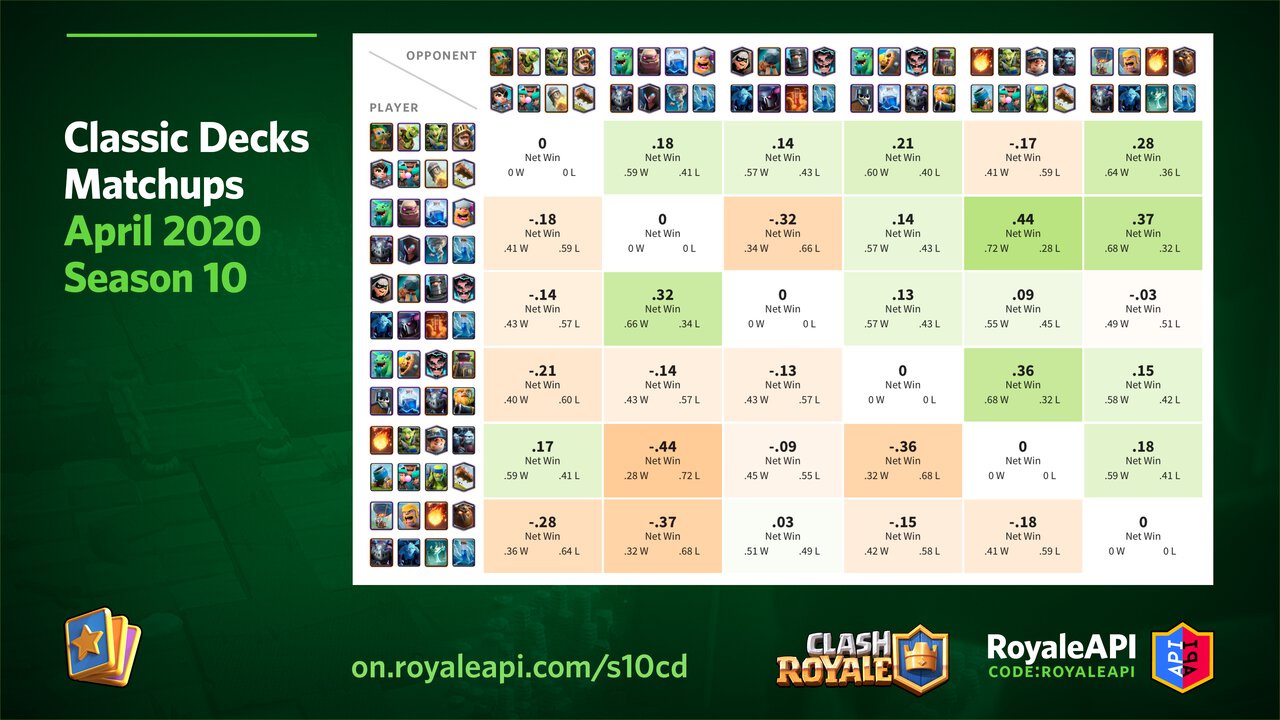 Net WinRate (NWR) charts are great to see the clear matchup advantages some decks have over others. The NWR range goes from negative (disadvantageous matchup, in orange) to positive (adventageous, in green).
Ideally, for all decks to be balanced, you'd see very neutral NWRs for all matchups, or a balance of adventageous/disadvantageous matchups: 2-3 good and 2-3 bad for each deck.
Season 10 didn't get close to the balanced set, but that isn't surprising in comparison to past weeks. Despite being far from ideal, this deck set has created an interesting balance: three good decks and three bad ones. The good ones have 3-4 out of the 5 matchups as an advantage, with similar total winrates, making it hard to pick a winner. Sorting the decks by total winrate is a usual approach to order them and understand their relative strength:
Too many goblins in one deck for a deck set in which The Log only appears in one other deck. Add the Rascal Girls, a Princess, and you end up with a very overwhelming spam of small troops. This combination could only be stopped by The Log or Arrows, and that's precisely the reason why Mortar Swarms was able to win against it.
Golem has struggled against Prince Bait and P.E.K.K.A, as was expected, but it's high winrates against Mortar and Lavaloon compensate for that. Overall, this deck has claimed the second place in the set, and has the highest winrate seen among all the matchups when facing Mortar, with more than 70% WR.
A strong defence is very powerful against players who don't master their decks. P.E.K.K.A is very reliable and simple to use, because of this, it usually maintains quite neutral winrates. Its bridge-spam offence is more complex, causing troubles for inexperienced players who aren't patient enough.
The infamous giant didn't live up to his name, falling to the bad side of the deck set. Despite being a direct counter to Mortar and performing well against it, it was weak against other decks.
You don't usually want to face the best deck... unless you were given this Mortar Swarms! Princes can be stopped with small troops, and as long as you save The Log for the Goblin Barrel, everything should remain under control.
Unfortunately, the good news end there. Other decks as Golem (#2) and RG (#4) are great against this Mortar-bait deck.
Rockets, Lightnings, Minion Hordes... your Balloon is going to have a tough time trying to reach the towers of the Red King. Only when facing P.E.K.K.A (#3) the matchup is balanced. In all the other encounters, the odds are against you.
Do you have any tips to put up a fight against the hard matchups? Let us know in the comments of Reddit!
Here are all the decks again, in case you have missed our season introduction: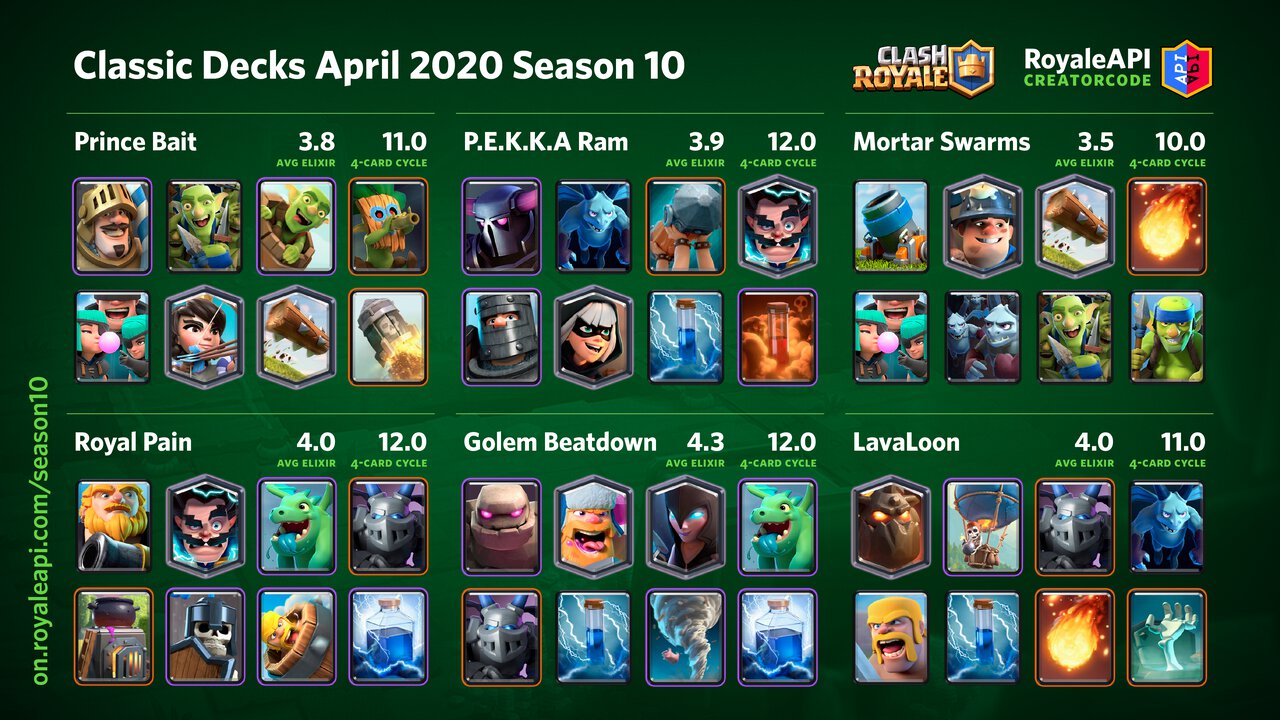 Discuss
classic decks
matchup