Emotes, tower skins, and more for Clash Royale Season 19.
season
update
Season 19: Frozen Peak
Clash Royale Season 19 begins on Monday, Janurary 4, 2021.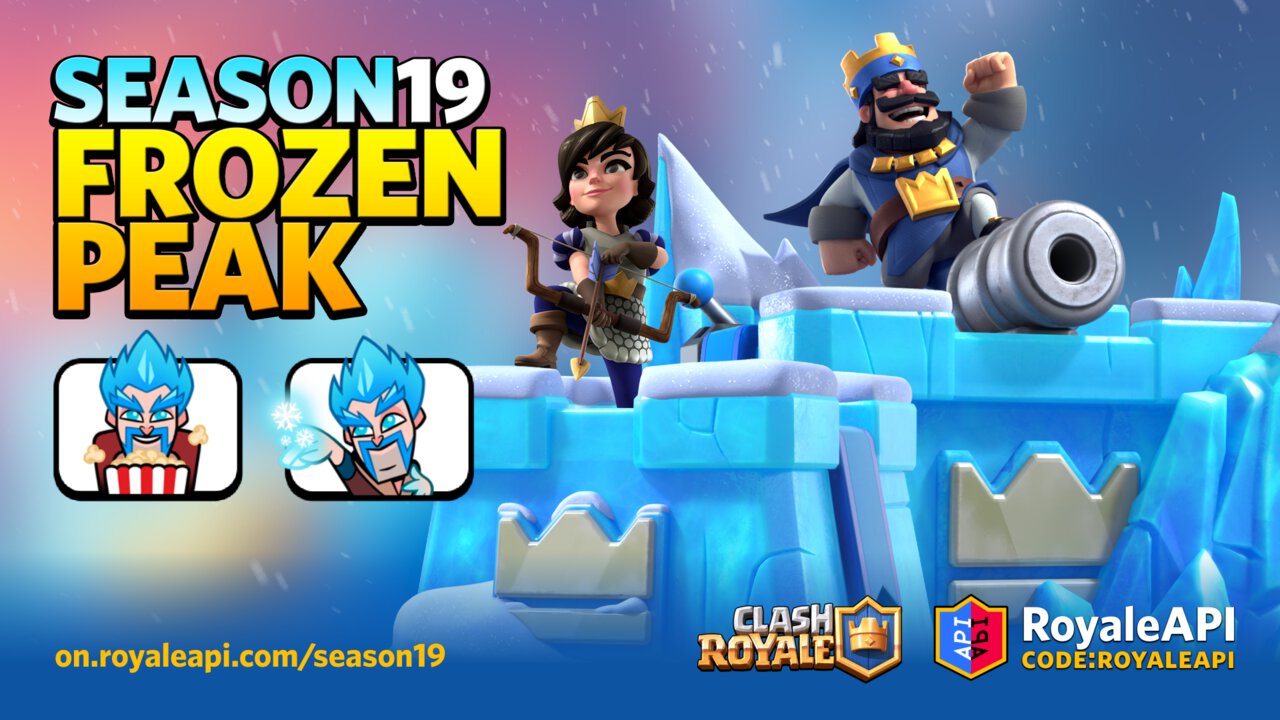 Tower Skins & Emotes
Frozen Tower tower skin. Pass Royale.
Ice Wizard: Dancer. Pass Royale.
Ice Wizard: Popcorn. Shop.
Emotes in Action
Tap to enter our code RoyaleAPI automatically so you won't forget on Monday!
Rewards
There will be lots of Wizard as rewards throughout the season. If you are looking to upgrade your Wizards (Wizard, Ice Wizard, Electro Wizard), this would be the season to get the pass!
Boosted Cards
Ice Wizard
Mother Witch

Mother Witch will continue to be boosted this season so players who have already unlocked her can still play this card at max level.
Classic Game Modes
Supercell did not specify where these will appear, but they are mostly likely to appear in this season's Party Modes, Clan Wars and possibly challenges.
Sudden Death
Mini Collection
Draft/Triple Draft
Mirror Battle
Notes
As mentioned in Season 18, there won't be any balance changes this month. The next balance update is expected to be in March, when the game client will get updated.
We couldn't give you a preview of the arena or tower skins in-game as no dev builds were made during the holiday seasons. Given the name of the season, it will likely take place in the Frozen Peak arena (Arena 8).
Animated GIF
We've made an animated gif of the Ice Wizard Popcorn emote so you can use on social media:

Feedback
Discuss
season
update